Semiconductor Lasers Market Overview:
Global Semiconductor Lasers Market size is estimated to reach $8.8 billion by 2022 from $5.5 billion in 2015, growing at a CAGR of 6.9% from 2016 to 2022. In semiconductor lasers, light amplification is done by using active semiconductor materials. Semiconductor lasers are more advanced and efficient over the conventional lasers. It is replacing conventional lasers in range of applications, semiconductor lasers are small in size, requires less power, and is more efficient in terms of performance than conventional lasers, which makes them optimum choice in manufacturing of laser based systems. In addition, semiconductor lasers have several inherent advantages such as compact size and low cost over conventional lasers technologies, which makes preferable in laser applications. In communication systems, the semiconductor laser is mostly used in fiber optic cables to enable fast and efficient communication.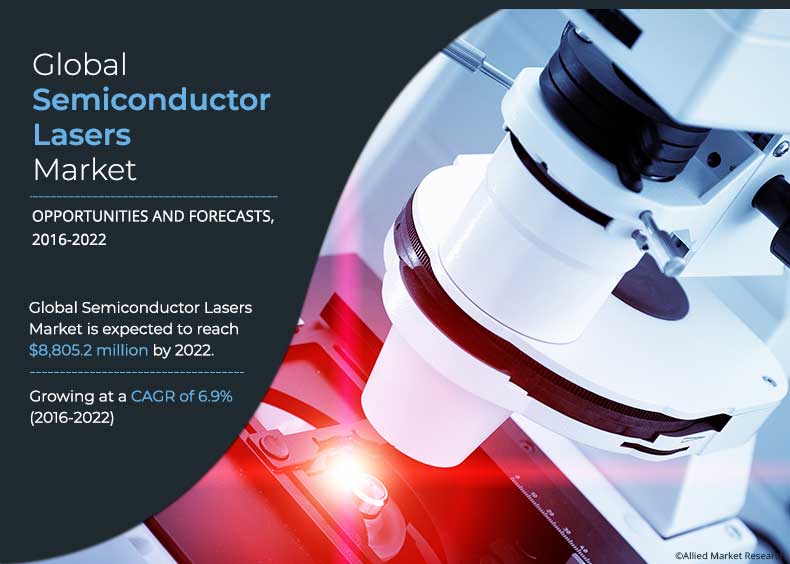 Factors Impacting Semiconductors Laser Market
Increase in usage of semiconductor laser in defense due to the small body, light weight, long life span, and high efficiency is expected to drive this market. Moreover, the semiconductor lasers are economical, simple in design and has a very high efficiency. Moreover, the increase in requirement of semiconductor laser in medical sector is fueling the market demand. However, delicate design, low packaging tolerance error, and less reliability & testing restrain the market growth. The global increase in demand of data storage capabilities is opening new opportunities for the market players.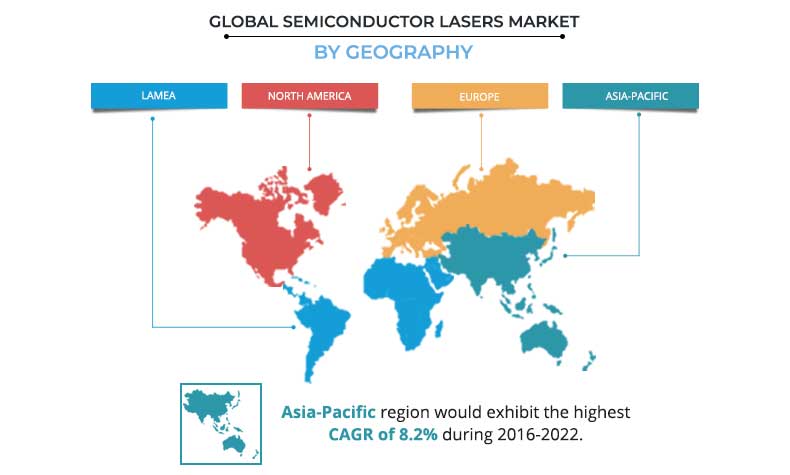 Semiconductors laser market is segmented based on type fiber optic lasers (FOL) vertical cavity surface emitting lasers (VCSEL), compact disc lasers (CDL), high power diode lasers (HPDL), red lasers, violet lasers, green lasers, and blue lasers. Based on end user, it is segmented into optical storage devices lithography, healthcare, defense and R&D, sensors, display, printing, communication, and industrial. By geography, it is analyzed across North America, Europe, Asia Pacific, and LAMEA.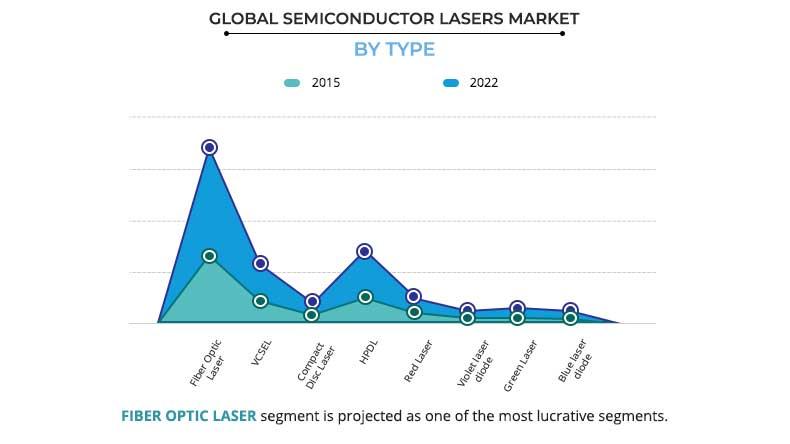 The key players profiled in the report include ASML Holdings N.V., Coherent Inc., Newport Corporation, Sharp Corporation, Sumitomo Electric Industries, Ltd., Trumpf GmbH + Co. KG, Axcel Photonics Inc., IPG Photonics Corporation, Han's Laser Technology Industry Group Co. Ltd., and Rofin-Sinar Technologies Inc.
Potential Benefits for Stakeholders
This report provides an in-depth analysis of the global semiconductor lasers market, along with the current trends and future estimations to identify lucrative marketing and investment opportunities.
It elucidates on the key drivers, opportunities, and restraints that shape the market along with their impact analysis.
Porter's five forces analysis highlights the potency of buyers and suppliers that participate in this market to facilitate better decision making for stakeholders and strengthen their supplier and buyer networks.
 Semiconductor Lasers Market Report Highlights
Aspects
Details
By Type

Fiber Optic Lasers (FOL)
Vertical Cavity Surface Emitting Lasers (VCSEL)
Compact Disc Lasers (CDL)
High Power Diode Lasers (HPDL)
Red Lasers
Violet Lasers
Green Lasers
Blue Lasers

By End User

Optical Storage Devices
LITHOGRAPHY
HEALTHCARE
DEFENSE AND R&D
SENSORS
DISPLAY
PRINTING
Communication
INDUSTRIAL

By Geography

North America
Europe

UK
Germany
France
Italy
Rest of Europe

ASIA-PACIFIC

China
Japan
South Korea
Australia
India
Rest of Asia-Pacific

LAMEA

Latin America
Middle East
Africa

Key Market Players
AXCEL PHOTONICS INC., HAN'S LASER TECHNOLOGY INDUSTRY GROUP CO. LTD., SHARP CORPORATION, SUMITOMO ELECTRIC INDUSTRIES, LTD., NEWPORT CORPORATION, IPG PHOTONICS CORPORATION, COHERENT INC., ROFIN-SINAR TECHNOLOGIES INC., TRUMPF GMBH + CO. KG, ASML HOLDINGS N.V.