The global semiconductor packaging market size is expected to reach $60.44 billion by 2030 from $27.10 billion in 2020, growing at a CAGR of 9.10% from 2021 to 2030.  
Semiconductor packaging plays an important role in protecting IC chips from the surrounding environment and ensuring the electrical connection for chip mount on printed wiring boards. High demand for high-speed, high-integration, and low power consumption of integrated circuits (ICs) complements the rapid progress of electronics technology such as AI and cloud computing. Semiconductor packaging is a supporting case that prevents physical damage and corrosion to silicon wafers, logic units, and memory during the final stage of semiconductor manufacturing process. It allows the chip to be connected to a circuit board. These packaging involves grouping of a variety of distinct techniques, which includes 2.5D, 3D packaging, fan-out-wafer-level packaging, and system-in-package. Different ICs have different packaging requirements, thereby providing growth opportunities for semiconductor packaging market over traditional packaging process.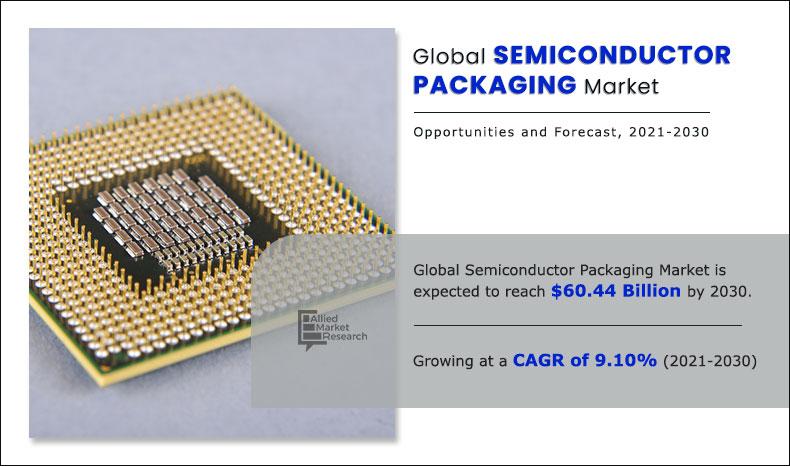 In addition, in consumer electronics and industrial products, advanced packaging relies on mechanical engineering principles, such as dynamics, stress analysis, heat transfer, and fluid mechanics, and protects components from mechanical damage, cooling, RF noise emission, and electrostatic discharge. Thus, to improve the performance, reliability, and cost-effectiveness of electronics systems, advanced packaging technology is being used for packaging of semiconductors. 
With rapid growth in semiconductor packaging market revenue, specifically fan-out wafer level packaging along with increase in demand for smartphone, devices, and Internet of Things (IoT), semiconductor packaging suppliers are developing processes and ways to reduce the overall cost of advanced packaging and provide maximum operational efficiency. During recent times, it is is mainly used for high-end products and for applications related to niche-market, such as wafer and die production, due to its high cost in its operation.
Semiconductor packaging technology is expected to increase the value of a semiconductor product by adding functionality in its operation, increasing and maintaining the performance while lowering the overall cost of packaging. The adoption of semiconductor packaging is also creating demand for high-performance chips for various consumer electronic products. This augments the demand for 3D and 2.5D packaging chips used in smartphones and other mobile devices.
The global semiconductor packaging market share is segmented into type, packaging material, wafer material, technology, industry vertical, and region. Based on type, the market is divided into flip-chip, embedded die, fan-in WLP, and fan-out WLP. On the basis of packaging material, it is analyzed across organic substrate, bonding wire, leadframe, ceramic package, die attach material, and others. On the basis of wafer material, the semiconductor packaging market is classified into simple semiconductor and compound semiconductor. The simple semiconductor further sub-segmented into silicon (Si) and germanium (Ge). The compound semiconductor is further sub-segmented into III-V (Gallium Arsenide (GaAs), Indium Phosphide (InP), Gallium Nitride (GaN), Gallium phosphide (GaP), and others), II-VI (Zinc Sulfide (ZnS) and Zinc Selenide (ZnSe)), and IV-IV (Silicon Carbide (SiC) and Silicon-Germanium (SiGe)). Based on technology, the market is categorized into grid array, small outline package, flat no-leads packages (Dual-flat no-leads (DFN) & Quad-flat no-leads (QFN)), dual in-line package (Plastic Dual Inline Package (PDIP) & Ceramic Dual Inline Package (CDIP)), and others.   
By industry vertical, the semiconductor packaging market trends is studied across consumer electronics, automotive, healthcare, IT & telecommunication, aerospace & defense, and others. The automotive segment accounted for the highest market share in 2020, whereas the consumer electronics segment is expected to grow at the highest CAGR from 2021 to 2030. By region, the semiconductor packaging market trends are analyzed across the North America, Europe, Asia-Pacific, and LAMEA.  
Semiconductor Packaging Market

---
By Type
Flip Chip segment is projected as one of the most lucrative segments.
Top Impacting Factors
The prominent factors that drive the semiconductor packaging market growth include growth of Internet of Things (IoT) technology, high adoption of consumer electronics devices, and evolving trends toward semiconductor wafers in the automotive industry. However, high cost associated with semiconductor packaging materials hampers its adoption, which is expected to pose a major threat to the global market growth. However, evolving trends toward the fan-out wafer level packaging are expected to provide lucrative opportunities to the semiconductor packaging market growth.   
Competition Analysis
The key players profiled in the semiconductor packaging market report include Amkor Technology (U.S.), ASE Group (Taiwan), ChipMOS Technologies, Inc. (Taiwan), Powertech Technology, Inc. (Taiwan), Intel Corporation (U.S.), Jiangsu Changjiang Electronics Technology Co., LTD (China), Samsung Electronics Co., Ltd. (South Korea), Taiwan Semiconductor Manufacturing Company (Taiwan), Texas Instruments (U.S.), and Fujitsu Limited (Japan). Market players have adopted various strategies, such as product launch, collaboration, product development, agreement, and expansion, to expand their foothold in the semiconductor packaging industry.  
Semiconductor Packaging Market

---
By Industry Vertical
Consumer Electronics segment is expected to secure leading position during forecast period.
Covid 19 Impact Analysis
The impact of COVID-19 on the manufacturing industry has significantly affected the global economy. Electronic components, such as PCBs, LED chips and wafers, ICs, and other semiconductor devices, are mostly imported from China. Attributed to the shutdown of manufacturing units, the prices of semiconductor components have increased by 2-3%, owing to shortage of supplies. 
COVID-19 has a large impact on both consumer and the economy. Electronics manufacturing hubs have been temporarily shut down to limit the COVID-19 spread among individuals. This has majorly affected the supply chain of the semiconductor market by creating shortages of materials, components, and finished goods. Lack of business continuity has ensured significant negative impacts on revenue and shareholder returns, which is expected to create financial disruptions in the semiconductor packaging market growth.
However, slowdown in productions by OEMs and reduction in demand for mobile phones and other consumer electronics have slightly pulled down the semiconductors packaging market. In addition, reduction in various capital budgets and delay in planned projects in various end-use industries have hampered the global economy. 
Semiconductor Packaging Market

---
By Region
Asia-Pacific region would exhibit the highest CAGR of 10.10% during 2021-2030
Key Benefits For Stakeholders
This study comprises analytical depiction of the global semiconductor packaging market outlook along with the current trends and future estimations to depict the imminent investment pockets.
The overall semiconductor packaging market analysis is determined to understand the profitable trends to gain a stronger foothold. 
The report presents information related to key drivers, restraints, and semiconductor packaging market opportunities with a detailed impact analysis.
The current semiconductor packaging market forecast is quantitatively analyzed from 2020 to 2030 to benchmark the financial competency.  
Porter's five forces analysis illustrates the potency of the buyers and the semiconductor packaging market share of key vendors. 
The report includes the trends and the semiconductor packaging market share of key vendors.
Key Market Segments
By Type
Flip Chip
Embedded DIE
Fan-in WLP
Fan-out WLP
By Packaging Material
Organic Substrate
Bonding Wire
Leadframe
Ceramic Package
Die Attach Material
Others
By Wafer Material
Simple  Semiconductor    

Silicon (Si)    
Germanium (Ge)    

Compound Semiconductor    

III-V    

Gallium Arsenide (GaAs)
Indium Phosphide (InP)
Gallium Nitride (GaN) 
Gallium phosphide (GaP)
Others

II-VI    

Zinc Sulfide (ZnS)
Zinc Selenide (ZnSe)

IV-IV    

Silicon Carbide (SiC)
Silicon-Germanium (SiGe)
By Technology
Grid Array    
Small Outline Package    
Flat no-leads packages    

Dual-flat no-leads (DFN) 
Quad-flat no-leads (QFN)

Dual In-Line Package    

Plastic Dual Inline Package (PDIP)
Ceramic Dual Inline Package (CDIP)

Others    
By End User
Consumer Electronics 
Automotive 
Healthcare
IT & Telecommunication
Aerospace & Defense
Others 
By Region
North America
Europe

Germany 
UK
France    
Italy
Rest of Europe

Asia-Pacific

China 
Japan
India
South Korea
Taiwan
Rest of Asia-Pacific

LAMEA

Latin America
Middle East & Africa
Key Players
Amkor Technology, Inc.
ASE Group
ChipMOS Technologies, Inc.
Powertech Technology, Inc.
Fujitsu Ltd.
Intel Corporation
Texas Instruments
Jiangsu Changjiang Electronics Technology Co., LTD 
Samsung Electronics Co., Ltd.
Taiwan Semiconductor Manufacturing Company