Sensor Fusion Market Outlook – 2030 
The sensor fusion market size was valued at $3,546.2 million in 2020, and is projected to reach $19,837.9 million by 2030, registering a CAGR of 19.7% from 2021 to 2030. Sensor fusion is the combination of sensors to get more accurate and reliable information instead of getting them by individual sensors. When two or more sensors clubbed together to get an enhanced result is termed as sensor fusion. The sensor fusion overcomes the limitations of individual sensors by collecting and fusing data from various different sensors to produce more reliable information with less uncertainty. Such robust information is then used to make decisions or take certain actions.
The automotive segment impacted negatively, due to COVID-19.
The sensor fusion is increasingly used in various industry applications such as automotive, healthcare, consumer electronics, military & defense, and other industries. The global sensor fusion market share is expected to witness significant growth as the demand for these industries is on the rise. Sensor fusion finds applications in smartphones, tablets, vehicles, medical devices, and other industrial equipment.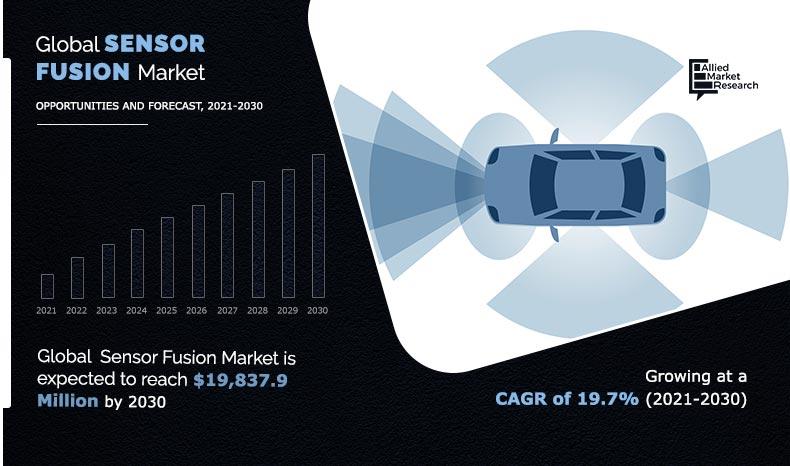 Smartphones are equipped with various different sensors such as Inertial Measuring Unit (IMU) sensors, temperature sensors, light sensors, and others. Such sensors are used to determine different activities such as positioning, tracking, and recognition of various other activities. In healthcare, wearable devices uses sensor fusion in the form for accelerometers and gyroscopes. Advances in the miniaturization and power consumption of MEMS sensor devices and microcontrollers are enabling wearable sensor systems that can be used in a variety of medical environments.
Sensor Fusion Market

---
By Type
IMU segment is projected to be the most lucrative segment
Segment Overview
The sensor fusion market is analyzed on the basis of type, technology, industry vertical, and region. By type, the market is divided into radar sensor, image sensor, IMU, temperature sensor, and others. By technology, the market is divided into MEMS and non MEMS. By industry vertical, it is classified into automotive, healthcare, consumer electronics, military & defense, and industrial. By region, the market is studied across North America, Europe, Asia-Pacific and LAMEA.
Sensor Fusion Market

---
By Technology
MEMS segment will dominate the market throughout the forecast period
Competitive Analysis 
The key players operating in this market are Analog Devices Inc., NXP Semiconductor, Renesas Electronics Corporation, Bosch Sensortec GmbH, InvenSense, Inc., Infineon Technologies, STMicroelectronics, Asahi Kasei Microdevices, BASELABS, and Maxim Integrated. These key players have adopted strategies, such as product portfolio expansion, mergers & acquisitions, agreements, regional expansion, and collaboration, to enhance their market penetration.
Sensor Fusion Market

---
By Application
Consumer Electronics segment will maintain the lead during 2021 - 2030
COVID-19 Impact Analysis 
The ongoing spread of COVID-19 has become one of the biggest threats to the global economy and is causing widespread concerns and economic hardship for consumers, businesses, and communities across the globe. The "new normal" that includes social distancing and working from home has created challenges with daily activities, regular work, needs, and supplies, causing delayed initiatives and missed opportunities.
Sensor Fusion Market

---
By Region
Asia-Pacific region would exhibit the highest CAGR of 21.2% during 2021 - 2030
The COVID-19 pandemic is impacting the society and overall economy across the globe. The impact of this outbreak is growing day-by-day as well as affecting the supply chain. It is creating uncertainty in the stock market, reducing business confidence, hampering the supply chain, and increasing panic among customers. European countries under lockdown have suffered a major loss of business and revenue due to shutdown of manufacturing units in the region. Operations of production and manufacturing industries have been heavily impacted by the sensor fusion market in 2020.
According to the sensor fusion market trends, the COVID-19 pandemic has severely impacted the manufacturing and industrial sectors as production facilities have stalled, which, in turn, leads to significant demand in industries. The emergence of COVID-19 has lowered the growth of the sensor fusion market in 2020. Nevertheless, the market is estimated to witness significant growth during the forecast period. 
Top Impacting Factors
Notable factors positively affecting the sensor fusion market growth include increase in sales of self-driving vehicles and rise in number of portable and wearable electronic devices. Electronic devices such as smartphones, and smartwatch, witnesses high demand. Further, increase in penetration of electric vehicles fuels the demand for sensor fusion industry. The miniaturization of the electronic components to save the space and design of compact electronic devices drives the growth of the market. Furthermore, rise in digitalization and increase in application of sensor fusion in robotics are expected to offer opportunities for the growth of the market in the coming years. 
Key Benefits For Stakeholders
This study comprises analytical depiction of the sensor fusion market size along with the current trends and future estimations to depict imminent investment pockets.
The overall sensor fusion market analysis is determined to understand the profitable trends to gain a stronger foothold. 
The report presents information related to key drivers, restraints, and opportunities with a detailed impact analysis.
The present sensor fusion market forecast is quantitatively analyzed from 2020 to 2030 to benchmark the financial competency. 
Porter's five forces analysis illustrates the potency of the buyers and the market share of key vendors.
The report includes the market trends and competitive analysis of key vendors operating in the sensor fusion market.
Sensor Fusion Market Key Segments
By Type
Radar Sensors
Image Sensors
IMU
Temperature Sensor
Others
By Technology
By Industry Vertical
Automotive
Healthcare
Consumer Electronics
Military & Defense
Industrial
By Region
North America
Europe 

UK
Germany
France
Italy
Rest of Europe

Asia-Pacific

China
Japan
India
South Korea
Rest of Asia-Pacific

LAMEA

Latin America
Middle East
Africa
Key Market Players
Analog Devices Inc. 
NXP Semiconductor 
Renesas Electronics Corporation 
Bosch Sensortec GmbH 
InvenSense Inc. 
Infineon Technologies 
STMicroelectronics 
Asahi Kasei Microdevices 
BASELABS 
Maxim Integrated
 Sensor Fusion Market Report Highlights
Aspects
Details
By TYPE

RADAR SENSOR
IMAGE SENSOR
IMU
TEMPERATURE SENSOR
OTHERS

By TECHNOLOGY
By INDUSTRY VERTICAL

AUTOMOTIVE
HEALTHCARE
CONSUMER ELECTRONICS
MILITARY & DEFENSE
INDUSTRIAL

By Region

North America (U.S., Canada, Mexico)
Europe (France, Germany, Italy, Spain, UK, Russia, Rest of Europe)
Asia-Pacific (China, Japan, India, South Korea, Australia, Thailand, Malaysia, Indonesia, Rest of Asia-Pacific)
LAMEA (Brazil, South Africa, Saudi Arabia, UAE, Argentina, Rest of LAMEA)

Key Market Players
CEVA, INC. (HILLCREST LABORATORIES, INC.), ASAHI KASEI CORP. (ASAHI KASEI MICRODEVICES), ANALOG DEVICES INC., TDK CORPORATION (INVENSENSE INC.), STMICROELECTRONICS N.V., NXP SEMICONDUCTORS N.V., RENESAS ELECTRONICS CORPORATION, MAXIM INTEGRATED PRODUCTS, INC., ROBERT BOSCH GMBH (BOSCH SENSORTEC GMBH), INFINEON TECHNOLOGIES AG