Server Microprocessor Market Overview:
Global Server Microprocessor Market was valued at $14 billion in 2016, and is projected to reach at $16 billion by 2023, growing at a CAGR of 2.1% from 2017 to 2023. Server microprocessors are central processing unit used in the servers to handle the analytical decision-making processes. These server microprocessors are used inside the servers used in data centers and various enterprises among others.
The factors that drive the market are rise in number of data centers, growth in IT expenditure by the developing nations, and rise in demand for cloud-based services. However, high cost restrains the market growth. Moreover, rise in trend of Internet of Things (IoT) is anticipated to provide new opportunities in the market.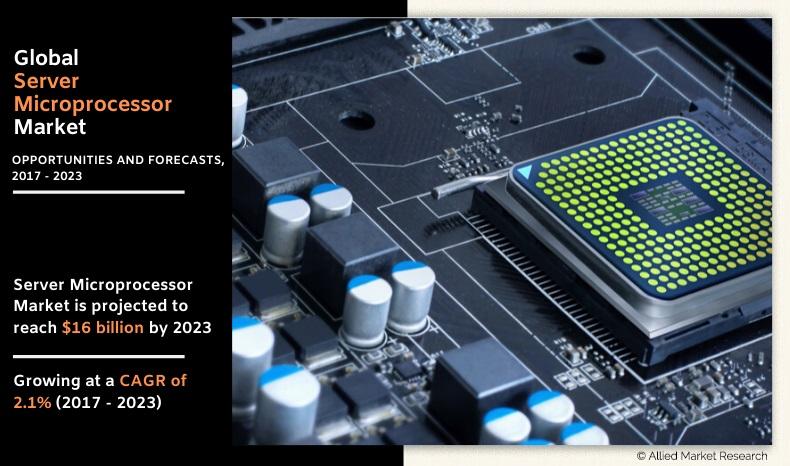 Get more information on this report : Request Sample Pages
Segment Review
The global server microprocessor market is segmented based on design, end user, and geography. Based on design, it is bifurcated into advanced RISC machines (ARM) and x86. Based on end user, it is categorized into large enterprise, medium enterprise, and small enterprise. Geographically, it is analyzed across North America (U.S., Mexico, and Canada), Europe (UK, Germany, France, and rest of Europe), Asia-Pacific (China, Japan, Taiwan, South Korea, and rest of Asia-Pacific), and LAMEA (Latin America, Middle East, and Africa).
Global Server Microprocessor Market Segmentation
Get more information on this report : Request Sample Pages
 Top Impacting Factors
Get more information on this report : Request Sample Pages
 Increase In Number Of Data Center
In the last decade, the penetration of internet has considerably increased globally leading to rise in number of data centers where server microprocessors are used. The rise in user-based online services such as Facebook, YouTube, Twitter, and cloud computing has given rise to the demand for data centers. These centers store personal data in a centralized system that use servers on a large scale leading to market growth.
Europe and Asia-pacific Are Expected to be a Lucrative Region
The Europe and Asia-Pacific server microprocessor market are expected to grow at a high CAGR during the forecast period, owing to the increase in number of data centers, cloud-based services, and rise in IT expenditure.
Competitive landscape
The report provides a comprehensive analysis of the key market players and the significant strategies adopted by them. The key players include Advanced Micro Devices (AMD), Inc., Baikal Electronics, OJSC, Hisilicon Technologies Co., Ltd., IBM Corporation, Intel Corporation, Mediatek Inc., NVIDIA Corporation, Qualcomm Technologies, Inc., Texas Instruments Incorporated, and Toshiba Corporation.
Key Benefits
provides an in-depth analysis of the global server microprocessor market to elucidate the prominent investment pockets from 2017 to 2023.The study
Current trends and future estimations are outlined to determine the overall market scenario.
The report provides information about key drivers, restraints, and opportunities with a detailed impact analysis.
 Key Market Segments & Key Market Players
Segments
Sub-segments
By Design


By End User

Large Enterprises
Medium Enterprises
Small Enterprises



By Geography

North America
Europe

UK
Germany
France
Rest of Europe

Asia Pacific

China
Japan
South Korea
Taiwan
Rest of Asia-pacific

LAMEA

Latin America
Middle East
AFRICA



Key Market Players

ADVANCED MICRO DEVICES, INC
BAIKAL ELECTRONICS, OJSC
HISILICON TECHNOLOGIES CO., LTD
IBM CORPORATION
INTEL CORPORATION
MEDIATEK INC
NVIDIA CORPORATION
QUALCOMM TECHNOLOGIES, INC.
TEXAS INSTRUMENTS INCORPORATED
TOSHIBA CORPORATION