Serverless Architecture Market Outlook - 2025
Serverless architecture is a software design pattern in which a third-party service hosts application and eliminates the need for server management by the developer. This technology enables developers to use backend services on a flexible pay-as-you-go basis, as they are only charged based on their computation and pay for a fixed amount of bandwidth. The global serverless architecture market size was valued at $3,105.64 million in 2017 and is projected to reach $21,988.07 million by 2025, registering a CAGR of 27.8% from 2018 to 2025.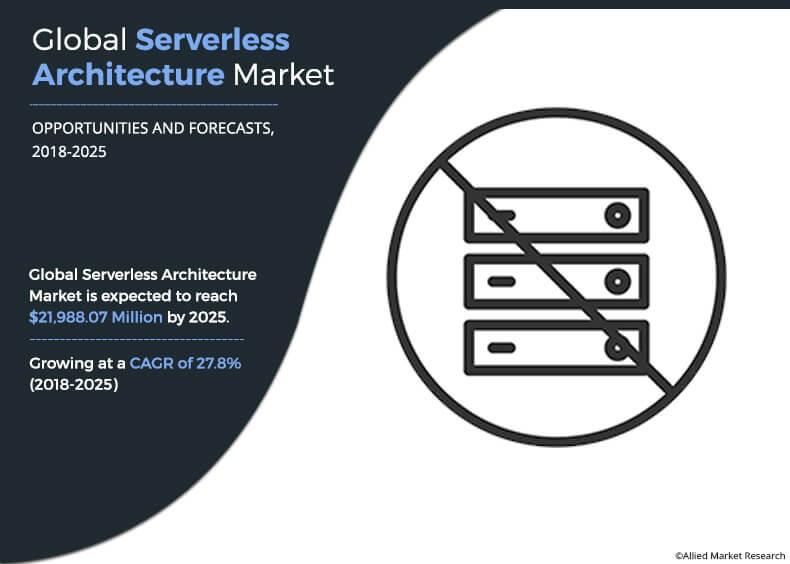 The growth of the global serverless architecture market is driven by rapid app development, rise in need to eliminate management of servers, and shift from DevOps to serverless computing. In addition, several benefits such enhanced scalability and cost-efficiency of serverless architecture propel the growth of the market. However, certain issues associated with third-party APIs such as lock-in problems, compliance, security concerns, and vendor dependency are expected to impact the growth of the serverless architecture market during the forecast period. On the contrary, continuous increase in adoption of cloud technologies and the emergence of serverless computing in growing IoT landscape are expected to be opportunistic for the global market.
The large enterprises segment dominated the overall serverless architecture market share in 2017, owing to significant adoption of serverless computing among these organizations for different applications such as real-time web applications and data processing. In addition, rise in focus to eliminate server management among large organizations has driven the market growth. However, SMEs are expected to exhibit the highest growth rate during the serverless architecture market forecast period, owing to rise in need for cost-efficient and scalable technology, which can reduce IT and infrastructure costs among these organizations while providing high scalability. 
The IT & telecom segment dominated the global serverless architecture market in 2017, owing to rise in adoption of the technology among app developers. Furthermore, numerous benefits offered by it such as high scalability, cost-efficiency, and others boost its adoption among consumers. However, the media & entertainment segment is expected to grow at the highest rate in the near future, due to rise in demand for managing large volume of data & workflows and to ensure efficient broadcasting & improved business outcomes. In addition, several companies are moving toward adoption of this technology to enhance and transform the raw data with rapid speed, high scalability and capabilities to capture, analyze, and deliver large chunks of data of data to their fans.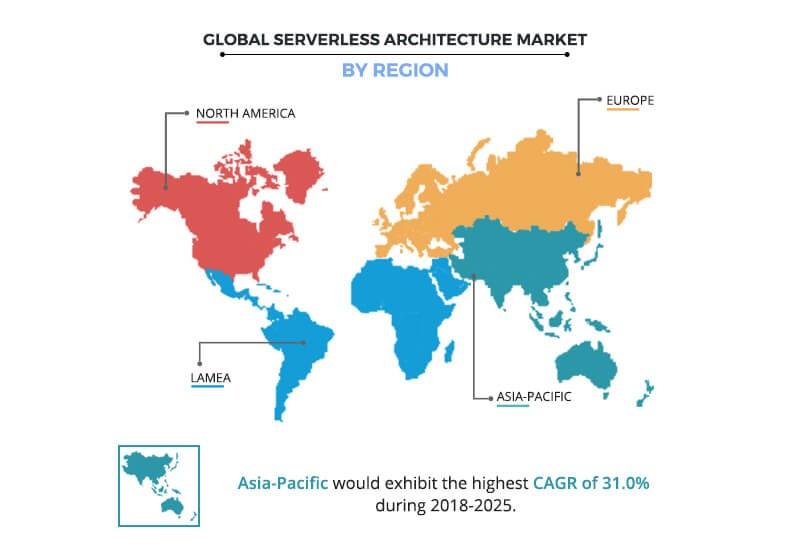 North America governed the overall serverless architecture market share, in terms of revenue, in 2017, due to well-established cloud industry, growth of the app development market, and significant adoption of serverless architecture for IoT applications. However, Asia-Pacific is expected to witness the highest growth rate during the market forecast period, owing to factors such as increase in IT modernization in well-established telecommunication industries in countries such as China, India, and Japan. In addition, upsurge in adoption of IoT-based devices in countries such as Taiwan & South Korea is expected to provide remunerative opportunities for serverless architecture market expansion during the forecast period.
The report focuses on the growth prospects, restraints, and trends of the global serverless architecture market analysis. Moreover, the study includes the Porter's five forces analysis of the industry to understand the impact of various factors such as bargaining power of suppliers, competitive intensity of competitors, threat of new entrants, threat of substitutes, and bargaining power of buyers on the growth of the market.
Segment review
The global serverless architecture market is segmented based on deployment model, organization size, industry vertical, and region. Depending on deployment model, the market is divided into public cloud and private cloud. Based on application, it is segmented into real-time file/stream processing, web application development, IoT backend, and others. On the basis of organization size, it is bifurcated into large enterprises and SMEs. By industry vertical, it is classified into, BFSI, IT & telecom, healthcare, manufacturing, media & entertainment, public sector, retail & e-commerce, and others. Region wise, serverless architecture market is analyzed across North America, Europe, Asia-Pacific, and LAMEA.
The key players operating in the global serverless architecture market include Alibaba Group, Amazon Web Services, Google LLC, IBM Corporation, Microsoft Corporation, Oracle Corporation, Platform9 Systems, Inc., Rackspace Inc., Tibco Software, and Twilio. These players have adopted various strategies to increase their market penetration and strengthen their position in the industry.
Top impacting factors
Rapid rise of the app development market
Increase in demand for useful applications for different platforms such as Android and iOS has created business opportunities for app developers. In addition, rise in number of smartphones, increase in BYOD adoption, surge in number of applications have led to significant growth in demand for app development technologies. For instance, according to the US Bureau of Labor Statistics, the number of developers is expected to increase from 17% to 24% by 2024. With growing demand of applications, the major requirement comes is affordable and budget-friendlier applications along with their rapid development and deployment. Serverless architecture is considered as one of the ideal solutions to build, test, and release cycles inherently agile, thus enhancing developer productivity. In addition, through the serverless approach, developers are able to deliver massively scalable and event-driven applications without any underlying infrastructure issues such as managing servers, storage systems, networking, and others. This helps companies to focus IT labor and time investment into building solutions and products that address core business problems. As a result of aforementioned benefits, large number of companies and their developers are adopting serverless architecture, thus driving the serverless architecture market growth.
Issues associated with third-party APIs
Several issues such as vendor control, vendor lock-in, multitenancy problems, and security & compliance concerns are associated with serverless architectures, due to third-party APIs, and hampers the serverless architecture market. The absence of system control during implementation of APIs has several consequences such as system downtime, loss of functionality, forced API upgrades, unexpected limits, and cost changes. In addition, multitenancy problems have been found in several cloud computing frameworks as serverless architecture can have problems with security, robustness, and performance. Moreover, the dependency of developers on vendors for debugging and monitoring tools is considered a pitfall with serverless architecture, as debugging distributed systems is difficult and requires significant access to amount of relevant metrics to identify the root problem. Moreover, lock-in issues in switching from one vendor's serverless offering to another's require significant time and efforts. Furthermore, security concerns in multiple customers sharing the same serverless architecture are affecting the adoption of serverless architecture. All these complex issues create the ambiguity in customers toward the use of this technology, thus restraining the serverless architecture market growth.
Emergence of serverless architecture applications in growing IoT landscape
Rapid technological developments and innovations have led to the transformation of several industries into a data-driven paradigm, which has opened up vast opportunities. In addition, significant increase in IoT adoption is supported by organizations, which are transforming their business through this technology for device integration and management to enhance productivity and cost-efficiency. Serverless computing has found several applications such as data processing in the growing IoT landscape. Serverless computing can be used to run batch processing, access external APIs?, and route data through just HTTP request from user's device, which reduces the load from hardware. All these applications are considered as major serverless architecture market opportunity.
Impact of COVID-19 on Serverless Architecture Market:
The serverless architecture market is expected to grow during the Covid-19 pandemic outbreak. The operational activities related to the IT industry have been have been carried out by work from home structure to control the transmission of coronavirus. Therefore the adoption of serverless architecture in its application sectors such as BFSI, IT & telecom, media & entertainment, and e-commerce is carried out normally.
However, the demand for serverless architecture in some of its application areas which includes healthcare, manufacturing, public sector, and retail has been decreased due to the operational restrictions during the global lockdown. 
Key Benefits for Serverless Architecture Market:
This study includes the analytical depiction of the global serverless architecture market trends and future estimations to determine the imminent investment pockets.
The report presents information related to key drivers, restraints, and opportunities.
The current serverless architecture market is quantitatively analyzed from 2017 to 2025 to highlight the financial competency of the industry.
Porter's five forces analysis illustrates the potency of buyers & suppliers in the serverless architecture industry.
 Serverless Architecture Market Report Highlights
Aspects
Details
BY DEPLOYMENT MODEL

Public Cloud
Private Cloud

By Application

Real-time file/stream processing
Web Application Development
IoT Backend
Others

By Organization Size
By Industry Vertical

BFSI
IT & telecom
Healthcare
Manufacturing
Media & Entertainment
Public Sector
Retail & e-commerce
Others

By Region

North America (U.S., Canada)
Europe (UK, Germany, France, Italy, Rest of Europe)
Asia-Pacific (China, India, Japan, South Korea, Rest of Asia-Pacific)
LAMEA (Latin America, Middle East, Africa)

Key Market Players
Alibaba Group, Amazon Web Services, Google LLC, IBM Corporation, Microsoft Corporation, Oracle Corporation, Platform9 Systems, Inc., Rackspace Inc., Tibco Software, Twilio