Service Delivery Automation Market Outlook - 2022
Service Delivery Automation Market was valued at $620 million, and is expected to reach $6,752 million by 2022, supported by a CAGR of 25.7%. Service delivery automation is as also known as process automation, robotic process automation, intelligent process automation, machine learning, and artificial intelligence.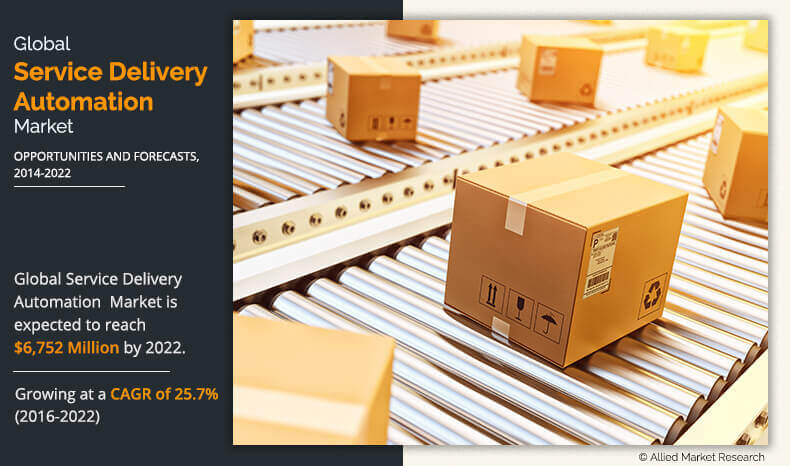 Automation helps to enable a digitally equipped enterprise or a business to transform their service delivery and operations to bring cost savings, accuracy, and productivity scale to the next level.  Moreover, it generates a large amount of valuable and rich data, which ensembles smarter and faster decision-making, right from optimizing current processes and operations to predicting when, where, and how best to provide new products and services.
The global service delivery automation industry is segmented based on type, component, user type, industry vertical, and geography. Based on type, the market is bifurcated into IT process automation and business process automation, while the component segment consists of software and services. The industry vertical segment consists of BFSI, healthcare, travel, hospitality & leisure, IT & telecom, manufacturing, transport & logistics, and retail.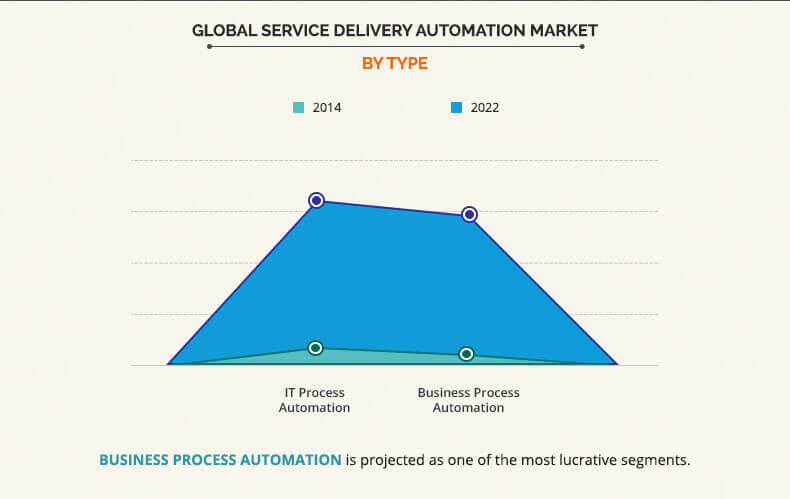 Based on geography, the service delivery industry is analyzed across regions that are, North America, Europe, Asia-Pacific, and LAMEA. North America was the highest revenue-generating segment in 2015.
The global market for service delivery automation industry was valued at $620 million in 2015, and is estimated to grow at a CAGR of 25.7% to reach $6,752 million by 2022. The market is driven by enhanced productivity & reduced cycle time, advanced process analytics, improved quality, accuracy and compliance, and efficiency & cost reduction. However, the market growth is restrained due to high monetary expenses for the initial implementation in developed as well as developing countries.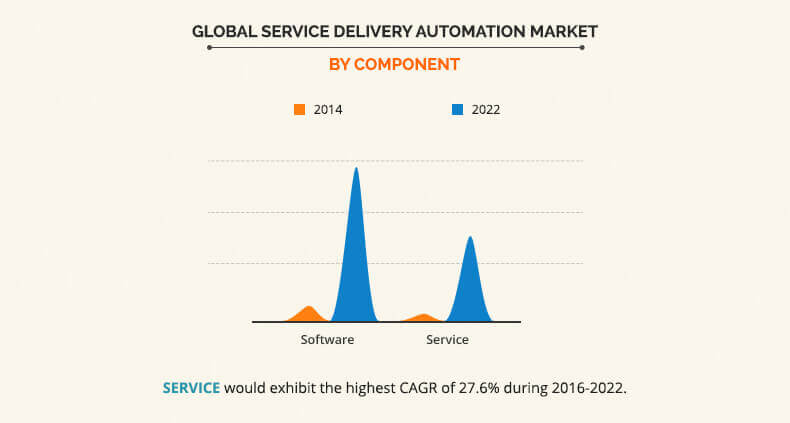 Currently, many organizations follow a service delivery automation framework that controls the processes and the people involved in it, as well as the products that are used to provide the user with access to a corporate application. The methodology that an IT shop follows to enable IT service delivery is called IT service management (ITSM). The IT team enforces preferred and prohibited approaches to deliver the application in accordance with regulations or preferred best practices by automating the service delivery.
Asia-Pacific is the leading regional market, in terms of growth rate, for service delivery, owing to major investments in IT infrastructure automation and business process automation in China, Japan, South Korea, and India.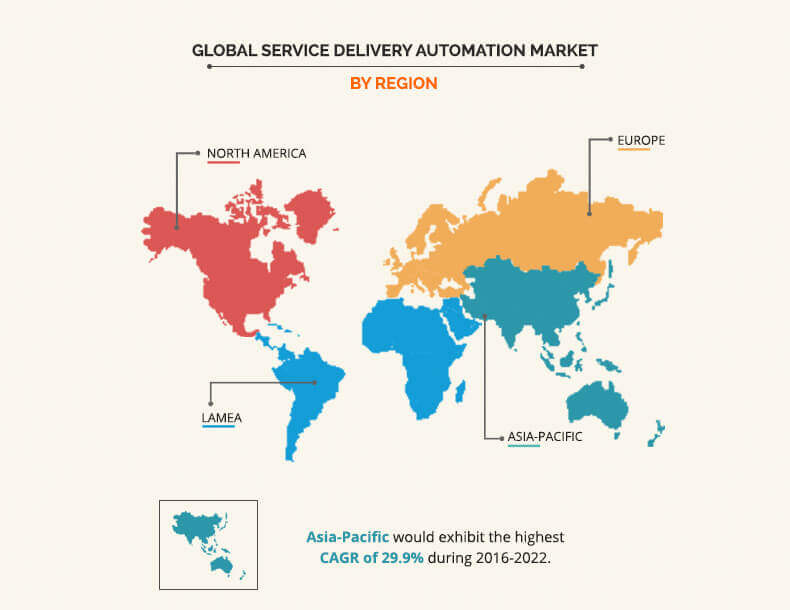 Key players profiled in the report are IBM Corporation, UiPath SRL, IPsoft, blueprism, Xerox Corporation, Nice Systems Ltd., Celaton Limited, Openspan Inc., Sutherland Global Services, and Arago US, Inc. The report discusses the key strategies adopted by the companies in addition to the current trends, upcoming opportunities, and restraints in the market growth, with detailed information about their impacts.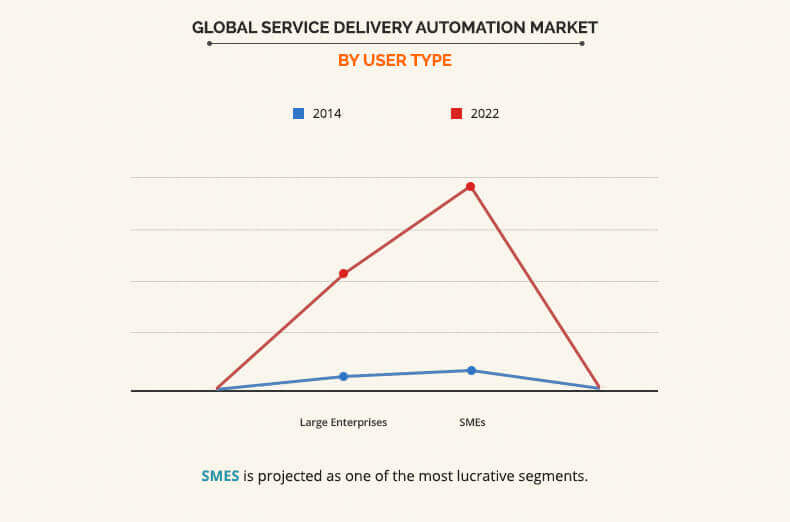 Top Impacting Factors
Scalability
In service delivery automation, the solutions can be easily and rapidly integrated to meet significant demand over and above the normal levels. For example, there might be a rise in customer orders as a result of festive season flash sales by a retailer; in such situations, robotic FTEs can be rapidly scaled up and down on demand operating under any jurisdiction (onshore/offshore/near-shore). This in turn helps the business to speed up the operations to deliver the project to the client in a timely manner.
Governance and Reporting
Service delivery automation platforms are highly secure and can maintain extensive audit trails for compliance and governance teams to monitor and track each activity on a real-time basis, thereby adhering to strict governance controls. Around 70% of the service providers interviewed as part of the study have established well-defined governance frameworks for managing, implementing, monitoring, and measuring service delivery automation led initiatives.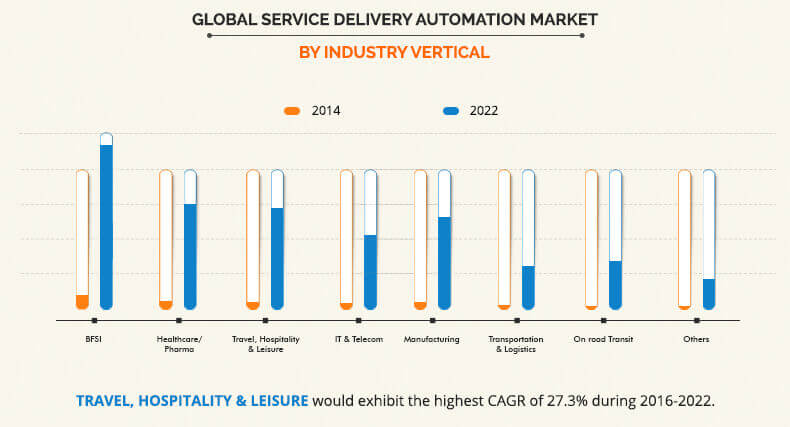 High Initial Investment
The initial cost required for the setup and integration of service delivery automation is high, which limits its use in few small and medium organizations. Industries with high labor costs are more likely to use service and process automation to reduce their labor costs and offer high-quality products and services. Industries, such as automotive and electronics, where precision and accuracy play a major role use automated systems to meet international quality standards. However, with new emerging technologies, and growth in competition in the market, the initial costs of automating service delivery are expected to reduce time and cost in the future.
Key Benefits of Service Delivery Automation Market Study: 
The report provides an overview of the trends, structure, drivers, challenges, and opportunities in the global service delivery automation industry.
Porter's Five Forces analysis highlights the potential of buyers & suppliers, and provides insights on the competitive structure of the market to determine the investment pockets of the service delivery automation market.
Current and future service delivery automation trends adopted by key players are highlighted to determine overall competitiveness of the market.
Value chain analysis provides a systematic study of the key intermediaries involved to formulate effective strategies.
The quantitative analysis of the market from 2014 to 2022 is provided to elaborate the market potential.
 Service Delivery Automation Market Report Highlights
Aspects
Details
By Component
By Type

IT Process Automation
Business Process Automation

By User Type

Large Enterprises
Small & Medium Enterprises

By Industry Vertical

BFSI
Healthcare
Travel, Hospitality & Leisure
IT & Telecom
Manufacturing
Transport & Logistics
Retail
Others

By Geography

North America
Europe

UK
France
Germany
Rest of Europe

Asia-Pacific

China
Japan
South Korea
India
Rest of Asia-Pacific

LAMEA

Latin America
Middle East
Africa

Key Market Players
ARAGO GMBH, BLUE PRISM GROUP PLC, CELATON LIMITED, INTERNATIONAL BUSINESS MACHINES CORPORATION, IPSOFT INC., NICE LTD., OPENSPAN, INC. (PEGASYSTEMS INC.), SUTHERLAND GLOBAL SERVICES, INC., UIPATH SRL, XEROX CORPORATION