Service Robotics Market Research, 2030
The global service robotics market size was valued at $21.7 billion in 2020, and is projected to reach $153.7 billion by 2030, growing at a CAGR of 21.2% from 2021 to 2030. Service robots are semi-automatic or fully-automatic robots that are utilized to perform useful and dangerous task for humans. These robots assist humans in various sectors such as medical & healthcare, construction, automation, domestic, and entertainment. An internal control system operates these robots automatically, with the possibility to override the action manually. These service robots eliminate the chance of human error, manage time, and enhance the productivity by reducing the workload of the staffs and labors.
The COVID 19 outbreak has affected the growth of the service robotics industry owing to the lockdown measure in the countries and delay in production and manufacturing of service robotics which are utilized in automotive, healthcare, construction, and other industries.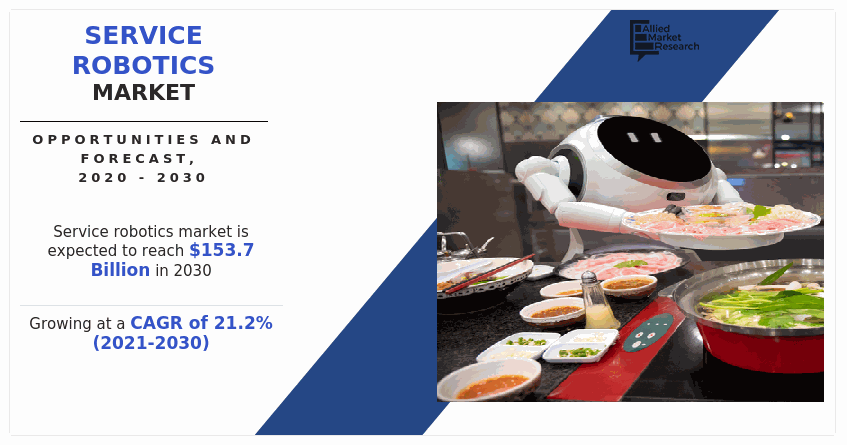 Get more information on this report : Request Sample Pages
Service robotics have gained widespread acceptance in a variety of professional and personal applications owing to benefits such as delivery of precise and high-quality services that decreased operating expenses & human mistakes and improved usability & dependability. Furthermore, owing to rise in labor costs and scarcity of trained workers, various companies have adopted robotic technology to overcome human error operations and enhance productivity. Moreover, growth in awareness regarding the benefits of robots, increase in R&D investments, and surge in demand for automation in personal & professional sector has increased the demand for service robots. However, factors such as increase in raw material and semiconductor chips prices have negatively impacted the market growth. Furthermore, high initial investment and high maintenance cost has also restrained the service robotics market growth. 
Service Robotics Market

---
By Type
Professional service robotics segment holds dominant position in 2020
In addition, major market players offer fully and semi-automatic service robots for variety of applications and to strengthen their capabilities & grow their client base, they are acquiring and working with leading service robots organizations. For instance, in February 2020, ABB, the leading supplier of industrial robots partnered up with Covariant, an AI start-up. ABB and Covariant plan to work on AI-enabled robotics solutions starting with fully automatic robotic system for warehouse operations and e-commerce sector.
Service Robotics Market

---

By Application
Construction segment is projected to grow at a significant CAGR
The service robotics market consists of two types, professional and personal service robots. Professional service robot segment occupies maximum market share.However, the personal service robot segment is expected to grow at a fast pace during the forecast period. Professional service robots are utilized in sectors such as defense & security, healthcare, forestry, agriculture, construction, and logistics whereas personal service robots are adopted for entertainment and domestic purpose.
Service Robotics Market

---

By Region
North America
Asia-pacific
Lamea
Europe holds a dominant position in 2020 and Asia-Pacific is expected to grow at a significant rate during the forecast period.
On the basis of region, Europe was the largest revenue generating region in 2020. Owing to increase in government investment in R&D sector, various initiatives are undertaken to fuel the growth of robotics R&D activities in various sectors. However, Asia-Pacific is expected to be the fastest growing region during the forecast period owing to rise in automation in developing countries. Further, countries in this region have adopted robotics solutions owing to the technological advancements and emergence of new business models, such as the growth of e-commerce and booming retail sectors.
The novel coronavirus (COVID-19) rapidly spread across various countries and regions in 2019, causing an enormous impact on lives of people and the overall community. It began as a human health condition and has now become a significant threat to global trade, economy, and finance. The COVID-19 pandemic halted production of many products in the market, owing to lockdowns. Furthermore, the number of COVID-19 cases is expected to reduce in the future with the introduction of the vaccine for COVID-19 in the market. This has led to the reopening of service robotics companies at their full-scale capacities. This is expected to help in recovering service robotics market by the start of 2022. After COVID-19 infection cases begin to decline, equipment &machinery producers must focus on protecting their staff, operations, and supply networks to respond to urgent emergencies and establish new methods of working.
The market is segmented on the basis of type, application, and region. On the basis of type, the market is divided into professional service robots and personal service robots. On the basis of application, the market is divided into healthcare, defense, domestic, construction, logistics, field, entertainment & leisure,and others.Region wise, the global market analysis is conducted across North America (the U.S., Canada, and Mexico), Europe (the UK, France, Germany, Italy, and Rest of Europe), Asia-Pacific (China, Japan, India, South Korea, and Rest of Asia-Pacific), and LAMEA (Latin America, the Middle East, and Africa). 
Competition Analysis
The key players that operating in the global service robotics are iRobot Corporation, Intuitive Surgical, Inc., Honda Motor Co., Ltd., Panasonic Corporation, Aethon, Inc., Yujin Robot Co., Ltd., GeckoSystems Intl. Corp., Samsung Electronics Co., Ltd., Robert Bosch GmbH, and AB Electrolux.
Key Benefits For Stakeholders
The report provides an extensive analysis of the current and emerging

service robotics market

trends and dynamics. 

In-depth

service robotics market

analysis is conducted by constructing market estimations for key market segments between 2021 and 2030.

Extensive analysis of the

service robotics market

 share is conducted by following key product positioning and monitoring of top competitors within the market framework.

A comprehensive analysis of all the regions is provided to determine the prevailing opportunities.

The global service robotics market

forecast analysis from 2021 to 2030 is included in the report.

The key players within service robotics are profiled in this report and their strategies are analyzed thoroughly, which help understand the competitive outlook of the

service robotics

industry.

The report includes service robotics market opportunity and comprehensive analysis of all the regions is provided to determine the prevailing opportunities.
 Key Market Segments & Key Market Players
Segments
Sub-segments
By Application

Healthcare
Defense
Field
Logistics
Construction
Domestic
Entertainment
Others



By Type

Professional service robotics
Personal service robotics



By Region

North America
Europe

Germany
France
UK
Italy
Rest of Europe

Asia-Pacific

China
India
Japan
South Korea
Rest of Asia-Pacific

LAMEA

Latin America
Middle East
Africa



Key Market Players

iRobot Corporation
Intuitive Surgical Inc
Honda Motor Co., Ltd.
Panasonic Corporation
Aethon Inc.
Yujin Robot Co. Ltd.
Samsung Electronic CO., Ltd.
DeLaval
robert bosch gmbh
AB Electrolux