The global servo press market size was valued at 667.8 million in 2020, and is projected to reach $1,068.3 million by 2030, registering a CAGR of 4.8% from 2021 to 2030. Servo presses are used for processes such as forging, punching, molding and metal forming. Servo presses are equipped with high-performance servo motors that provide higher slide rate in the forming process than conventional hydraulic presses.
The COVID 19 outbreak has affected the growth of the industry owing to the lockdown measure in the countries and delay in manufacturing and production of crushing, screening, and mineral processing equipment used in construction, foundries, smelters, and mining applications.
Increase in industrialization has significantly increased the use of metals, thereby creating a demand for servo press market as they are extensively used in metal forming operations. The rise in rules and regulations on vehicle emissions has created a demand for efficient and light weight vehicles. Thus, the need for reducing the weight of large automotive components such as door panels, dashboard bodies and other body components has fueled the use of servo presses. Furthermore, the rise in purchasing power of masses has significantly increased the demand for electronic products. This increase in demand further boosts the use of servo presses in manufacturing facilities.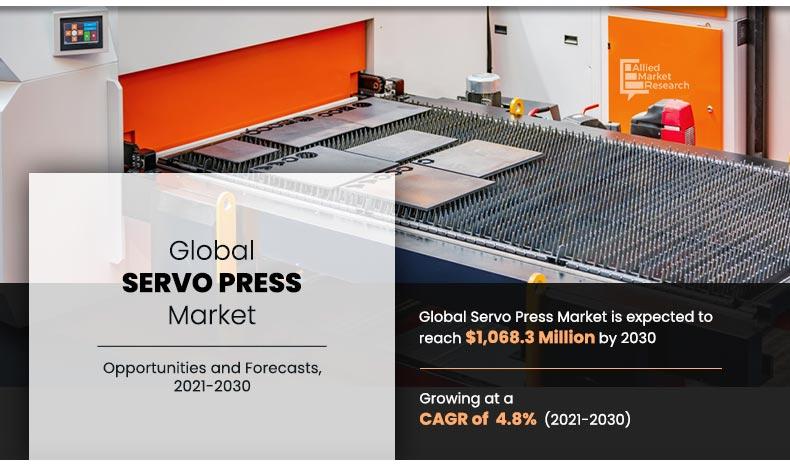 Companies are increasing its manufacturing and production of servo presses by expanding its business into other countries. For instance, in April 2019, Hitachi Zosen Fukui has opened the second machine plant of Hitachi Zosen Fukui. It is a significant component of the primary product, a super-large press machine that can process up to 80 tonnes, which is one size larger than before, with the goal of increasing productivity by 20%.
Rise in population in Asia-Pacific region and steady growth of economies such as India, China, Mexico, and Bangladesh has resulted in rapid urbanization, which is expected to boost development of the industrial sector, which, in turn, is expected to increase the demand for servo presses. Asia-Pacific is emerging as a major automotive hub, owing to rapid growth of automotive industry in countries such as China and India.
China is the world's largest automotive market by both manufacturing capacity and annual sales, and India has approximately 25 vehicles per thousand people as of 2020, and the number is expected to across 150 by 2040. Furthermore, the Indian appliance and consumer electronics industry is anticipated to reach $21.28 billion by 2025 and installed stock of room ACs can reach up to 124 million by 2030 up from 30 million units in 2017. Thus, the demand for servo presses is anticipated to significantly increase in the Asia-Pacific region. However, high adoption of second-hand servo presses, owing to high initial cost of new units, and fluctuations in raw material prices hinder the servo press market growth.
Servo Press Market

---
By Type
Screw segment is projected to grow at a highest CAGR
The novel coronavirus has rapidly spread across various countries and regions, causing an enormous impact on the lives of people and the overall community. It began as a human health condition and has now become a significant threat to global trade, economy, and finance. The COVID-19 pandemic has halted the production of many products in the servo press business due to the lockdown. Furthermore, the number of COVID-19 cases are expected to reduce in the near future as the vaccine for COVID-19 is introduced in the market. This has led to the reopening of servo press companies at their full-scale capacities. This will help the servo press market to recover by the start of 2022. After COVID-19 infection cases begin to decline, equipment &machinery producers must focus on protecting their staff, operations, and supply networks to respond to urgent emergencies and establish new methods of working.
Furthermore, growth in industries across the globe and rise in demand for efficient manufacturing processes are anticipated to drive the growth of servo press market during the forecast period. In addition, manufacturers are continuously introducing new types of servo press for various applications, to improve performance. 
Servo Press Market

---
By End User Industry
Automotive segment holds dominant position in 2020
The servo press market is segmented on the basis of type, capacity, end-user industry, and region. By type, the market is categorized into crank type and screw type. Depending on capacity, it is fragmented into below 200T, 200T – 500T and above 500T. On the basis of end-user industry, it is categorized into automotive, aerospace, electrical & electronics and other. Region wise, the global servo press market analysis is conducted across North America (the U.S., Canada, and Mexico), Europe (the UK, France, Germany, Italy, and Rest of Europe), Asia-Pacific (China, Japan, India, Thailand, and Rest of Asia-Pacific), and LAMEA (Latin America, the Middle East, and Africa).
Competition Analysis
Key companies profiled in the servo press market report include Amino Corporation, Hitachi Zosen Fukui Corporation, ISGEC Heavy Engineering Ltd., Japan Automatic Machine Co., Ltd., Komatsu Ltd., Nidec-Shimpo Corporation, Promess Incorporated, Schuler AG., SIMPAC Corp., and Tox Pressotechnik GmbH & Co. KG
Servo Press Market

---
By Region
Asia-Pacific holds a dominant position in 2020 and is expected to grow at a significant rate during the forecast period.
Key Benefits For Stakeholders
The report provides an extensive analysis of the current and emerging Servo press market trends and dynamics.  
In-depth market analysis is conducted by constructing market estimations for key market segments between 2021 and 2030. 
Extensive analysis of the servo press market is conducted by following key product positioning and monitoring of top competitors within the market framework.
A comprehensive analysis of all the regions is provided to determine the prevailing opportunities.
The global servo press market forecast analysis from 2021 to 2030 is included in the report.
The key players within servo press market industry are profiled in this report and their strategies are analyzed thoroughly, which help understand the competitive outlook of the Servo press industry. 
 Servo Press Market Report Highlights
Aspects
Details
By Type
By CAPACITY

Below 200T
201T-500T
Above 500T

By END USER INDUSTRY

AUTOMOTIVE
Aerospace
Electrical & electronics
Others

By Region

North America (U.S., Canada, Mexico)
Europe (Germany, France, UK, Italy, Rest of Europe)
Asia-Pacific (China, India, Japan, South Korea, Rest of Asia-Pacific)
LAMEA (Latin America, Middle East, Africa)

Key Market Players
NIDEC CORPORATION, HITACHI ZOSEN FUKUI CORPORATION, SIMPAC CORPORATION, TOX PRESSOTECHNIK CMBH & CO. KG, ISGEC HEAVY ENGINEERING LTD., SCHULER AG, KOMATSU LTD., JAPAN AUTOMATIC MACHINE CO., LTD., AMINO NORTH AMERICA CORORATION, PROMESS INCORPORATED