The sewing machine market size was valued at $4,975.2 million in 2019, and is projected to reach $6,509.8 million by 2027, growing at a CAGR of 6.10% from 2021 to 2027.
A sewing machine is used to stitch the fabric and other pliable materials together with threads. The different parts of a sewing machine and its various functions help the operator to know the functioning of a sewing machine. There are different types of sewing machines used in the manufacturing of garments and other articles. In a modern sewing machine, the fabrics are easily operated in and out of the machine with the convenience of needles and thimbles and other such tools used in hand sewing, thereby automating the various processes of stitching and saving time. Some sewing machines are larger, faster, more complex, and have a wide range in their size, cost, appearance, and task. Safety devices such as needle guards are used to prevent accidental needle-stick injuries, which are often found on modern sewing machines.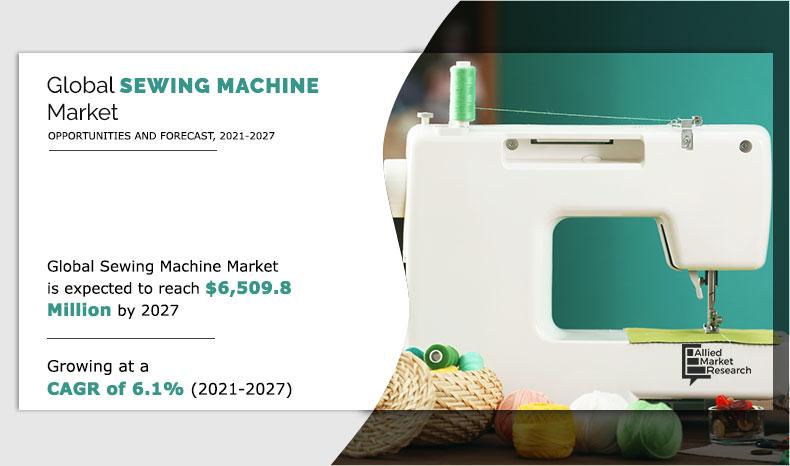 Sewing machine controls the fabric with feeding devices and forms a perfect stitch to join the fabrics. It has various parts and attachments, each of which have their own importance and use. There are categories of sewing machines, which are domestic sewing machine and industrial sewing machine. Domestic sub segment generally includes housewives, connoisseurs, and artisans to stitch torn clothes. These machines are in fashion for making creative embroideries on clothes and canvas as well as to stitch basic household clothes in various cases. This segment is expected to witness a huge demand in coming years. Industrial sub-segments include industrial use to stitch such as car upholstery, bags, apparels, furniture products, garments, and shoes. Some of the features of this sub-segment include high accuracy as well as high speed that make it convenient for consumers in this segment to generate profitable revenue. 
Sewing machines have product type such as mechanical, which is also known as manual machines/tailoring machine/treadle sewing machine/domestic sewing machines and it is expected to witness huge growth in coming years for this sub-segment. .It provides various advantages to consumers such as inexpensive, easily repairable, adjustable, convenient to use. Therefore, there have been numerous demands in the sewing machine market forecast. Electronic sewing machines have numerous features such as good quality, advance stitching, and accuracy, which has become lucrative for many consumers. Professionals/tailors and people with expertise are the major consumers in this sub-segment, as it offers more precision in work. Embroidery sewing machine market is generally used for designing different patterns of embroidery on the fabric. Fashion industry as well as textile industry are the main users of this machine because many consumers are moving toward authentic and sophisticated fashion style. This sub-segment is expected to witness huge demand in coming years.
Sewing Machine Market

---
By Product Type
Electronic segment dominates the global market and is expected to retain its dominance throughout the forecast period.
Factors such as low-cost maintenance while using machines, have become one of the main reasons which is driving the sewing machine market growth. Options for designing different patterns, precisions and varieties of as many batches can be produce at a single time are one of the major reasons for key players to generate profitable revenue in the sewing machine market. It has two distribution channels. Online includes e-commerce sites and company's direct sales websites. Due to COVID-19 as well as convenience, many consumers prefer sewing machines because it has become accessible to wide range of customers. It has been expected that there will be huge growth in coming years. And the other is offline that includes specialty stores, retail stores, and hypermarket/supermarket. Consumers from the domestic sub-segment have been the largest contributor in revenue for this offline sub segment. Professional/experts also prefer this sub segment because of high quality, precision, and accuracy, which is one of the main reasons for the raising sewing machine market demand.
Sewing Machine Market

---
By Application
Domestic segment is expected to grow at a highest CAGR of 6.3% during the forecast period.
COVID-19 Impact on sewing machine market:
The impact of the COVID-19 crisis on consumer behavior and manufacturing trends has increased the importance of digitalization and automation for the sewing machine industry. Online consumers looking for personalized shopping experiences and competitive prices are pushing sewing machine manufacturers to innovate on their existing product as well as workflow. Advances in digital technology and communication tools are empowering sewing machine manufacturers to respond faster to the changes in consumer demand, gain cost-saving benefits, and boost their operational efficiency.
Sewing Machine Market

---
By Distribution Channel
Online segment is expected to grow at a highest CAGR of 7.1% during the forecast period.
The pandemic is building up consumer demand for socially active brands that share their values and for products that respect the environment. The COVID-19-led lockdown has forced several people to diversify into areas of work. This is one of the reasons for an increase in the sales of home sewing machines. People have taken up sewing either as a hobby or to make a living.
Some of the observations and analysis that can be made looking at the current and present scenarios related to the sewing machine industry are as follows:
It may sure take some time for the consumers to return to more expensive and convenience sewing machines.
A fast rebound in demand is expected in leading countries in the sewing machine market such as India and China.
All the government bodies in almost every country are focusing on getting their industries back to normal and hence, the several efforts that are underway may provide support to the industry in 2021.
Manufacturers can develop an effective supply chain response plan to mitigate risk and prepare for any interruptions that the coronavirus outbreak can cause involving supplier engagement response with cross-tier risk transparency, inventory critical part identification, production-capacity optimization, demand management, logistics-capacity pre-booking, and route optimization.
The sewing machine market is segmented on the basis of product type, application, distribution channel, and region. By product type, the market is divided into mechanical, electronic, and embroidery. By application, the market is classified into domestic and industrial. By distribution channel, it is fragmented into online and offline. By region, the market is analyzed across North America, Europe, Asia-Pacific, and LAMEA.
Sewing Machine Market

---
By Region
Asia-Pacific dominates the market in 2019 and is expected to grow with a CAGR of 6.8% during the forecast period
Key Benefits For Stakeholders
This report provides a quantitative analysis of the market segments, current trends, estimations, and dynamics of the sewing machine market analysis from 2019 to 2027 to identify the prevailing market opportunities.
The market research is offered along with information related to key drivers, restraints, and market opportunities.
Porter's five forces analysis highlights the potency of buyers and suppliers to enable stakeholders make profit-oriented business decisions and strengthen their supplier–buyer network.
In-depth analysis of the market segmentation assists to determine the prevailing market opportunities.
Major countries in each region are mapped according to their revenue contribution to the global sewing machine market share. 
Market player positioning facilitates benchmarking and provides a clear understanding of the present position of the market players.
The report includes the analysis of the regional as well as global sewing machine market trends, key players, market segments, application areas, and market growth strategies.
 Sewing Machine Market Report Highlights
Aspects
Details
By Product Type

Mechanical
Electronics
Embroidery

By Application
By Distribution Channel
By Region

North America (U.S., Canada, Mexico)
Europe (Germany, UK, Italy, Netherland, Spain, Rest of Europe)
Asia-Pacific (China, India, Japan, Bangladesh, Vietnam, Rest of Asia-Pacific)
LAMEA (Brazil, South Africa, Argentina, Rest of the Europe)

Key Market Players
Bernina International AG, Brother Industries, Ltd, Janome Sewing Machine Co Ltd, JUKI Corporation, Merrow Sewing Machine Company, Mitsubishi Electric Corporation, Necchi Italia S.r.l., Singer India Limited, Tacony Corporation, Usha International Limited.