Sexual Wellness Market Research, 2032
The global sexual wellness market size was valued at $19.7 billion in 2022 and is projected to reach $31.6 billion by 2032, growing at a CAGR of 4.9% from 2023 to 2032.
There is a growing concern for environmental sustainability, which has led consumers to seek sexual wellness products that are eco-friendly and produced using sustainable practices. Natural and organic materials are often considered more environmentally responsible.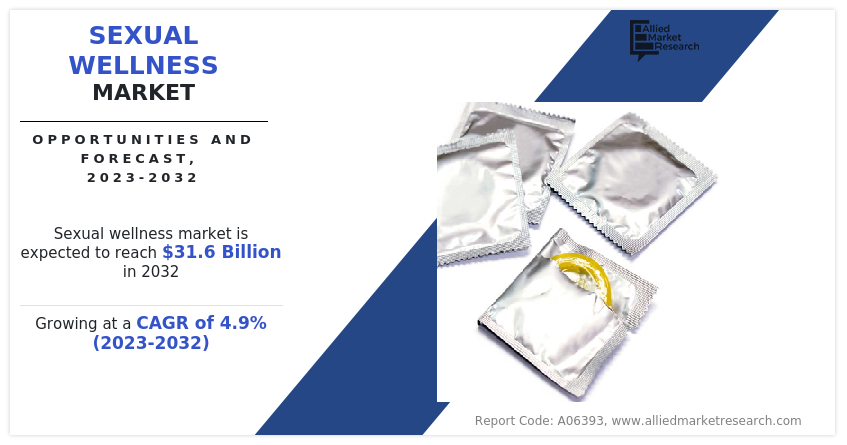 Sexual wellness products are items specifically designed and marketed to enhance and support sexual well-being, pleasure, and safety. These products are intended to improve comfort, increase arousal, promote safer sexual practices, and address various concerns related to sexual activity. Sexual wellness products such as lubricants, sprays, and condoms are designed to enhance sexual pleasure, promote safer sexual practices, and contribute to overall sexual well-being. They are intended to be used in a consensual, safe, and responsible manner, following the instructions provided by the manufacturers.
A significant shift has been witnessed in societal attitudes toward sexuality and sexual well-being, leading to increased awareness and acceptance. People are now more open to discussing and prioritizing their sexual health, leading to a greater demand for sexual wellness products. Increased awareness campaigns, education, and advocacy efforts have played a crucial role in driving this positive change. Awareness campaigns and education initiatives focused on sexual wellness products create demand by informing individuals about the benefits and importance of using these products. By raising awareness about the availability and effectiveness of condoms, lubricants, and sprays, more people become interested in incorporating these products into their sexual experiences. This increased demand leads to market growth as individuals seek out and purchase these items. Increased awareness and acceptance of sexual wellness product is expected to propel the growth of the Sexual Wellness industry in the upcoming years. 
The rise in instances of HIV and other sexually transmitted infections has promoted the use of condoms and other sex-related products such as sex toys and contraceptives among the population. Condoms have gained significant popularity among millennials as they reduce the risk of pregnancy and decrease risks related to sexually transmitted infections. Governments and NGOs in many countries distribute free condoms promoting their use to combat the issue of overpopulation, which is anticipated to increase the production of condoms and in turn, propel the market growth. For instance, according to the Joint United Nations Program on HIV/AIDS (UNAIDS), 38.4 million [33.9 million–43.8 million] people globally were living with HIV in 2021, and 1.5 million [1.1 million–2.0 million] people became newly infected with HIV in 2021. Sexual wellness products such as condoms play a vital role in preventing such sexually transmitted diseases.
Social marketing is a type of intervention in which sexual wellness product brands are marketed with a promotional campaign and sold to a specific target population. This platform is mainly used to brand condoms to promote their use and spread awareness regarding STDs. In addition, there are many other approaches, which include public/ free and private distribution of condoms that boost the market growth. Social marketing has gained significant popularity in developing countries such as China and India for branding and sales of condoms.
Furthermore, the creative condom segment plays a vital role in increasing the sales of condoms. For instance, Durex released an advertisement on Father's Day with a tagline: "To all those who use our competitors' products, Happy Father's Day." Such taglines tend to work in social media marketing, which makes considerable promotions of such sexual wellness products. Furthermore, social marketing has been embraced by governments and NGOs to deliver health programs, including family planning, and HIV-AIDS awareness. increase in investment in marketing and promotion of the sexual wellness products id expected to propel the sexual wellness market growth. 
In contraceptive social marketing, contraceptive manufacturing companies provide contraceptives to social marketing companies/agencies or NGOs. These agencies or NGOs use already-existing commercial and non-commercial distribution networks and retail shops to make the subsidized commodities available to the target population. Growth in the millennial population directly influences market growth, as millennials are the target consumers of sexual wellness products. In addition, it has been witnessed that there is a rise in interest in sexual items among the young population. India has more than 50% of its population below the age of 25 and more than 65% below the age of 35 as of 2022, which is anticipated to boost the demand for the sexual wellness industry in the sexual wellness market forecast period
Furthermore, gender equality, women empowerment, and financial independence women help take their own decisions, which is expected to make marketers think about women as independent buyers of condoms and contraceptives. In addition, growth in acceptance of the LGBT community further propels the growth of the sexual wellness market. Considerable numbers of products are available for the LGBT community, including double dildos, tongue vibes, nipple vibes for lesbian couples and cock rings, butt plugs, & anal dildos for gay couples. with the rising adoption of sexual wellness products is expected to propel the sexual wellness market demand.  
Growth in hectic schedules, stress, frustration, psychological disorders, and medical issues have led to a reduction in sexual activities. For instance, medical issues such as low testosterone, medications, restless legs syndrome (RLS), depression, chronic illness, sleep problems, and aging lead to a decrease in sexual stamina of men and women, which in turn, leads to decreased enthusiasm during sexual activities. In a study, researchers discovered that men with RLS are at higher risk of developing erectile dysfunction (ED) than those without RLS.
Thus, the surge in medical, psychological, and physical issues in men and women has led to a decrease in sexual acts, which results in a declining demand for sexual wellness products, especially sex toys, condoms, and female contraceptives. According to the market analysis, the sexual wellness market is segmented into products, distribution channel, and region. By product type, the market is divided into personal lubricants, sprays, and condoms. By distribution channel, the market is divided into specialty stores, e-commerce, FDM, and white label. Region-wise, the market is analyzed across North America (the U.S., Canada, and Mexico), Europe (Germany, France, Italy, Spain, UK, Russia, and rest of Europe), Asia-Pacific (China, Japan, India, South Korea, Australia, Thailand, Indonesia, and rest of Asia-Pacific), and LAMEA (Brazil, South Africa, Saudi Arabia, UAE, Argentina, and rest of LAMEA).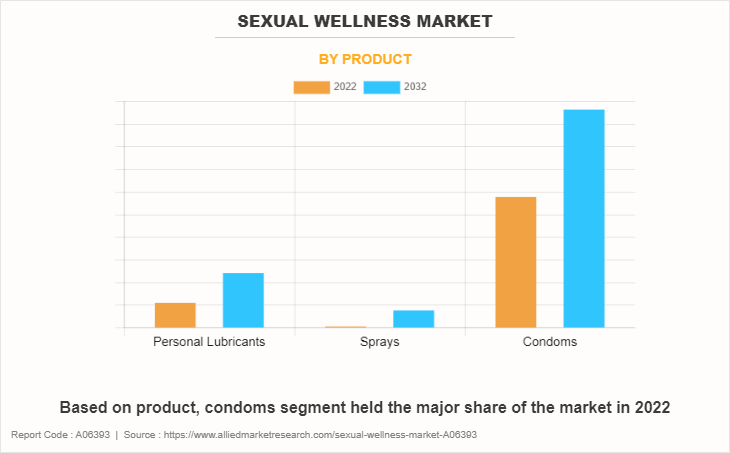 By product, the condoms segment held the major of the sexual wellness market share in 2022, owing to increased public health awareness of sexually transmitted infections (STIs) and unintended pregnancies. Condoms are widely recognized as an effective method of preventing the transmission of STIs, including HIV/AIDS, gonorrhea, chlamydia, and syphilis. In addition, condoms serve as a barrier contraceptive method that helps reduce the risk of unintended pregnancies. Public health campaigns, educational initiatives, and advocacy efforts that promote safe sex practices emphasize the importance of condom use, driving the demand for condoms.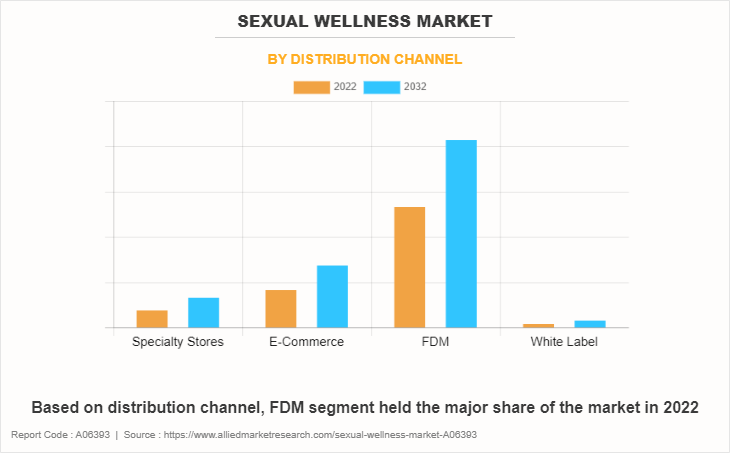 By distribution channel, the FDM segment held the major share of the market in 2022 and is expected to maintain its dominance during the forecast period. FDM retailers provide a convenient one-stop shopping experience for consumers, offering a wide range of products, including sexual wellness items. The availability of sexual wellness products in grocery stores, drugstores, and mass merchandise outlets makes them easily accessible to a broad customer base. This convenience factor drives the demand for sexual wellness market forecast. FDM retailers have established trust and familiarity with consumers over the years. People often prefer to shop for personal care and health-related products from these trusted sources.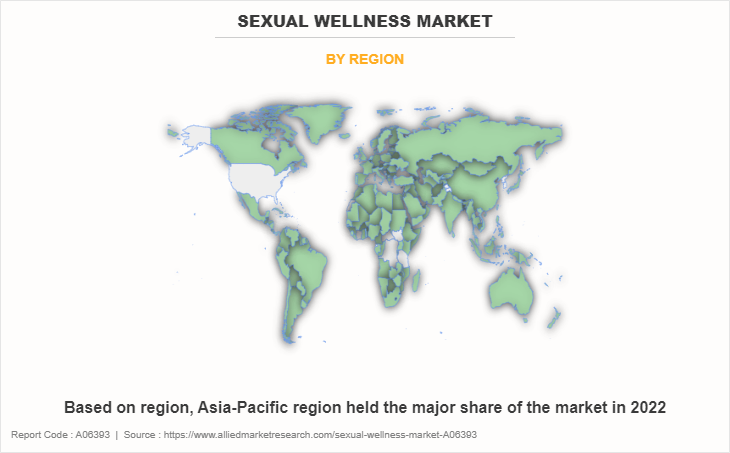 Region-wise, Asia-Pacific held the major market share of the market in 2022. Global brands strive among themselves to deliver better value propositions and effective marketing strategies. Asia-Pacific is projected to grow at the highest CAGR, owing to urbanization and exposure to Western influences have played a significant role in shaping attitudes toward sexual wellness in the Asia-Pacific region. As people migrate to urban centers and engage with global trends, there is greater exposure to Western sexual norms and practices.
This exposure has contributed to increased acceptance of sexual wellness products and a desire to explore and adopt new products and experiences. The players in the sexual wellness market have adopted acquisition, business expansion, partnership, collaboration, and product launch as their key development strategies to increase profitability and improve their position in the sexual wellness market.
Some of the key players profiled in the sexual wellness market analysis include Bijoux indiscrets, California exotic novelties, Church and dwight co., Doc johnson enterprises, Karex berhad, Kessel medintim GmbH, Reckitt benckiser group plc, Tenga co, Astroglide, Trigg laboratories, Pjur, Wicked sensual care, Westridge labs, an Adam and Eve
Key Benefits For Stakeholders
This report provides a quantitative analysis of the market segments, current trends, estimations, and dynamics of the sexual wellness market analysis from 2022 to 2032 to identify the prevailing sexual wellness market opportunities.
The market research is offered along with information related to key drivers, restraints, and opportunities.
Porter's five forces analysis highlights the potency of buyers and suppliers to enable stakeholders make profit-oriented business decisions and strengthen their supplier-buyer network.
In-depth analysis of the sexual wellness market segmentation assists to determine the prevailing market opportunities.
Major countries in each region are mapped according to their revenue contribution to the global market.
Market player positioning facilitates benchmarking and provides a clear understanding of the present position of the market players.
The report includes the analysis of the regional as well as global sexual wellness market trends, key players, market segments, application areas, and market growth strategies.
 Sexual Wellness Market Report Highlights
Aspects
Details
Market Size By 2032
USD 31.6 billion
Growth Rate
CAGR of 4.9%
Forecast period
2022 - 2032
Report Pages
505
By Product

Personal Lubricants
Sprays
Condoms

By Distribution channel

Specialty Stores

Sub type

Personal Lubricants
Sprays
Condoms

E-Commerce

Sub type

D2C

Sub type

Personal Lubricants
Sprays
Condoms

B2C

Sub type

Personal Lubricants
Sprays
Condoms

FDM

Sub type

Personal Lubricants
Sprays
Condoms

White Label

Sub type

Personal Lubricants
Sprays
Condoms

By Region

North America (U.S., Canada, Mexico)
Europe (Germany, France, Italy, Spain, UK, Russia, Rest of Europe)
Asia-Pacific (China, Japan, India, South Korea, Australia, Thailand, Indonesia, Rest of Asia-Pacific)
LAMEA (Brazil, South Africa, Saudi Arabia, UAE, Argentina, Rest of LAMEA)

Key Market Players
Karex Berhad, California Exotic Novelties, BioFilm, Inc., CC Wellness, Bijoux Indiscrets SL, Church & Dwight Co., Inc., Adam and Eve, Reckitt Benckiser Group PLC, Kessel Medintim GmbH, Doc Johnson Enterprises, Inc., Westridge Laboratories, Inc., Trigg Laboratories, Inc., Pjur Group Luxembourg S.A., Wicked Sensual Care, Tenga Co., Ltd.
Analyst Review
As per the perspective of top-level CXOs, the global sexual wellness market is expected to unleash attractive business opportunities in developing economies, however, is dealing with challenges simultaneously. With the increase in STDs, STIs, and per capita income, developing economies are further expected to emerge as major markets for sexual wellness products in a decade.
However, an increase in interest in sexual wellness products and their awareness among consumers further boosts the market growth. Increased innovations and improvisation in sexual wellness products have further aided to the growth of the sexual wellness market, for instance, silicone-lubricated condoms gained immense popularity in developed countries including, the U.S. Germany, Norway, Sweden, and Japan.
Moreover, government initiatives and NGO campaigns are helping to spread awareness regarding the use of sexual wellness products, including condoms and lubricants. Governments in various regions, including Asia-Pacific and LAMEA distribute free condoms to control the population and reduce sexually transmitted infections.
Key players in the market have adopted new product launches, continuous innovation, and acquisition as their key developmental strategies to fulfill the rise in demand for advanced and improved sexual wellness products.