The global shared mobility market was valued at $435.20 billion in 2021, and is projected to reach $1,266.80 billion by 2031, growing at a CAGR of 11.5% from 2022 to 2031.
Shared mobility refers to the shared use of a vehicle, motorcycle, scooter, or other mode of transportation for accessing transportation service on an as-needed basis. The fundamental idea of shared mobility is the use of same vehicle by several occupants. It includes public transit; micromobility (bike sharing, scooter sharing); automobile-based modes (car sharing, rides on demand, and microtransit) and commute-based modes or ridesharing (carpooling and vanpooling). Moreover, it has several benefits such as efficient travel, reduction in transportation costs, reduced fuel consumption, improves traffic conditions, and reduced emissions of greenhouse gases.
COVID-19 has had a negative impact on shared mobility owing to change in mobility patterns of people across the globe. Mobility of people during the pandemic decreased significantly as well as number of visits to workplaces also decreased. The pandemic has also resulted in shift in priorities regarding commute. Commuters started to look for safe sanitized and lower risk of infection modes of transportation. Commuters also avoided the shared mobility services such as ride sharing due to strong concerns about sharing rides with persons who might potentially be infected or riding in vehicles that may have recently been used by infected person. In addition, during COVID-19 pandemic, public transit ridership and patronage of transportation network companies (TNC, also known as ride hailing and ride sourcing), ridesharing and many shared micro mobility services plummeted due to stay-at-home orders, virus concerns, and business closures. Ride-hailing also declined due to the restraints of social distancing, fear of congestion and reduced commuting. However, other areas of shared mobility such as micro mobility services witnessed a growth in demand for micro mobility services owing to growth in e-commerce business and last mile deliveries. In addition, private vehicles are not affordable by everyone, therefore commuters are looking to utilize micro mobility vehicles such as e-bikes, electric-pedal assisted bicycles, scooters, and others for daily travel, which in turn is expected to contribute in the growth of the shared mobility market during the forecast period.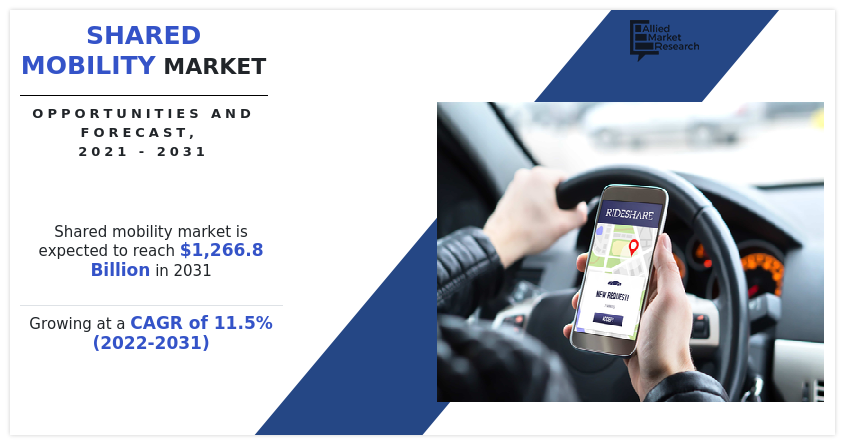 The growth of the global shared mobility market is propelling, due to rise in venture capital and strategic investments, government initiatives for smart cities, and increase in inclusion of e-bikes in the sharing fleet. However, low rate of internet penetration in developing regions is the factor hampering the growth of the market. Furthermore, increase in government initiatives for the development of bike sharing infrastructure is the factor expected to offer growth opportunities during the forecast period.
The shared mobility market is segmented on the basis of service model, vehicle type, vehicle propulsion, sales channel, and region. By service model, it is segmented into bike sharing, car sharing, public transit, and microtransit. By vehicle type, it is classified into two-wheelers, passenger cars, buses & rails, and others. By vehicle propulsion, it is fragmented into IC engine, electric & hybrid vehicles, and others. By sales channel, it is categorized into offline and online. By region, the report is analyzed across North America, Europe, Asia-Pacific, and LAMEA.
Some leading companies profiled in the shared mobility market report comprises ANI Technologies Pvt. Ltd., Autocrypt Co., Ltd., BlaBlaCar, Blu-Smart Mobility Pvt. Ltd., Bolt Technology OU, Cabify Espana S.L.U., DiDi Global Inc., EasyMile, Free2move, Getaround, Inc., Lyft, Inc., Meru Mobility Tech Pvt. Ltd, Uber Technologies, Inc., Yandex N.V., and Zoomcar India Pvt. Ltd.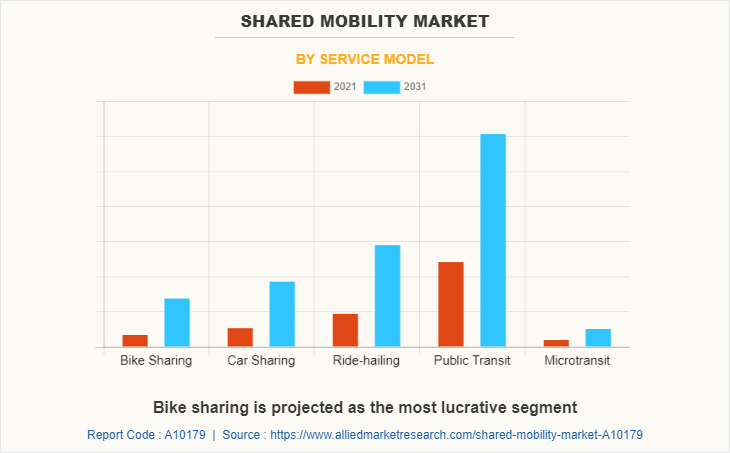 Rise in venture capital and strategic investments
The significant rise in the preference of car pool and bike pool services among regular office commuters is the primary factor contributing toward the growth of the ride hailing and ride sharing services. In addition, increase in services offered by the leading shared mobility industry players, including Uber and Ola, and the option to choose convenient pick-up and drop locations are encouraging consumers to opt for ride hailing and ride sharing services. Moreover, significant rise in the number of multiple ride-hailing and ride-sharing services such as bike sharing and auto sharing service, even for short distance travel fuels the growth of the shared mobility market. Furthermore, ride sharing service providers are offering advantages such as affordable doorstep pick-up and drop, co-passenger information, and higher convenience as compared to the traditional transport service providers. This is expected to propel the demand for ride share services. In addition, several service providers offer various facilities, offers and discounts such as monthly pass on shared ride, to reduce the expenses of daily commuters.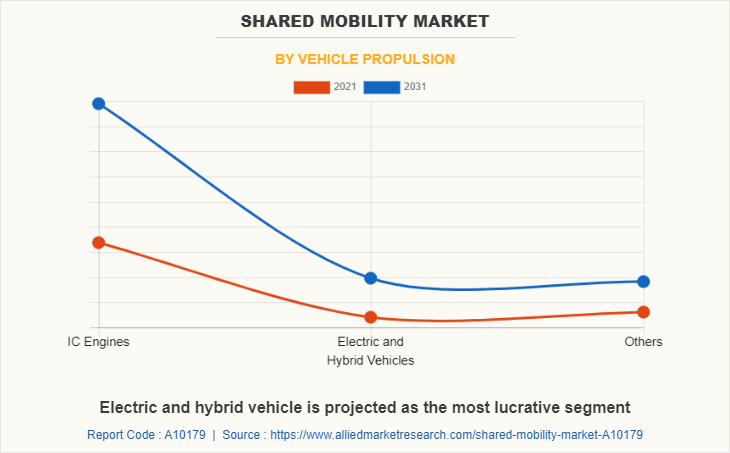 Government initiatives for smart cities
Several government initiatives have been made for implementing the concept of shared mobility across the globe. This has led to the growth of the global shared mobility market. For instance, in 2019, in Japan, the Ministry of Economy, Trade, and Industry (MEIT) and the Ministry of Land, Infrastructure, Transport and Tourism (MLIT) jointly created the smart mobility challenge subsidy program, thereby generating revenue of $27.6 million for the smart mobility challenge subsidy program. Similar investments and subsidy programs have been implemented by different governments across the globe, which also led to the growth of the global shared mobility market.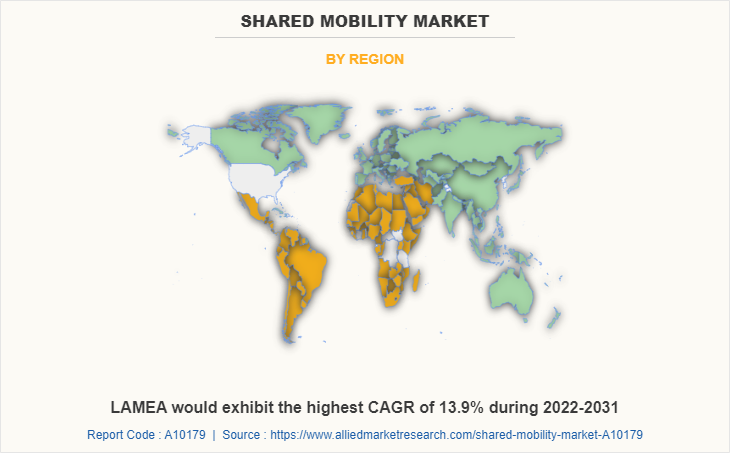 The shared mobility market is segmented into Service Model, Vehicle Type, Vehicle Propulsion and Sales Channel.
Key Benefits For Stakeholders
This report provides a quantitative analysis of the market segments, current trends, estimations, and dynamics of the global shared mobility market analysis from 2021 to 2031 to identify the prevailing shared mobility market opportunities.
The market research is offered along with information related to key drivers, restraints, and opportunities.
Porter's five forces analysis highlights the potency of buyers and suppliers to enable stakeholders make profit-oriented business decisions and strengthen their supplier-buyer network.
In-depth analysis of the shared mobility market segmentation assists to determine the prevailing market opportunities.
Major countries in each region are mapped according to their revenue contribution to the global shared mobility market.
Market player positioning facilitates benchmarking and provides a clear understanding of the present position of the market players.
The report includes the analysis of the regional as well as global shared mobility market trends, key players, market segments, application areas, and market growth strategies.
 Shared Mobility Market Report Highlights
Aspects
Details
By Service Model

Bike Sharing
Car Sharing
Ride-hailing
Public Transit
Microtransit

By Vehicle Type

Two-wheelers
Passenger Cars
Buses and Rails
Others

By Vehicle Propulsion

IC Engines
Electric and Hybrid Vehicles
Others

By Sales Channel
By Region

North America (U.S., Canada, Mexico)
Europe (UK, Germany, France, Russia, Rest of Europe)
Asia-Pacific (China, Japan, India, South Korea, Rest of Asia-Pacific)
LAMEA (Latin America, Middle East, Africa)

Key Market Players
Getaround, Inc., EasyMile SAS, Yandex LLC, Autocrypt Co., Ltd., Blu-Smart Mobility Pvt. Ltd., Free2move, Meru Mobility Tech Pvt. Ltd., Cabify Espaa S.L.U., Didi Chuxing Technology Co., Bolt Technology OÜ, Lyft, Inc., Zoomcar India Private Limited, ANI Technologies Private Limited (Ola), BlaBlaCar, Uber Technologies Inc.