Shock Absorber Market Statistics 2020-2030
The global shock absorber market was valued at $12.52 billion in 2020, and is projected to reach $21.07 billion in 2030, registering a CAGR of 4.7%.
Due to commuting limitations, a poor demand outlook, and the projected weak financial performance of market players in 2020, the spread of the COVID-19 pandemic has had a negative influence on the global shock absorber market. Automobile sales around the world have plummeted in 2020 as a result of government-imposed restrictions, due to a negative demand pattern from end-users. Moreover, as the volume of vehicles on the road decreases, sales of shock absorber also decrease. The majority of original equipment manufacturers have reduced their manufacturing operations in the last three quarters of 2020, owing to the financial slump and declining automobile sales. However, a strong rebound in automotive manufacturing is predicted by the end of 2021 and 2022, which will boost sales of the shock absorber.
Shock absorbers are used in cars and light trucks with standard suspension systems. Shock absorbers provide resistance by forcing hydraulic fluid through valves in the piston as it moves up and down, which dampens movement of springs as they compress and rebound during transit. The amount of resistance depends on rate of movement of the suspension. Without shock absorbers, vehicles would bounce continuously, which makes it difficult to control a vehicle. Shock absorbers not only provide a comfortable ride but also ensure contact of tires with the road for better stability and control.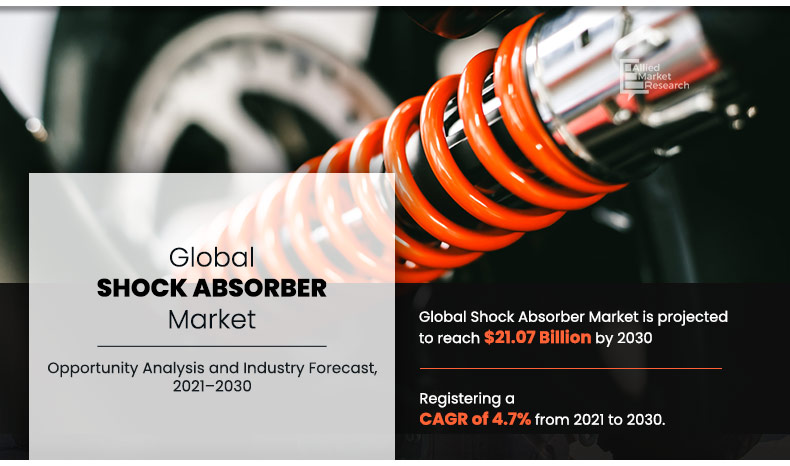 Factors such as increase in demand for safety and comfort, expansion of automotive aftermarket industry, and rise in demand for lightweight automotive shock absorbers, which are expected to drive growth of the shock absorber market. However, fluctuation in cost of raw materials and high maintenance cost of advanced suspension systems restrain the market growth. On the contrary technological advancements in shock absorbers and growing electric vehicle industry are projected to offer lucrative growth opportunities for the market players. The market is segmented on the basis of type, sales channel, vehicle type, and region. By type, the market is divided into twin tube and mono tube shock absorber. On the basis of sales channel, it is classified into OEM and aftermarket. On the basis of vehicle type, it is classified into passenger vehicles and commercial vehicles. Region wise, the market is analyzed across North America, Europe, Asia-Pacific, and LAMEA.
Key players operating in the global shock absorber market include Gabriel India Limited (Anand Group), Hitachi Astemo Ltd., KONI BV, KYB Corporation, Mando Corp., Marelli Holdings Co., Ltd, Meritor Inc, Tenneco Inc, Thyssenkrupp AG, and ZF Friedrichshafen AG.
Increase In Demand For Safety And Comfort
The demand for comfort in driving experience such as handling, sitting structure, and aerodynamics has increased significantly in recent years. This has led to rise in need for better shock absorbers, which provides better stability for vehicles. Automobile manufacturers are also introducing new comfort features such as stability and reduced impact of bumps or speed breakers in their vehicles, which propels demand for shock absorbers.  For instance, in March 2019, GFG style, a car design company invented a system, which uses hydraulic system and is connected with fully adjustable 3-way adjustable shock absorbers.
Shock absorbers also helps to maintain vertical loads placed on tires by providing resistance to vehicle bounce, roll, and control. They also help reduce brake dive along with acceleration squat to achieve a balanced ride. For instance, in September 2019, KONI Shock Absorbers introduced KONI Sport adjustable shock absorbers for 2016-2019 Mazda MX-5 (ND chassis) offering multiple spring seat and ride height settings, which provides better stability and comfort during driving. Hence, rise in demand for comfort and safety is increasing demand for shock absorbers across the globe.  
Expansion Of The Automotive Aftermarket Industry
The aftermarket for automotive parts is auto components and parts installed after vehicle leaves the company. This industry includes car components, replacement tires, equipment, service repair, collision repair, and accessories sold after the sale of vehicles. It covers companies that manufacture, distribute, retail, install, and remanufacture all types of automobile parts and accessories. Due to technology improvements, digitalization of vehicle repair and component sales has emerged, which has supported growth of the the automotive aftermarket industry.
Shock Absorber Market

---
By Type
Mono Tube is projected as the most lucrative segments
Furthermore, automotive aftermarket companies aggressively expand their business to increase their footprints in the global market. For instance, in April 2021, LCI Industries, which is a subsidiary of Lippert Components, Inc. announced acquisition of Kaspar Ranch Hand Equipment, LLC a South Texas based manufacturer of automotive aftermarket products. Similarly, in February 2020, the "Your Car. Your Data. Your Choice." campaign was being established by MotoRad in collaboration with Auto Care Association and Automotive Aftermarket Suppliers Association (AASA). This was established to inform car owners regarding data that their vehicles generate, including critical repair and maintenance data. As a result of this, awareness about periodic vehicle maintenance is increasing significantly, which increases demand for shock absorbers.
Furthermore, growth rate of online parts sales has consistently been increasing year by year. Owing to the coronavirus pandemic, customers are opting for e-commerce channels to purchase automotive spare parts. Companies across the globe have started using online sales channel/e-commerce channel to cater to their clients in the aftermarket. Thus, this pandemic has created growth opportunities for market players in the automotive aftermarket industry, which also supports the shock absorbers market.
Shock Absorber Market

---
By Sales Channel
Aftermarket is projected as the most lucrative segments
Fluctuation in cost of raw materials 
In shock absorbers many types of raw materials are required such as carbon, silicon, chromium, magnesium, nickel, molybdenum, and lead. The cost of these raw materials is high as compared to plastic shock absorbers. Moreover, plastic shock absorbers are cost-effective, however, also harm the environment and fluctuation of plastic prices in international markets, which is expected to hamper production of shock absorbers. 
Rubber is also used in shock absorbers that provides better support for reduction in bumps or speed breakers. For instance, according to the Federal Reserve Bank of St. Louis, the price of rubber in June 2019 was $ 89.09 per kilogram and in April 2020, it was $ 60.69 per kilogram. While in November 2021, it reached $ 110.15 per kilogram, which hampers production of shock absorbers. In addition, activated carbon is also used in shock absorbers, which offers better stability in off-road vehicles. For instance, according to the world bank organization, the price of carbon is growing year by year, owing to its harmful effects on the environment. Furthermore, more raw materials such as nickel, lead, and magnesium prices are also not stable and fluctuating year by year, which gives negative impact on production of shock absorbers and restrains the shock absorbers market growth.
Shock Absorber Market

---
By Vehicle Type
More than 100 WH/KG is projected as the most lucrative segments
Technological Advancements In Shock Absorbers
Surge in need for development and innovation in suspension systems of vehicles is expected to propel growth of the shock absorber market in the upcoming years. Introduction of new and advanced active and semi-active suspension systems improve driver comfort and safety. Furthermore, use of newer and advanced lightweight automotive materials such as electronic controlled components for manufacturing systems to enhance fuel economy and reduce CO2 emissions is anticipated to offer remunerative opportunities for expansion of the market.
Furthermore, companies are manufacturing ECU-based shock absorbers, which works electronically and is adjustable according characteristics of riders to enhance power requirements. For instance, in November 2020, Vibracoustic produced an air springs system, with switchable three-chamber air springs with actively managed shock absorbers, electronic control unit (ECU) consisting of software program, and combination of the system components into whole automobile vehicles, which provides high-quality comfort and improves overall performance of a vehicle. Similarly, in November 2019, ZF company developed frequency selective technology SDC3 (Selective Damping Control), which provides better comfort and better handling with sporty dynamics. Thus, these technological advancements in shock absorbers are expected to create opportunities for the shock absorbers market.
Shock Absorber Market

---
By Region
Asia-Pacific would exhibit the highest CAGR of 5.3% during 2021-2030.
Covid-19 Impact Analysis 
The COVID-19 impact on the shock absorber market is unpredictable, and is expected to remain in force for a few years. 
The COVID-19 outbreak forced governments across the globe to implement stringent lockdown and ban import–export of essential raw material items for most of 2020, and few months in 2021. This led to sudden decline in availability of important raw materials for shock absorbers. 
As a result of interrupted supply chains and production schedules caused by the COVID-19 pandemic, automotive production and sales suffered severely, which, in turn, negatively impacted the market for shock absorber.
To prevent spread of the COVID-19 virus, governments across the globe implemented strict lockdowns and made social distancing mandatory. Consequently, several organizations began work from home programs as precautionary measure. This led to a sudden decline in global demand for automobiles
Key Benefits For Stakeholders
This study presents analytical depiction of the global shock absorber market analysis along with the current trends and future estimations to depict imminent investment pockets.
The overall shock absorber market opportunity is determined by understanding profitable trends to gain a stronger foothold.
The report presents information related to key drivers, restraints, and opportunities of the global shock absorber market with a detailed impact analysis.
The current shock absorber market is quantitatively analyzed from 2020 to 2030 to benchmark the financial competency.
The Porter's five forces analysis illustrates the potency of the buyers and suppliers in the industry.
 Shock Absorber Market Report Highlights
Aspects
Details
By Type
By Sales Channel
By Vehicle Type

Passenger Vehicle
Commercial Vehicle

By Region

North America
Europe

Germany
France
Russia
UK
Rest of Europe

Asia-Pacific

China
Japan
India
South Korea
Rest of Asia-Pacific

LAMEA

Latin America
Middle East
Africa

By KEY PLAYERS

Gabriel India Limited (Anand Group)
Hitachi Astemo Ltd.
KONI BV
KYB Corporation
Mando Corp.
Marelli Holdings Co., Ltd
Meritor Inc
Tenneco Inc
Thyssenkrupp AG
ZF Friedrichshafen AG