Shooting and Gun Accessories Market Statistics 2030 -
The global shooting and gun accessories market was valued at $5,136.5 million in 2020, and is projected to reach $10,548.2 million in 2030, registering a CAGR of 7.7%.    
The COVID-19 outbreak forced governments across the globe to implement strict lockdowns and made social distancing mandatory to contain the spread of the virus. Factories were shut down, and only a fraction of the total workforce was allowed to work. As a result, the supply and demand for professional-grade guns and gun accessories was disrupted significantly. The private gun manufacturing units were one of the most severely affected industries by the pandemic and observed a decline of investments initially. However, amid the coronavirus pandemic, several riots and conflicts with the government were witnessed across various parts of the world and the law enforcement agencies made use of guns and other equipment to control the situations. With the significant rise in vaccination across the world, the demand for advanced shooting and gun accessories is expected to revive soon.
Shooting and gun accessories comprise air rifles, air pistols, magazines & loaders, and targets, and accessories such as grips, shooting sticks, laser light, and others. In recent years, increased use of firearms has been observed for military, law enforcement, and commercial applications, and firearms manufactures are developing and launching different types of firearms to attract more customers and generate new revenue pockets.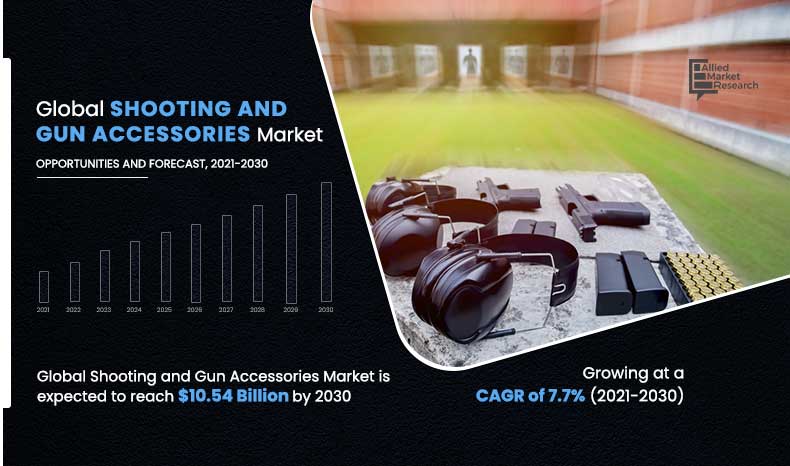 The shooting and gun accessories market is segmented on the basis of type, end use, distribution, and region. The type segment is further divided into air rifle, air pistol, and others. Based on end use, the market is segmented into law enforcement and competitive sports. Based on distribution, the market is segmented into online and offline. Region wise, the market is analyzed across North America, Europe, Asia-Pacific, and LAMEA.
Key players operating in the global shooting and gun accessories market include American Outdoor Brands Inc., Fabbrica D'Armi Pietro Beretta S.p.A., FN Herstal, Heckler & Koch, Remington Ammunition, Savage, Sturm, Ruger & Co., Inc., Taurus International Manufacturing, Inc., Webley & Scott, and Weihrauch & Weihrauch Sport GmbH & Co. KG. 
Rise in territorial conflicts throughout the world
In recent years, the world has witnessed an upward trend in wars and conflicts across numerous nations across the world. The recent political upheaval that happened in Afghanistan in August 2021 has brought the country in a permanent state of chaos. The rise in terrorist attacks and violent conflicts in the country is expected to lead to more unfavorable instances across the neighboring nations in the near future.  Currently, there are numerous ongoing wars and minor conflicts in several countries globally, most of which are in the Middle East, North West Asia and Sub-Saharan Africa, and a major ongoing drug-war in Mexico. Nations across the world are buying arms and ammunitions to counter the terrorism, block the entry of enemy soldiers, and curb the anti-national activities. Moreover, the misfortunate events that happened last year in the countries such as the U.S. and France, have resulted in a large number of citizens carrying guns for self-defense purposes. Such factors are anticipated to propel the growth of the global shooting and gun accessories market during the forecast period.  
Increase in demand for guns for competitive sports
Sport gun is referred as a non-lethal weapon that includes rifle, pistol, and shotgun.  It is intended for competitive shooting and recreational purposes. These guns differ from one lethal counterpart according to their technology, projectile, caliber, and others. Sports guns are lighter and more comfortable to use as compared to lethal guns such as AK 47, Rheinmetall MG 3, Uzi, M4 Carbine, and others.
Increasing participation in various shooting sports acts as a key factor driving the gun and gun accessories market growth. Sporting sports include target shooting, high power rifle, popinjay, sporting clays, skeet shooting, cowboy action shooting, and others. In addition, people are increasingly participating in shooting sports globally, owing to various benefits such as they enhance physical health, focus and sharpen eyesight. Furthermore, growing participation of school and college kids/students in national level shooting sports is expected to promote the growth of the market. The rise in participation for shooting competitions across the world is expected to fuel the growth of the global shooting and gun accessories market during the forecast period.
Stringent government regulations on gun ownership
Numerous countries across the world have strict rules for the ownership of the guns. In the past years, owing to various misfortunate events involving gun fire, many nations have banned the sales or tightened the ownership processes of owning guns for an ordinary citizen. In the UK, only police officers, members of the armed forces or people with written permission from the home secretary may legally own a handgun. Gun owners have to obtain either a Shotgun Certificate or a Firearm Certificate. In Australia, gun owners are required to demonstrate a genuine need for a particular type of gun, which doesn't include self-defense, and to take a firearm safety course. License holders also must meet strict storage requirements, including keeping ammunition stored separately. In China, civilians are not permitted to have guns and can face life imprisonment for trafficking firearms. They can obtain a firearm for hunting only after a strict licensing process. Conviction for illegal possession or sale of firearms is punishable by up to 10 years in prison and up to life for arms trafficking, according to the Supreme People's Court. Such factors are anticipated to limit the growth of the global shooting and gun accessories market during the forecast period.
Rise in defense expenditure globally
The global military expenditure has seen exponential growth in recent years. According to Stockholm International Peace Research Institute (SIPRI), the global military expenditure has reached $1,981 billion in 2020 with a 2.6% year-on-year increase. To modernize the defense forces in order to tackle the rise in threats of wars and other conflicts, many nations are continuously increasing their defense spending in order to purchase and manufacture guns, ammunitions and accessories. 
The military expenditure accounted for 2.4% of the global gross domestic product in 2020. Thus, an increase in global military expenditure has augmented the adoption of modern guns and gun accessories. 
The procurement of modern guns is costly and requires large capital spending for its integration in a variety of platforms. However, an increase in military and defense expenditure globally facilitates the procurement of expensive but necessary weapon systems. Furthermore, advancements of weapons and attacking capabilities worldwide have created the demand for modernization and installation of sophisticated defense infrastructure by governments to be prepared for any unprecedented threats and offensive attacks from foreign countries. Hence, the increase in defense expenditure is expected to open new avenues for the growth of the shooting and gun accessories market during the forecast timeframe.
COVID-19 Impact Analysis 
The COVID-19 impact on the shooting and gun accessories market is unpredictable and is expected to remain in force till the fourth quarter of 2021. 
The COVID-19 outbreak forced governments across the globe to implement strict lockdowns and banned/restricted the number of personnel in the factories for most of 2020. This led to sudden fall in manufacturing capacity for guns and accessories across the globe. 
Adverse impacts of the COVID-19 pandemic have resulted in delays in activities and initiatives regarding development of advanced shooting and gun accessories globally.
Key Benefits For Stakeholders
This study presents analytical depiction of the global shooting and gun accessories market analysis along with the current trends and future estimations to depict imminent investment pockets.
The overall shooting and gun accessories market opportunity is determined by understanding profitable trends to gain a stronger foothold.
The report presents information related to key drivers, restraints, and opportunities of the global shooting and gun accessories market with a detailed impact analysis.
The current shooting and gun accessories market is quantitatively analyzed from 2020 to 2030 to benchmark the financial competency.
Porter's five forces analysis illustrates the potency of the buyers and suppliers in the industry.
Key Market Segments
By Type
Air Rifle
Air Pistol
Others
By End Use
Law Enforcement
Competitive Sports
By Distribution
By Region
North America
Europe

Germany
UK
France
Russia
Rest of Europe

Asia-Pacific

China
Japan
India
South Korea
Rest of Asia Pacific

LAMEA

Latin America
Middle East
Africa
Key Players
American Outdoor Brands Inc.
Fabbrica D'Armi Pietro Beretta S.p.A.
FN Herstal
Heckler & Koch
Remington Ammunition
Savage
Sturm, Ruger & Co., Inc.
Taurus International Manufacturing, Inc.
Webley & Scott
Weihrauch & Weihrauch Sport GmbH & Co. KG