The global shooting ranges market size was valued at $1.1 billion in 2021, and is projected to reach $2.5 billion by 2031, growing at a CAGR of 8.3% from 2022 to 2031.
Shooting ranges are controlled environmental facilities designed for the training and testing of firearms, and sometimes for archery. It may be indoor or outdoor and virtual, located on the outskirts of a city or nearby forested areas. In addition, shooting ranges includes components such as firing point, targets, backstop, wind flags, and lights. Ranges are designed for use by the defense and law enforcement personnel, shooting ranges are now gaining popularity as a part of recreational activity. These are controlled and environmentally friendly areas that can also be used for testing firearms.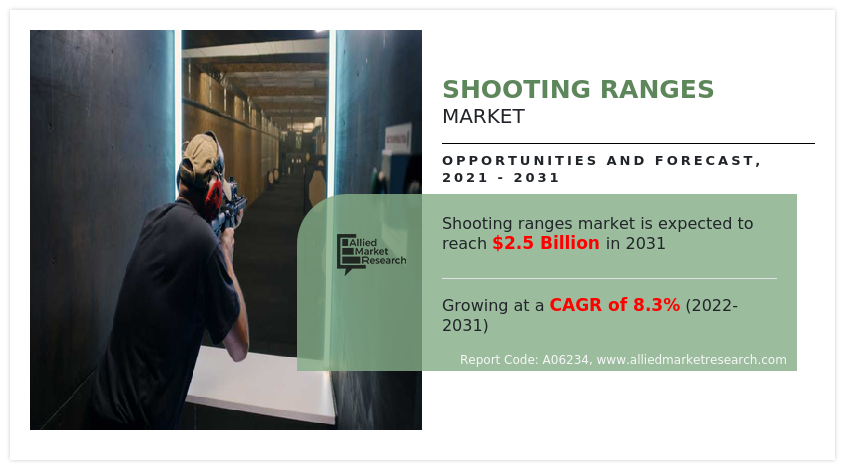 Factors such as a rise in investments made by law enforcement and military agencies in firearms training across departments increased participation of youngsters in indoor and outdoor sports, and growth in demand for technologically advanced shooting ranges equipment especially in developing economies are anticipated to boost the growth of the global shooting ranges market during the forecast timeframe. However, the high initial investment associated with the installation of a shooting range and the availability of land is expected to hinder the growth of the global market during the forecast period.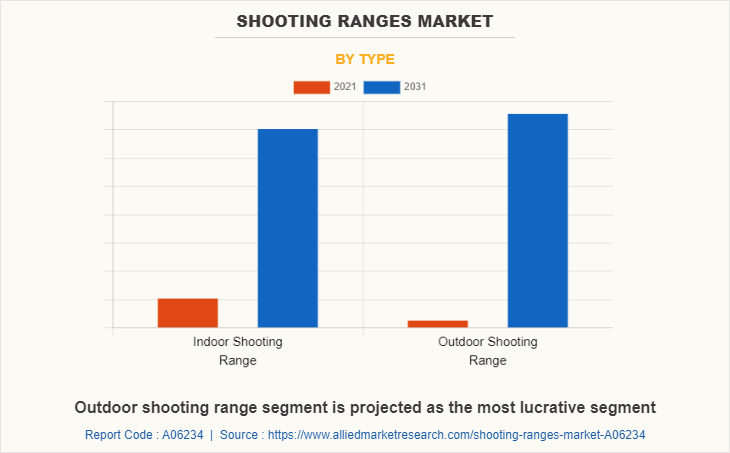 The market is segmented into type, product type, end-user, and region. The type segment is divided into indoor shooting ranges and outdoor shooting ranges. In terms of product type, the market is segmented into virtual simulators, fixed targets, and moving targets. The end-user segment is further divided into military and civil. Region-wise, the market is analyzed across North America, Europe, Asia-Pacific, and LAMEA.
Competitive analysis and profiles of the major shooting range market players include Action Target, Inc., Cubic Corporation, Laser Shot, Inc., InVeris Training Solutions, Zen Technologies Ltd., Polytronic International AG, Range Systems, Inc., Saab AB, Theissen Training Systems GmbH, Virtra Training Systems, Inc.
North America comprises U.S., Canada, and Mexico. North America is projected to witness an increase in the adoption of shooting simulation and training systems by defense agencies, owing to multiple military modernization and enhancement programs underway in North America. In addition, an increase in investment by North American countries propels the development of advanced defense technologies. Furthermore, the presence of premier shooting range facilities such as The Shooting Edge, and Ted's Shooting Range in the region favors the growth of the shooting range market. Moreover, a rise in shooting sports competitions in the region is expected to fare well for the growth of the market in the region during the forecast period.
In addition, the U.S. Department of Defense (DoD) is the nation's largest government agency with an annual budget of $715 billion as of the financial year 2022. This allocation is a 1.6% rise from the 2021 budget for the DoD. The U.S. Army heavily invests in the modernization of the existing defense infrastructure and the installation of advanced defense training platforms.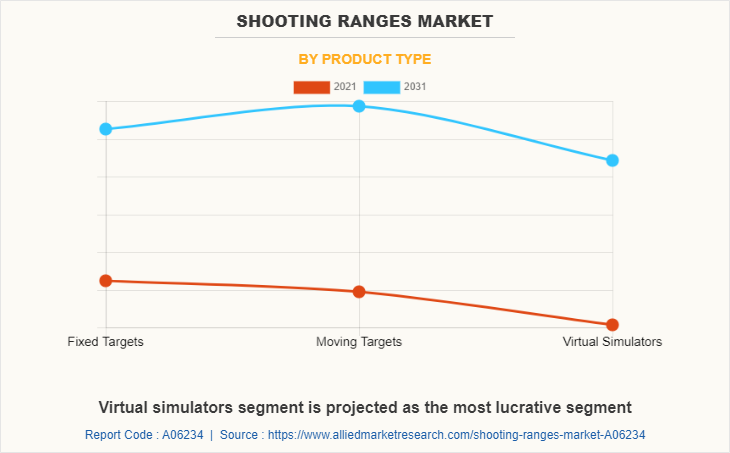 Furthermore, the adoption of smart technologies and upgradation in shooting ranges creates a requirement for effective training activities. For instance, in November 2022, Calgary Police Service in Canada will upgrade their existing shooting range with a budget of $34 million, along with an additional $77 million for capital projects that include a new $10-million gun range.    
Some leading companies profiled in the report comprises InVeris Training Solutions, Action Target, Inc., Range Systems, Inc., Virtra Training Systems, Inc., Saab AB, Cubic Corporation and others. The leading companies are adopting strategies such as agreements, partnerships, contracts and product launches to strengthen their market position. In August 2021, InVeris Training Solutions announced the acquisition of SURVIVR, to enhance the company's virtual reality expertise in shooting ranges.
In January 2023, Action Target Inc., will showcased new and revolutionary shooting range technology, products, and services at NSSF's annual Shooting, Hunting, Outdoor, Trade Show (SHOT Show) in Las Vegas from January 17th-20th, 2023. This includes end-to-end solutions for shooting range facilities in commercial, law enforcement, educational, and military markets worldwide.
In September 2022, Virtra Training Systems, Inc. received two orders worth approximately $9.0 million under an existing contract with the U.S. Customs and Border Protection (CBP). The orders consist of VirTra's flagship V-300 and portable V-100 simulators, recoil kits and magazines, V-Threat-Fire devices, and other accessories.
In August 2022, Virtra Training Systems, Inc. received an order worth $0.9 million from a Canadian law enforcement agency. Virtraprovides multiple V-100 and V-180 simulators and associated tools and accessories designed for simulator training, including drop-in recoil kits and V-Author® scenario authoring software.
In March 2019, Saab has signed a contract worth €9 million with the Finnish Defence Forces Logistics Command to deliver virtual training simulators. Equipment that includes simulations of weapons used by the Finnish military, as well as software that designs a virtual environment and provides a base for post-training analysis.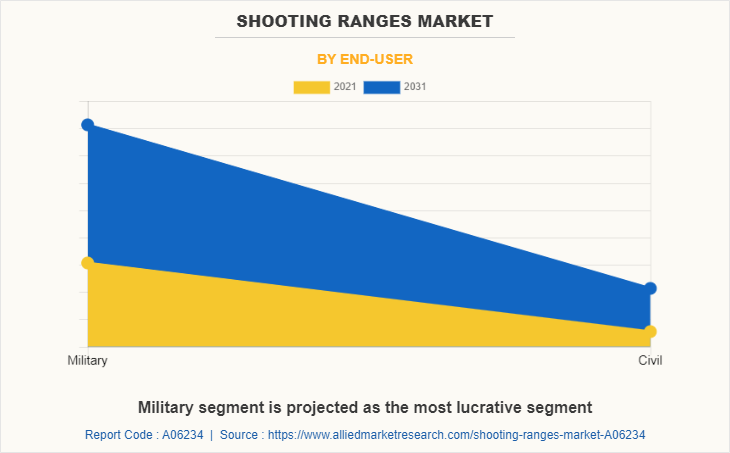 Rise in territorial conflicts throughout the world
In recent years, the world has witnessed an upward trend in wars and conflicts across numerous nations across the world. The recent political upheaval that happened in Afghanistan in August 2021 has brought the country into a permanent state of chaos. The rise in terrorist attacks and violent conflicts in the country is expected to lead to more unfavorable instances across the neighboring nations in the near future. Currently, there are numerous ongoing wars and minor conflicts in several countries globally, most of which are in the Middle East, Northwest Asia, and Sub-Saharan Africa, and a major ongoing drug war in Mexico. Nations across the world are buying arms and ammunition for counterterrorism, blocking the entry of enemy soldiers, and curbing anti-national activities. Moreover, the misfortunate events that happened in 2021 in the countries such as the U.S. and France, have resulted in a large number of citizens carrying guns for self-defense purposes. Such factors are anticipated to propel the growth of the global shooting ranges market during the forecast period.
Increase in defense expenditure
Global defense expenditure has seen exponential growth in recent years. According to the Stockholm International Peace Research Institute (SIPRI), global military expenditure has reached $2,113 billion in 2021, 0.7% higher than in 2020. To modernize the defense forces to tackle the increasing threats of wars and other internal conflicts, many nations are continuously increasing their defense spending to purchase and manufacture advanced security solutions. The military expenditure accounted for 2.2% of the global gross domestic product in 2021. Thus, an increase in global military expenditure has augmented the adoption of simulation and training techniques that provide growth opportunities to the shooting ranges market.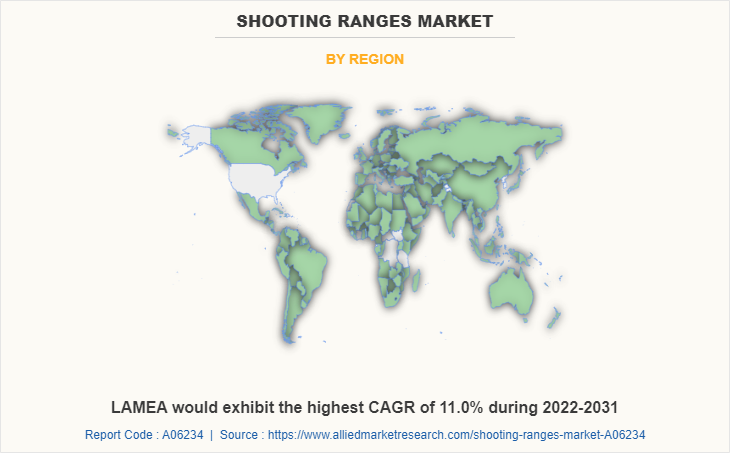 High costs associated with simulation and training services and products
The installation of military simulation and training solutions at military bases or training centers includes the installation of various equipment and software solutions to attain operational efficiency. These systems are associated with high acquisition costs, owing to encryption, training & simulation software solution, and intrusion detection systems/intrusion prevention system. Moreover, the design and implementation of these systems are associated with installation as well as training costs, which incur additional costs, thus hampering the growth of the market. Moreover, in recent years, the majority of the militaries across the globe integrated high-end technologies for operational effectiveness which creates the requirement for effective training platforms. Thus, an increase in the necessity for upgrades of the existing simulation & training system to meet the changing requirements of the militaries associated with high cost is expected to act as the key restraint for the shooting ranges market.
Increase in contracts and agreements with military forces
Military agencies are the key consumers of simulation and training solutions & services. Procurement activities of these simulation and training solutions are planned by considering the budget allocations and security severity. The simulation and training solutions are expected to be done through long-term agreements and contracts between the defense department and solution suppliers of simulation and training solutions. These agreements mention a set of requirements that must be met in a certain timeframe. These contracts and agreements are associated with long-term business opportunities with these military agencies as well. Thus, market participants need to focus on winning the contracts and agreements to gain a competitive advantage in the global shooting ranges market.
The virtual shooting ranges are a great way to help military and law enforcement personnel conduct cost-effective training during the COVID-19 pandemic. The indoor shooting range has restrictions due to zoning. Therefore, companies in the shooting range market must consult in a post-Covid-19 scenario and provide custom shooting range solutions to military and recreational facility owners while complying with OSHA and EPA regulations. Shooting range sales have improved since June 2020 as lockdowns have been lifted in most countries. Among them, sales of indoor and outdoor shooting ranges are overwhelmingly large. The period 2022-2025 is the most positive period for indoor shooting range sales as indoor ranges offer safety from external weather conditions and can be physically maintained in a monitored environment condition.
Key Benefits For Stakeholders
This report provides a quantitative analysis of the market segments, current trends, estimations, and dynamics of the shooting ranges market analysis from 2021 to 2031 to identify the prevailing shooting ranges market opportunities.
The market research is offered along with information related to key drivers, restraints, and opportunities.
Porter's five forces analysis highlights the potency of buyers and suppliers to enable stakeholders make profit-oriented business decisions and strengthen their supplier-buyer network.
In-depth analysis of the shooting ranges market segmentation assists to determine the prevailing market opportunities.
Major countries in each region are mapped according to their revenue contribution to the global market.
Market player positioning facilitates benchmarking and provides a clear understanding of the present position of the market players.
The report includes the analysis of the regional as well as global shooting ranges market trends, key players, market segments, application areas, and market growth strategies.
 Shooting Ranges Market Report Highlights
Aspects
Details
Market Size By 2031
USD 2.5 billion
Growth Rate
CAGR of 8.3%
Forecast period
2021 - 2031
Report Pages
180
By Type

Indoor Shooting Range
Outdoor Shooting Range

By Product Type

Fixed Targets
Moving Targets
Virtual Simulators

By End-User
By Region

North America (U.S., Canada, Mexico)
Europe (Germany, UK, France, Spain, Rest of Europe)
Asia-Pacific (China, India, Japan, South Korea, Rest of Asia-Pacific)
LAMEA (Latin America, Middle East, Africa)

Key Market Players
Laser Shot, Inc., Range Systems, Inc., Saab AB, Cubic Corporation, Polytronic International AG, Theissen Training Systems GmbH, Virtra Training Systems, Inc., InVeris Training Solutions, Zen Technologies Ltd, Action Target, Inc.