Signals Intelligence (SIGINT) Market Research, 2030
The global signals intelligence (SIGINT) market size was valued at $15.5 billion in 2021, and is projected to reach $23.3 billion by 2030, growing at a CAGR of 4.5% from 2022 to 2030.
COVID-19 has had a significant influence on the signals intelligence (SIGINT) market. Government monitoring measures have increased significantly over the world as a result of the COVID-19 outbreak, particularly through mobile phone applications.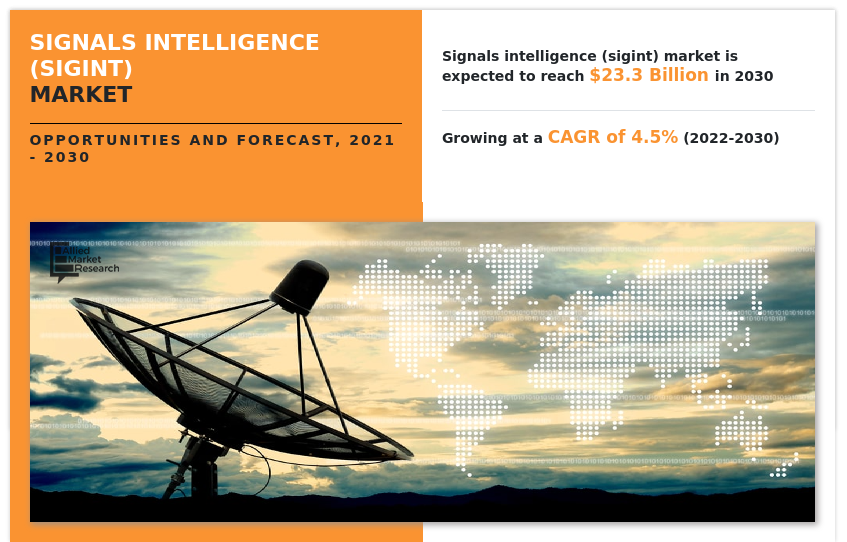 National security is the security of a nation-state and is regarded as government duty. It includes safety of the citizens, economy, and institutions of the country. National security is a critical priority in many countries around the world, and it necessitates a large budget to build and maintain. The total global military expenditure in 2018 was approximately USD 1.8 trillion, a 2.6 percent increase over 2017.
The US spends more money on defense than another seven countries combined. The United States spent USD 649 billion on defense in 2018, while India, France, China, the United Kingdom, Saudi Arabia, Russia, and Germany spent USD 609 billion each. Ministry of Defence is the third most powerful government organisation in the United States, after Social Security and Medicare. This same United States has historically spent more on defense than any other G-7 country. However, due to budgetary constraints and a lack of skilled personnel, militaries face a constant challenge in adopting advanced and innovative technologies and products. Budget constraints frequently impede the implementation of advanced communication systems.
The global SIGINT market is segmented on the basis of type, solution and region. By type, the market is classified into ELINT and COMINT. By solution market is classified into airborne, ground, naval, cyber, and space. By mobility the market has been categorized into fixed and man portable. By region, the market is analyzed across North America, Europe, Asia-Pacific, and LAMEA.
The key players profiled in this report include BAE Systems., Thales Group, Northrop Grumman Corporation., Lockheed Martin Corporation., Raytheon Technologies Corporation, Elbit Systems Ltd., General Dynamics Corporation, Rheinmetall AG, L3Harris Technologies, Inc., and Mercury Systems, Inc.
The signals intelligence (SIGINT) market is segmented into By Type and By Application.
Signals Intelligence (SIGINT) Market

---
By Type
Electronic Intelligence (ELINT) segment accounted for the highest market share in 2021.
By type, COMINT sub-segment had the highest market share in 2021, and it is projected to remain the dominant sub-segment during the forecast period. Communications intelligence (COMINT) is data gathered from people's communications, such as via phone calls, text messages, and various types of online interactions. In order to identify a wide range of intelligence factors, COMINT efforts look for information about voice, message, and message transmissions. Moreover, electronic communication held the highest signal intelligence market share over the forecast period.
Signals Intelligence (SIGINT) Market

---
By Application
Airborne segment accounted for the highest market share in 2021.
By solution, the airborne signal intelligence (SIGINT) sub-segment had the largest market share by solution in 2021, and it is expected to remain the dominant sub-segment throughout the forecast period. SIGINT solutions help achieve universal situational awareness, air-force management, and comprehensive collaborative mission planning. Furthermore, the solutions are critical in real-time decision making. These factors are propelling the signals intelligence market over the forecast period.
Signals Intelligence (SIGINT) Market

---

By Mobility
Fixed mobility held the highest market share and is anticipated to continue its dominance over the forecast period.
By mobility, the fixed signal intelligence sub-sgement held the largest market share in 2021, and is anticiapted to continue its dominance over the forecast period. On the battlefield, fixed mobility has a tactical advantage. These systems allow soldiers to intercept radio frequency signals, learn from foreign instrumentation signals, and carry out signal direction finding utilising voice and communication data. They are installed on a multipurpose wheeled vehicle. Enemies are therefore unaware that they are being watched since systems are resilient. the rising demand for such cutting-edge technology that gather data about enemies through their communication networks, such as voice or text messaging. is anticipated to propel the signals intelligence market growth over the forecast period. 
Signals Intelligence (SIGINT) Market

---

By Region
North America accounted for the highest market share in 2021.
By region, Asia-Pacific is projected to be the fastest growing market during the forecast period. The Asia-Pacific (APAC) signals intelligence market is expanding at an exponential rate, owing primarily to rising security and border threats from neighboring countries. Technological advances and rapid economic development in China, India, Russia, and South Korea have contributed to increased investment in the APAC signals intelligence market. APAC's fast-growing economies are strengthening their defenses. Technological advancements in SIGINT solutions and systems in APAC also provide opportunities for market growth. During the forecast period, the APAC region's SIGINT is expected to grow at the fastest CAGR. This expansion can be attributed to increased funding/investment by regional countries in the development of SIGINT products. Furthermore, both international and domestic players have increased their focus over the development of signal intelligence services across the globe.
IMPACT OF COVID-19 ON THE GLOBAL SIGNALS INTELLIGENCE (SIGINT) MARKET
The signals intelligence industry has been greatly impacted by COVID-19. The COVID-19 epidemic has led to a significant increase in government surveillance tactics around the world, primarily via mobile phone applications.
Furthermore, new advances may well have practical implications for pandemic preparedness efforts; one's participatory or voluntary nature obscures the link between health information and traditional government monitoring mechanisms, ensuring efficient oversight difficult.
Key Benefits For Stakeholders
The report provides an in-depth analysis of the global signals intelligence market trends along with the current and future market forecast.
This report highlights the key drivers, opportunities, and restraints of the market along with the impact analyses during the forecast period.
Porter's five forces analysis helps analyze the potential of the buyers & suppliers and the competitive scenario of the global signals intelligence (SIGINT) market for strategy building.
A comprehensive global signals intelligence market analysis covers factors that drive and restrain the market growth.
The qualitative data in this report aims on market dynamics, trends, and developments which helps in understanding the signals intelligence market forecast.
 Signals Intelligence (SIGINT) Market Report Highlights
Aspects
Details
By Type

Electronic Intelligence (ELINT)
Communications Intelligence (COMINT)

By Application

Airborne
Ground
Naval
Space
Cyber

By Mobility
By Region

North America (U.S., Canada, Mexico)
Europe (Rest of Europe, United Kingdom, Germany, France, Spain, Italy)
Asia-Pacific (China, India, Japan, South Korea, Australia, Rest of Asia-Pacific)
LAMEA (Brazil, Saudi Arabia, United Arab Emirates, South Africa, Rest of LAMEA)

Key Market Players
BAE Systems, Thales Group, Northrop Grumman Corporation, Lockheed Martin Corporation, Raytheon Company, Elbit Systems Ltd., General Dynamics Corporation, Rheinmetall AG, Mercury Systems Inc., Harris Corporation