The global simulators market is experiencing a substantial growth, and will grow considerably in the next few years. Using simulations technology to hand out employee training has now turned out to be one of the most productive and implicit training methods available today. Employees with a hands-on knowledge on all the equipment and tools end up having more confidence. This way, they become able to master the required job skills within a real short span of time. This leads to fewer slips too. Companies also give way to reduced training costs by applying and instigating simulation training in their learning and development programs. Simulation training tends to dole out a virtual environment in which new applications, processes, and infrastructure are brought together in a space that imitates real-life use. Generally, simulation training is done keeping in backdrop a virtual environment that emulates actual work settings, counting on background dins & clatters, effects, and replicated workspaces.
The global simulators market is segmented on the basis of solution, platform, type, application, technique, and region. Based on solution, the market is further bifurcated into Products and Services. Based on platform, the market is divided into Airborne, Land, and Maritime. Based on type, the market is classified into Full Flight Simulators, Flight Training Devices, Full Mission Flight Simulators, Driving Simulators, Air Traffic Control Simulators, Fixed Base Simulators, Land Forces Training Simulators, Full Mission Bridge Simulators, and Vessel Traffic Control Simulators. Based on application, the market is categorized into Commercial Training and Military Training. Based on technique, the report segments the market into Live, Virtual & Constructive Simulation, Synthetic Environment Simulation, and Gaming Simulation. Geographically, the global market is analyzed across North America, Asia-Pacific, Europe,, LATAM, and MEA.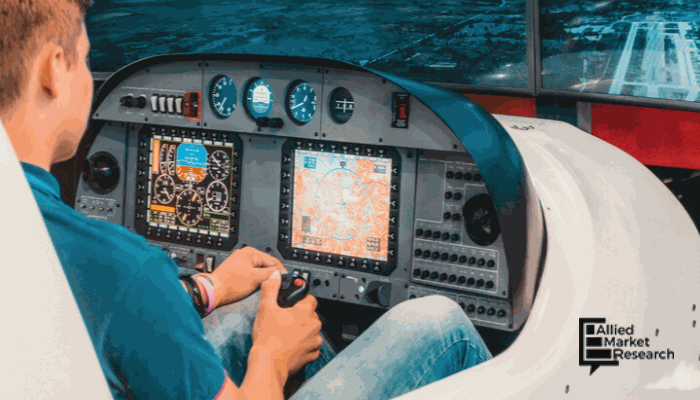 Key players of the global simulators market analyzed in the report include L3Harris Technologies, Inc. (US), Raytheon Company (US), Thales Group (France), TruSimulaion + Training Inc. (US), Collins Aerospace (US),Saab AB (Sweden), CAE Inc. (US),  Indra (Spain), Flight Safety International(US), Boeing (US), and Airbus S.A.S. (Netherlands).
Top impacting factors-
Training pilots and military staffs in flying machines, jumbo jets, land vehicles, and ships takes in a lot of risks and sometimes may bring aboutle thal situations and loss of lives. Here, simulators arrange for a lifelike experience and paves the way for a safe training. This exigency for solid and secure training fuels the growth of the global simulators market. Moreover, rise in demand for fleet of aircraft across the globe mandates competent and proficient pilots which, in turn, supplements the market yet more. Nowadays, regulatory bodies have also made it mandatory to utilize simulators for initial training, which has paved the way for a plethora of opportunities for the key players in the industry.
Hands-on experience makes it safe and simpler-
With simulation technology on board, employees get to steer through the new work requirements within a simulated space that offers real-world instances and set-ups. It gives the employees the much-needed prospect to utilize newly taught skills. Atiny little mistake by pilots on board may cost the lives of all the passengers on airplane. Such complications have made simulators a mandatory gig for pilot training. 
In the last few years, there has been a significantin cursion of simulators, permitting one to come across certain roles that they wouldn't generally get the chance to. And, it has resulted into the inception of a plethora of exciting games such as Euro Truck Simulator 2and Flight Simulator.  Some of the sorts and skinsen compassed in Pope Simulator are being able to sway the world's affluences, horn into international politics, fight for peace, and utilize the vigor of one's faith to help mankind.
A steep increase in demand for pilots has boosted the global market-
A steep increase in demand for pilots in the aviation sector and approval of virtual pilot training to guarantee aviation safety are the major factors accounting for the growth of the simulators market in more than one way. Also, the need for saving military budgets in the developing economies are boosting the market growth.
On the other way round, simulation technology has helped certain race of people bring in the much-required poise in their lives. After 2020 Australian GP got called off due to the Covid-19 pandemic, Akhil Rabindra, the famous Indian racing driver, decided to pack his stacks & belongings and spring back to his home in Bengaluru. According to him, simulators have completely transformed the game. Simulation technology, along with the required discipline in food regime and exercise, have helped him tamper with the burdens of his family business with the persistent drive to make it big in the GT domain.
Key benefits of the report:
This study presents an informative depiction of the global simulators industry along with the current trends and future estimations to support the investment pockets.

The report also reveals information with respect to key drivers, restraints, and opportunities coupled with a comprehensive analysis of the global simulators market share.

The current market is quantitatively analyzed to highlight the global simulators market trends.

Porter's five forces analysis demonstrates the influence of buyers & suppliers in the market. 

The report provides a detailed market study based on economical intensity and how the global competition will take shape in the near future. 
Questions answered in the Simulators Market research report:
What are the key market players active in the simulators market?

What are the prevailing market dynamics in the market?

What are the current trends that are likely to determine the global simulators market analysis in the next few years?

What are the driving factors, restraints, and opportunities in the market?

What are the forecasts for the future that would aid in taking further preemptive steps to boost the global simulators market growth?
 Simulators Market Report Highlights
Aspects
Details
By Solution
By Platform
By Type

Full Flight Simulators
Flight Training Devices
Full Mission Flight Simulators
Driving Simulators
Air Traffic Control Simulators
Fixed Base Simulators
Land Forces Training Simulators
Full Mission Bridge Simulators
Vessel Traffic Control Simulators

By Application

Commercial Training
Military Training

By Technique

Live
Virtual & Constructive Simulation
Synthetic Environment Simulation
Gaming Simulation

By Region

North America (U.S., Canada, Mexico)
Europe (France, Germany, UK, Russia, Rest of Europe)
Asia-Pacific (China, Japan, India, South Korea, Australia, Rest of Asia-Pacific)
LAMEA (Latin America, Middle East, Africa)

Key Market Players
Airbus S.A.S., L3Harris Technologies, Inc., Boeing, Thales Group, Flight Safety International, Raytheon Company, Collins Aerospace, Indra, Saab AB, CAE Inc.