Skin Barrier Market Overview:
The global skin barriers market size was valued at $868.1 million in 2018, and is expected to reach $1,191.5 million by 2026, registering a CAGR of 4.1% from 2019 to 2026. Skin barriers are preferred for wound care management, incontinence, and ostomy care management. A skin barrier adheres to peristomal skin, which helpsto protectthe skin from stoma output by attaching the pouch to the body. These barriers help patients suffering from fecal incontinence by keeping the skin free of contaminants.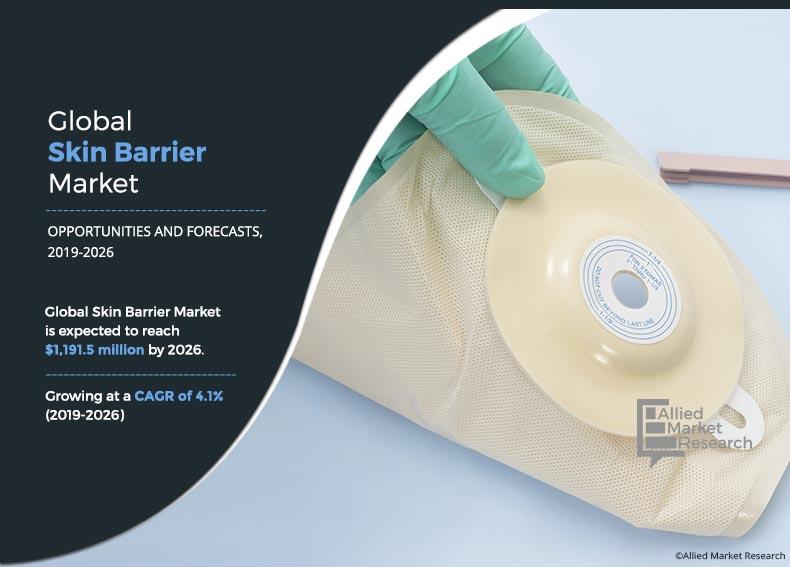 The global skin barriers market is expected to witness significant growth during the forecast period due to availability of technological advanced devices for bowel management. Furthermore, rise in geriatric population and surge in fecal inconsistency-related disorders significantly contributetoward the market growth. Elderly people are highly susceptible to fecal incontinence or constipation problems. For instance, as per WHO, by 2050, the proportion of the world's population over 60 years is estimated to reach 22%. In addition, by 2020, the number of people aged 60 years and older is expected to outnumber younger children than 5 years. In 2050, 80% of older people are estimated to be living in low and middle-income countries. Thus, rise in elderly population who experience increased risk of developing fecal incontinence boost the demand for skin barrier devices. However, lack of trained professionals and patient's discomfort in using these devices hinder the growth of market. Furthermore, loss of dignity is a major concern that has been identified among patients suffering from bowel dysfunction diseases. This is majorly related to reduced control of their bodily functions and loss of privacy, particularly during intimate care such as washing, toileting, and bowel interventions.In addition, high cost of the skin barriers and increase in incidence allergies due to skin barrier materials restrain the market growth. On the contrary, rise in incidence of various autoimmune diseases such as irritable bowel disease, which develops the problem of constipation or fecal inconsistence and increase in research activities for the development of medical devices for fecal management have boosted the demand for skin barriers. Moreover, surge in healthcare reforms in developing nations is anticipated to offer remunerative opportunities for market expansion.
Global Skin Barrier Market Segmentation
The global skin barriers market is segmented into shape, surgery type, and region. On the basis of shape, the market is divided into flat and convex. Depending on surgery type, it is classified into colostomy, ileostomy and urostomy. Region wise, it is analyzed across North America, Europe, Asia-Pacific, and LAMEA.
By sShape segment review
On the basis of shape, the skin barriers market is classified into flat and convex. Dependingon shape, the flat-shaped segment dominated the market in 2018, and is anticipated to maintain its dominance during the forecast period. This is attributed to increase in usage of flat-shaped skin barriers for the attachment to ostomy pouches in hospitals, clinics, and even home care for management of fecal inconsistence in adults. As the name signifies, flat-shaped skin barriers are flat, which are integrated with beige floating flange. These thin films are used in the ostomy bags to prevent leakage. They are designed to be used with any new drainable, closed, or urostomy pouch with same flange size. These barriers are not made with the natural rubber latex.It is widely used by bedridden patients, elderly people, and individuals suffering from irritable bowel disease.
Skin Barrier Market

---
By Shape
Flat Shaped Skin barriers segment is projected as one of the most lucrative segment.
Surgery type segment review
On the basis of surgery type, the colostomy segment generated the highest revenue in 2018, and is anticipated to maintain this trend throughout the forecast period. This is attributed to the fact that these are the more preferred type of surgeries to maintain incontinence.
Skin Barrier Market

---
By Surgery Type
Colostomy segment holds a dominant position in 2018 and would continue to maintain the lead over the forecast period.
Region Segment Review
North America accounted for the majority of the market share in 2018, and is anticipated to continue this trend during the forecast period. Ongoing R&D activities for introduction of novel bowel management devices for fecal management is the major trend in the North America skin barriers market. Rise in geriatric population in this region further contributes to the market growth. For instance, according to Economics and Statistics Administration, U.S. Department of Commerce, America's elderly population is now growing at a moderate pace, and is expected to grow rapidly in the future. In addition, according to the Census Bureau's "Middle Series"  Projections, the elderly population will double by the year 2050, to 80 million. Thus, rapid growth of geriatric population in this region drives the market growth. Asia-Pacific is growing at at a significant CAGR owing to increase in per capita income in many countries, rise in government initiatives for the improvement of the healthcare sector, and surge in focus of leading manufacturers on expanding their geographical presence in emerging Asia-Pacific countries to capture potential growth opportunities in the market. Moreover, rise in demand for these products alarming increase in prevalence of irritable bowel syndrome fuels the skin barrier market growth.
Skin Barrier Market

---
By Region
North America segment holds a dominant position in 2018 and would continue to maintain the lead over the forecast period.
Comprehensive competitive analysis and profiles of major market players such as3M Company, B. Braun Melsungen AG, Coloplast Corp, ConvaTec Group PLC, Cymed Ostomy Pouching Systems, Hollister Inc., Marlen Manufacturing & Development Co., Nu-Hope Laboratories, Inc., Safe n' Simple Medical, and Torbot Group, Inc.
Key Benefits For Stakeholders
The skin barrier market share and analysis is based on a comprehensive analysis of key developments in the skin barrier industry.

The development strategies adopted by the key market players are enlisted to understand the competitive scenario of the global market.

The study provides an in-depth analysis of the skin barrier market trends to elucidate the imminent investment pockets.

Information about key drivers, restrains, and opportunities and their impact analysis on thesk in barrier market size is provided.

Porter's five forces analysis illustrates the potency of buyers and suppliers operating in the industry.

The quantitative analysis of the global skin barrier market from 2019 to 2026 is provided to determine the market potential.
 Skin Barrier Market Report Highlights
Aspects
Details
By Shape

Flat-shaped skin barriers
Convex skin barriers

BY SURGERY TYPE

Colostomy
Ileostomy
Urostomy

By Region

North America (U.S., Canada, Mexico)
Europe (Germany, UK, Spain, France, Italy, Rest of Europe)
Asia Pacific (Japan, China, India, Australia, Rest of Asia-Pacific)
LAMEA (Brazil, South Africa, Saudi Arabia, Rest of LAMEA)

Key Market Players
3M COMPANY, BRAUN MELSUNGEN AG, COLOPLAST CORP, CONVATECH, CYMED OSTOMY POUCHING SYSTEMS, HOLLISTER INC., MARLEN MANUFACTURING & DEVELOPMENT CO., NU-HOPE LABORATORIES, INC., SAFE N' SIMPLE MEDICAL, TORBOT GROUP, INC.