Skin Cancer Diagnostics and Therapeutics Market Outlook - 2027
Skin cancer means an abnormal growth of skin cells. It develops in those areas that are exposed to the sun. Skin cancer is the most common form of cancer. There are two main categories of skin cancer such as melanoma and non melanoma.  Nonmelanoma skin cancer may appear as a firm red nodule, a scaly growth that develops a coating which does not heal. It is mostly occur on nose, forehead, ears, lower lip, and hands. To diagnose skin cancer various types of imaging solution such as CT scan, MRI, PET scan, bone scan, and chest X-ray. The ultraviolet radiation changes the genetic material (DNA) in cells and is, therefore, the main cause of skin cancer.  The skin cancer diagnostics and therapeutics market include various diagnostics and therapies associated to skin cancer such as chemotherapy, targeted therapy, immunotherapy, radiotherapy, freezing therapy, and scraping therapy which help to cure skin cancer. The various preventable risk factors of this disease consist of exposed to sunlight, sunlamps and tanning. "American Cancer Society, state that exposure to the sun is the most preventable risk factor for all skin cancers. "Federal Centers for Disease Control and Prevention" (CDC), state that the rate of new melanoma cases among both men and women has been increasing at 1.7% and 1.4% per year.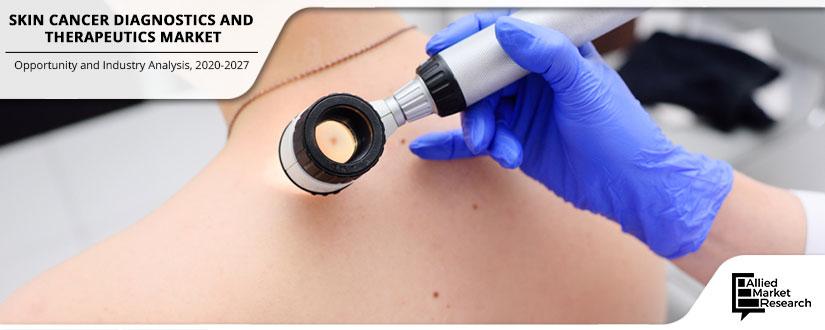 COVID-19 Scenario Analysis:
To take care of infected population the demand for medical supplies is increasing. Respiratory support devices such as atomizer, life-support machine, oxygen generator, and monitor are among the majorly used medical devices in primary clinical treatment. Moreover, COVID-19 has led to a huge surge in demand for medical supplies such as personal protective equipment including masks, gloves, and protective eyeglasses. With rise in number of COVID-19 cases worldwide, the need for medical supplies keeps on rising among, both from healthcare professionals and civil population for precautionary measures. Manufacturers of these products have a chance to capitalize this increased demand of medical supplies to ensure adequate and continuous supply of personal protective equipment in the market.
 The ongoing outbreak of COVID-19 pandemic impacted the pharmaceutical industry positively. It affect skin cancer diagnostics and therapeutics market. According to the ASCO, during this situation they state that hold the treatment for cancer associate disease if the patient have affected with coronavirus because it is life threatening for the health condition of cancer patient. They also state that if the patient associated with cancer but do not have infected with coronavirus, cancer treatment is available. But due to the government announced lockdown in various region people not getting proper treatment. This affect the major end user of the market such hospital they losses their business and major market player as well.  
Top impacting factors: Market Scenario Analysis, Trends, Drivers and Impact Analysis:
Globally, North America hold the largest market share and dominate overall market due to the increasing prevalence of melanoma and other skin cancers, presence of well-developed hospital facilities, availability of large number of advanced product and therapy for skin cancer. However, Asia Pacific expand skin cancer diagnosis and therapeutic market growth rate due to rapidly increasing prevalence of skin cancer, rising demand for low cost of therapeutics, increasing large number of clinical research organizations. 
In 2013, Government of India has approved establishment of "State Cancer Institutes and Tertiary Care Cancer Centers" in India, which is expected to develop the growth of market to a certain extent. In 2017, stated that American Cancer Society, around 87,100 affected with skin cancer. These factor rises the need for drugs that help in preventing melanoma over the coming years.
In 2018, The U.S. government has developed reimbursement policies for treatment of cancer associated with diseases. American Academy of Dermatology, state that around 9,500 people in the United States are diagnosed with skin cancer every day. Skin cancer is the most common cancer in the United States. Most cases of melanoma, the deadliest kind of skin cancer, are caused by exposure to ultraviolet (UV) light. As per the report of ASCO (American Society of Clinical Oncology), more than 3 million people in the United States are diagnosed with non-melanoma skin cancer each year. Basal cell carcinoma is far more common than squamous cell carcinoma. About 80% of non-melanoma skin cancer is basal cell carcinoma.
The factor such as rising government initiatives for improving health care facilities, growing incidences of skin cancer, increasing advancements of skin cancer therapy such as photodynamic therapy (PDT), have been widely used in treating non-melanoma skin malignancies, extension of current therapies are driving the global market for skin cancer diagnostics and therapeutics are drive the growth of skin cancer diagnostics and therapeutics market. The factors such as, high cost of skin cancer treatment, stringent government regulation and lack of awareness about the advanced treatment for cancer associated disease are restraining the growth of skin cancer diagnostics and therapeutics market. The opportunities' available for the market such as increasing development of cancer associated product, increasing research and development activities, rapidly, increasing skin cancer associated disease rising awareness amongst the people about various advanced therapy for types of cancer and providing cost effective treatment.  
New Product launch to flourish the market:
Major Key market manufacturer have been focusing on increasing research and development activities and producing new product solution for specific applications as there are varying demands based on the utilization. Leading market players have determined how improved accuracy can be influential in many applications. In 2017 "Pfizer Inc." and "Merck KGaA.", received U.S.FDA approval for the development of formulation such as "BAVENCIO® (AVELUMAB)", which is an Injection for the treatment of patients with locally advanced or metastatic urothelial carcinoma. In 2018, "AstraZeneca" has launched new test such as "cobas® EGFR Mutation Test v2". It is a real-time PCR test which identifies 42 specimens. This specimen are processed using the cobas® DNA sample preparation kit and plasma. This test is specified as a companion diagnostic to inhibit the resistant of non small-cell lung cancer.
 In 2019, "Agilent" received the U.S.FDA approval for "Dako PD-L1 IHC 28-8 pharmDx". It is a qualitative immunohistochemically assay using Monoclonal Rabbit Anti-PD-L1, Clone 28-8 intended for use in the detection of PD-L1 protein in formalin-fixed, paraffin-embedded (FFPE) non-squamous non-small cell lung cancer (NSCLC) tissue using EnVision FLEX visualization system on Autostainer. It is the test for skin cancer patients. In 2019, "Amgen" received FDA Approval for "IMLYGIC™" (Alipogene Laherparepvec). It is the first clinical and regulatory validation of an oncolytic virus as a therapy, which treat the patients with a serious form of skin cancer.
Key benefits of the report:
This study presents the analytical depiction of the global skin cancer diagnostics and therapeutics market along with the current trends and future estimations to determine the imminent investment pockets.
The report presents information related to key drivers, restraints, and opportunities along with detailed analysis of the global skin cancer diagnostics and therapeutics market share.
The current market is quantitatively analyzed to highlight the global skin cancer diagnostics and therapeutics market growth scenario.
Porter's five forces analysis illustrates the potency of buyers & suppliers in the market. 
The report provides a detailed global skin cancer diagnostics and therapeutics market analysis based on competitive intensity and how the competition will take shape in coming years. 
Questions answered in the Skin Cancer Diagnostics and Therapeutics Market research report:
Who are the leading market players active in skin cancer diagnostics and therapeutics market?
What are the current trends will influence the market in the next few years?
What are the driving factors, restraints, and opportunities in the market?
What are the projections for the future that will help in taking further strategic steps?
 Skin Cancer Diagnostics and Therapeutics Market: Global Opportunity Analysis and Industry Forecast, 2020–2027 Report Highlights
Aspects
Details
By Type

Actinic Keratoses (Ak)
Based Cell Carcinoma (Bcc)
Squamous Cell Carcinoma (Scc)
Melanoma

By Therapy

Chemotherapy  
Targeted Therapy  
Immunotherapy
Radiotherapy
Freezing
Scraping  
Others

By Diagnosis

CT-Scan
X-Rays
 Dermatoscopy
Sentinel Lymph Node Biopsy  
Blood Test
Others

By End User

Hospitals
Cancer Research Centers
Clinics

By Region

North America (U.S., Canada, Mexico)
Europe (France, Germany, Italy, Spain, UK, Rest of Europe)
Asia-Pacific (China, Japan, India, South Korea, Australia, Rest of Asia-Pacific)
LAMEA (Brazil, South Africa, Saudi Arabia, Rest of LAMEA)

Key Market Players
Bristol-Myers Squibb, Eli Lilly, Agilent, Daiichi Sankyo, Elekta, Roche, Aqua Pharmaceuticals, Amgen,, AstraZeneca, GSK