Skincare Market Research, 2031
The global skincare market size was valued at $146.7 billion in 2021, and is projected to reach $273.3 billion by 2031, growing at a CAGR of 6.7% from 2022 to 2031. Skincare refers to the use of cosmetic products, antimicrobials, tonics, lotions, creams, or other substances on the skin of any individual for the purpose of massaging, washing, stimulating, manipulating, performing non-invasive hair removal, beautifying, or similar activity.
COVID-19 had a significant impact on a wide range of industries, markets, and professions. As consumers spent more time at home and wore masks in public, the skin care and cosmetics sectors were particularly severely impacted.  In addition, mask requirements had an impact on how lip or face cosmetics were used.  COVID-19 had specific effect on the markets, employment, and overall direction of the cosmetic industry. The pandemic had a significant impact on the worldwide cosmetics industry. Customers only purchased online cosmetics when they were confident that the items and the online store were real.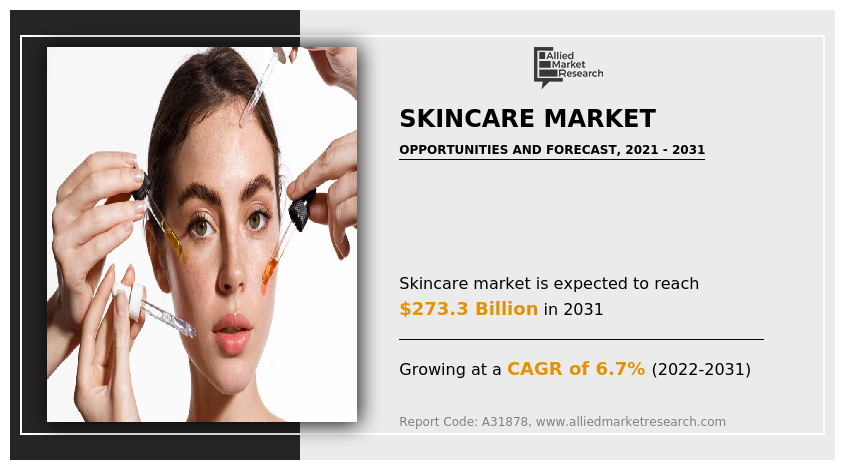 Skincare companies are looking for a competitive advantage in order to effectively satisfy the demand of the consumers. As more people shop online, businesses must maximize the customer experience when selling individualized skincare items online, ensuring the procedure is as personalized as the product. The environmental effect of products, including ingredients, packaging, and transportation, has become an important topic of attention for skincare customers. With the growing popularity of social media apps such as Facebook, Instagram, TikTok, and YouTube, there has been a natural growth of skincare advertising on these platforms, partly due to their highly visual character.
Choosing the proper components and products for skin can be a trial-and-error process. As a result, it is critical to recognize the indicators that a product is not a suitable fit for skin before it causes damage. The issue is that chemical-based products have several adverse effects. Furthermore, many are allergic to specific ingredients that can cause problems if they are not too small and ignorant.
Skin care is the method of keeping skin health and improving skin quality. On a wide scale, various sorts of substances are utilized to improve skin health. Factors such as shifts in consumer preferences, changes in consumer style of living, growing preference for organic skin care goods, rapid industrial development, and a massive increase in awareness about new & innovative skin care product industry, are creating financially rewarding opportunities for the worldwide skin care goods market during the forecast period
The key players profiled in this report include L'Oréal Professional, Unilever, Procter & Gamble, Estée Lauder Inc. Beiersdorf AG, Shiseido Co., Ltd. Natura & Co. Kao Corporation, Johnson & Johnson Services, Inc., and Avon Products Inc.
The Skincare market is segmented on the basis of Product, distribution Channel, gender, Packaging, and region. By Product, the market is fragmented into Creams & Moisturizers, Powder, Cleansers & Face Wash, and others. By Distribution Channel, the market is bifurcated into Online and Offline. By gender the market is -divided into female and male By Packaging, the market is classified into tubes, bottles & Jars, and others. By region, the market is analyzed across North America, Europe, Asia-Pacific, and LAMEA.
The skincare market is segmented into Products, Distribution Channel, Gender and Packaging.
Skincare Market

---
By Products
The creams and moisturizers segment holds the major market share in 2021 and is expected to grow with a fastest CAGR during the forecast period.
By Products, the cream and moisturizer segment dominated the market in 2021. The production of cream and moisturizer  from chemical and herbal  products is a simple process and is a desired purity of Skin Care . Moisturizing helps to reduce Skin Issues. On a daily basis, it can lessen the likelihood of developing excessive dryness or oiliness in the skin. Both extremes damage the skin and contribute to common skin problems such as acne. Using a regular moisturizer helps to conceal imperfections on the skin. These are expected to be the major factors affecting the Skincare market size during the forecast period.
Skincare Market

---
By Distribution Channel
Online is anticipated to continue its dominance over the forecast period
By Distribution Channel, the online segment dominated the global Skin Care market share in 2021. Online shopping sites specialize in beauty products and skin care products  for men, women, and children.  Online shopping usually comes with great deals and discounts in skin care products. In general, brick and mortar establishments cannot compete with the prices offered by internet websites. For skin care deals in combined package deals, combo discounts, and loyalty programmed points, online shopping can save a lot of money. It is simple to shop for preferred things online from anywhere, at any time.
Skincare Market

---
By Gender
The female segment holds the major market share in 2021 and is expected to grow with a fastest CAGR during the forecast period
By gender, the female segment dominated the global Skincare market share in 2021. Women's growing desire to seem younger is boosting demand for skincare treatments that combat indications of exhaustion, stress, and ageing. Furthermore, the increase in awareness of women's cosmetics goods, as well as the participation of celebrities to advocate businesses boosts the women's Skincare Market Growth.
Skincare Market

---
By Packaging
The tubes segment holds the major market share in 2021 and is expected to grow with a fastest CAGR during the forecast period.
By packaging, the tubes segment dominated the global Skincare market share in 2021.  Tubes can be easily labelled, ensuring that items stand out and brands are recognized. Tubes provide the ultimate branding opportunity, with all-around decoration options ranging from tube texture to cap color. Tubes, with their lockable lids and strong exteriors, protect products from potential contaminants in the air and light exposure. This is a big benefit for both consumers who want to use the product for an extended period of time and cosmetics companies who want to keep a good reputation.
Skincare Market

---

By Region
Asia-Pacific is anticipated to continue its dominance over the forecast period
By region, Asia-Pacific dominated the global market in 2021 and is projected to remain the fastest-growing segment during the forecast period. The Skin Care demand in countries, namely China and India, is expanding quickly since in these countries, skin care products are used for both cosmetic and medicinal purposes. For instance, the key distribution channels in the Asia-Pacific skincare market include e-retailers, hypermarkets & supermarkets, health & cosmetic stores, department stores, pharmacies/drug stores, and others. In 2021, e-retailers dominated the Asia-Pacific cosmetics industry's distribution channels.
Impact of COVID-19 on the Global Skincare Industry
COVID-19 is thought to generate a chaotic environment, culminating in universal revocation. The global skin care products market is being impacted in a variety of ways as the number of cases increases.
The following sections explore the effects of the COVID-19 outbreak on the global skin care products industry. The global COVID-19 outbreak had a significant impact on the skin care industry.
Cosmetics and Skin care retailers are being compelled to emphasise basic item categories such as food and drink, as well as reduce selection sizes in other product categories.
The global lockdown during the pandemic has significantly customer buying behaviour by altering consumer shopping patterns, prioritising items, and selecting for plant-based skin care.
Key Benefits For Stakeholders
This report provides a quantitative analysis of the market segments, current trends, estimations, and dynamics of the skincare market analysis from 2021 to 2031 to identify the prevailing skincare market opportunity.
The market research is offered along with information related to key drivers, restraints, and opportunities.
Porter's five forces analysis highlights the potency of buyers and suppliers to enable stakeholders make profit-oriented business decisions and strengthen their supplier-buyer network.
In-depth analysis of the skincare market segmentation assists to determine the prevailing market opportunities.
Major countries in each region are mapped according to their revenue contribution to the global skincare market forecast period.
Market player positioning facilitates benchmarking and provides a clear understanding of the present position of the market players.
The report includes the analysis of the regional as well as global skincare market trends, key players, market segments, application areas, and market growth strategies.
 Skincare Market Report Highlights
Aspects
Details
Market Size By 2031
USD 273.3 billion
Growth Rate
CAGR of 6.7%
Forecast period
2021 - 2031
Report Pages
290
Products

Creams and Moisturizers
Powder
Cleansers and Face Wash
Others

Distribution Channel
Gender
Packaging

Tubes
Bottles and Jars
Others

By Region

North America (U.S., Canada, Mexico)
Europe (Germany, UK, France, Spain, Italy, Rest of Europe)
Asia-Pacific (China, Japan, India, South Korea, Australia, Rest of Asia-Pacific)
LAMEA (Brazil, Saudi Arabia, UAE, South Africa, Rest of LAMEA)

Key Market Players
Estee Lauder Companies Inc., Johnson's & Johnsons, L'Oreal, Shiseido Ltd., Amore Pacific, Unilever plc, Deciem, Glossier, Gladerma, PROCTER & GAMBLE HYGIENE & HEALTH CARE Ltd