Sliding Vane Air Motor Market Overview:
The global sliding vane air motor market size is expected to reach $3,677.7 million in 2025, from $2,575.8 million in 2017 growing at a CAGR of 4.61% from 2018 to 2025. Sliding vane air motor is also known as rotary vane air motor or pneumatic vane air motor, which consists of slotted rotor with sliding vanes mounted on a drive shaft. These air motor utilize the energy stored in the form of compressed air that enters the sealed motor chamber and exerts pressure against the vanes of a rotor and provides rotational motion to the central shaft. It converts the potential energy of the compressed air into the mechanical work, providing the necessary torque for the shaft and resulting in rotary motion for various industrial applications.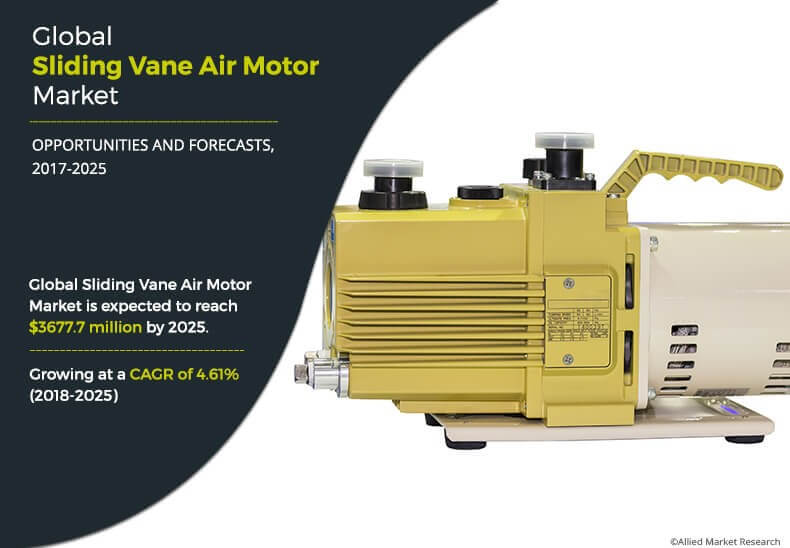 The demand for tools with variable torques and fastening capabilities is on an increase over the recent years. Whereas, the working of an air motor is dependent on the inlet pressure, which exhibits the linear output torque/speed relationship. However, by regulating the air supply, the output of an air motor can easily be modified. In addition, increase in investment toward superior industrial tools and systems and its ability to perform efficiently in hazardous conditions with low fuel consumption drive the growth of the sliding vane air motor market. However, rotary vane air motor has limited scope in heavy duty applications. Moreover, there is possibility of air leakage in these motors, which can hinder the market growth.
Further, sliding vane air motor exhibit high power-to-weight ratio as compared to other motors. In addition, these motors are cost-effective and easy to maintain, thus initiating the adoption for various applications in small-scale operations.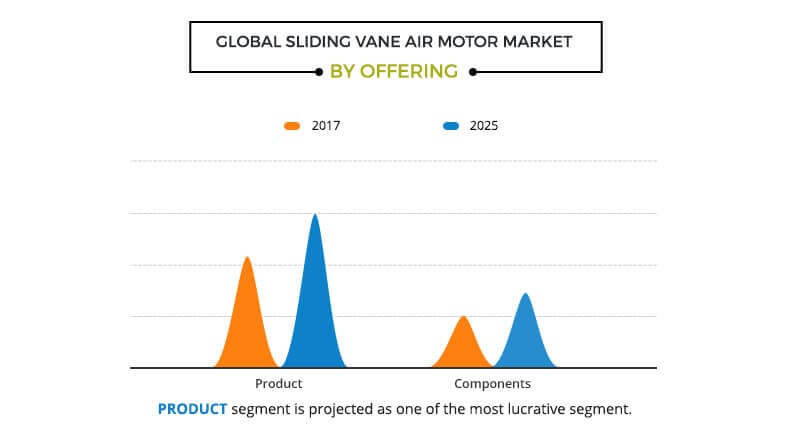 The global sliding vane air motor market is segmented based on offering, application, end-user industry, and region. Based on offering, the market is bifurcated into product and service. In 2017, the product segment dominated the market, in terms of revenue, and is expected to maintain this trend in the coming years, owing to increase in demand for rotary air motor in various industrial solutions. By application, the market is classified into tool, industrial equipment, and others. The industrial equipment segment is anticipated to dominate the global sliding vane air motor market throughout the forecast period.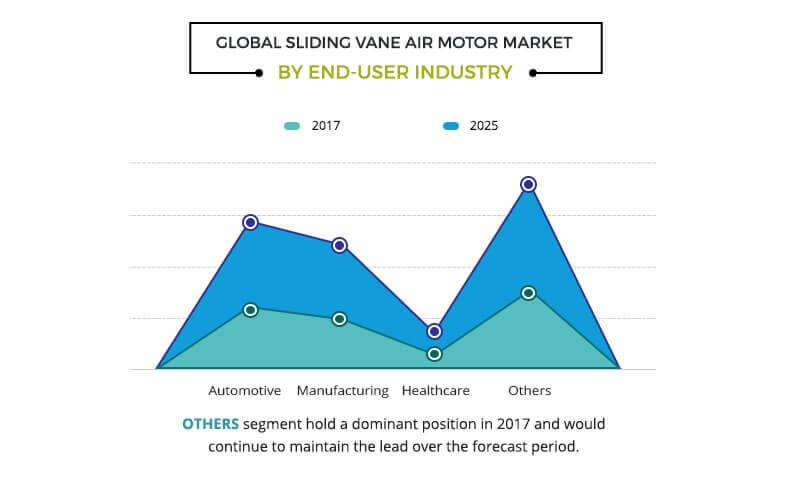 The end-user industry segment is categorized into automotive, manufacturing, healthcare, and others. Based on region, it is analyzed across North America, Europe, Asia-Pacific, and LAMEA. In 2017, Asia-Pacific contributed the highest revenue share in the sliding vane air market exhibiting the highest CAGR and is anticipated to secure the leading position during forecast period, owing to increase in demand for sliding vane air motor in industrial equipment used in automotive and manufacturing industries.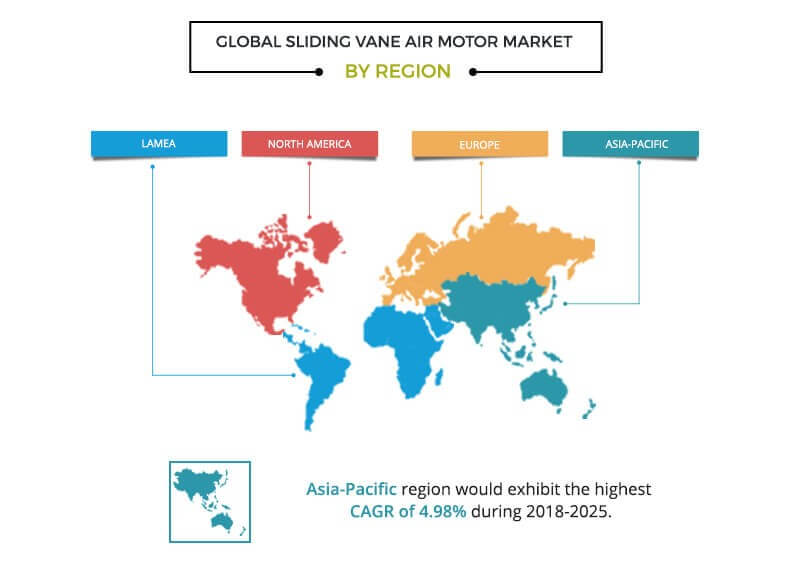 Competition Analysis
Competitive analysis and profiles of the major sliding vane air motor market players, such as Atlas Copco, Parker Hannifin Corporation, Altra Industrial Motion, Deprag Schulz GmbH u. Co., SANEI Co. Ltd., Ingersoll-Rand, Bibus AG, FIAM, Desoutter Industrial Tools, Globe Airmotors, Sommer-Technik, and Ferry Produits are provided in this report. The key strategies adopted by the key players from 2015 to 2018 were product development and business expansion.
Key Benefits for Stakeholders
The report provides an extensive analysis of the current and emerging market trends and dynamics in the global sliding vane air motor market.
In-depth analysis is conducted by constructing market estimations for the key market segments between 2018 and 2025.
Extensive analysis of the market is conducted by following key product positioning and monitoring of the top competitors within the market framework.
A comprehensive analysis of all regions is provided to determine the prevailing opportunities in these geographies.
Key market players within the sliding vane air motor market are profiled in this report and their strategies are analyzed thoroughly, which help understand the competitive outlook of the global sliding vane air motor market.
Sliding Vane Air Motor Market Key Segments:
By Offering
By Application
Tool
Industrial Equipment
Others
By End-user Industry
Automotive
Manufacturing
Healthcare
Others
By Region
North America
Europe

UK
Germany
France
Russia
Rest of Europe

Asia-Pacific

China
Japan
India
Australia
Rest of Asia-Pacific

LAMEA

Latin America
Middle East
Africa
Key Players
Atlas Copco
Parker Hannifin Corporation
Deprag Schulz GmbH u. Co.
Ingersoll-Rand
BIBUS AG
FIAM
Desoutter Industrial Tools
Globe Airmotors
Sommer-Technik
Ferry Produits
SANEI Co. Ltd.