Small Animal Imaging (In-Vivo) Market Overview: 
Small Animal Imaging (In-Vivo) Market is expected to garner $2.1 Billion by 2020, registering a CAGR of 9.1% during the forecast period 2014 to 2020. Imaging modalities emerged as a preferred option for the clinical industry, especially in preclinical studies.
Many of the nuclear imaging technologies have been translated into micro level tools that include micro MRI, micro CT and micro PET. Apart from these technologies, micro ultrasound imaging, micro-magnetic resonance imaging (MRI), optical Imaging such as bioluminescence and fluorescence imaging, and multimodal imaging technologies have gained traction in the market. Rising number of the pre-clinical research, increasing investments by the CROs in the research activities, growing applications of multi-functional pre-clinical imaging and technological advancements such as high resolution multimodality MRI are the few factors impacting the global market positively. However, the stringent regulatory impositions coupled with inadequate reimbursement scenario would restrain the market growth to a certain extent. Despite of the aforementioned market restraints, commercialization of cost-efficient devices would ease the negative influence of restraints and fuel the market growth, primarily across the developing regions.
Rising number of Pharmaceutical companies and clinical research organizations, increasing applications of in-vivo imaging in pre-clinical research, real time data storage and high-resolution modalities, are the key growth factors of the market. Inadequate infrastructure provisions for research facilities, advanced instruments and the lack of skilled research personnel in emerging economies along with the requirement of high-end devices are likely to be the major restraints of small animal imaging (in-vivo) market. Going forward, the global clinical research initiatives, along with the development in technologies associated with pre-clinical trials will provide the platform for growth.
North America, dominates the market amongst all geographies owing to adoption of advanced technologies, healthcare awareness and favorable reimbursement policies. Geographically, about ~35 of the small animal imaging (in-vivo) market share is held by the North America owing to the heavy investments and affordability of advanced small animal in-vivo imaging devices, such as micro- Photoacoustic tomography (Micro-PAT), in pre-clinical research. On the other hand, Asia-Pacific market would grow at the promising CAGR of 11.5% over the forecast period. Such high growth rate is majorly attributed towards untapped state of the market, hence would provide an opportunity for the small animal imaging devices manufacturers.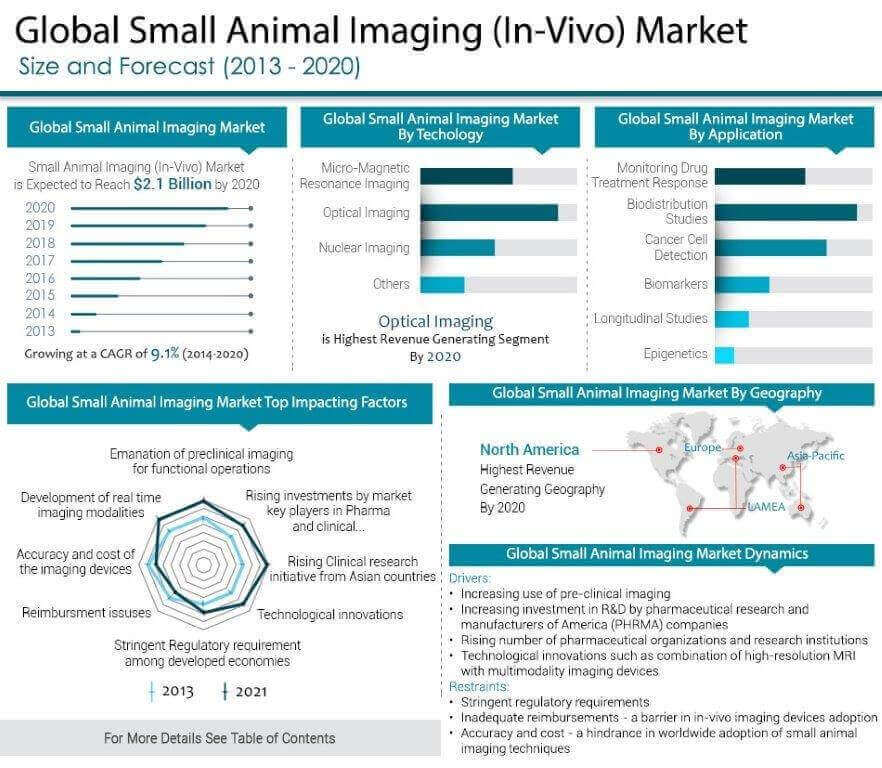 Small Animal Imaging (IN-VIVO) Market Key Benefits:
The report provides the quantitative analysis of the current market and estimations through 2013-2020 that assists in identifying the prevailing market opportunities to capitalize on
The report helps in understanding the strategies adopted by various companies for gaining market share in the small animal imaging (in-vivo) market
The report provides comprehensive analysis of factors that drive and restrict the growth of the small animal imaging (in-vivo) market
Market conditions of small animal imaging (in-vivo) market across all geographic regions are comprehensively analyzed. 
Competitive intelligence (of leading manufacturers) helps in understanding the competitive scenario across the geographies
SWOT analysis of the key market players is provided to illustrate the business strategies adopted by the companies
 Small Animal Imaging (In-Vivo) Market Report Highlights
Aspects
Details
By TECHNOLOGY

Micro Magnetic Resonance Imaging
Optical Imaging

Bioluminescence Imaging
Cerenkov Luminescence Imaging
Fluorescence Imaging

Nuclear Imaging

Micro Positron Emission Tomography (Micro PET)
Micro Single Photon Emission Computerized Tomography (Micro SPECT)

Other Imaging Modalities

Micro Computerized Tomography Imaging
Micro Ultrasound Imaging

By APPLICATION

Monitoring Drug Treatment Response
Biodistribution Studies
Cancer Cell Detection
Biomarkers
Longitudinal Studies
Epigenetics

By GEOGRAPHY

North America
Europe
Asia Pacific
LAMEA

Key Market Players
Thermo Fisher Scientific, PerkinElmer, Inc., Life Technologies Corporation, Miltenyi Biotech GmbH, Promega Corporation, FUJIFILM Holdings Corporation, Mediso Medical Imaging Systems, Siemens AG, Bruker Corporation, Aspect Imaging Ltd.