The global smart airport market size was valued at $7.1 billion in 2022, and is projected to reach $24.3 billion by 2032, growing at a CAGR of 13% from 2023 to 2032.
Report Key Highlighters:
The smart airport market study covers 14 countries. The research includes regional and segment analysis of each country in terms of value ($million) for the projected period 2023-2032.

The study integrated high-quality data, professional opinions and analysis, and critical independent perspectives. The research approach is intended to provide ka balanced view of global markets and to assist stakeholders in making educated decisions in order to achieve their most ambitious growth objectives.

Over 3,700 product literature, annual reports, industry statements, and other comparable materials from major industry participants were reviewed to gain a better understanding of the market.

The smart airport market share is moderately fragmented, with several players including Siemens AG, Wipro, Honeywell International Inc., Cisco Systems Inc., Huawei Technologies Co., Ltd., Thales, IBM Corporation, Smart Airport Systems (SAS), SITA, and T-Systems International GmbH.
A smart airport is an airport that leverages advanced technologies and data analytics to enhance operational efficiency, improve passenger experience, and generate additional sources of revenue. Smart airports are characterized by interconnected operations where all stakeholders collaborate to create and execute optimized plans that enhance the traveler's journey. These airports employ intelligent systems such as sensors and purpose-configured devices across various areas, enabling centralized digital control, management, and planning of airport operations.
Factors such as increase in air passenger traffic across the globe, rise in utilization of artificial intelligence and tools for big data analysis, and increase in focus on security on airports drive the growth of the market across the globe. In addition, high initial investment costs and lack of trained and experienced staff act as a barrier for the growth of the market. However, enhanced passenger experience and retail revenue and increased focus on sustainability and environmental concerns are expected to create ample opportunities for the growth of the market during the forecast period.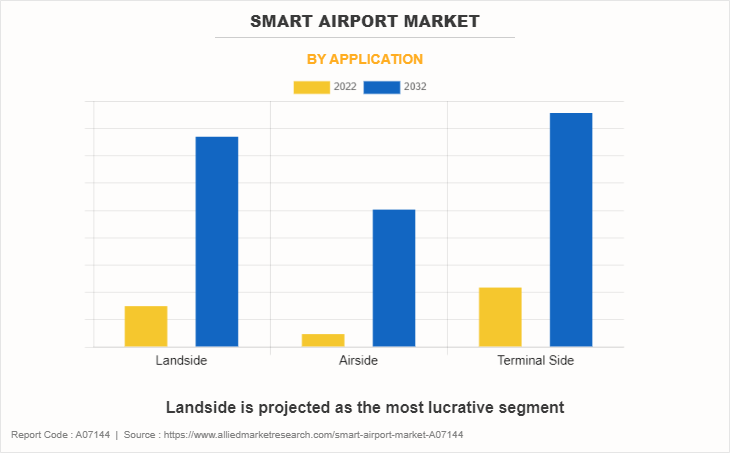 The smart airport market has been segmented on the basis of application, airport size, type, and region. By application, the market is segmented into landside, airside, and terminal side. By airport size, the market is divided into small, medium, and large. By type, the market is segmented into airport 2.0, airport 3.0, and airport 4.0.
Region wise, the market is analyzed across North America, Europe, Asia-Pacific, and LAMEA.
Airports are increasingly using mobile apps and beacons to guide passengers to parking spots, check-in counters, and amenities, enhancing the passenger experience. Sustainability is a growing trend in landside operations, with airports focusing on eco-friendly transportation options such as electric shuttles, electric vehicle charging stations, and bike-sharing services, addressing both environmental concerns and passengers' desire for sustainable travel options.
Furthermore, small airports are increasingly focused on adopting cost-effective and scalable technologies, such as cloud-based solutions, to improve operational efficiency without the need for extensive capital investments. Small airports are increasingly collaborating with local communities and businesses to create a sense of partnership and support, thereby enhancing their growth and sustainability.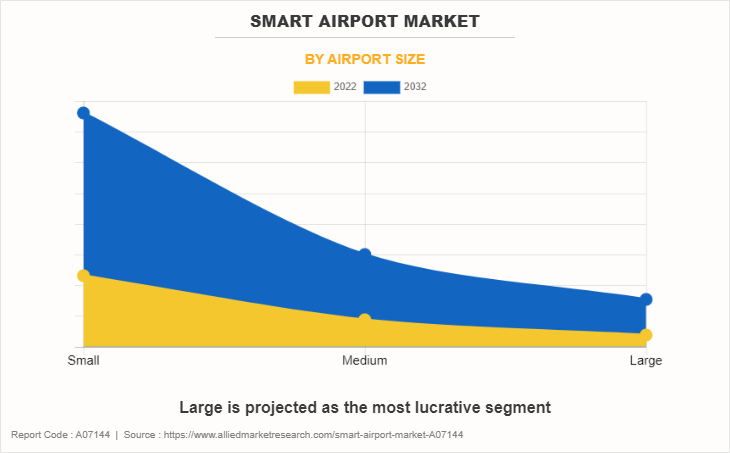 Furthermore, German airport operators are prioritizing automation to enhance passenger flow within airports. For instance, in January 2023, Flughafen München (FMG), the entity responsible for managing Munich Airport in Germany, expanded its partnership with Lufthansa, the national airline. This extended collaboration primarily concentrates on advancing the airport's sustainability endeavors and improving the overall travel experience for passengers. Several projects are part of this collaboration, including the introduction of smart passenger handling and the automation of various operational processes. These initiatives are designed to boost the airport's efficiency and create a more passenger-friendly environment.
Moreover, automation and robotics are gaining prominence in airside operations, streamlining aircraft servicing, maintenance, and cargo handling on the apron, increasing efficiency and safety.
In addition, airports adopted advanced aprons to improve efficiency. For instance, in December 2021, the Indira Gandhi International Airport in Delhi completed the first phase of the smart apron expansion project at Terminal 1. This expansion adds 19 new parking stands designed for A320 and B737 aircraft types. The project received necessary approvals from the Directorate General of Civil Aviation (DGCA) and is a part of the $2281 million expansion initiative currently in progress at Delhi airport. Such developments are expected to propel the smart airport market growth during the forecast period.
Increase in air passenger traffic globally
According to the International Civil Aviation Organization's (ICAO) yearly worldwide statistics, in 2022, there was a substantial rise in the volume of air travelers, estimated at 47% higher than in 2021. This increase is attributed to the swift recovery of numerous international flight routes. Moreover, in 2022, the number of passenger aircraft in operation reflects the broader recovery in air traffic, with current projections indicating that it has reached 75% of pre-pandemic levels.
The statistics suggest a rise in air passenger traffic over the years internationally. This rise is expected to result in a tremendous surge in demand for new airplanes globally, which would require the application of smart technologies at airports to properly manage resources and people at the airports throughout the world.
Smart airports may include everything from parking and security services to retail and dining options within the airport. With the rise in the number of passengers, airports face pressure to process people and their baggage quickly and efficiently. Smart technologies such as automated check-in kiosks, baggage tracking, and real-time flight updates help meet this demand.
To cater to this expanding passenger base efficiently and profitably, airports are increasingly integrating smart technologies into their operations. The surge in the adoption of smart technologies is a significant factor contributing to the growth of the smart airport market. Hence, a rise in air traffic is anticipated to drive the growth of the smart airport market during the forecast period.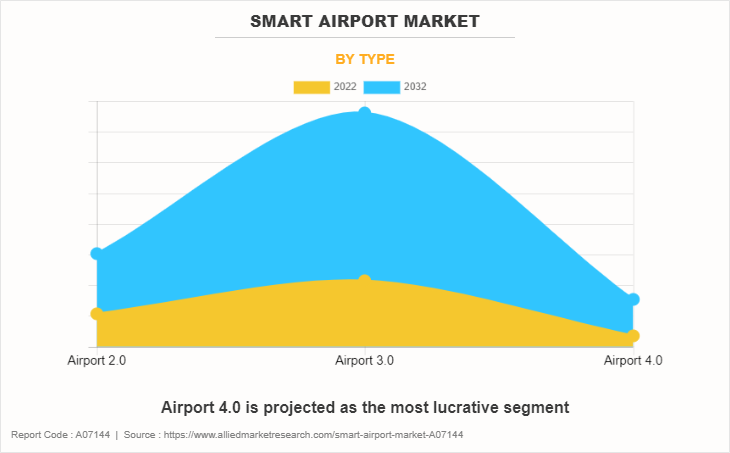 Rise in utilization of artificial intelligence and tools for big data analysis
Airports collect a vast amount of data from passengers, flights, and operations. Big data analysis tools are similar to super-powered computers that can make sense of all this data. They help airports understand passenger behavior, optimize resource allocation, and plan. For instance, an airport may use this data to figure out the busiest times for check-in, making sure there are enough staff on hand to handle the crowd.
Moreover, smart airports are adopting AI to make their operations more efficient and passenger friendly. AI may act as a smart assistant for the airport, helping with tasks such as predicting flight delays, automating check-in and security procedures, and even providing customer service through chatbots. This makes the airport experience smoother and more convenient for travelers. Airports operators have adopted AI by collaborating with AI companies. For instance, in December 2022, Riyadh Airports collaborated with Amazon Web Services (AWS) and AIRIS, an AI company to implement advanced international technologies to optimize baggage handling systems and associated services. This partnership is primarily focused on developing AI-based solutions to proactively maintain the baggage handling system, incorporating industrial Internet of Things and unsupervised machine learning algorithms. The objective is to reduce unexpected system failures by up to 50% through predictive analytics for scheduled downtime while also working to decrease repair time by up to 60%.
Therefore, airports use big data analysis to improve passenger experiences and resource management, while AI enhances operational efficiency and traveler convenience. These collaborations drive the growth of the smart airport market.
High initial investment cost
Deployment of smart technologies at airports often requires a significant initial capital investment. This encompasses the purchase of new hardware, software, infrastructure upgrades, and recruitment or training of personnel to manage and maintain these technologies. The time it takes to see a return on investment from these upfront expenses can be relatively long. It might take several years for the airport to recoup the money it initially spent on smart technologies through increased efficiency or higher passenger numbers.
Implementing new technologies can be complex and challenging. This may result in unforeseen costs, and these overruns can be a burden on the airport's finances. Given the high initial investment costs, some airport operators may hesitate or delay the adoption of smart technologies. Thus, resulting in a slower adoption rate, potentially causing airports to fall behind in offering the latest passenger services and operational efficiencies. While the long-term benefits are significant, careful financial planning and consideration of the return-on-investment timeframe are essential for smart technology adoption in the aviation sector.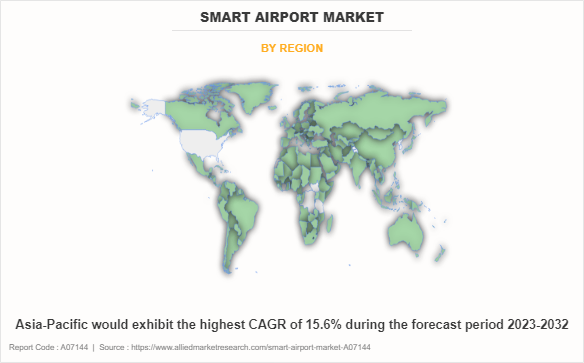 Enhanced passenger experience and retail revenue
Smart airports aim to make the entire travel journey smoother, more convenient, and enjoyable for passengers. This includes streamlining check-in processes, security checks, and baggage handling. Passengers benefit from shorter waiting times, reduced stress, and an overall better travel experience. Smart technologies such as self-check-in kiosks, mobile apps for real-time updates, and smart security systems enhance the passenger journey.
Airports are increasingly recognizing the value of their non-aviation revenue, particularly from retail operations. Passengers often have time to spare before their flights and are willing to spend it on shopping, dining, and other services. Smart airports create an environment that entices passengers to explore and spend time within the airport. For instance, in October 2023, Munich Airport (MUC) started trails of intelligent baggage trolleys to improve the customer experience and promote retail sales. These trolleys are outfitted with smart tablets that allow passengers to easily check in by either manually entering their flight information or scanning their boarding passes. The tablets provide real-time flight status updates as well as departure information. Passengers can also use the tablets to browse the airport's stores and restaurants. An electronic terminal map guides passengers to retail stores, restaurants, and gates. Such developments provide lucrative opportunities in the smart airport market.
Key Developments in Smart Airport Industry
The leading companies are adopting strategies such as acquisition, agreement, expansion, partnership, contracts, and product launches to strengthen their market position.
In May 2023, Honeywell International Inc. launched a suite of airside solutions that helps to improve situational awareness for pilots' gate operations and airside operations teams, resulting in faster turnaround times for aircraft and improving airport safety and efficiency.
In June 2022, Wipro, created ICAD India's First Digital Airport under construction Noida International Airport (NIA) at Jewar. This aviation hub provides paperless and contactless services to passengers at all checkpoints. It also saves the time and effort of printing tickets and boarding passes and searching for them at multiple checkpoints.
In November 2022, Siemens AG received a contract from Noida International Airport, Jewar, India to provide baggage handling system for Noida Airport. It includes design, supply, install, commission and maintain the baggage handling system for NIA's Terminal One. In addition, it supplies BagIQ control software to provide intelligent baggage process control across the entire BHS.
In June 2022, Thales launched HELIXVIEW, which is EDS-CB C3 scanner. It is a innovative, stationary, compact, and lightweight Cabin luggage explosive detection system (EDS). It remolds the airport experience for both passengers and airlines companies.
In December 2021, Wipro Limited launched Vision EDGE, a digital signage and omnichannel ad solution, to expand its sports, retail, transportation, and entertainment offerings. As stadiums, airports, retailers, and other venues seek more efficient ways to engage with customers, it offers the flexibility to deliver a wide range of high-quality video and advertising to transform the customer experience.
 In October 2021, Huawei Technologies Co., Ltd. launched Airport Cloud-Network Solution that provides standard features, such as one-stop access, one network for all services, one cloud across multiple areas, and one-stop integrated security as well as increased operational efficiency, improved security assurance, and enhanced travel experience.
Key Benefits For Stakeholders
This report provides a quantitative analysis of the market segments, current trends, estimations, and dynamics of the smart airport market analysis from 2022 to 2032 to identify the prevailing smart airport market opportunities.
The market research is offered along with information related to key drivers, restraints, and opportunities.
Porter's five forces analysis highlights the potency of buyers and suppliers to enable stakeholders make profit-oriented business decisions and strengthen their supplier-buyer network.
In-depth analysis of the smart airport market segmentation assists to determine the prevailing market opportunities.
Major countries in each region are mapped according to their revenue contribution to the global market.
Market player positioning facilitates benchmarking and provides a clear understanding of the present position of the market players.
The report includes the analysis of the regional as well as global smart airport market trends, key players, market segments, application areas, and market growth strategies.
 Smart Airport Market Report Highlights
Aspects
Details
Market Size By 2032
USD 24.3 billion
Growth Rate
CAGR of 13%
Forecast period
2022 - 2032
Report Pages
349
By Application

Landside
Airside
Terminal Side

By Airport Size
By Type

Airport 2.0
Airport 3.0
Airport 4.0

By Region

North America (U.S., Canada, Mexico)
Europe (UK, Germany, France, Italy, Russia, Rest of Europe)
Asia-Pacific (China, Japan, India, South Korea, Rest of Asia-Pacific)
LAMEA (Latin America, Middle East, Africa)

Key Market Players
IBM Corporation, Thales, Honeywell International Inc., Cisco Systems Inc., Siemens AG, Wipro Limited, Smart Airport Systems (SAS), SITA, Huawei Technologies Co., Ltd., T-Systems International GmbH