Smart Airport Market Statistics 2030 -
The global smart airport market was valued at $2.15 billion in 2020, and is projected to reach $6.46 billion in 2030, registering a CAGR of 12.5%.    
The COVID-19 outbreak proved very drastic for a variety of businesses and forced governments across the globe to implement strict lockdowns and led to social distancing being made mandatory to contain the spread of the virus. As a result, people started avoiding visiting places, and the demand for any means of transportation, including air travel, observed a huge decline in 2020. As a result, thousands of airplanes were grounded worldwide, and the industry witnessed a huge slump in revenues. The aviation sector is expected to witness significant losses in the current year, 2021 owing to the uncontrolled situation of the pandemic across several parts globally. The losses witnessed by the aviation sector have impacted the adoption of innovative technologies such as AI in airport operations. Airports and airlines suffered to a large scale by the pandemic that stopped the companies and authorities to invest in advanced smart airport systems.
Deployment of smart airport technologies holds great possibilities for the aviation industry globally. AI technologies such as machine learning, computer vision, and natural language processing are capable of bringing dramatic changes across different areas such as customer service, resource management, and airport security. In recent years, major aircraft manufacturers such as Airbus S.A.S and Boeing announced AI-based product launches and research initiatives. Moreover, these companies have made huge investments in AI startup firms through their venture arms to develop cutting-edge solutions driven by AI.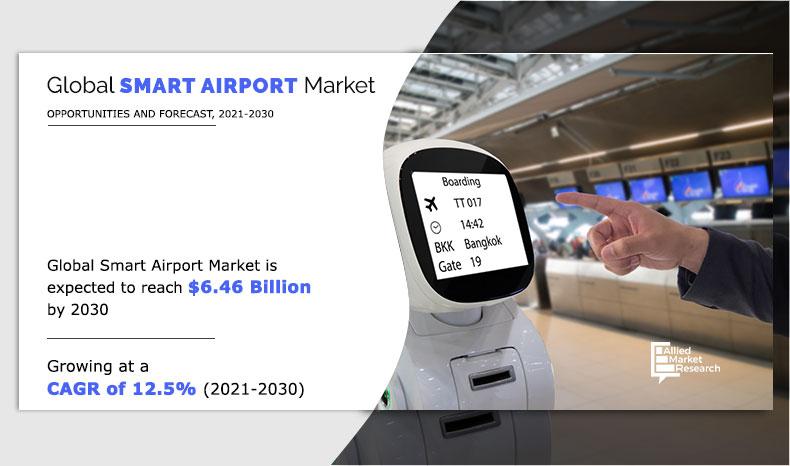 AI is expected to offer great solutions that offer increased efficiency, safety, and productivity for companies operating in the aerospace sector. These new solutions are projected to redefine main capabilities of next generation of aviation professionals. With the rise in implementation of smart technologies at modern airports across the world, airports are deploying systems that can communicate with passengers and increase productivity. 
The market segmentation is based on system, end user, location, and region. The system segment is further divided into communication & network systems, endpoint devices, data storage, and software & solutions. By end user, the market is segmented into implementation and upgrades & services. By location, it is segmented into landside, airside, and terminal side. Region wise, it is analyzed across North America, Europe, Asia-Pacific, and LAMEA.
Key players operating in the global smart airport market include Ascent Technology, Inc., Cisco Systems Inc., Honeywell International Inc., Huawei Investment & Holding Co., Ltd., International Business Machine Corporation, Indra Sistemas, S.A., L3Harris Technologies Inc., Raytheon Technologies Corporation, SITA, and Thales Group.
Rise in use of AI to ensure safety at airports
In the last decade, airport authorities across the globe have ramped up their security considerably in response to growing threats at airports. Artificial intelligence-generated systems help tackle safety concerns for airport authorities. In February 2018, the government of the UK invested around $2 million for development of new AI systems to enhance safety and lessen wait times across the nation's busiest airports.
Moreover, to tighten security, in 2018, the U.S. transportation security administration introduced new computed tomography scanners at John F. Kennedy, Los Angeles International Airport, and Phoenix airports, which makes use of AI in finding threats. In addition to ensure security at airport checkpoints, AI can also be used to scale up security at landside zones of airports. Various airports are installing cutting-edge solutions to strengthen safety. For instance, in July 2019, one of the California's busiest airports, Oakland international airport, selected Evolv Edge physical threat detection. This system makes use of combination of facial recognition, millimeter-wave technologies, and camera to inspect individuals walking through a moveable security gate. It scans about 900 people in an hour, making it significantly faster as compared to regular X-ray scanners. 
Machine learning models can be deployed to automatically analyze data for several threats. For instance, they can help detect firearms and explosives, while ignoring other items such as keys and belt buckles, which are usually carried by passengers. Hence, rise in usage of AI for improving security at airports is expected to propel growth of the global smart airports market during the forecast period.   
Increase in air passenger traffic across the globe
According to the International Civil Aviation Organization's (ICAO) yearly worldwide statistics, the total number of commuters carried on scheduled flights increased to 4.38 billion in 2019, which was 3.65% higher than the previous year. The highest passenger traffic was witnessed in Asia-Pacific. In October 2018, the International Air Transport Association (IATA) publicized that passenger count could double to 8.2 billion in 2037. The COVID-19 pandemic led to a severe downfall in air traffic figures, although recently, in May 2021, the International Air Transport Association (IATA) stated that the global air passenger traffic is anticipated to recover to almost 88% of pre-covid levels during 2022, and is projected to outdo this level during 2023. This signifies a robust demand for air travel globally.
The abovementioned statistics suggest a rise in air passenger traffic over the years internationally.  This rise would result in a tremendous surge in demand for new airplanes throughout the world, which would require application of smart technologies at airports to properly manage resources and people at the airports throughout the world. Hence, rise in air traffic is anticipated to drive growth of the smart airport market during the forecast period.
Lack of trained and experienced staff
Higher adoption of modern systems in the aviation industry is only possible when there is considerable availability of trained and experienced staff for handling complex algorithms to implement right technologies for different applications. Furthermore, management of AI and automated systems is sometimes difficult and requires exceptional software engineering skills and notable experience of addressing distributed and concurrent programming or debugging communication protocols. However, many regions, particularly emerging economies, lack people with such skills. Hence, lack of skilled workforce is one of the major factors that restrain the market growth.
Increase in customer satisfaction and adoption of reliable cloud applications
In past few years, AI-powered machines have exceeded humans at recognizing speech, images, and faces. AI is being deployed across smart airports to reduce costs, improve efficiency, and boost customer satisfaction by enhancing key areas of customer experience. Customer service has been successfully replaced by AI chatbots widely to respond to enquiries and requests in a very efficient and prompt manner. 
Cloud computing provides an opportunity for airports to rapidly adjust how they serve passengers, providing flexibility to adapt airport services to new requirements for a safer, more contactless, and socially distanced airport experience. Hence, rapid developments in powerful and affordable cloud computing infrastructures are also expected to have a strong impact on growth potential of the global smart airport market during the forecast period.
COVID-19 Impact Analysis 
The COVID-19 impact on the smart airport market is unpredictable and is expected to remain in force till the second quarter of 2021. 
The COVID-19 outbreak forced the governments to impose strict lockdown measures that resulted in flight cancellations and ban on e-commerce services, which led to massive decline in commercial aviation and logistics activities across the world. 
Moreover, nationwide lockdowns disrupted the supply chains as several manufacturing facilities across the globe had to partially or fully shut down their operations.
Adverse impacts of the COVID-19 pandemic resulted in huge supply-demand issues and resulted in long delays in activities of smart airport operations globally.
Key Benefits For Stakeholders
This study presents analytical depiction of the global smart airport market analysis along with the current trends and future estimations to depict imminent investment pockets.
The overall smart airport market opportunity is determined by understanding profitable trends to gain a stronger foothold.
The report presents information related to key drivers, restraints, and opportunities of the global smart airport market with a detailed impact analysis.
The current smart airport market is quantitatively analyzed from 2020 to 2030 to benchmark the financial competency.
Porter's five forces analysis illustrates the potency of the buyers and suppliers in the industry.
Key Market Segments
By System
Communication and Network Systems
Endpoint Devices
Data Storage
Software and Solutions
By End User
Implementation
Upgrades and Services
By Location
Landside
Airside
Terminal Side    
By Region
North America
Europe

Germany
UK
France
Russia
Rest of Europe

Asia-Pacific

China
Japan
India
South Korea
Rest of Asia-Pacific

LAMEA

Latin America
Middle East
Africa
Key Players
Ascent Technology, Inc.
Cisco Systems Inc.
Honeywell International Inc.
Huawei Investment & Holding Co., Ltd.
International Business Machine Corporation
Indra Sistemas, S.A.
L3Harris Technologies Inc.
Raytheon Technologies Corporation
SITA
Thales Group