The global smart bullets market was valued at $0.56 billion in 2021, and is projected to reach $1.4 billion by 2031, growing at a CAGR of 10% from 2022 to 2031.
Smart bullets are computer-guided munitions equipped with the radio, infrared, laser, global positioning system and satellite guidance system, which give extraordinary accuracy and precision. Smart bullets are also termed as precision-guided bullets that are intended to hit the target precisely and reduce collateral damage and lethality. Smart bullets are operated and assisted by the use of external operating systems, located far away in the geographical area. Smart bullets have safeguards that allow them to operate only when activated by an authorized person, thus reducing misuse, gun theft, and self-harm scenarios. The safeguard features in smart bullets include, RFID (Radiofrequency Identification Device) chips, biometric sensors, mechanical locks, and magnetic kit.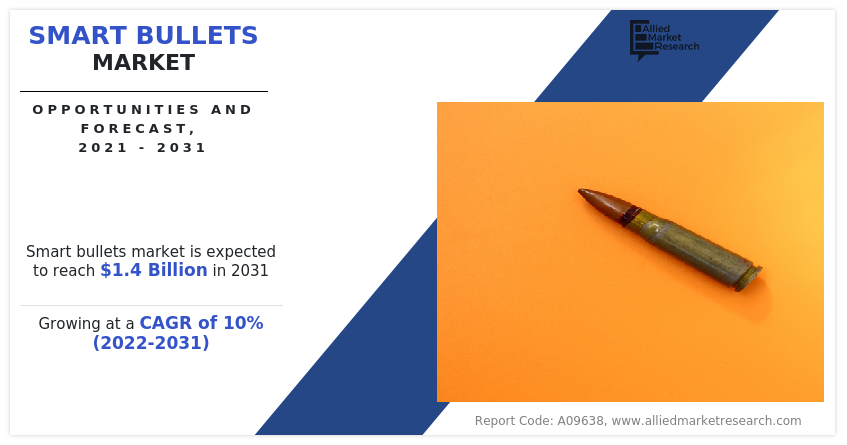 Factors such as growing demand for advanced precision strike weapons, increase in number of security threats from terrorist organizations, and increase in investments to develop autonomous weapons are anticipated to boost the growth of the global smart bullet market during the forecast period. However regulations on arm transport and high cost of smart bullets are expected to hinder the growth of the global market during the forecast period. Moreover, increase in defense expenditure by governments of major economies, and modernization of weapon system are expected to create an opportunity for the smart bullet industry in near future.
The smart bullet market is segmented on the basis of caliber, component, application, type, and region. By caliber, the market is further divided into less than 0.50 caliber, and more than 0.50 caliber. By component, the market is classified into actuator, sensors, microchips, and others. On the basis of application, it is divided into airborne, land, and naval. By type, it is segmented into line guided and self-guided. By region, the market is analyzed across North America, Europe, Asia-Pacific, and LAMEA.
Smart Bullets Market

---

By Caliber
More than 0.50 Caliber segment is projected as the most lucrative segment
The key players that operate in this smart bullet market are Axon Enterprise, Inc., BAE Systems Plc., Dassault Aviation, General Dynamics Corporation, L3Harris Technologies, Inc., Leonardo S.p.A., Lockheed Martin Corporation, Louisiana Tech University, Northrop Grumman Corporation, Raytheon Technologies Corporation, Textron Inc., Thales Group, The Boeing Company, and University of Florida.
Growing demand for advanced precision strike weapons
Modern warfare techniques changed quickly over the past 10 years. Developed and developing countries focus on developing advanced weapon systems with long-range and high impact. For instance, in December 2015, the U.S. military developed and tested a .50 caliber self-aiming bullets. The .50-caliber projectiles is equipped with optical sensors and real time guidance mechanism. Such developments in weapon system fuel the demand fort smart bullets. Moreover, current conflicts globally have spotlighted the critical need for precision attacks and operational strikes. There is a crucial need to avoid any collateral damage with security and contribute to the efficient attack power potential that provides an immediate favorable effect on the warzone. These needs are met by smart weapons, which are quickly being taken into the defense forces inventories. Given the need for such weapons, the demand for smart bullet market is expected to increase during and after the forecast period. 
Smart Bullets Market

---

By Application
Land segment is projected as the most lucrative segment
Increase in investments to develop autonomous weapons
Although autonomous weapons technology is still in its early stages, several militaries and private companies are developing and testing weapons that could one day be deployed to fight on their own. Armed forces across the world have been working on autonomous weapons for several decades now. Various countries are competing with each other intensely to manufacture or procure leading-edge autonomous weapons. For instance, China and Russia aim to pursue development of autonomous weapons and are heavily investing in R&D activities. In addition, UK's new defense strategy is aimed at propelling defense capabilities leveraging AI, as does Israel.
According to the Brookings Institution (a Washington, DC-based non-profit public policy organization), the Chinese military and defense sector have been investing heavily in robots, swarming, and other artificial intelligence (AI) and machine learning applications (ML). So far, advancements in autonomous weapons have drawn on existing research and development expertise.
Moreover, Russia is developing an array of autonomous weapon platforms utilizing artificial intelligence as part of an ambitious push supported by high-tech cooperation with China. Such developments propel the demand for self-guided weapon systems, which is anticipated to propel growth of the global smart bullet market during the forecast period.
Smart Bullets Market

---

By Type
Self Guided is projected as the most lucrative segment
Regulations on arm transport
With the existing regulations, the arms regulations imposed on import and export trade are not regulated effectively, as illegal arms accumulation still remains an issue. Arms control treaties, problems associated with regulating arms trade, stressing the complexity of the interests involved in the emergence of small arms as most promising weapons, and black and grey markets in terms of inefficient trade regulations are the main restraints that are expected to hamper the smart bullet market growth.
The major factor that hinders the smart weapons market includes, the Arms Trade Treaty that was put forward on 24 December 2014 by the U.N. office for Disarmament Affairs. This treaty aims to improve national small arms laws, import/export controls, and stockpile management, and to engage in cooperation and assistance. More than 100 nations have already signed the treaty. The major countries, such as, Argentina, Australia, France, Germany, Greece, Japan, New Zealand, Spain, and UK with other Middle East countries have accepted the Arms Trade Treaty, making the smart bullet market more complex and tough to target.
The treaty seeks to forbid the use of definite weapons, which are considered extremely injurious or whose effects are deadly. A limited number of banned weapons and ammunition can be acquired and kept for training in, and expansion of, detection, authorization, and damaging techniques and counter-actions. Thus, the treaty is expected to control, forbid, and reduce the trade of smart bullets in the global market, which restraints the market growth.
Increase in defense expenditure by governments of major economies
Governments of countries, such as Russia, the U.S., China, India, and others are increasing investment in arm forces to establish dominance on the battlefield. According to Stockholm International Peace Research Institute (SIPRI), total global military expenditure rose to $1,981 billion in 2020, an increase of 2.6% from 2019. In addition, the rise in terrorist activities and civil activities in several regions and rise in international conflicts force countries to enhance their military strengths through advancement in weapons, which increase the demand for smart bullets.
Moreover, governments of developed and developing countries, such as India, China, Russia, the U.S., and others are significantly spending on military modernization programs to improve their firepower and upgrade their weapons & surveillance capabilities. For instance, in August 2022, BAE Systems Plc started developing next-generation 155mm ammunition technology with a range of base and fuze options for land and naval applications. These activities are expected to create opportunities for the smart weapons, which in turn will propel the market for smart bullet during the forecast period. Furthermore, increase in training programs of armed forces by major economies boosts the use of advanced weapons systems, which supplement the growth of the smart bullet market.
Smart Bullets Market

---

By Region
North America would exhibit the highest CAGR of 10.8% during forecast period.
The COVID-19 outbreak forced governments across the globe to implement stringent lockdown and ban import–export of raw materials items for most of 2020 and few months in 2021. This led to sudden fall in the availability of important raw materials for manufacturing smart bullet. Moreover, disturbance in critical business operations such as manufacturing, limited supply chain, and reduced operating capacity has significantly led to delay in several existing defense modernizations and new product development activities. Adverse impacts of the COVID-19 pandemic have resulted in delays in activities and initiatives regarding development of advanced smart bullet globally. The defense manufacturers had to reduce expansion and R&D investments to withstand the decline in revenue and operating performance of the defense industry. The global defense expenditure increased by 2.6 % from 2019 and stood at $1,981 billion in 2020 uninfluenced by massive reallocation of defense spending. Resilient defense successively increased growth of the smart bullet market. Massive spread of the COVID-19 virus significantly induced a dramatic redirection of defense spending toward healthcare spending. Markets throughout the world, observed reduced procurement of autonomous defense systems last year, and the procurement contracts are expected to grow slowly over the next few years, as governments continue to build up their defense capabilities for addressing the uncertain geopolitical tensions across different nations such as the India-China, India-Pakistan or the continued disagreement in the South China Sea, among others.
Key Benefits For Stakeholders
This report provides a quantitative analysis of the market segments, current trends, estimations, and dynamics of the smart bullets market analysis from 2021 to 2031 to identify the prevailing smart bullets market opportunities.
The market research is offered along with information related to key drivers, restraints, and opportunities.
Porter's five forces analysis highlights the potency of buyers and suppliers to enable stakeholders make profit-oriented business decisions and strengthen their supplier-buyer network.
In-depth analysis of the smart bullets market segmentation assists to determine the prevailing market opportunities.
Major countries in each region are mapped according to their revenue contribution to the global market.
Market player positioning facilitates benchmarking and provides a clear understanding of the present position of the market players.
The report includes the analysis of the regional as well as global smart bullets market trends, key players, market segments, application areas, and market growth strategies.
 Smart Bullets Market Report Highlights
Aspects
Details
Market Size By 2031
USD 1.4 billion
Growth Rate
CAGR of 10%
Forecast period
2021 - 2031
Report Pages
308
Caliber

Less than 0.50 Caliber
More than 0.50 Caliber

Component

Actuator
Sensors
Microchips
Others

Application
Type
By Region

North America (U.S., Canada, Mexico)
Europe (Germany, France, Russia, Netherlands, UK, Poland, Spain, Rest Of Europe)
Asia-Pacific (China, India, Japan, South Korea, Asean, Rest Of Asia-Pacific)
LAMEA (Brazil, UAE, Saudi Arabia, South Africa, Rest Of LAMEA)

Key Market Players
Axon, BAE Systems PLC, Boeing Corporation, Dassault Aviation, General Dynamics Corporation, Harris Corporation, Leonardo S.p.A, Lockheed Martin Corporation, Louisiana Tech University, Northrop Grumman Corporation, Taser International, Inc., Textron Defense Systems, Thales Group, The Raytheon Company, University of Florida