Smart Harvest Market Research, 2030
The global smart harvest market was valued at $12,450.9 million in 2020, and is projected to reach $36,977.1 million by 2030, growing at a CAGR of 11.4% from 2021 to 2030. Smart harvesting refers to the use of self-driving farming robots to gather fruits and vegetables with little or no human participation. Artificial intelligence (AI), aerial photographs, cloud algorithms, satellites, and technical analysis are all used in smart harvesting systems. Collecting makes use of a diversity of connected phones to boost yield. Smart harvesting in agriculture pertains to the use of smart technology such as GPS, cloud computer vision, satellite pictures, big data, and IoT to improve crop output.
The COVID-19 outbreak had a negatively impact on the growth of the global smart harvest industry owing to halt the construction activites globally, and lack of penetration of smart technologies in harvesting robots, and agricultural practices.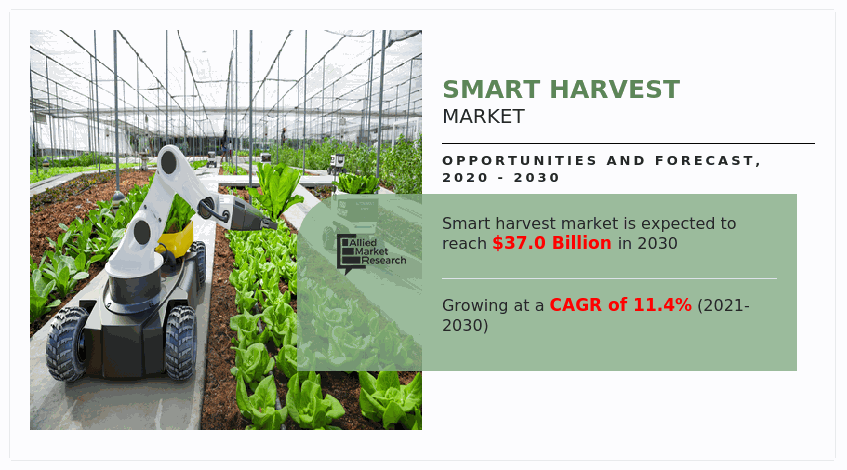 An Increase in urban population in emerging countries such as India and China is expected to drive the adoption of new technologies in the agriculture sector. In addition, the growth of the population has encouraged farmers to adopt new technologies such as harvest robots and soil sensors. Moreover, smart harvesting refers to the use of self-driving farming robots to collect fruits and vegetables with little or no human involvement. In addition, adopting new technologies help farmers to increase production. In addition, rise in the deployment of smart harvest systems is expected to propel the growth of the market. For instance, in February 2022, the Indian PM AWAS scheme allocation has been increased to $6,441.3 million, up by 75% year on year. This is expected to boost wave technology usage such as kisan drones for crop assessments, land records, and spraying of insecticides. Such instances are the smart harvest market opportunity during the forecast period. 
Rapid increase in the global population is exerting pressure on the agricultural sector worldwide to increase productivity to meet rise in demand for food. Farmers are increasingly adopting smart harvest technologies such as harvesting robots, automation, control systems, sensors, and imaging systems to maximize profitability and output in lesser time and more cost-effective manner. Limited availability of arable land is the key factor that drives demand for indoor farming activities and increasing usage of smart harvesting technologies to eliminate labor expenses.
In addition, major players such as Panasonic Corporation, Abundant Robotics, and Deere & Company Industries are some of the players engaged in offering harvesting robots to the market. For instance, In January 2018, Panasonic Corporation unveiled a proto component of new fully autonomous tomato picking robot in Tokyo. The robot is incorporated with high resolution cameras sensors and artificial intelligence features to identify and pick ripe tomatoes, drive the growth of the smart harvest market. In addition, rise in need for smart technologies in the agricultural equipment, fuels the smart harvest market growth. 
However, lack of technical knowledge among farmers and a high-cost factor can hinder the growth of the market. Furthermore, growth in demand for food is expected to provide lucrative opportunities for major players in the smart harvest market. 
The smart harvest market is segmented on the basis of component, technology, crop type, and region. By component, it is bifurcated into software and hardware. Software segment dominated the market in 2020.
Smart Harvest Market

---

By Technology
Harvesting robots segment dominate the market in 2020.
Based on technology, it is divided into harvesting robots, sensors, GPS, RFID, and others. The harvesting robots segment held the largest smart harvest market share of 38.4% in 2020. On the basis of crop component, it is segmented into vegetables and fruits. Fruits segment dominated the smart harvest market in 2020.
Smart Harvest Market

---

By Crop Type
Fruits segment generated the highest revenue in 2020.
On the basis of region, the smart harvest market size is analyzed across North America, Europe, Asia-Pacific, and LAMEA. Europe dominated the smart harvest market forecast in 2020, followed by North America. Asia-Pacific region is predicted to grow faster than LAMEA with a CAGR of 14.3% during the forecast period.
Smart Harvest Market

---

By Region
North America
Asia-pacific
Lamea
Europe region dominate the market in 2020, and Asia-Pacific region is expected to grow with a highest CAGR of 14.3% during the forecast period.
Key Benefits For Stakeholders
This report provides a quantitative analysis of the market segments, current trends, estimations, and dynamics of the smart harvest market analysis from 2020 to 2030 to identify the prevailing smart harvest market and agriculture equipment opportunities.
The market research is offered along with information related to key drivers, restraints, and opportunities.
Porter's five forces analysis highlights the potency of buyers and suppliers to enable stakeholders make profit-oriented business decisions and strengthen their supplier-buyer network.
In-depth analysis of the smart harvest market segmentation assists to determine the prevailing market opportunities.
Major countries in each region are mapped according to their revenue contribution to the global market.
Market player positioning facilitates benchmarking and provides a clear understanding of the present position of the market players.
The report includes the analysis of the regional as well as global smart harvest market trends, key players, market segments, application areas, and market growth strategies.
 Smart Harvest Market Report Highlights
Aspects
Details
By Component

Harvesting robots
GPS
Sensors
RFID
Others

By Techonology
By Crop type
By Region

North America (U.S., Canada, Mexico)
Europe (Germany, France, U.K., Italy, Rest of Europe)
Asia-Pacific (China, India, Japan, South Korea, Rest of Asia-Pacific)
LAMEA (Latin America, Middle East, Africa)

Key Market Players
Robert Bosch, Deere & Company, Dogtooth Technologies, Harvest Automation, Abundant Robotics, Agrobot, FFRobotics, Energid Technologies, Harvest, AVL Motion