The global smart highway construction market size was valued at $20,172.0 million in 2020, and is projected to reach $1,04,777.0 million by 2030, registering a CAGR of 17.3% from 2021 to 2030.  Smart highways are roadways that have sensors and IoT technology installed to make driving safer and more environmentally friendly.
The COVID 19 outbreak has affected the growth of the smart highway construction industry owing to the lockdown measure in the countries and delay in construction of smart highway based on technologies such as smart transportation system, smart traffic management, and communication and networking.
Many governments across the globe are investing in smart motorways to provide drivers with real-time information on road conditions and other traffic information. Smart highways are beneficial for hazardous and hilly areas since they provide warnings about oncoming traffic and different landslides, making driving safer. Smart roads also create energy that may be used to charge electric lighting on the side of the road and give power to moving electric vehicles. Although the population and number of automobiles on the road are expected to grow, the quantity of land accessible for road construction is limited. As a result, all countries are concerned about lack of accessible, safe, pollution-free, and congested modes of transportation. Such factors drives the smart highway construction market growth. Industries are developing new technologies to address them in current and future years. One of the primary driving reasons behind the highway industry is the development of several smart city initiatives in various places.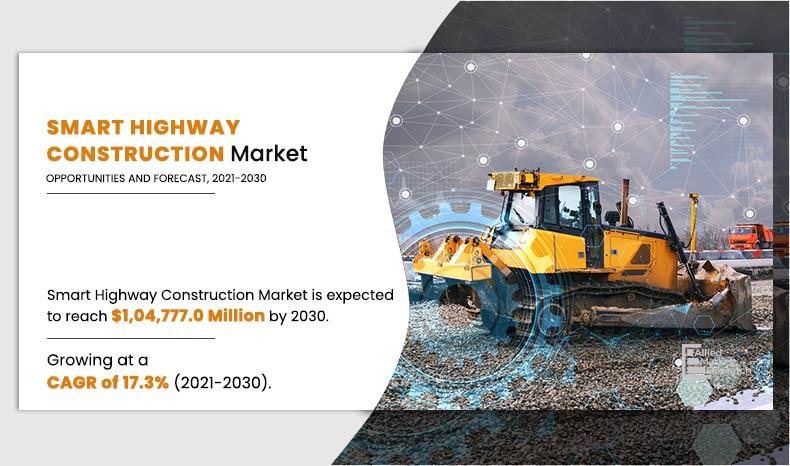 Novel coronavirus has rapidly spread across various countries and regions, causing enormous impact on lives of people and overall community. Originating as a crisis to human health, it now poses significant threat to worldwide trade, economy, and finance. Due to continuous lockdown in key global countries, the COVID-19 pandemic has halted production of many items in the smart highway construction business. The players in smart highway construction market can afford a complete lockdown only for a limited period, after which they would have to alter their investment plans. Furthermore, number of COVID-19 cases are expected to reduce in the near term as vaccine for COVID-19 has been introduced in the market. This is further expected to lead to re-initiation of smart highway construction companies at their full-scale capacities, which would aid the smart highway construction market to recover by the start of 2022. After COVID-19 infection cases start to decline, equipment and machinery producers must focus on protecting their staff, operations, and supply networks to respond to urgent emergencies and establish new methods of working.
Smart Highway Construction Market

---
By Solution
Software segment is projected to grow at a significant CAGR
Digital sensors are used in smart transportation management systems to gather and store data in case of a landslide, severe weather, or traffic congestion, as well as display predictions and alerts on LED screens along state and national highways. For this application, major companies are developing new products. For instance, in September 2021, latest versions of Alcatel-Lucent Enterprise's OmniSwitch 6900 switching line, built for enterprise data centers and core networks have been released. As part of its Digital Age Networking (DAN) plan to simplify digital transition of corporate organizations in key vertical areas, corporations continue to expand its portfolio.
The smart highway construction market is segmented on the basis solution, deployment, technology, and region. By solution, the market is divided into monitoring and detection systems, display, software and others. By deployment, the smart highway construction market is divided into on-premise and cloud-based. By technology, it is divided into smart transportation system, smart traffic management, communication & networking, and others. Region wise, the smart highway construction market analysis is conducted across North America (the U.S., Canada, and Mexico), Europe (UK, France, Germany, Italy, and rest of Europe), Asia-Pacific (China, Japan, India, South Korea, and rest of Asia-Pacific), and LAMEA (Latin America, the Middle East, and Africa).
Smart Highway Construction Market

---
By Technology
Smart transportation system segment holds dominant position in 2020
Competition Analysis
Key companies profiled in the smart highway construction market report include Transstroy, Alcatel-Lucent Enterprise, Huawei Technologies Co. Ltd., VINCI Construction, IBM, Heijmans N.V., ABB Ltd., Cisco Systems, Inc., Colas, and Nippon Koei Co. Ltd.
Smart Highway Construction Market

---
By Region
North America holds a dominant position in 2020 and Asia-Pacific is expected to grow at a significant rate during the forecast period.
Key Benefits For Stakeholders
The report provides an extensive analysis of the current and emerging smart highway construction market trends and dynamics. 
In-depth emerging smart highway construction market analysis is conducted by constructing market estimations for key market segments between 2021 and 2030.
Extensive analysis of the emerging smart highway construction market is conducted by following key product positioning and monitoring of top competitors within the market framework.
A comprehensive analysis of all the regions is provided to determine the prevailing opportunities.
The global emerging smart highway construction market forecast analysis from 2021 to 2030 is included in the report.
The key players within emerging smart highway construction market are profiled in this report and their strategies are analyzed thoroughly, which help understand the competitive outlook of the emerging smart highway construction industry.
 Smart Highway Construction Market Report Highlights
Aspects
Details
BY SOURCE OF ENERGY
BY SOURCE OF FUNDING

GOVERNMENT FUNDING
OTHER FUNDING

BY GEOGRAPHY

NORTH AMERICA
EUROPE

Germany
France
UK
Itaiy
Rest of Europe

ASIA-PACIFIC

Japan
China
Australia
India
Rest of Asia-Pacific

LAMEA

Latin America
Middle East
Africa
Rest of LAMEA

Key Market Players
CONTINENTAL ENGINEERING CORPO., HEIJMANS, NIPPON KOEI CO., LTD., SCHNEIDER ELECTRIC, VINCI CONSTRUCTION, ABB LIMITED., ALCATEL-LUCENT ENTERPRISE, CISCO, COLAS LTD., HUAWEI TECHNOLOGIES CO., LTD.