Smart Mirror Market Overview :
The global smart mirror market was valued at $1,750.0 million in 2017, and is projected to reach $4,118.7 million by 2025, registering a CAGR of 11.5% from 2018 to 2025. Europe was the highest contributor to the global market in 2017, registering a CAGR of 10.3% during forecast period.
A smart mirror is an advanced mirror incorporated with technologies such as sensors, cameras, displays, and connectivity equipment. These mirrors are majorly used in various industry verticals such as automotive, retail, residential, healthcare, and others. The functions of smart mirrors can differ depending on their utility. For instance, in the residential sector, it can be used for recognizing people, talking to them, and learn an individual's habits as a part of a smart home. In addition, in the automotive sector, smart mirrors can be used as side-view and rearview mirrors for enhanced safety purposes. Moreover, in the field of retail, smart mirrors are incorporated for suggesting customers with trending outfits. For instance, Ralph Lauren, a leading fashion brand, incorporated the concept of connected fitting rooms in its Manhattan outlet for an enhanced customer experience and help retailers to make smart merchandising decisions.
The major driving factors of the smart mirror market are surge in adoption of advanced driver assistance system (ADAS) in the automotive sector, rise in demand for connect devices, and transition to digital stores in the retail industry. However, high cost and concerns regarding confidentiality of private information are some of the factors that hamper the growth of the market. On the contrary, increase in adoption of smart home is expected to create lucrative growth opportunities for this market.
The key players operating in the smart mirror market are Japan Display Inc., Gentex Corporation, Magna International Inc., Samsung Electronics, Murakami Kaimeido, Seura, Perseus Mirrors, Ficosa, Dension, and Electric Mirror.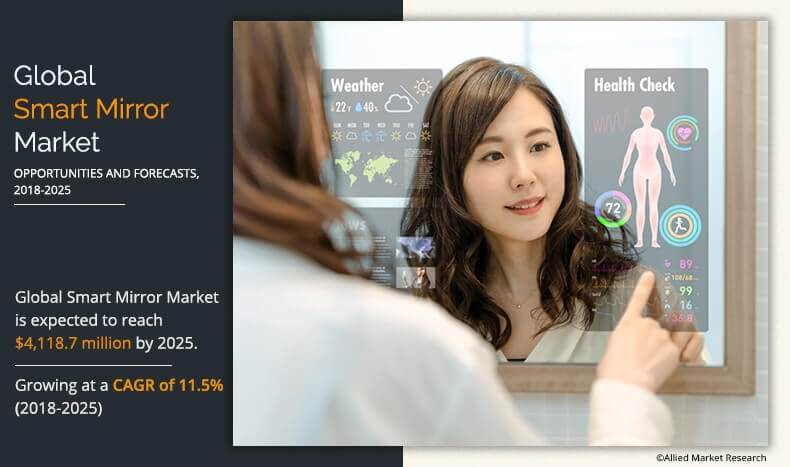 Get more information on this report: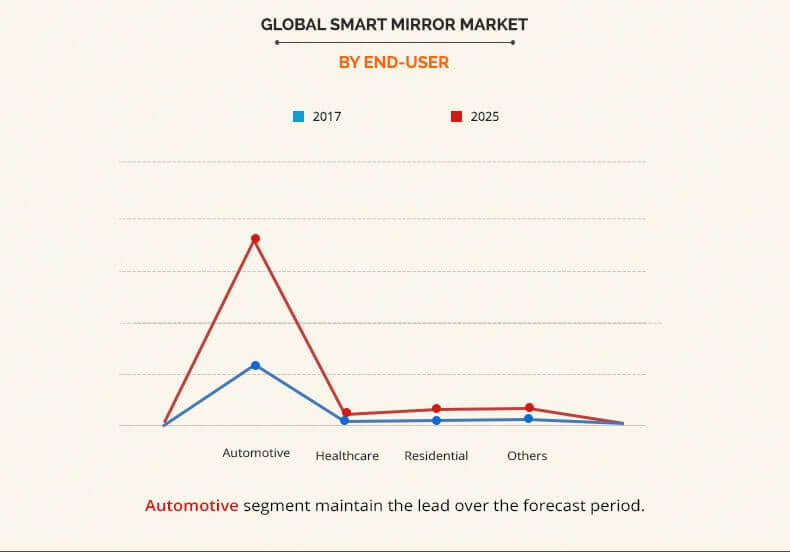 Get more information on this report: 
The global smart mirror market is segmented on the basis of component, end user, and region. Based on component, the market is divided into hardware, software, and services. By end user, it is classified into automotive, healthcare, retail, residential, and others. Region wise, it is analyzed across North America, Europe, Asia-Pacific, and LAMEA.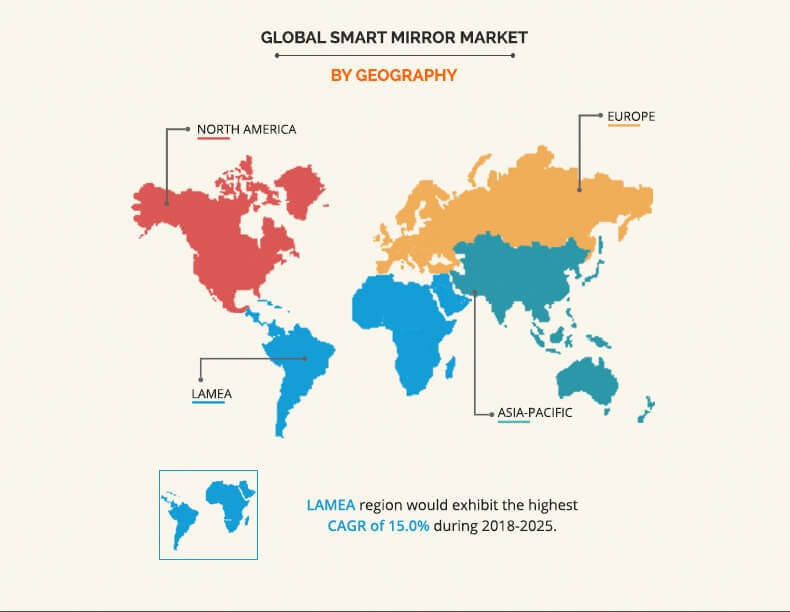 Get more information on this report: 
TOP IMPACTING FACTORS
Surge in adoption of smart mirrors in automotive sector
The smart rearview mirror was introduced in the market with the purpose of increasing the safety of the driver and passengers. The device is equipped with display screen to provide blind spot vision to the driver under numerous conditions. In addition, the driver can switch screens between the monitor and traditional view. A high-end camera is mounted on the rear of the vehicle to offer an unobstructed view of the rear flanks, enabling the driver to check the blind spots and other traffic conditions. Hence, additional features of smart mirror over traditional mirror in the automotive sector is driving the growth of the global smart mirror market.
Transition to digital stores in retail industry
Numerous retailers are testing different ways to engage their customers by providing technological advanced and digitized shopping experience. For instance, Neiman Marcus, a U.S.-based departmental store, incorporated smart mirrors to streamline the long process of retrying clothes. This smart mirror shows a 360-degree view of an individual wearing a particular outfit and allows them to compare other outfits side-by-side. In addition, users can share their images with friends via Facebook and take opinion before purchasing the garments. Similarly, Ralph Lauren, a leading fashion brand, has a smart mirror in the fitting room. Shoppers can interact with the mirror such as change the lights and select different sizes or colors of their outfits. In addition, the mirror gives further recommendation on the garments that the user is trying. Hence, the transformation of traditional stores into digital stores is driving the growth of the smart mirror market.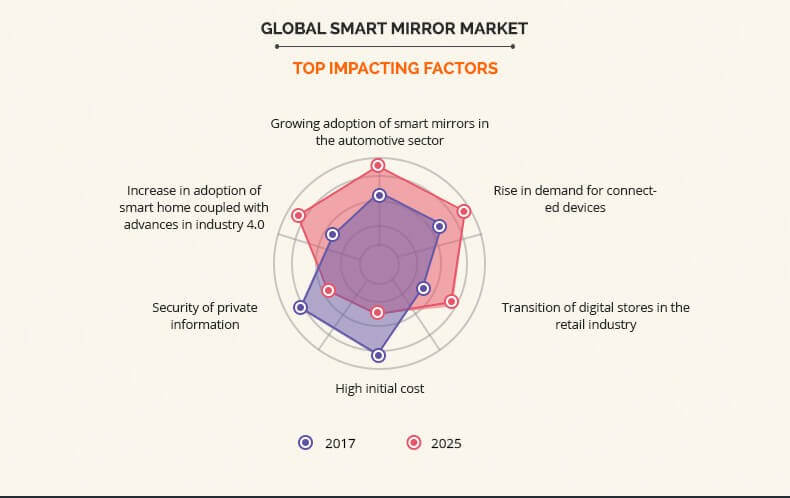 Get more information on this report: 
High initial cost
The manufacturing and implementation costs of smart mirror devices are relatively high than the traditional mirrors. This is attributed to high-end components installed in the device such as sensors, cameras, connectivity system, display, and others. This in turn increases the purchasing cost of smart mirrors, thereby hampering the growth of the global market.
Increase in adoption of smart home coupled with advances in industry 4.0
Smart homes include three components majorly home appliances, home security, and home infrastructure. All of these are based on the same principle as the Internet of Things (IoT). Similar to IOT, smart homes facilitate collection, storage, and utilization of information collected within the living area for various applications. The current smart home devices range from a stand-alone sensor for detecting change is basement's water level to an advanced appliance involving self-learning and artificial intelligence. These devices are connected through IoT and are connected from around anywhere in the world. Numerous organizations are investing in developing smart home devices. For instance, Apple introduced a HomeKit for communicating and controlling connected devices in smart homes. Similarly, Google announced its own smart home framework named Brillo. This system uses IoT, which enables smart home devices to communicate with each other, the cloud, and user's smartphone. Moreover, Google acquired Nest, the manufacturer of programmable and self-learning Wi-Fi-enabled thermostats, which enables consumers to program and remotely control the heating and cooling of their homes. In addition, Microsoft partnered with Insteon to offer support for products with the help of its voice-activated personal assistance application, Cortana. Furthermore, the company sells Insteon smart home devices in its retail stores. Hence, upsurge in adoption of smart home is expected to drive the growth of the global smart mirror market.
Key Benefits for Smart Mirror Market :
This study comprises an analytical depiction of the global smart mirror market with current trends and future estimations to depict the imminent investment pockets.

The overall market potential is determined to understand the profitable trends to gain a stronger foothold.

The report presents information related to key drivers, restraints, and opportunities with a detailed impact analysis.

The current market is quantitatively analyzed from 2017 to 2025 to benchmark the financial competency.

Porter's five forces analysis illustrates the potency of the buyers and suppliers in the industry.

The report includes the market share of key vendors and smart mirror market trends.
 Smart Mirror Market Report Highlights
Aspects
Details
By Component

Hardware
Software
Services

By End User

Automotive
Healthcare
Residential
Others

By Region

North America (U.S., Canada, Mexico)
Europe (UK, Germany, France, Italy, Rest of Europe)
Asia-Pacific (China, Japan, South Korea, India, Rest of Asia-Pacific)
LAMEA (Latin America, Middle East, Africa)

Key Market Players
DENSION, ELECTRIC MIRROR, FICOSA(PANASONIC), GENTEX CORPORATION, JAPAN DISPLAY INC, MAGNA INTERNATIONAL INC., MURAKAMI CORPORATION, PERSEUS MIRROR, SAMSUNG ELECTRONICS CO. LTD., SEURA