Smart Mobility Market Statistics - 2027
The global smart mobility market was valued at $34.04 billion in 2019, and is projected to reach $70.46 billion by 2027, registering a CAGR of 20.2%.  
COVID-19 pandemic has increased the demand for safer and securer means of transportation due to which the need for car sharing or car pooling has been affected thus leading to a sluggish growth of the global smart mobility market.
Smart mobility is the use of different modes of transportation rather than using one's own vehicles to reduce number of vehicles running on roads. Smart mobility comprises different concepts such as ride sharing, car sharing, and bike commuting across cities to improve traffic conditions. The need for smart mobility increased across the globe owing to several factors such as increase in pollution, rise in fatalities, and wastage of time, if stuck in traffic jams. Smart mobility is a revolutionary idea for utilizing the available transportation resources in a safer and efficient way to ensure zero emission, least or no accidents and with no ownership of vehicles.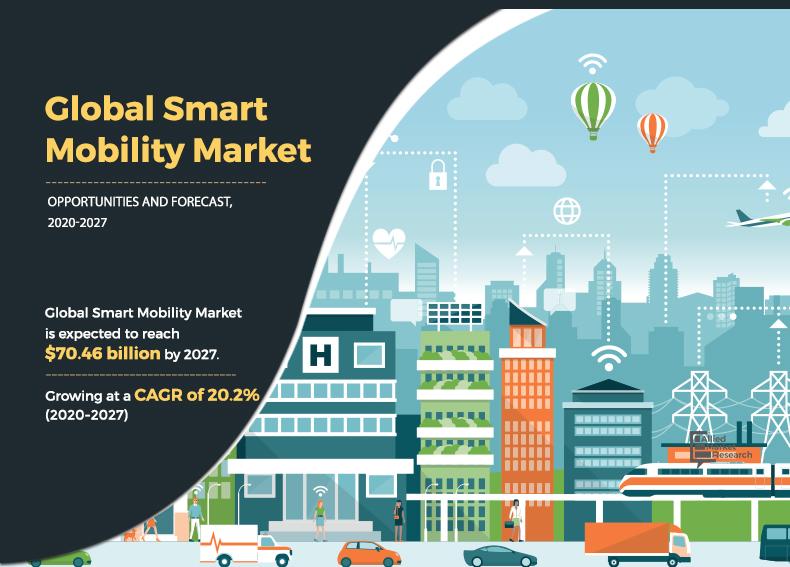 Factors such as rise in trend of on-demand transportation services and government initiatives for smart cities lead to growth of the global smart mobility market. Moreover, low rate of internet penetration in developing regions and threat of data hacking are the factors that are expected to restrain the smart mobility market during the forecast period. However, intelligent transportation systems and improved performance of autonomous vehicles are the factors expected to provide lucrative opportunities for the market growth.
The global smart mobility market is segmented on the basis of element, solution, technology, and region. On the basis of element, it is categorized into bike commuting, car sharing and ridesharing. On the basis of solution, it is categorized into traffic management, parking management, mobility management, and others. On the basis of technology, it is divided into 3G & 4G, Wi-Fi, GPS, RFID, embedded systems, and others. Region wise, the global smart mobility market is analyzed across North America, Europe, Asia-Pacific, and LAMEA. 
Key players profiled in the report include Cisco, Excelfore Corporation, Ford Motor Company, Innoviz Technologies. Inc., MAAS Global Oy, QuaLiX Information System, Robert Bosch GmbH, Siemens, TomTom International and Toyota Motor Corporation.
Smart Mobility Market

---
By Elements
Car sharing is projected as the most lucrative segments
COVID Impact Analysis
With the advent of the COVID-19 pandemic, the smart mobility market has registered a downfall in the year 2020, and is expected to encounter slower growth in the year 2021 as well.
This downfall is attributed to the decrease in demand for ride sharing and carpooling across the globe.
As per the industry experts, this decreased demand is expected to see a positive curve after the year 2022.
The smart mobility market is expected to grow after the availability of safety measures in car sharing and carpooling services such as introduction of plastic barrier between passengers of a car and driver.
Smart Mobility Market

---
By Technology
GPS is projected as the most lucrative segments
Rise in trend of on demand transportation services 
On demand services include taxi, passenger vehicles, and charter vehicles that provide flexibility and other features such as real time feedback, tracking of vehicle, and rating to end customers. Availability of cars and comparison of fare with correspondents is facilitated by numerous mobile applications. For instance, in August 2017, Migo, a Seattle-based search engine for on-demand ride services launched a mobile application that allows users to compare locations and prices of nearby taxis, car-sharing, and ride-hailing companies all in one app. Moreover, such services allow customers to make use of numerous functions. In addition, facility to find exact location of customers and matching demand with available supply are the factors that significantly drive the smart mobility market.
Government initiatives for smart cities
Several government initiatives have been made for implementing concept of smart mobility across the globe. This has led to growth of the global smart mobility market. For instance, in Japan, the Ministry of Economy, Trade, and Industry (METI) and the Ministry of Land, Infrastructure, Transport, and Tourism (MLIT) started a smart mobility subsidy program in 2019, with a revenue of $27.6 million for the program. Similar investments and subsidy programs have been implemented by different governments across the globe, which has leads to growth of the global market.
Smart Mobility Market

---
By Solution
Parking management is projected as the most lucrative segments
Low rate of internet penetration in developing regions
Ride hailing services require three parties for their operation i.e. driver, riders, and service providers. All processes such as matching rider with drivers, fare estimation & calculation, ride payment, and reputation management are done by using smartphone with mandatory internet connectivity. Some countries such as Eritrea, Burundi, Chad, and Somalia have low penetration of internet that hinders growth of the smart mobility market in these regions. Therefore, low penetration of internet connectivity in developing regions hampers the growth of smart mobility market across those areas.
Intelligent transportation system
Safety services offered in advanced cars are an appropriate example of cutting edge aftermarket technology, which involves sharing data between a vehicle and humans. Safety is a combination of telecommunication and automobile technology used to improve vehicle efficiency, reduce fuel consumption & maintenance cost, enhance security & safety measures, and assist drivers to enhance overall driving experience. Driver assistance systems is a major feature of smart mobility that helps drivers to find most appropriate route to reach a destination. It also prompts alert messages regarding traffic jams and parking space availability. All these features provide intelligent transportation systems, which are designed to improve overall driving experience. 
Smart Mobility Market

---
By Region
Asia-Pacific would exhibit the highest CAGR of 22.2% during 2020-2027.
Key Benefits for Stakeholders:
This study presents analytical depiction of the global smart mobility market analysis along with the current trends and future estimations to depict imminent investment pockets.
The overall smart mobility market opportunity is determined by understanding profitable trends to gain a stronger foothold.
The report presents information related to the key drivers, restraints, and opportunities of the global smart mobility market with a detailed impact analysis.
The current smart mobility market is quantitatively analyzed from 2019 to 2027 to benchmark the financial competency.
Porter's five forces analysis illustrates the potency of the buyers and suppliers in the industry.
 Smart Mobility Market Report Highlights
Aspects
Details
By Element

Bike Commuting
Car Sharing
Ride Sharing

By Solution Type

Traffic Management
Parking Management
Mobility Management
Others

By Technology

3G & 4G
Wi-Fi
Global positioning system (Gps)
Radio frequency identification (RFID)
Embedded system
Others

By Region

NORTH AMERICA (US, CANADA, MEXICO)
EUROPE (GERMANY, FRANCE, UK, ITALY, REST OF EUROPE)
ASIA-PACIFIC (CHINA, JAPAN, INDIA, SOUTH KOREA, REST OF ASIA-PACIFIC)
LAMEA (LATIN AMERICA, MIDDLE EAST, AFRICA)

Key Market Players
Cisco Systems, Inc., Excelfore, FORD MOTOR COMPANY, Innoviz Technologies Ltd., MaaS Global Oy, QUALIX INFORMATION SYSTEM, Robert Bosch GmbH, Siemens, TOMTOM INTERNATIONAL N.V, TOYOTA MOTOR CORPORATION