COVID-19
Pandemic disrupted the entire world and affected many industries.
Get detailed COVID-19 impact analysis on the Smart Packaging Market
Request Now !
Smart Packaging Market Outlook-2022
Global Smart Packaging Market size is expected to reach $37,797 million by 2022, registering a CAGR of 7.8% during the forecast period. Oxygen scavenger is the most widely used active packaging system, particularly for foods. The presence of oxygen in a packaged material increases the oxidative depreciation of food. Oxygen takes care of overall shelf life ability of muscle food products. Thus, the control of oxygen levels in food packaging is necessary to restrict the rate of such spoilage reactions in food. Thus, it is projected to grow at the fastest rate, which increases the global smart packaging market size.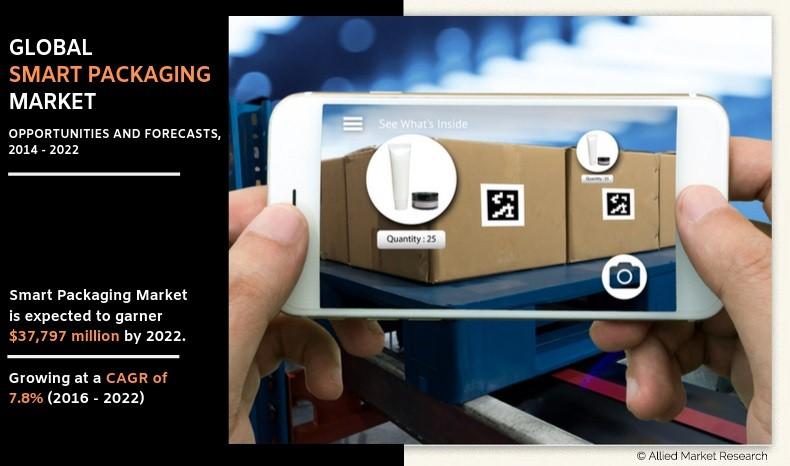 Get more information on this report : Request Sample Pages
Changes in lifestyle patterns due to rapid urbanization and increase in consumption of beauty products and cosmetics with packaging advancement technology drive the global smart packaging market. In addition, untapped geographical regions offer enormous opportunities to the smart packaging market, which further fosters the overall smart packaging industry. However, high cost of active and intelligent packaging is projected to hamper the global smart packaging market growth.
The smart packaging industry is classified into food & beverage industry, automotive, healthcare, personal care, logistics and others. However, automotive industry is the second fastest growing industry by 2022. The adoption of sensors or similar technologies in a vehicle has gone a mandate in some of the Asian countries, such as Australia, India, and others. For instance, in September 2012, the Indian government announced installation of GPS-based device on a motor vehicle that constantly tracks the speed limit of a vehicle. In case of an excessive speed, the inbuilt system would cut fuel to an engine and slow the vehicles speed.
The global smart packaging market is segmented based on type, end user, and geography. Based on type, the market is broadly divided into active packaging, intelligent packaging, and modified atmosphere packaging. The active packaging includes gas scavengers, corrosion control, moisture control, and others while intelligent packaging system includes thermochromic inks, time temperature indicator, and radiofrequency identification (RFID). However, by end user, the smart packaging market is divided into food & beverage, healthcare, automotive, personal care, logistics, and others. The market is analyzed across four regions-North America, Europe, Asia-Pacific, and LAMEA. Asia-Pacific smart packaging market share is expected to witness the remarkable growth over the years owing to rise in consumer awareness on issues such as food safety and hygiene. With the growth in counterfeiting issues, the Asian manufacturers have initiated adoption of RFID and NFC technologies that allow the firms to track their shipments and overcome counterfeiting concerns.
The report includes comprehensive analysis of the key players in the smart packaging market, such as 3M, TempTime Corporation, PakSense, American Thermal Instruments, Avery Dennison Corp., R.R. Donnelly Sons & Company, BASF SE, International Paper, Stora Enso, and Thin Film Electronics ASA.
The other prominent players in the market include Crown Holdings Inc., Constar International Inc., Ball Corporation, Bemis Company, Inc., Ampacet Corporation, Graham Packaging Company Inc., Multisorb Technologies, Sysco Corporation (Fresh Point Services), Timestrip, PLC, and Rexam PLC.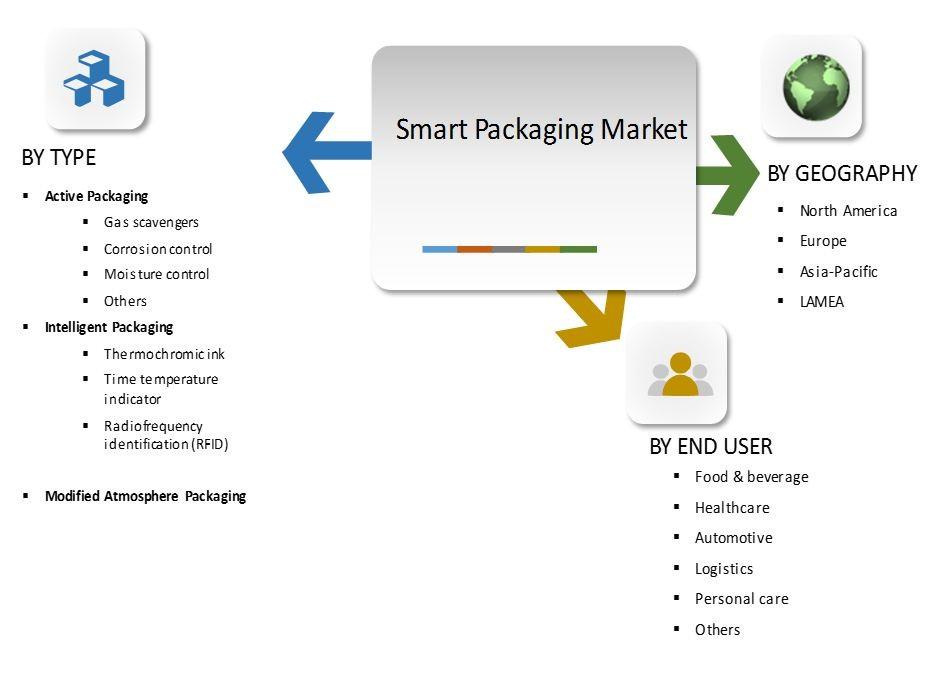 Get more information on this report : Request Sample Pages
Segment Overview
Intelligent packaging system is one of the recent technologies that witnesses a higher growth rate as it provides the consumer with all the information about the condition of food or its environment. Intelligent systems including sensors, RFID, and indicators monitor the quality of food product packed inside, thereby ensuring long shelf life, safety, and better quality of the product. However, thermochromic ink dominates intelligent packaging system as these inks are temperature sensitive devices that change colors based on temperature. Such inks are printed onto a package or labels to convey the consumer a message whether the product is ready to consume, based on the color of an ink. In November, 2016, Crown Bevcan Europe and Middle East launched two-step thermochromic cans that change color when the drink is chilled and displays another design when the beverage has been fully consumed.
Key Benefits for Smart Packagingmarket:
This report provides an in-depth analysis of the global smart packaging market trends to identify the potential investment pockets.
It outlines the current trends and future scenarios to determine the overall market potential and gain stronger market foothold.
Key drivers, restraints, and opportunities along with their detailed impact analysis have been elucidated.
Quantitative analysis of the smart packaging market from 2014 to 2022 is highlighted to recognize the financial competency of the market.
Porters Five Forces model illustrates the threat of new entrants, threat of substitutes, strength of the buyers, and strength of suppliers.
Smart Packaging Key Market Segments:
By Type
Active Packaging

Gas Scavengers
Corrosion Control Packaging
Moisture Control Packaging
Others

Intelligent Packaging

Time Temperature Indicator
Thermochromic Inks
Radiofrequency Identification (RFID)

Modified Atmosphere Packaging
By End User
Food & beverage
Personal care
Automotive
Healthcare
Logistics
Others
By Region
North America
Europe

UK
Spain
Germany
Rest of Europe

Asia-Pacific

China
India
Japan
Rest of Asia-Pacific

LAMEA

Latin America
Middle East
Africa
Key Market Players
3M
TempTime Corporation
PakSense
American Thermal Instruments
Avery Dennison Corp.
R.R. Donnelly Sons & Company
BASF SE
International Paper
Stora Enso
Thin Film Electronics ASA
Other Players in the Smart Packaging Market
Crown Holdings Inc.
Constar International Inc.
Ball Corporation
Bemis Company, Inc.
Ampacet Corporation
Graham Packaging Company Inc.
Multisorb Technologies
Sysco Corporation (Fresh Point Services)
Timestrip, PLC
Rexam PLC
CHAPTER 1 INTRODUCTION
1.1. REPORT DESCRIPTION
1.2. KEY BENEFITS
1.3. KEY MARKET SEGMENTS
1.4. RESEARCH METHODOLOGY
1.4.1. Primary research
1.4.2. Secondary research
1.4.3. Analyst tools and models
CHAPTER 2 EXECUTIVE SUMMARY
2.1. CXO PERSPECTIVE
CHAPTER 3 MARKET OVERVIEW
3.1. MARKET DEFINITION AND SCOPE
3.2. KEY FINDINGS
3.2.1. Top impacting factors
3.2.2. Top investment pockets
3.3. PORTER'S FIVE FORCES ANALYSIS
3.4. MARKET DYNAMICS
3.4.1. Drivers
3.4.1.1. Changing lifestyle patterns in emerging countries due to rapid urbanization
3.4.1.2. Increase in consumption of beauty products and cosmetics with packaging advancement technology
3.4.2. Restraints
3.4.2.1. Excessive cost of active and intelligent packaging
3.4.3. Opportunities
3.4.3.1. Untapped geographical regions offer enormous opportunities to the smart packaging market
CHAPTER 4 SMART PACKAGING MARKET, BY TYPE
4.1. OVERVIEW
4.2. ACTIVE PACKAGING
4.2.1. Key market trends
4.2.1.1. Gas indicators
4.2.1.1.1. Oxygen scavenger
4.2.1.2. Moisture control
4.2.1.3. Antimicrobial
4.2.1.4. Corrosion control
4.2.2. Key growth factors and opportunities
4.2.3. Market size & forecast
4.3. INTELLIGENT PACKAGING
4.3.1. Key market trends
4.3.1.1. Time temperature indicator (TTI)
4.3.1.2. Thermochromic Inks
4.3.1.3. Radiofrequency identification (RFID)
4.3.2. Key growth factors and opportunities
4.3.3. Market size & forecast
4.4. MODIFIED ATMOSPHERE PACKAGING (MAP)
4.4.1. Key market trends
4.4.2. Key growth factors and opportunities
4.4.3. Market size & forecast
CHAPTER 5 SMART PACKAGING MARKET, BY END USER
5.1. OVERVIEW
5.2. FOOD & BEVERAGE
5.2.1. Key market trends
5.2.2. Key growth factors and opportunities
5.2.3. Market size & forecast
5.3. HEALTHCARE
5.3.1. Key market trends
5.3.2. Key growth factors and opportunities
5.3.3. Market size & forecast
5.4. AUTOMOTIVE
5.4.1. Key market trends
5.4.2. Key growth factors and opportunities
5.4.3. Market size & forecast
5.5. PERSONAL CARE
5.5.1. Key market trends
5.5.2. Key growth factors and opportunities
5.5.3. Market size & forecast
5.6. LOGISTICS
5.6.1. Key trends
5.6.2. Key growth factors and opportunities
5.6.3. Market size & forecast
5.7. OTHERS (ELECTRONICS AND OTHERS)
5.7.1. Key market trends
5.7.2. Key growth factors and opportunities
5.7.3. Market size & forecast
CHAPTER 6 SMART PACKAGING MARKET, BY GEOGRAPHY
6.1. OVERVIEW
6.2. NORTH AMERICA
6.2.1. Key market trends
6.2.2. Key growth factors and opportunities
6.2.3. Market size & forecast
6.2.3.1. U.S.
6.2.3.2. Canada
6.2.3.3. Mexico
6.3. EUROPE
6.3.1. Key market trends
6.3.2. Key growth factors and opportunities
6.3.3. Market size & forecast
6.3.3.1. UK
6.3.3.2. Germany
6.3.3.3. Spain
6.3.3.4. Rest of Europe
6.4. ASIA-PACIFIC
6.4.1. Key market trends
6.4.2. Key growth factors and opportunities
6.4.3. Market size & forecast
6.4.3.1. China
6.4.3.2. India
6.4.3.3. Japan
6.4.3.4. Rest of Asia-Pacific
6.5. LAMEA
6.5.1. Key market trends
6.5.2. Key growth factors and opportunities
6.5.3. Market size & forecast
6.5.3.1. Latin America
6.5.3.2. Middle East
6.5.3.3. Africa
CHAPTER 7 COMPANY PROFILES
7.1. 3M
7.1.1. Company overview
7.1.2. Company snapshot
7.1.3. Operating business segments
7.1.4. Business performance
7.1.5. Key strategic moves and developments
7.2. AVERY DENNISON CORPORATION
7.2.1. Company overview
7.2.2. Company snapshot
7.2.3. Operating business segments
7.2.4. Business performance
7.2.5. Key strategic moves and developments
7.3. AMERICAN THERMAL INSTRUMENTS
7.3.1. Company overview
7.3.2. Company snapshot
7.3.3. Key strategic moves and developments
7.4. BASF SE
7.4.1. Company overview
7.4.2. Company snapshot
7.4.3. Operating business segments
7.4.4. Business performance
7.4.5. Key strategic moves and developments
7.5. INTERNATIONAL PAPER
7.5.1. Company overview
7.5.2. Company snapshot
7.5.3. Operating business segments
7.5.4. Business performance
7.5.5. Key strategic moves and development
7.6. PAKSENSE
7.6.1. Company overview
7.6.2. Company snapshot
7.6.3. Operating business segments
7.6.4. Key strategic moves and developments
7.7. R.R. DONNELLEY & SONS COMPANY
7.7.1. Company overview
7.7.2. Company snapshot
7.7.3. Operating business segments
7.7.4. Business performance
7.7.5. Key strategic moves and developments
7.8. STORA ENSO
7.8.1. Company overview
7.8.2. Company snapshot
7.8.3. Operating business segments
7.8.4. Business performance
7.8.5. Key strategic moves and developments
7.9. TEMPTIME CORP
7.9.1. Company overview
7.9.2. Company snapshot
7.9.3. Operating business segments
7.10. THINFILM
7.10.1. Company overview
7.10.2. Company snapshot
7.10.3. Operating business segments
7.10.4. Business performance
7.10.5. Key strategic moves and developments
LIST OF TABLES
TABLE 1. GLOBAL SMART PACKAGING MARKET REVENUE, BY TYPE, 2014-2022 ($MILLION)
TABLE 2. GLOBAL ACTIVE SMART PACKAGING MARKET REVENUE, 2014-2022 ($MILLION)
TABLE 3. GLOBAL INTELLIGENT SMART PACKAGING MARKET REVENUE, 2014-2022 ($MILLION)
TABLE 4. ACTIVE SMART PACKAGING MARKET REVENUE, BY REGION, 2014-2022 ($MILLION)
TABLE 5. INTELLIGENT SMART PACKAGING MARKET REVENUE, BY REGION ($MILLION), 2014-2022
TABLE 6. MODIFIED ATMOSPHERE SMART PACKAGING MARKET REVENUE, BY REGION ($MILLION), 2014-2022
TABLE 7. GLOBAL SMART PACKAGING MARKET REVENUE, BY END-USER, 2014-2022 ($MILLION)
TABLE 8. FOOD & BEVERAGE SMART PACKAGING MARKET REVENUE, BY REGION, 2014-2022 ($MILLION)
TABLE 9. HEALTHCARE SMART PACKAGING MARKET REVENUE, BY REGION, 2014-2022 ($MILLION)
TABLE 10. AUTOMOTIVE SMART PACKAGING MARKET REVENUE, BY REGION, 2014-2022 ($MILLION)
TABLE 11. PERSONAL CARE SMART PACKAGING MARKET REVENUE, BY REGION, 2014-2022 ($MILLION)
TABLE 12. LOGISTICS SMART PACKAGING MARKET REVENUE, BY REGION, 2014-2022 ($MILLION)
TABLE 13. OTHERS SMART PACKAGING MARKET REVENUE, BY REGION, 2014-2022 ($MILLION)
TABLE 14. SMART PACKAGING MARKET BY REGION, 2014-2022 ($MILLION)
TABLE 15. NORTH AMERICA SMART PACKAGING MARKET REVENUE, BY TYPE ($MILLION), 2014-2022
TABLE 16. NORTH AMERICA SMART PACKAGING MARKET REVENUE, BY COUNTRY ($MILLION), 2014-2022
TABLE 17. U.S. SMART PACKAGING MARKET REVENUE, 2014-2022 ($MILLION)
TABLE 18. CANADA SMART PACKAGING MARKET REVENUE, 2014-2022 ($MILLION)
TABLE 19. MEXICO SMART PACKAGING MARKET REVENUE ($MILLION), 2014-2022
TABLE 20. EUROPE SMART PACKAGING MARKET REVENUE, BY TYPE, 2014-2022 ($MILLION)
TABLE 21. EUROPE SMART PACKAGING MARKET REVENUE, BY COUNTRY, 2014-2022 ($MILLION)
TABLE 22. UK SMART PACKAGING MARKET REVENUE ($MILLION), 2014-2022
TABLE 23. GERMANY SMART PACKAGING MARKET REVENUE ($MILLION), 2014-2022
TABLE 24. SPAIN SMART PACKAGING MARKET REVENUE, 2014-2022 ($MILLION)
TABLE 25. REST OF EUROPE SMART PACKAGING MARKET REVENUE ($MILLION), 2014-2022
TABLE 26. ASIA-PACIFIC SMART PACKAGING MARKET REVENUE, BY TYPE ($MILLION), 2014-2022
TABLE 27. ASIA-PACIFIC SMART PACKAGING MARKET REVENUE, BY COUNTRY ($MILLION), 2014-2022
TABLE 28. CHINA SMART PACKAGING MARKET REVENUE ($MILLION), 2014-2022
TABLE 29. INDIA SMART PACKAGING MARKET REVENUE ($MILLION), 2014-2022
TABLE 30. JAPAN SMART PACKAGING MARKET REVENUE ($MILLION), 2014-2022
TABLE 31. REST OF ASIA-PACIFIC SMART PACKAGING MARKET REVENUE, 2014-2022 ($MILLION)
TABLE 32. LAMEA SMART PACKAGING MARKET REVENUE, BY TYPE, 2014-2022 ($MILLION)
TABLE 33. LAMEA SMART PACKAGING MARKET REVENUE, BY REGION, 2014-2022 ($MILLION)
TABLE 34. LATIN AMERICA SMART PACKAGING MARKET REVENUE, 2014-2022 ($MILLION)
TABLE 35. MIDDLE EAST SMART PACKAGING MARKET REVENUE, 2014-2022 ($MILLION)
TABLE 36. AFRICA SMART PACKAGING MARKET REVENUE, 2014-2022 ($MILLION)
TABLE 37. 3M: COMPANY SNAPSHOT
TABLE 38. 3M: OPERATING SEGMENTS
TABLE 39. AVERY DENNISON CORPORATION: COMPANY SNAPSHOT
TABLE 40. AVERY DENNISON CORPORATION: OPERATING SEGMENTS
TABLE 41. AMERICAN THERMAL INSTRUMENTS: COMPANY SNAPSHOT
TABLE 42. BASF SE: COMPANY SNAPSHOT
TABLE 43. BASF SE: OPERATING SEGMENTS
TABLE 44. INTERNATIONAL PAPER: COMPANY SNAPSHOT
TABLE 45. INTERNATIONAL PAPER: OPERATING SEGMENTS
TABLE 46. PAKSENSE: COMPANY SNAPSHOT
TABLE 47. PAKSENSE: OPERATING SEGMENTS
TABLE 48. R.R. DONNELLEY & SONS COMPANY: COMPANY SNAPSHOT
TABLE 49. R.R. DONNELLEY & SONS COMPANY: OPERATING SEGMENTS
TABLE 50. STORA ENSO: COMPANY SNAPSHOT
TABLE 51. STORA ENSO: OPERATING SEGMENTS
TABLE 52. TEMPTIME CORP.: COMPANY SNAPSHOT
TABLE 53. TEMPTIME CORP.: OPERATING SEGMENTS
TABLE 54. THINFILM: COMPANY SNAPSHOT
TABLE 55. THINFILM: OPERATING SEGMENTS
LIST OF FIGURES
FIGURE 1. GLOBAL SMART PACKAGING MARKET: EXECUTIVE SUMMARY
FIGURE 2. GLOBAL SMART PACKAGING MARKET SEGMENTATION
FIGURE 3. TOP IMPACTING FACTORS
FIGURE 4. TOP INVESTMENT POCKETS
FIGURE 5. PORTER'S FIVE FORCES ANALYSIS
FIGURE 6. SMART PACKAGING MARKET, BY TYPE
FIGURE 7. GLOBAL SMART PACKAGING MARKET REVENUE, BY TYPE, 2014-2022 ($MILLION)
FIGURE 8. GLOBAL SMART PACKAGING MARKET SEGMENTATION, BY END USER
FIGURE 9. SMART PACKAGING MARKET SHARE, BY END-USER, 2015 & 2022 (%)
FIGURE 10. SMART PACKAGING MARKET SHARE, BY GEOGRAPHY, 2015 (%)
FIGURE 11. NORTH AMERICA SMART PACKAGING MARKET REVENUE, BY COUNTRY & TYPE, 2014-2022 ($MILLION)
FIGURE 12. EUROPE SMART PACKAGING MARKET REVENUE, BY COUNTRY & TYPE, 2014-2022 ($MILLION)
FIGURE 13. ASIA-PACIFIC SMART PACKAGING MARKET REVENUE, BY COUNTRY & TYPE ($MILLION), 2014-2022
FIGURE 14. LAMEA SMART PACKAGING MARKET REVENUE, BY COUNTRY & TYPE, 2014-2022 ($MILLION)
FIGURE 15. 3M: REVENUE, 2014-2016 ($MILLION)
FIGURE 16. 3M: REVENUE SHARE BY SEGMENT, 2016 (%)
FIGURE 17. AVERY DENNISON CORPORATION: REVENUE, 2014-2016 ($MILLION)
FIGURE 18. AVERY DENNISON CORPORATION: REVENUE SHARE BY GEOGRAPHY, 2016 (%)
FIGURE 19. AVERY DENNISON CORPORATION: REVENUE SHARE BY SEGMENT, 2016 (%)
FIGURE 20. BASF SE: REVENUE, 2014-2016 ($MILLION)
FIGURE 21. BASF SE: REVENUE SHARE BY SEGMENT, 2016 (%)
FIGURE 22. BASF SE: REVENUE SHARE BY GEOGRAPHY, 2016 (%)
FIGURE 23. INTERNATIONAL PAPER: REVENUE, 2014-2016 ($MILLION)
FIGURE 24. INTERNATIONAL PAPER: REVENUE SHARE BY SEGMENT, 2016 (%)
FIGURE 25. R.R. DONNELLEY & SONS COMPANY: REVENUE, 2014-2016 ($MILLION)
FIGURE 26. STORA ENSO: REVENUE, 2014-2016 ($MILLION)
FIGURE 27. STORA ENSO: REVENUE SHARE BY SEGMENT, 2016 (%)
FIGURE 28. THINFILM: REVENUE, 2014-2016 ($MILLION)