Smart Shoes Market Outlook - 2026
The smart shoes market size was valued at $115.3 million in 2018 and is expected to reach $223.4 million by 2026, registering a CAGR of 9.1% from 2019 to 2026.Smart shoes is a smart technology footwear in which the shoe insoles are digitally connected that facilitates its user with larger than life features and specifications making it more than just a regular shoe. Wearable products or digitally connected products feature services that ease the day-to-day activities of the end user. Thus, these products gain traction among the consumers especially in North America and Europe. Further, these smart shoes come with navigation tracker and self-lacing technology. They also help track the physical performance of the end user, thus increasing their adoption in the sports industry. The global smart shoes market is segregated into smart walking shoes, smart running shoes, and smart sports shoes.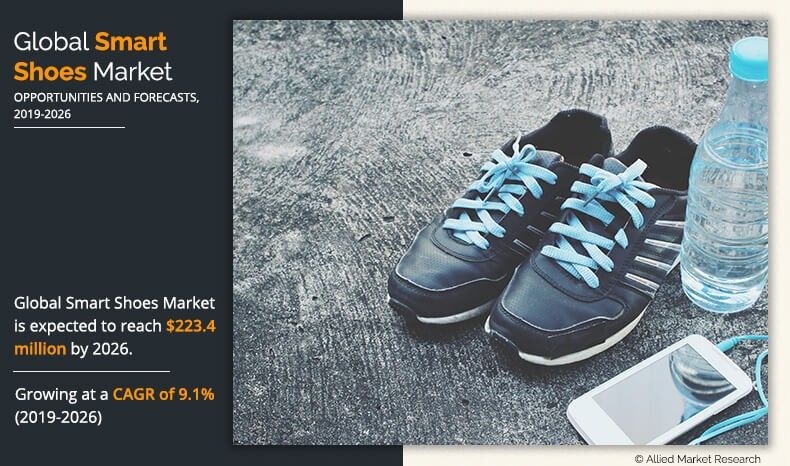 Get more information on this report : Request Sample Pages
There is a rise in the health and wellness trend in the developed as well as most of the developing countries. The consumers prefer to adopt a healthy lifestyle by hitting the gym, following a strict diet, and participating in other healthy activities. Among these health-conscious consumers, there is a set of customers who have taken their health enhancement process to the next level. This group needs to maintain a daily record of the activities to track progress. Smart shoes help maintain a record of the distance covered running/walking/cycling as well as the calorie lost after a workout session. Thus, these end users contribute to the global smart shoes market growth.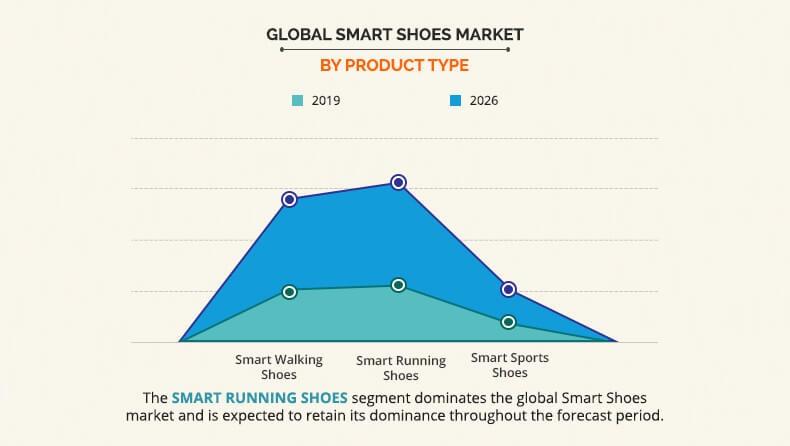 Get more information on this report : Request Sample Pages
Based on product type, the market is segmented into smart walking shoe, smart running shoe and smart sports shoe. Among these product types, smart running shoes accounts to higher value smart shoes market share. Smart running shoes come with options that help the end user track the distance covered as well as calories burnt. Customers can view this data through different connected apps in smartphone or other devices. This helps the customer keep a record of the same and thus maintain fitness. To help these customers, manufacturers are also focusing on innovating the smart running shoes. The product is expected to gain higher traction among the sports personnel as well as professional athletes contributing to the global smart shoes market forecast.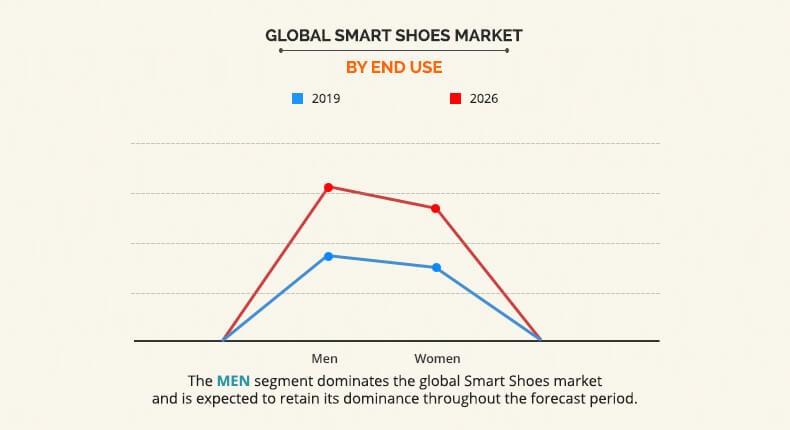 Get more information on this report : Request Sample Pages
Based on end user, the market is segmented into men and women. The men segment accounts to comparatively higher value share. Majority of the men choose sports to remain healthy. Some are also passionate about their sport and try to make a career or gain recognition in the same. In such cases, they need to a keep a track of their routine and hence prefer smart sport shoes. These shoes track their routine, maintain a data of the distance covered running or walking, as well as protect the foot. However, smart shoess for women population leads to less scope in generating sales, as there are less number of women fitness enthusiasts. This is expected to hamper the growth of the global smart shoes market for women.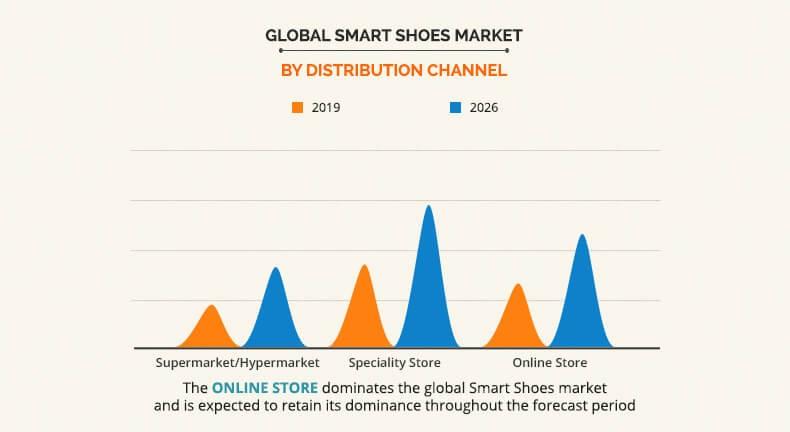 Get more information on this report : Request Sample Pages
Based on distribution channel, the market is segmented into supermarket/hypermarket, Specialty store and online store. Among these distribution channels, smart shoes market generates its sales majorly through online store. Over the past one decade, there has been a significant increase in the internet penetration especially in the North America, Europe, and Asia-Pacific regions. Consumers now rely on internet to gain information and consider online shopping as the most convenient factor. Thus, most of the key manufacturers have gone online and have created their own web portals for selling products.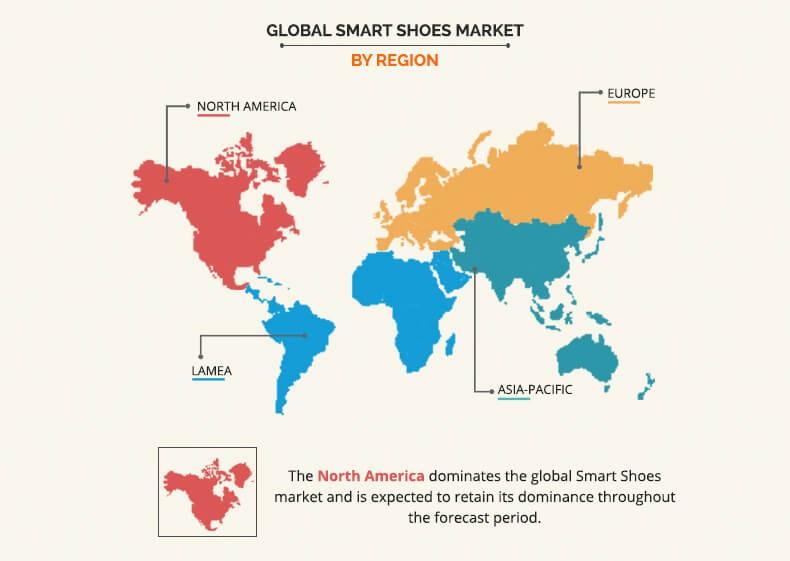 Get more information on this report : Request Sample Pages
Based on region, the Smart shoes industry is analyzed across North America, Europe, Asia-Pacific, and LAMEA. North America dominates the global smart shoes market. The North America wearable segment accounted for US$3.1 Billion in 2019 and is expected to exhibit annual growth rate of 5% during the forecast period. As per the sources, in 2015, 39.5 million U.S. adults used some or the other form of wearable devices, which in turn boosts the growth of the U.S. smart shoes market. Asia-pacific is expected to witness faster over the forecast period. The Asia-Pacific regions have witnessed surge in number of millennials and the millennials are the forefront users of various types of wearable products. Therefore, rise in number millennial population makes way for lucrative growth opportunities in the market.
Key players profiled in the report include Adidas AG, Digitsole, Nike Inc., Puma SE, Salted Venture, TRAQshoe, Under Armour Inc., Vivobarefoot Limited, Xiaomi Corporation, Zhor-Tech.
Key Benefits for Smart Shoes Market:
The report provides an extensive smart shoes market analysis of the current and emerging market trends and opportunities.
The report provides detailed qualitative and quantitative analysis of the current smart shoes market trends and future estimations that help evaluate the prevailing smart shoes market opportunity.
A comprehensive analysis of the factors that drive and restrict the smart shoes market growth.
An extensive analysis of the market is conducted by following key product positioning and monitoring the top competitors within the market framework.
The report provides extensive qualitative insights on the potential segments or regions exhibiting favorable growth.
 Key Market Segments
By Product Type

Smart Walking Shoes
Smart Running Shoes
Smart Sports Shoes



By End User

By Distribution Channel

Supermarket/Hypermarket
Specialty Store
Online Store



By Region

North America
Europe

Germany
France
UK
Italy
Spain
Russia
Rest of Europe

Asia-Pacific

China
India
Japan
Australia
New Zealand
ASEAN
Rest of Asia-Pacific

LAMEA

Latin America
Middle East
Africa



 Key Market Players
ADIDAS AG (ADIDAS)
DIGITSOLE
NIKE, INC. (NIKE)
PUMA SE (KERING)
SALTED VENTURE
TRAQSHOES
UNDER ARMOUR, INC.
VIVOBAREFOOT LIMITED
XIAOMI CORPORATION
ZHOR-TECH