The global smart transportation market was valued at $96.6 billion in 2020, and is projected to reach $251.0 billion by 2030, growing at a CAGR of 10.2% from 2021 to 2030.
Smart transport or intelligent transport is an advanced transportation infrastructure that aims to provide innovative traffic and transport management systems services. It has various applications such as parking management & guidance, passenger information, and traffic management. Intelligent transportation systems (ITS) are superior applications that provide ground-breaking services related to transport and traffic management modes. It enables multiple users to be more coordinated and better informed using several technologies such as car navigation, traffic signal control systems, speed cameras, and other real-time data & computational technologies. This smart transportation information can be achieved through improvements in infrastructure, legislative provisions toward sustainable fuels for public transport vehicles, and implementation of schemes to efficiently provide mobility services to ever-expanding cities.
The COVID-19 crisis created uncertainty in every market and has caused a significant blow to the transportation industry. With most governments enforcing isolation practices, there is a substantial decline in the transportation industry. Governments across different regions announced total lockdown and the temporary shutdown of industries, leading to border closures that restricted the movement of transportation & logistics services. In countries such as China and the U.S., toll and fare collections have been stopped. China is also implementing a no-stop, no-check, toll-free policy for vehicles transporting emergency supplies and essential personnel. However, market players have adopted innovative strategies to increase growth opportunities in the global smart transportation market with growth in demand for proper traffic management systems and improved transportation infrastructure facilities for the safety of passengers. As per the current scenario, the overall world is getting back on track slowly. With new restriction and policies, a significant recovery in the transportation sector across the retail industry may positively influence the smart transportation market owing to the latest technological innovations regarding vehicle safety.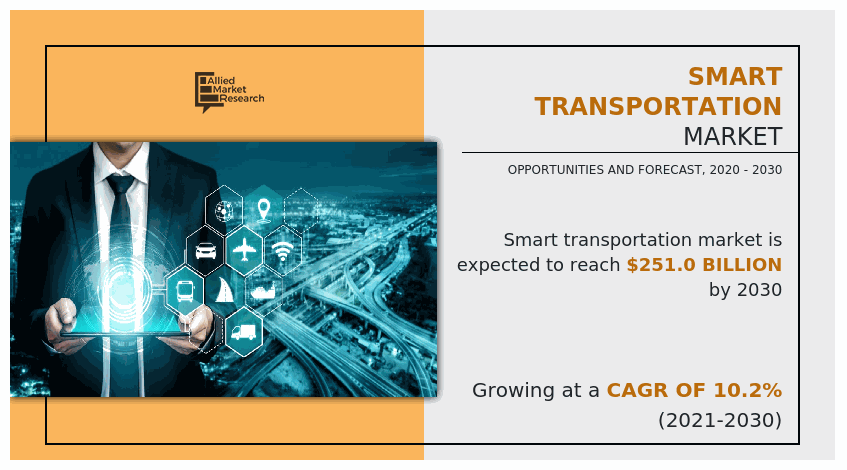 Furthermore, the emergence of cloud-based technologies and advances in vehicle-to-vehicle (V2V) and vehicle-to-grid infrastructure (V2I) make smart transportation a reality. These technologies aim to provide innovative services related to different modes of transport and traffic management. It enables the users to be better informed and make safer &better use of transport networks. For instance, in November 2019, Cubic Corporation updated its NextBus platform, a cloud-based solution delivered as a service with improved reliability and scalability, providing real-time passenger information systems to more than 100 transit agencies, organizations, institutions, and airports. Hence, the rise in demand for efficient transportation with technological advancement and increased adoption of cloud services in transportation are significant factors in the growth of smart transportation.
Smart Transportation Market

---

By Transportation Type
Airways is projected as the most lucrative segments
Factors such as surge in demand for efficient transportation networks across the world, government initiatives for the development &promotion of green fuels, and increased demand due to rise in road safety & traffic congestion issues are expected to drive the growth of the smart transportation market. In addition, the adoption of smart transportation systems in railways and upsurge in adoption of cloud services in transportation are some of the major factors anticipated to boost the market's growth. However, high capital investments, large database requirements of the road network, and lack of standardized &uniform technology restrain the market growth. Furthermore, investments in emerging ideas of smart cities and the introduction of parking management systems provide lucrative growth opportunities for the market players.
Smart Transportation Market

---
By Solution
Parking Management & Guidance System is projected as the most lucrative segments
The market segmentation is based on solution, service, transportation type and region. By solution, the market is classified into ticketing management system, parking management &guidance system, integrated supervision system, and traffic management system. By service, the market is segmented into business services, professional services, and cloud services. By transportation type, the market has been segmented into roadways, railways, airways and maritime. By region, the market is analyzed across North America, Europe, Asia-Pacific, and LAMEA.
The key players operating in the global smart transportation market are Accenture, Alstom, Cisco Systems, Inc., Cubic Corporation, IBM Corporation, Iteris, Inc., MSR-Traffic GmbH, Siemens, Thales Group, and TomTom International BV.
Smooth flow of traffic and time-efficiency
Smart transportation is one such important aspect, which aims to provide innovative services related to different modes of transport & traffic management systems. It uses intelligent systems such as wireless communications, sensing technologies, real-time data, and computational technologies, making transportation easy and faster, thus saving time in transportation solutions such as traffic management and ticket management systems. Furthermore, innovative information & communication technology (ICT) applications such as fiber optics, a global positioning system (GPS), and Internet of Things (IoT), etc., are increasingly adopted by fleet operators owing to their tremendous benefits. For instance, in June 2019, Iteris, Inc. launched its new transportation analytics solution, ClearGuide, at the Intelligent Transportation Society of America's annual conference and expo in Washington, DC, that enables transportation agencies and commercial entities, such as construction and engineering firms, to actively monitor traffic congestion and identify anomalies &their causes. Moreover, vehicles equipped with blind-spot monitoring and other driver assistants reduce crashes and save time during peak traffic hours. Thus, the increased use of internet of things (IoT) devices, 5G communication technology, and machine learning (ML) in transport is expected to drive the smart transportation market. 
Smart Transportation Market

---

By Services
Professional is projected as the most lucrative segments
Encouraging the development and promotion of green fuels
Effective transportation systems are essential for national prosperity to achieve economic growth, social development, and reduced environmental losses. More than half the world's urban population resides in Asia, where some countries, such as India and China, already have about a billion people living in cities alone. According to the Chinese Department of Infrastructure Development, by 2035, a convenient, cost-effective, green, intelligent, advanced, and reliable modern national comprehensive transportation network is expected to be basically completed. Furthermore, the French government is betting on electric and hydrogen vehicles &aircraft to comply with the European Union (EU) target of a 37.5 percent reduction in emissions by 2030. According to International Trade Administration (ITA), to support the electric vehicle initiative, France plans to install seven million charging points for hybrid and electric vehicles by 2030 through partnerships with OEMs, energy suppliers, and charging station infrastructure providers. Thus, the surge in adoption of an effective transportation system & encouraging development for the promotion of fuel-efficient transportation is expected to drive the smart transportation market during the forecast period.
High capital investment
Smart transportation is a highly demanding technology owing to its advantages such as time-efficiency, cost-efficiency, high security, and faster speed over traditional transportation systems. Thus, integrating advanced technological features in the existing or conventional transportation systems is very complex, as it lacks open interfaces, which further cause communication gaps among technically advanced and traditional systems. Such high investments in transport infrastructure hamper the growth of the smart transportation market.
Smart Transportation Market

---

By Region
LAMEA
North America
Asia-Pacific
Asia-Pacific would exhibit the highest CAGR of 11.7% during 2021-2030
Investments in emerging ideas of smart cities
In the present scenario, the growing rate of the population across the developing economies increases the use of different transportation services either for commercial or residential purposes. Moreover, technological advancements have increased people's interest in smart traffic management systems and smart ticket systems. Governments across developed countries focus on implementing several technologies in their transportation infrastructures to enhance transportation services and improve security in different sectors. Thus, owing to such advantages, the government is investing in adopting advanced technological features across the road, rail, and airways that contribute to the growth of the smart transportation market. For instance, in November 2021, Egyptian National Railways Authority (ENR) signed an agreement with Alstom to modernize the Tanta–Zifta–Zagazig railway mainline, covering approximately 65 km including nine main stations, with the installation of the signaling, power, telecom systems, and trackside equipment for migration to ETCSL1. The modernization of Tanta–Zifta–Zagazig mainline is one of the Ministry of Transport's top priorities and part of Egypt's plans to improve public transport capacity and efficiency. Hence, rise in integration & investments by governments in emerging smart cities are anticipated to provide an opportunity for the market's growth during the forecast period.
Key Benefits For Stakeholders
This study presents the analytical depiction of the global smart transportation market analysis along with the current trends and future estimations to depict imminent investment pockets.

The overall market opportunity is determined by understanding profitable trends to gain a stronger foothold.

The report presents detailed impact analysis information related to the key drivers, restraints, and market opportunities.

The current market is quantitatively analyzed from 2021 to 2030 to benchmark financial competency.

Porter's five forces analysis illustrates the potency of the buyers and suppliers in the industry.
 Smart Transportation Market Report Highlights
Aspects
Details
By Transportation Type

Maritime
Roadways
Railways
Airways

By Solution

Ticketing Management System
Parking Management and Guidance System
Integrated Supervision System
Traffic Management System

By Services

Business
Professional
Cloud Services

By Region

North America (U.S., Canada, Mexico)
Europe (Germany, France, U.K., Italy, Rest of Europe)
Asia-Pacific (China, Japan, India, Australia, Rest Of Asia Pacific)
LAMEA (Latin America, Middle East, Africa)

Key Market Players
ACCENTURE PLC, ALSTOM SA, MSR Traffic GmbH, Siemens AG, Thales Group, TomTom International, Cisco Systems Inc., Cubic Corporation, ibm corporation, Iteris, Inc.