Smart Weapons Market Outlook 2021-2030:
The global smart weapons market was valued at $14.90 billion in 2020, and is projected to reach $23.96 billion in 2030, registering a CAGR of 5%.
The rapid spread of COVID-19 has had a significant impact on the global smart weapons market, owing to the implementation of strict lockdown measures across the world. COVID-19 pandemic led to several challenges for the smart weapons industry such as disruption in the supply chain of essential raw materials, logistics challenges, reduction in defense spending across various countries, and others. On the other hand, the defense systems manufacturers and service providers had to reduce expansion and R&D investments to withstand the decline in revenue and operating performance of the defense industry. The delay in purchase orders and slow production rate were some of the challenges observed in the smart weapons market throughout the year, and are expected to continue for a few years.
Smart weapons are computer-guided munitions equipped with the radio, infrared, laser, global positioning system and satellite guidance system, which give extraordinary accuracy and precision. Smart weapons are also termed as precision-guided weapons that are intended to hit the target precisely and reduce collateral damage and lethality. Smart weapons are operated and assisted by the use of external operating systems, located far away in the geographical area. Smart weapons system has changed the course of war engagement and its strategies. Cruise missiles use the information from the navigation satellite to maintain a proper course and direction during a flight. Smart guns have safeguards that allow them to operate only when activated by an authorized person, thus reducing misuse, gun theft, and self-harm scenarios. The safeguard features in smart weapons include RFID (Radiofrequency Identification Device) chips, fingerprint recognition, biometric sensors, mechanical locks, and magnetic kit.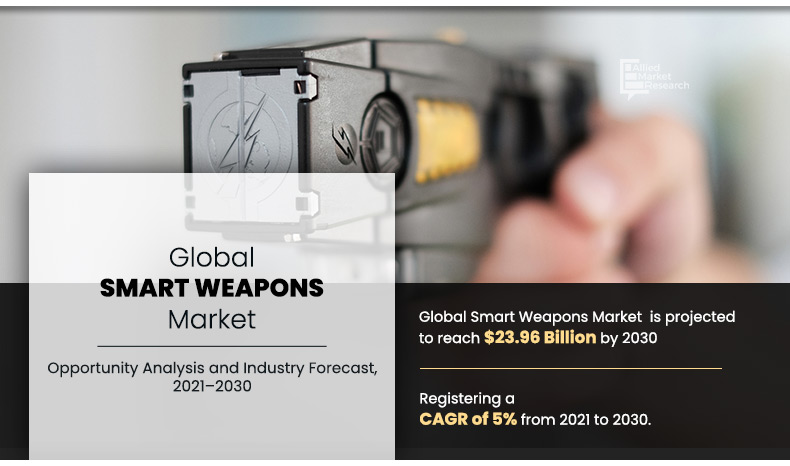 The global smart weapons market is driven by the growth in demand for precision strike weapons and unstable securities of countries. However, arms transfer regulations imposed on import and export of smart weapons pose a major restraint for the smart weapons market. On the contrary, a surge in the defense budget and increase in spending on up-gradation of weapons technology are factors that create new growth opportunities for prominent players. For instance, in September 2021, the U.S. Navy signed a contract with Northrop Grumman Corporation to proceed with low-rate initial production (LRIP) for the AGM-88G Advanced Anti-Radiation Guided Missile Extended Range (AARGM-ER).
The smart weapons market is segmented on the basis of product, technology, platform, and region. On the basis of product, the global smart weapons market is categorized into missiles, munitions, guided projectiles, guided rockets, guided firearms, and directed energy weapons. On the basis of technology, the market is classified into laser, infrared, radar, GPS, and others. On the basis of platform, the market is divided into air, land, and naval. On the basis of region, the market is analyzed across four regions, namely North America, Europe, Asia-Pacific, and LAMEA.
Key players profiled in this report include BAE Systems Plc., General Dynamics Corporation, L3Harris Technologies Inc., Leonardo S.p.A., Lockheed Martin Corporation, MBDA, Northrop Grumman Corporation, Raytheon Technologies Corporation, Thales Group, and The Boeing Company.
Growing demand for advanced precision strike weapons
Modern warfare techniques changed quickly over the past 10 years. Developed and developing countries focus on developing advanced missile systems with long-range and high impact. For instance, in December 2021, Defence Research and Development Organisation (DRDO) successfully test-fired the new generation nuclear-capable ballistic missile 'Agni Prime' from APJ Abdul Kalam Island, off the coast of Odisha in Balasore. Alsi, in October 2021, the U.S. successfully tested hypersonic missile technology, a new weapons system, which is already being deployed by China and Russia. Such developments in missiles fuel the demand for precision strike weapons.
Moreover, current conflicts globally have spotlighted the critical need for precision attacks and operational strikes. There is a crucial need to avoid any collateral damage with security and contribute to the efficient attack power potential that provides an immediate favorable effect on the warzone. These needs are met by smart weapons, which are quickly being taken into the defense forces inventories. Given the need for such weapons, the demand is expected to increase during and after the forecast period.
Increase in number of security threats from terrorist organizations
In the current years, terrorist incidents have increased drastically, since the power of terrorists has improved. For instance, in January 2021, a deadly twin suicide attack hit central Baghdad. In addition, according to the U.S. Department of Homeland Security and the National Consortium for the Study of Terrorism and Responses to Terrorism, a total of 8,302 terrorist attacks occurred globally, resulting in 25,082 deaths and 19,924 injuries in 2019. The increase in attacks leads to rise in smart weapons acquisitions and procurement by major economies, thus, increasing the demand for smart weapons, which further boosts its market growth.
Smart Weapons Market

---
By Product
Directed Energy Weapons is projected as the most lucrative segment
Moreover, security attacks are the key reasons that lead to increase in demand for smart weapons by the defense forces. In addition, innovation and evolution in the technological development of smart weapons provide the power to face the terrorists in a much more effective and efficient way.
Regulations on arm transport
With the existing regulations, the arms regulations imposed on import and export trade are not regulated effectively, as illegal arms accumulation still remains an issue. Arms control treaties, problems associated with regulating arms trade, stressing the complexity of the interests involved in the emergence of small arms as most promising weapons, and black and grey markets in terms of inefficient trade regulations are the main restraints that are expected to hamper the smart weapons market growth.
Smart Weapons Market

---
By Technology
Laser is projected as the most lucrative segment
The major factor that hinders the smart weapons market includes, the Arms Trade Treaty that was put forward on 24 December 2014 by the U.N. office for Disarmament Affairs. This treaty aims to improve national small arms laws, import/export controls, and stockpile management – and to engage in cooperation and assistance. More than 100 nations have already signed the treaty. The major countries, such as, Argentina, Australia, France, Germany, Greece, Japan, New Zealand, Spain, and UK with other Middle East countries have accepted the Arms Trade Treaty, making the world smart weapons market more complex and tough to target.
The treaty seeks to forbid the use of definite weapons, which are considered extremely injurious or whose effects are deadly. A limited number of banned weapons and ammunition can be acquired and kept for training in, and expansion of, detection, authorization, and damaging techniques and counter-actions. Thus, the treaty is expected to control, forbid, and reduce the trade of smart weapons in the global market, which restraints the market growth.
Smart Weapons Market

---
By Platform
Naval is projected as the most lucrative segment
Increasing defense expenditure by governments of major economies
Governments of countries such as Russia, the U.S., China, India, and others are increasing investment in arm forces to establish dominance on the battlefield. According to Stockholm International Peace Research Institute (SIPRI), total global military expenditure rose to $1981 billion in 2020, an increase of 2.6 percent from 2019. In addition, the rise in terrorist activities and civil activities in several regions and rise in international conflicts force countries to enhance their military strengths through advancement in weapons, which increase the demand for smart weapons.
Moreover, Governments of developed and developing countries such as India, China, Russia, the U.S., and others are significantly spending on military modernization programs to improve their firepower and upgrade their weapons & surveillance capabilities. For instance, in December 2021, the U.S. Air Force collaborated with BAE Systems Plc. to cross-deck BAE Systems' advanced Compass Call electronic warfare system onto the U.S. Air Force's next-generation electronic warfare aircraft. In March 2021, the Italian Navy ordered the new Teseo Evolved Weapon System, Teseo Mk2/E from MBDA. These activities are expected to create opportunities for the smart weapons market during the forecast period. Furthermore, increase in training programs of armed forces by major economies impact the rise in use of advanced weapons systems, which supplement the growth of the smart weapons market.
Smart Weapons Market

---
By Region
Asia-Pacific would exhibit the highest CAGR of 7% during 2021-2030.
COVID-19 Impact Analysis
The COVID-19 impact on the smart weapons market is unpredictable, and is expected to remain in force for a few years.
The COVID-19 outbreak forced governments across the globe to implement stringent lockdown and ban import–export of raw materials items for most of 2020 and few months in 2021. This led to sudden fall in the availability of important raw materials for manufacturing smart weapons.
Moreover, nationwide lockdown forced smart weapons manufacturing facilities to partially or completely shut their operations.
Adverse impacts of the COVID-19 pandemic have resulted in delays in activities and initiatives regarding development of advanced smart weapons globally.
Key Benefits For Stakeholders
This study presents analytical depiction of the global smart weapons market analysis along with the current trends and future estimations to depict imminent investment pockets.
The global smart weapons market opportunity is determined by understanding profitable trends to gain a stronger foothold.
The report presents information related to key drivers, restraints, and opportunities of the global smart weapons market with a detailed impact analysis.
The current smart weapons market is quantitatively analyzed from 2020 to 2030 to benchmark the financial competency.
Porter's five forces analysis illustrates the potency of the buyers and suppliers in the industry.
 Smart Weapons Market Report Highlights
Aspects
Details
By Product

Missiles
Munitions
Guided Projectiles
Guided Rockets
Guided Firearms
Directed Energy Weapons

By Technology

Laser
Infrared
Radar
GPS
Others

By Platform
By Region

North America (U.S., Canada, Mexico)
Europe (UK, Germany, France, Russia, Rest of Europe)
Asia-Pacific (China, India, Japan, South Korea, Rest of Asia-Pacific)
LAMEA (Latin America, Middle East, Africa)

By KEY PLAYERS

BAE Systems Plc.
General Dynamics Corporation
L3Harris Technologies Inc.
Leonardo S.p.A.
Lockheed Martin Corporation
MBDA
Northrop Grumman Corporation
Raytheon Technologies Corporation
Thales Group
The Boeing Company