Smart Worker Market Statistics: 2027
Smart work is defined as the use of advance technology to improve productivity, performance and efficiency of a service. With smart work and use of IoT based platforms in the oil & gas, automotive, manufacturing and other industries, to monitor and analyze a process in an effective way is one of the benefits of smart worker solutions. In addition, smart worker solutions also helps improve worker safety in manufacturing plants, refineries, mining operations, power generation facilities, and all kinds of industrial sites through the use of intelligent sensors, safety vests, and specialized wearables.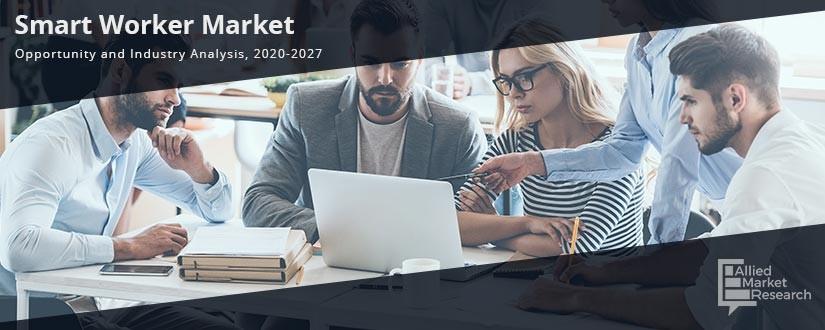 COVID-19 scenario Analysis:
The emergence of COVID-19 pandemic has severely affected almost all industries across the world. Further, lockdown enforcements and restrictions on movements of non-essential goods as well as resources in various countries has disrupted the supply chain of electronic components & networking equipment. Thus, this has led to delay in supply of electronic components required in manufacturing of equipment. 
It is expected that the U.S. and global tech market growth is slowing down to nearly 2% in 2020, due to which ICT spending in major economies such as the U.S. have declined in the first half of 2020, but it is expected to recover in the second half. 
In addition, there is a notable ramp-up in technologies such as work-from-home infrastructure, collaboration tools, virtualization infrastructure, VPN networking, mobile devices, security, desktop support and zoom during the COVID-19. Interest for video conferencing solution is surging during the crisis. This generates large amount of data and will require high end technologies to analyze.
Furthermore, there are strong indications that the current decrease in demand for technology and digital solutions will be just a short-term phenomenon. In the medium-to-long run the COVID-19 technology impact may be extremely positive. Everyone is forced to embrace new technologies and discover their benefits. Additional investments in digital infrastructure can be expected.
There is an increase in data center capacity usage, and even after the situation returns to 'normal', the work style will continue to be data center-driven and demand growth will continue.
Top impacting factors: Market Scenario Analysis, Trends, Drivers, and Impact Analysis 
Increase in adoption of IoT based connected device, government stringent policies for safe guarding operators, increased worker safety, resource optimization, reduction in operating cost, greater decision support functionality, revolutionize the industrial workplace, generating new intelligence insights, and greater decision support functionality propel growth of the smart worker market. However, high investments in deployment of smart worker and lack of awareness of technological among the organization might hinder growth of the market. Moreover, further technology advancements are expected to offer multiple opportunities for this market. 
Adoption of IoT with smart worker:  
Smart worker offers multiple benefits such as adoption of mobile apps, energy management solutions, advanced analytics, and smart solutions to derive insights from asset- and operations-related data, increase efficiency, and establish an environment, health and safety (EHS) management system and hence thus increase the efficiency and productivity of the service with the addition of reduced operational cost, thus making a major driving factor for this smart worker market. 
High investments in the implementation of smart worker: 
One of the major challenges faced by multiple organizations is the high investment required in the implementation and configuration of smart worker solutions. As the current infrastructure required to change with the addition of extra IoT devices required to configuration the smart work and thus increases the investment cost. Hence major small and medium enterprises are still hesitating to adopt the smart worker in their organization and thus hindering the smart worker market growth. 
Technological advancements with smart worker: 
Wearable tech, AR, and Internet of Things are some of the technological advancements which will further enhance the smart worker market. Small and medium enterprises are able to see the advantages offered by this market and hence would certainly try to take full advantage of this future trend. In addition, new industries will develop mobile workforces, while longstanding industries such as healthcare will continue to expand into new field services. All will be driven by new advances in technology that solve unique business problems. 
Key benefits of the report:
This study presents the analytical depiction of the global smart worker market   archiving industry along with the current trends and future estimations to determine the imminent investment pockets.
The report presents information related to key drivers, restraints, and opportunities along with detailed analysis of global smart worker market share.
The current market is quantitatively analyzed from 2019 to 2027 to highlight the global smart worker market growth scenario.
Porter's five forces analysis illustrates the potency of buyers & suppliers in the smart worker market. 
The report provides detailed smart worker market analysis based on competitive intensity and how the competition will take shape in coming years. 
 Smart Worker Market Report Highlights
Aspects
Details
By Component

Software
Hardware
Service

By Technology Type

Wireless Field Area Network
Bluetooth/Bluetooth low energy
Low power wide area network

By Organizational Size

Small & Medium Enterprise
Large Enterprise

By Industry Vertical

IT & Telecom
Oil and Gas
Mining
Construction
Energy & Utilities
Manufacturing

By Region

North America (U.S., Canada)
Europe (Germany, UK, France, Rest of Europe)
Asia-Pacific (China, Japan, India, Rest of Asia-Pacific)
LAMEA (Latin America, Middle East, Africa)

Key Market Players
Accenture PLC., Fujistu Ltd., Honeywell International Ltd., Intel corp., Oracle Corp., Zebra Technologies Corp., 3M company Inc., Parsable Inc., Softweb solutions Inc., Wearable technologies Ltd.