Smartwatch Market Outlook - 2027
The global smartwatch market was valued at $20.64 billion in 2019, and is projected to reach $96.31 billion by 2027, registering a CAGR of 19.6% from 2020 to 2027.The study of smartwatch in this report emphasizes on various products, operating systems, and corresponding applications. Different operating systems such as watchOS, Android, Linux, and others are available in the market.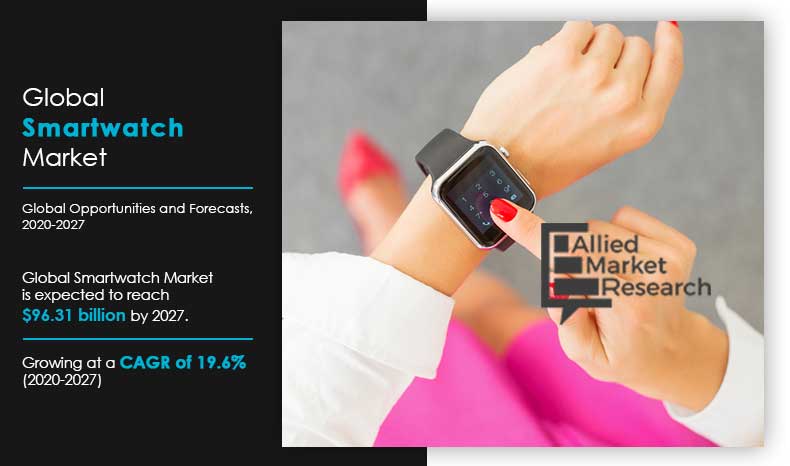 According to smartwatch market trends, many leading vendors such as Apple, Xiaomi, Fitbit, and others are operating in this segment. Various features include notifications, alerts, apps, answer messages by voice, media management, fitness tracking, and a very good battery life. The market size revenue considered in the report is revenue earned by companies by selling smartwatch. From application perspective, the report analyzes the market according to personal assistance, wellness, healthcare, sports, and others.
Smartwatches are designed to, either on their own or when paired with a smart phone, provide features like connecting to the internet, running mobile apps, making calls, messaging via text or video, checking caller ID, accessing stock & weather updates, providing fitness monitoring capabilities, offering GPS coordinates & location directions, and more.
According to smartwatch market analysis, Apple shipped 31 million units of its smartwatches in 2019, which is expected to be 50% more than the entire Swiss wrist watch industry. The shipment of Apple smartwatch has been increased by 36% since 2018. In addition, the company is planning to use ceramic and titanium for its next generation smartwatch and watchOS 6 operating system in future, to provide lightweight and toughness to its upcoming product, and affecting the smartwatch market share globally.
Led by innovations, smartwatch companies are spending heavily on the R&D front. Top players such as Samsung, Pebble, Maritime, and Sony are counting on their R&D investments as a prioritized strategy to increase their respective market shares. Further, a strong distribution support is another key aspect of this market. The leading companies are collaborating with their suppliers and resellers to penetrate in the market through the right selection of the channel, region, and target audience.
Factors such as increase in demand for wireless fitness and sports devices, surge in health awareness among users, and rise in technological advancements in smartwatch by market players are expected to drive the smartwatchmarket size to a certain extent. However, high initial cost of the technology, and problems related to power consumption and low battery life limit the market growth. Furthermore, growing emphasis for connected devices among various industries, and increasing demand for connected ecosystem are expected to offer lucrative smartwatchmarket growth globally.
Smartwatch Market

---
By Product
Standalone segment projected to be the most lucrative segment
Segmentation
The global smartwatch market is segmented on the basis of product, application, operating system, and region. By product, the market is categorized into extension, standalone, and classical. By application, it is divided into personal assistance, wellness, healthcare, sports, and others. 
Smartwatch Market

---
By Application
Personal Assistance segment dominate the market throughout the forecast period
On the basis of operating system, the market is categorized into watchOS, android, RTOS, Tizen, and others. By region, the market is analyzed across North America, Europe, Asia-Pacific, and LAMEA along with its prominent countries.
Smartwatch Market

---
By Operating System
RTOS segment would exhibit the highest CAGR of 25.7% during 2020 - 2027
Top Impacting Factors
Significant factors operating in the global smartwatch market are growth in demand for wireless fitness and sports devices, increase in health awareness among consumers, and emergence of large number of players in the smartwatch market, which are expected to drive the market globally. However, high cost of smartwatch acts as a major restraint, which is expected to hamper the market growth to a certain extent. Furthermore, rise in investment on building connected ecosystem is expected to offer lucrative opportunities to the market growth globally.
Smartwatch Market

---
By Geography
Asia-Pacific region would dominate the market with a highest CAGR of 23.0%% during the forecast period
Growth in Demand for Wireless Fitness and Sports Devices
There is an increase in the demand for wireless electronics with rapid surge in the internet connectivity and digitalization. Monitoring and measuring physical activities, sensing environment, real-time data collection, and communication are some of the major applications, which are essential features in smart wireless fitness devices, and are expected to cater the major requirements of the customers. The advancement and rapid development of healthcare has witnessed the integration of AI. Smartwatch assisted with AI ensures smart diagnostics and doctors for monitoring patients' health. 
Further, the increased investment in methods to develop smart technologies for further support in healthcare and fitnessdrives the market growth. The day to day fitness activities such as steps taken, calorie burnt, distance travelled, and others can be easily monitored and tracked using smartwatch. The smartwatch can be easily connected through smartphone through wireless connectivity or Bluetooth feature. This also helps the sports person or any customer to schedule their day to day tasks. Therefore, rise in demand for wireless fitness and sports devices acts as a major driver assisting the smartwatch market growth globally.
High Initial Cost of Smartwatch
Smartwatch consists of complex circuit configurations due to integration of various devices including sensors, displays, and others into a small compact device. The device possesses several semiconductor equipment of very small size with core diameter of 10 micro meter. The control ICs are of few hundred nanometers, so designers face problems in coupling different components into a single device. The accuracy needed for the design and development along with the raw material, requires high set of expertise as well as high initial cost. 
In addition, smartwatches are considered to be luxury wearable devices. Global luxury brands such as TAG Heuer, Emporio Armani Connected, Fossil and Louis Vuitton are developing luxurious products which ranges from $2,900 to $180,000. Therefore, high price of these smart devices majorly hampers the market growth to a certain extent globally.
Rise in Investment on Building Connected Ecosystem
The rise in data dependency among the users, growth in demand for connected & smart system, and huge investment on building smart cities by the government are the major key areas that drive the demand for smart wearables. These smart wearables are used to make call, message alert, listening to music, playing games, and others. The mobile phone can be easily accessed through the smartphone. 
In future, its connectivity through various other devices lead to development of ecosystem. According to the United Nations, 68% of the world population is anticipated to shift in urban areas by 2050. In addition, the total expenditure on Internet of Things in Asia-Pacific is expected to increase at a high rate. This is expected to provide lucrative smartwatch market opportunity globally.
Competitive Analysis
The key players operating in the global smartwatch industry are Apple Inc., Fitbit Inc., Garmin, Huawei Technologies, Fossil Group, Motorola, Sony Corporation, Samsung Electronics, LG Electronics, TomTom International and Amazon. These key players have adopted strategies such as product portfolio expansion, mergers & acquisitions, agreements, geographical expansion, and collaborations to enhance their market penetration.
Key Benefits For Stakeholders:
This study includes the analytical depiction of the smartwatch market forecast along with the current trends and future estimations to determine the imminent investment pockets.

The report presents information regarding the key drivers, restraints, and opportunities in the market.

The smartwatch market growth is quantitatively analyzed from 2019 to 2027 to highlight the financial competency of the industry.

Porter's five forces analysis illustrates the potency of the buyers and suppliers in the industry.
 Smartwatch Market Report Highlights
Aspects
Details
By Application

Personal Assistance
Wellness
Healthcare
Sports
Others

By Operating System

WatchOS
Android
REAL-TIME OPERATING SYSTEM
Tizen
Others

By Product

Extension
Standalone
Classical

By Region

North America (U.S., Canada, Mexico)
Europe (UK, Germany, France, Italy, Rest of Europe)
Asia-Pacific (China, Japan, India, Australia, Rest of Asia-Pacific)
LAMEA (Latin America, Middle East, Africa)

Key Market Players
SAMSUNG ELECTRONICS CO. LTD., APPLE INC., SONY CORPORATION, MOTOROLA MOBILITY LLC (LENOVO), FITBIT, INC., HUAWEI TECHNOLOGIES CO., LTD., TOMTOM INTERNATIONAL B.V., AMAZON.COM, INC., FOSSIL GROUP, GARMIN LTD.