Soft Magnetic Materials Market Outlook - 2026
The global soft magnetic materials market was valued at $47.3 billion in 2018, and is projected to reach $87.2 billion by 2026, growing at a CAGR of 8.8% from 2019 to 2026.
Materials with a steep rising magnetization curve, relatively small and narrow hysteresis loop and consequently small energy losses for each cycle of magnetization are called soft magnetic materials. Soft magnetic material is popularly used in the motor application as it enhances the field produced by motor winding.  Moreover, mostly iron-based materials are used in motor application that include iron-silicon and iron-cobalt alloys. At present powder metallurgical process is used mainly to make motor components. Soft magnetic materials reduce eddy current loss that lead to increase in the efficiency of the motors.
for the global soft magnetic materials market is heading toward an expansion phase in its industry life cycle and is on the verge of exploring various growth opportunities. This is mainly due to superior properties of soft magnetic material over other materials. Furthermore, increase in demand for soft magnetic materials from the automotive industry is one of the major drivers of the market. This increasing demand is driven by the growing use of high functional automotive components such as gearbox, alternator, induction coil, and antenna core.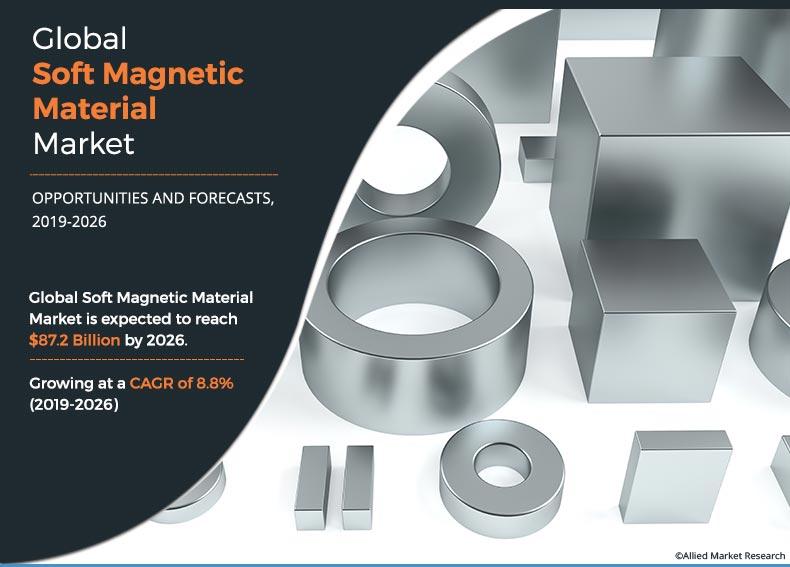 Soft magnetic material used in electric motors is mainly adopted in electric vehicles owing to benefits such as low noise, compact design, and energy savings. In addition, soft magnetic materials are widely used in stators of brushless DC motors, stepper motors, brushed DC motors, switch reluctance motors, claw pole motors, transformers, and alternators. Owing to the properties such as low coercivity, high electrical resistivity to iron, high permeability soft magnetic materials acts as an electrical insulator and has less eddy current losses. Due to this factor, the demand for soft magnetic material is anticipated to increase considerably, which is expected to drive the growth of soft magnetic materials market.
The global soft magnetic materials market growth is anticipated to be hampered by unexpected fluctuations in raw material prices that result in destabilizing of supply chain and pose a challenge for manufacturers. However, increasing demand for soft magnetic materials from the developing nations such as China, India, and Malaysia, is expected to create lucrative opportunities for the growth of this market. Development of nano-structured soft magnetic material is further expected to come up with novel applications thereby developing new growth opportunities in this market.
The global soft magnetic materials market is segmented based on material, end use, and region. Depending on material, the global soft magnetic materials market size is classified into cobalt, iron, nickel, electric steel, and others. On the basis of end use, it is categorized into automotive, electrical & electronics, telecommunication, energy & power and others. Based on region, it is analyzed across North America, Europe, Asia-Pacific, and LAMEA.
The major key players operating in the global soft magnetic materials industry include AMES, Daido  Steel, Grundfos A/S, Hitachi, Ltd, Mate Co., Ltd., Melrose Industries PLC , SG Technologies, Sumitomo Metal Mining Co., Ltd., Toshiba Materials Co., L.
Other players operating in this market include Rio Tinto PLC, Hoganas AB, Voestalpine Stahl GmbH and Hengdian Group DMEGC Magnetics Co., Ltd. These major key players are adopting different strategies such as collaboration, partnership, product launch, joint venture, agreement and acquisition, to stay competitive in the global market.
Soft Magnetic Materials Market

---
By Region
North America holds a dominant position in 2018 and would continue to maintain the lead over the forecast period.
Asia-Pacific accounted for a major share in the global soft magnetic materials market in 2018, owing to presence of iron ore mines. Developing countries such as China and India, are the major contributors in the Asia-Pacific in terms of production and consumption. Availability of cheap labor force coupled with an aim to target untapped market areas propels soft magnetic materials manufacturers from North American and European countries to invest in the Asia-Pacific region. Robust industrialization across countries in the Asia-Pacific coupled with geographical advantages such as the presence of iron mines in India & China, are the factors that drive the soft magnetic materials market in this region.
Soft Magnetic Materials Market

---
By Type
Electric Steel is projected as the most lucrative segment.
Based on materials, the electric steel segment garnered a major share in 2018. Electric steel provides electrical insulation, high permeability, low coercivity, high electrical resistivity to iron, and minimizes magnetic losses. It is used in applications such as, electrical power transformers, motors, generators, and inductors. It also offers a small hysteresis area that eventually leads to less eddy current loss, thereby increasing the efficiency of the application. Due to favorable properties, adoption of electric steel in various application is high, which is driving its usage at robust rate by contributing in the overall market growth.  
Soft Magnetic Materials Market

---
By End Use
Electrical and Electronics is projected as the most lucrative segment.
Based on end use, the electrical and electronics segment accounted for a major soft magnetic materials market share in 2018. This was due to high demand of soft magnetic material in power transmission components, which is largely used in the electricity generation. However, automotive industry anticipated to offer promising growth considering the industry shift from fossil fuel to electric eco-system.
Key Benefits for Soft Magnetic Materials Market:
The soft magnetic materials market analysis covers in-depth information of the major industry participants.
Porter's five forces analysis helps analyze the potential of buyers & suppliers and the competitive scenario of the industry for strategy building.
Major countries have been mapped according to their individual revenue contribution to the regional market.
The report provides an in depth analysis of the soft magnetic materials market forecast for the period 2019-2026.
The report outlines the current soft magnetic materials market trends and future scenario of the market from 2018 to 2026 to understand the prevailing opportunities and potential investment pockets
 Soft Magnetic Materials Market Report Highlights
Aspects
Details
By Material

Cobalt
Iron
Nickel
Electric Steel
Others

By Industry Vertical

Automotive
Electrical & Electronics
Telecommunication
Energy & Power
Others

By Region

North America (U.S., Canada, Mexico)
Europe (Germany, France, Italy, Spain, UK, Rest of Europe)
Asia-Pacific (China, Japan, India, Australia, South Korea, Rest of Asia-Pacific)
LAMEA (Brazil, Saudi Arabia, South Africa, Rest of LAMEA)

Key Market Players
STEWARD ADVANCED MATERIALS LLC., VACUUMSCHMELZE GMBH AND CO. KG, MATE CO., LTD, SG TECHNOLOGIES, AMES, MELROSE INDUSTRIES PLC, SUMITOMO METAL MINING CO., LTD., HITACHI, LTD., DAIDO STEEL, GRUNDFOS A/S, TOSHIBA MATERIALS CO., LTD.