Soil Conditioner Market Research, 2031
The global soil conditioner market forecast was valued at $2.3 billion in 2021, and is projected to reach $3.7 billion by 2031, growing at a CAGR of 4.7% from 2022 to 2031.
The soil conditioners market has minimal impact due to the wake of the COVID-19 pandemic, owing to the disruptions in the supply chain for various agrochemical products. According to a report published by the Organization for Economic Co-operation and Development (OECD), the decreased consumer demand has put downward pressure on the prices and production of soil conditioners.
Soil conditioner is a type of soil amendment that is used to control water erosion and improve soil properties such as fertility and other physical qualities. 
The global soil conditioner market growth is driven by rise in use of organic soil conditioner in agriculture & gardening applications. Organic soil conditioner is a carbon-based material that comprises various amounts of plant nutrients and it supplies required nutrients to the soil. For instance, some organic soil conditioners include animal manure, worm compost, crop residue, food waste, sewage sludge, and peat moss. The organic soil conditioner possesses various sustainable functionalities such as ecology of the soil, soil fertility, soil porosity, and soil nutrient uptake. The organic soil conditioners such as animal manure, green manure, and farmyard manure have been used widely in the agricultural sector. For instance, according to an article published by the American Association for the Advancement of Science (AAAS) in May 2019, the manure production rate reached 15 million to 20 million metric tons per year. Furthermore, rise in deforestation, soil erosion, and land clearance has encouraged farmers to rely more on organic soil conditioners to improve yields. Thus, all these factors are anticipated to drive the growth of the global soil conditioner market.
However, habitual use of soil conditioners may damage the water quality when an excess of nutrients run off from waterways. In addition to this, before opting for any soil conditioners, farmers have to go through a lengthy process such as they need to test the type of soil, which type of soil conditioners are most suitable to the soil, and quality of soil. Thus, the time-consuming process, high cost of inorganic soil conditioners, lack of awareness, and low adaption rate have enforced farmers to opt for other alternative remedies.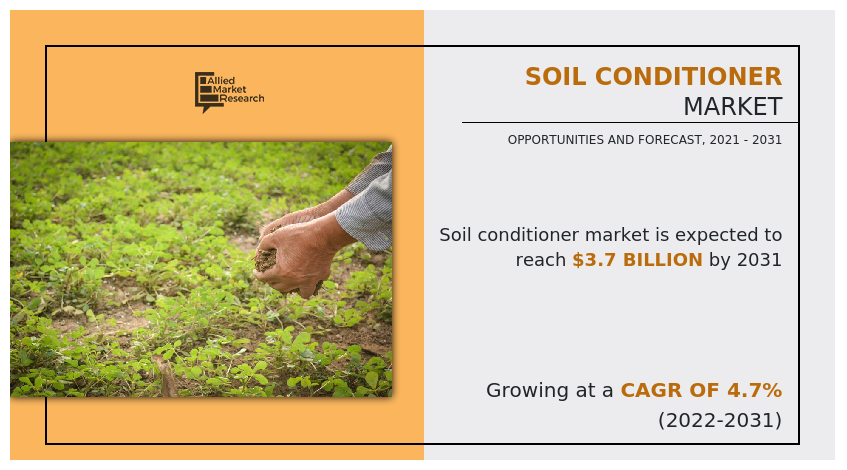 Conversely, inorganic soil conditioners are mineral-based soil conditioners majorly associated with soil fertility. It can be used to rebuilt the soil quality and it has macro & micro nutrients in which plants can easily uptake nutrients for a longer period.  Soil degradation is the major challenge faced by farmers across the globe, owing to rise in industrialization, urbanization, deforestation, and other human-induced activities. To improve the soil productivity, soil conditioners are used. . For instance, according to an article published by the International Plant Nutrition Institute, the farmers apply ag-lime to neutralize soil acidity, to reduce the risks of aluminum (Al) toxicity, and for other beneficial reasons. These factors together may act as one of the key drivers that in turn is anticipated to offer new growth opportunities in the forecast period. 
The global soil conditioner market is segmented into product type, soil type, application, and region. On the basis of product type, the market is categorized into organic and inorganic. By soil type, it is segregated into sand, clay, loam, and silt. Depending on application, it is classified into construction & mining, agriculture & gardening, and others. Region wise, the market is studied across North America, Europe, Asia-Pacific, and LAMEA.
The global soil conditioner market profiles leading players that include BASF SE, UPL Limited, Gujarat State Fertilizers & Chemicals Limited (GSFC), Jaipur Bio Fertilizers, Novozymes A/S, Evonik Industries AG, Greenfield Eco Solutions Pvt. Ltd., PolyOne Corporation, Sanitized AG, and BioCote Limited.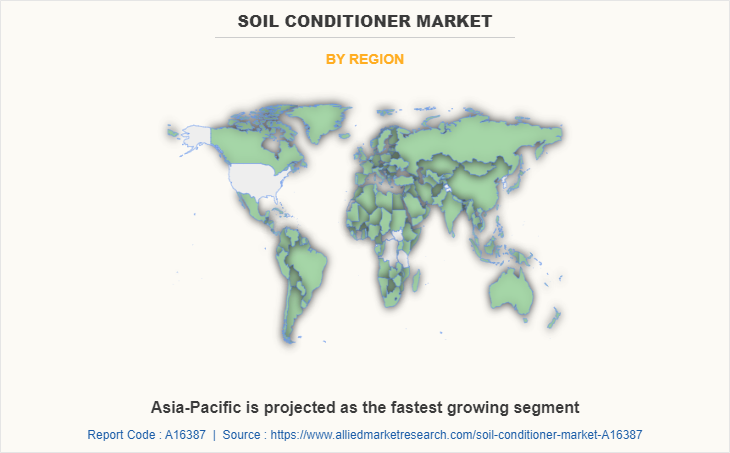 The Asia-Pacific soil conditioner market size is projected to grow at the highest CAGR of 5.7% during the forecast period and accounted for 34% of soil conditioner market share in 2021. Increase in residential and commercial projects has enhanced the performance of soil conditioner market in Asia-Pacific. This is attributed to the fact that China's construction sector is growing rapidly, which has forced manufacturers of soil conditioners to produce high-quality soil amendments. According to a report published by the International Trade Administration, the China's construction industry is estimated to grow at an annual average rate of 5.2% between 2021 and 2029, owing to the highest urbanization rate in China. Moreover, the countries such as India and Japan are witnessing rapid development of parks and community gardens where soil conditioners are widely used to stimulate plant growth and provide essential nutrients to soil.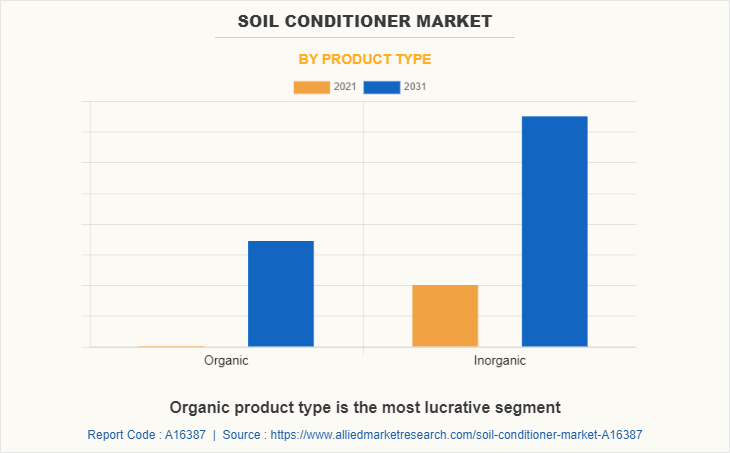 In 2021, the inorganic product type was the largest revenue generator, and is anticipated to grow at a CAGR of 4.4% during the forecast period. Inorganic soil conditioners have been used widely in various sectors such as agriculture, mining, roofing, and construction. For instance, pulverized limestone has been used widely in the agriculture sector, owing to its functionalities such as it helps to neutralize the soil acidity, helps to increase plant nutrition, and enhance the soil productivity. These factors together act as key drivers of the inorganic soil conditioners segment. Furthermore, plants are becoming sulfur-deficient due to inadequate supply of sulfur from the soil. Gypsum is an excellent source of sulfur for plant nutrition and better crop yield. It offers benefits to the crops by improving acidity & treating aluminum toxicity,  enhancing soil structure, increasing soil infiltration, and helping to reduce soil erosion.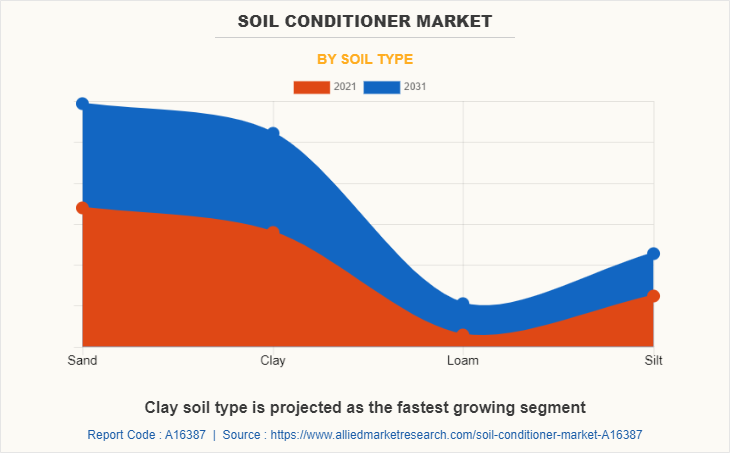 By soil type, the sand soil type dominated the global market in 2021, and is anticipated to grow at a CAGR of 4.7% during the forecast period. Sand soil is dry, light-warm, tends to be acidic, and is low in nutrients. In addition to this, it has low water holding capacity and retains few nutrients. To make the soil more fertile and to enhance the soil productivity, organic and inorganic soil conditioners and fertilizers are used. Application of animal manure on the surface of sand does not hold longer; thus, manure need to be dug deeper into the soil, which will improve biological properties, water storage, and nutrient status, and helps in improving the yield. Hence, the demand for organic soil conditioners has increased in the management of sand soils in the U.S.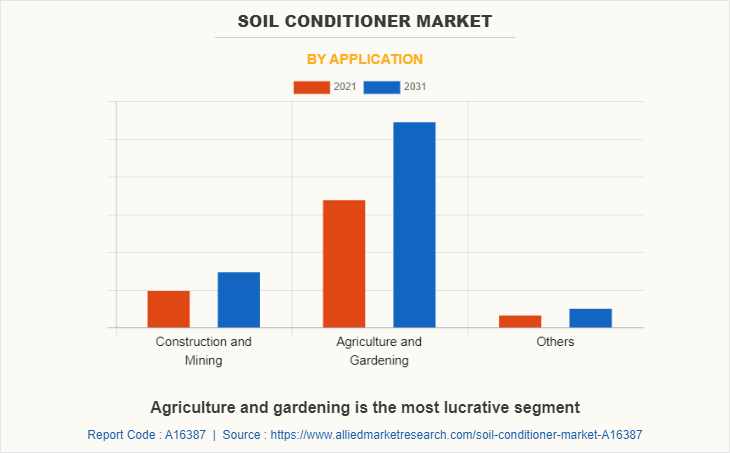 In 2021, the agriculture & gardening was the largest revenue generator, and is anticipated to grow at a CAGR of 4.9% during the forecast period. Sustainable and synthetic soil conditioners are used widely in the agriculture sector to enhance soil productivity, & retention capacity as well as improve the yield. Soil conditioners are used to rebuilt the soil, which is damaged due to poor management of soil. For instance, according to an article published by DownToEarth in August 2021, 30% of its geographical area is already affected, due to land degradation, soil erosion, land sliding, and others human-induced activities. The demand for organic and inorganic soil conditioners is expected to increase to make the damaged soil more efficient for agricultural use. This may surge the demand for soil conditioners in the market.
Key Benefits For Stakeholders
This report provides a quantitative analysis of the market segments, current trends, estimations, and dynamics of the soil conditioner market analysis from 2021 to 2031 to identify the prevailing soil conditioner market opportunities.
The market research is offered along with information related to key drivers, restraints, and opportunities.
Porter's five forces analysis highlights the potency of buyers and suppliers to enable stakeholders make profit-oriented business decisions and strengthen their supplier-buyer network.
In-depth analysis of the soil conditioner market segmentation assists to determine the prevailing market opportunities.
Major countries in each region are mapped according to their revenue contribution to the global market.
Market player positioning facilitates benchmarking and provides a clear understanding of the present position of the market players.
The report includes the analysis of the regional as well as global soil conditioner market trends, key players, market segments, application areas, and market growth strategies.
 Soil Conditioner Market Report Highlights
Aspects
Details
By Product Type
By Soil Type
By Application

Construction and Mining
Agriculture and Gardening
Others

By Region

North America (U.S., Mexico, Canada)
Europe (Germany, U.K., France, Spain, Italy, Rest of Europe)
Asia-Pacific (China, India, Japan, South Korea, Australia, Rest of Asia-Pacific)
LAMEA (Brazil, Saudi Arabia, South Africa, Rest of LAMEA)

Key Market Players
SANOWAY GmbH, Greenfield Eco Solutions Pvt. Ltd., BASF SE, Novozymes A/S, Evonik Industries AG, Oro Agri Europe S.A., UPL Limited, Jaipur Bio Fertilizers, Gujarat State Fertilizers And Chemicals Limited, Saint-Gobain