Solar EV Charging Station Market - 2031:
The global solar charging station market size was valued at $0.55 billion in 2021, and is projected to reach $2.88 billion by 2031, growing at a CAGR of 18.5% from 2022 to 2031.
Electric vehicles have increasingly become mandatory across the globe due to their positive impact on the environment. The government encourages drivers to use electric vehicles, which have less environmental impact than internal combustion engines. Typical charging stations are used to charge electric vehicles; however, it uses 40% to 60% of the country's national grid power to charge vehicles made with non-renewable energy. Electric vehicles are more environment friendly, although they still use the grid power to charge the vehicle battery, which uses fossil fuels and other non-renewable energy sources. EVs still reduce their environmental impact, however, using EV charging stations running on non-renewable energy sources has continuous negative impact on the environment. Therefore, electrification alone is not enough to decarbonize transport. A solar charging station for electric vehicles is the solution to zero this emission. Not only it is good for the environment, however, it is also a big advantage for the vehicle fleet. A solar car charging station guarantees a 100% carbon-neutral footprint.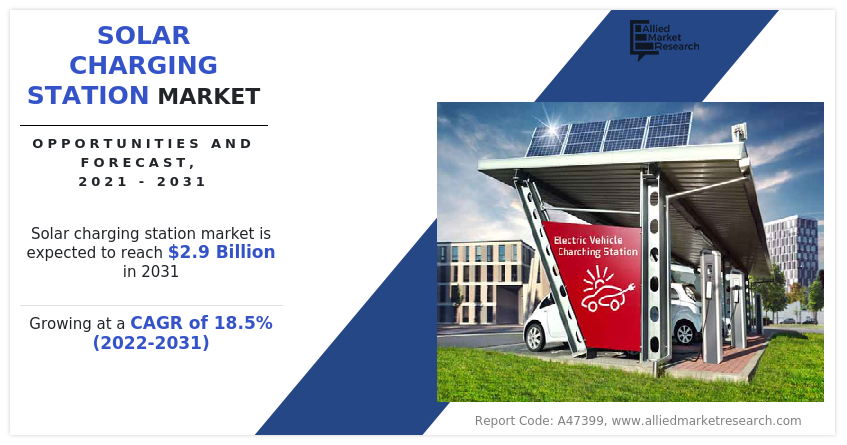 Solar charging stations consist of solar panels made up of photovoltaic (PV) cell blocks that are responsible for generating electricity from sunlight. The solar panel can charge multiple vehicles at the same time. Electric vehicles can be charged during power outages. Electric vehicles can be parked under the unit, so no parking space is lost. Installation of solar charging stations requires no permits, electrical work, civil engineering, or utility bills. The analysis conducted by National Renewable Energy Laboratory (NREL) and others confirmed that market projections for EV adoption are unlikely to materialize without routine access to charging infrastructure in both domestic & commercial locations. The lack of charging infrastructure is the major reason that impacts EV sales. One of the main barriers cited by potential EV buyers is the lack of readily available charging station options. One of the major factors driving the growth of the market is the surge in installation of solar energy for electricity worldwide.
Solar Charging Station Market

---

By Type
Large Charging Station is is projected as the most lucrative segment
The global solar charging station market is expected to experience significant growth due to increase in costs associated with the production of electricity, rise in demand for EVs worldwide, and surge in costs of fossil fuels worldwide. However, excessive costs associated with the equipment requirements of solar stations and the high space needed for solar energy-based stations hamper the growth of the market. On the contrary, the rising need for EV charging stations to meet the demands for the ever-increasing EVs, government incentives & subsidies to promote the usage of solar energy, and declining costs & increasing affordability of solar equipment are the major factors that are expected to provide lucrative opportunities for market growth during the forecast period.
The solar charging station market is segmented into type, application, station type, component, and region. By type, the market is classified into medium & small charging stations and large charging stations. By application, it is bifurcated into household and commercial. Depending on station type, it is segregated into on-grid solar charging station and off-grid solar charging stations. By component, the market is categorized into EV chargers, solar panel arrays, battery energy storage systems, and others. Region-wise, the market is analyzed across North America, Europe, Asia-Pacific, and LAMEA.
Solar Charging Station Market

---
By Application
Commercial is projected as the most lucrative segment
The key players profiled in the solar charging station market include Giulio Barbieri SRL, Inhabit Solar, MDT Sun Protection System AG, PROINSO, Solarsense UK Limited, Solarstone, Sundial Solar Solutions, SunPower Corporation, Sunworx solar, and VCT Group.
Increase in costs associated with the production of electricity
The overall costs associated with electricity production have been rising for the past couple of years. Electricity production is linked to variables such as procurement, transport, and storage of fossil fuels, as more than half of the worldwide production of electricity is through the medium of fossil fuels. All these factors are witnessing a rise in cost, which is directly impacting on the costs associated with the production of electricity. Furthermore, countries are tightening emission norms, which directly impacts existing coal firing thermal power plants. For instance, in 2021, the Union Ministry of Environment, Forest and Climate Change (MoEF&CC) of India released an amendment and revised existing emission norms for coal thermal power plants. All these factors are expected to increase the costs associated with the production of electricity, which is anticipated to drive the demand for renewable methods of electricity production such as solar based alternatives, which in turn is expected to drive the demand for solar charging station market share across the globe.
Solar Charging Station Market

---
By Station Type
On grid solar charging station is projected as the most lucrative segment
Rise in demand for EVs globally
There has been a constant rise in the adoption of electric vehicles, ever since they started becoming mainstream. Countries that spend a major chunk of their incomes on importing crude oil are witnessing a rise in the adoption of electric vehicles. This makes electric vehicles a viable and sustainable means of transportation for countries that rely heavily on imported crude oil, as well as countries where rising carbon emissions are a problem. The growing popularity of electric vehicles necessitates the establishment of a reliable charging network to accommodate the ever-expanding fleet of electric vehicles. For instance, in September 2022, the U.S. government approved plans to support the building of chargers by funding $1.5 billion in federal funding across all fifty states in the U.S. Similarly, in 2023, Tata Power, one of India's' largest EV charging solutions provider announced their plans to install around 25,000 new EV charging points across the nation in the next 5 years. In such instances, greener and sustainable technologies such as solar charging stations are sure to get traction in the future.
Solar Charging Station Market

---
By Component
Battery energy storage system is projected as the most lucrative segment
Excessive costs associated with the equipment requirements of solar stations
All solar stations are comprised of three basic components, solar photovoltaic panels, an inverter, and an energy storage medium. For many years, batteries have been the prime method of storing electricity generated by solar photovoltaic cells. Whilst there has been a reduction in costs of solar photovoltaic panels and inverters used across commercial applications, the cost of storage systems has gone up. Since storage systems constitute a major chunk of the overall costs of a complete solution, the overall costs of solar stations are still high. In addition, the energy received from the sun varies with variables such as tracking capabilities and seasons, it becomes an irregular source of energy, thereby increasing the need for reliable storage solutions for smooth operations.
Solar Charging Station Market

---
By Region
Europe would exhibit the highest CAGR of 20.9% during the forecast period 2022-2031
Furthermore, the current recycling techniques for recycling solar photovoltaic panels are inefficient and rarely deployed. Owing to this, elements such as silver, copper, and silicon, which together account for around two-thirds of the monetary worth of a silicon panel's materials are rarely recycled back. This further hinders the initiative to keep the cost of solar equipment low. And, due to these reasons, the excessive costs associated with solar equipment is expected to hinder the growth of solar charging station market.
Government incentives and subsidies to promote the usage of solar energy
Solar energy as an energy source comes with many environmental and economic advantages. However, the widespread adoption of solar energy has been hampered by a lack of incentives and policies to encourage its use. To overcome this, governments across the globe are focusing on providing financial and regulatory incentives to encourage the adoption of solar based products. For instance, in the U.S. Department of Energy (DOE) solar energy technologies office (SETO) supports funding opportunities on photovoltaics, concentrating solar-thermal power, systems integration, as well as to cover the soft costs associated with the projects. Similarly, developing countries have started to shift their focus on renewable alternatives such as solar powered equipment. For instance, the ministry of new and renewable energy, Government of India has numerous scheme that aid in funding of solar based projects. Furthermore, governments also offer tax credits and rebates for businesses to install solar panels. Thus, by reducing the upfront costs of installation, these incentives can increase the affordability of solar energy, making it more accessible to a larger portion of the population. These factors are expected to create numerous opportunities that are expected to result in the growth of the market in the future.
COVID-19 pandemic ignited several challenges for the solar charging station infrastructure such as restrictions on business activities, travel and border closures have sharply reduced energy demand in transport and industry, decreasing the consumption of renewable energy. Electric vehicle infrastructure was one of the most severely affected industries by the pandemic and observed a decline of investments initially. Various solar charging station service providers were not able to recover from the losses incurred on account of the pandemic. Emerging macroeconomic challenges prompt cancellation or suspension of investment decisions for both large and small-scale projects under development.
Key Benefits For Stakeholders
This report provides a quantitative analysis of the market segments, current trends, estimations, and dynamics of the solar charging station market analysis from 2021 to 2031 to identify the prevailing solar charging station market opportunities.
The market research is offered along with information related to key drivers, restraints, and opportunities.
Porter's five forces analysis highlights the potency of buyers and suppliers to enable stakeholders make profit-oriented business decisions and strengthen their supplier-buyer network.
In-depth analysis of the solar charging station market segmentation assists to determine the prevailing market opportunities.
Major countries in each region are mapped according to their revenue contribution to the global market.
Market player positioning facilitates benchmarking and provides a clear understanding of the present position of the market players.
The report includes the analysis of the regional as well as global solar charging station market trends, key players, market segments, application areas, and market growth strategies
 Solar Charging Station Market Report Highlights
Aspects
Details
Market Size By 2031
USD 2.9 billion
Growth Rate
CAGR of 18.5%
Forecast period
2021 - 2031
Report Pages
376
Type

Medium and Small Charging Station
Large Charging Station

Application
Station Type

On grid solar charging station
Off grid solar charging station

Component

EV charger
Solar panel array
Battery energy storage system
Others

By Region

North America (U.S., Canada, Mexico)
Europe (Germany, France, UK, Italy, Rest of Europe)
Asia-Pacific (China, Japan, India, South Korea, Rest of Asia-Pacific)
LAMEA (Latin America, Middle East, Africa)

Key Market Players
VCT Group, SunPower Corporation, Solarstone, INHABIT Solar, Giulio Barbieri SRL, Sunworx Solar, Sundial Solar Solutions, PROINSO, MDT SUN PROTECTION SYSTEM AG, Solarsense UK Limited