Solar Farm Market Statistics - 2027
Global solar farm market was valued at $61.4 billion in 2019, and is projected to reach $261.0 billion by 2027, registering a CAGR of 19.8% from 2020 to 2027. Over the last few years, the solar water farm market has been developing at a considerable pace attributable to low cost of PV panels and strong presence of solar water farm producers. Furthermore, awareness toward solar water farming is increasing among consumers, due to implementation of government regulations to promote production of energy from renewable sources to reduce dependency on fossil fuels and to minimize the emission of pollutants. According to the U.S. Solar Energy Industries Association (SEIA), the government has implemented laws such as net metering and community solar to promote the use of photovoltaic technology to generate electricity. 
With China being the major supplier of solar panels across the world, halted production operations in this country owing to COVID-19 pandemic has shown significant impact on the market, especially in South-East Asia and the US.
In countries such as the U.S., Spain, and France, consumers can utilize photovoltaic energy for their own electricity need and sell the remaining solar power that they do not use. The Chinese solar photovoltaic industry has witnessed significant growth as compared to any other countries over the years. According to the China Photovoltaic Industry Association, China's capacity for photovoltaic energy grew by 34% year-on-year in 2018. Total installed PV capacity surpassed 170 gigawatts at the end of 2018 compared to 136 gigawatts in 2017. These regulations are promoting the use of photovoltaic technology. Hence, it is expected that these regulations will have a positive impact on the solar pumps market. In addition, with increased use of photovoltaic technology, the demand for solar farm is expected to rise significantly.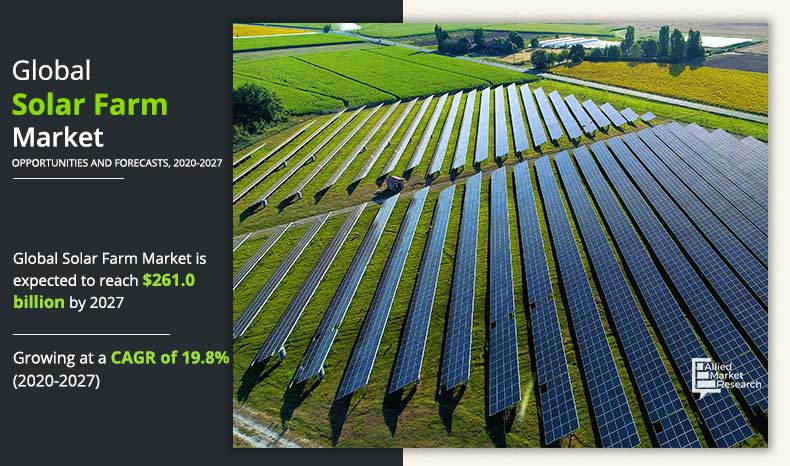 Developing nations are providing opportunity for the growth of the solar water farm market, as major adoption of solar farm has been witnessed in Asia-Pacific, particularly in India, China, and Japan. This is majorly attributed to surge in demand for electricity from renewable sources. Africa and the Center East are other two different fundamental markets holding significant solar farm market share. There is an accelerated demand observed for generating electricity from solar energy. Kenya, Morocco, Namibia, and Nigeria are all expected to offer potential opportunity for the market to grow due to increased use of photovoltaic technology. 
Solar Farm Market

---
By Type
Utility-scale is projected to grow with a CAGR of 19.2% during the forecast period.
Solar farm market is segmented into type, end-user industry, and region. On the basis of type, the market is divided into utility-scale, distributed generation, microgrids, and others. By end-user industry, the market trends are studied across residential, commercial, and industrial sectors. The industrial segment holds major share among all end-use industry, and is expected to grow with the highest CAGR during the forecast period. This is attributed to the fact that industrial solar plants provide the benefit of fixed priced electricity during peak demand periods, when electricity from fossil fuels is the most expensive. It has aided in development of clean energy, thereby reducing carbon emission. 
Region wise, the global solar farm market size is analyzed across North America, Europe, Asia-Pacific, and LAMEA. Asia-Pacific was the highest revenue contributor to the market. Asia-Pacific market of solar farm is analyzed across China, Japan, South Korea, Australia, and rest of Asia-Pacific. In Asia-Pacific, solar energy is widely used in generation of electricity for standalone systems and rural electrification. The growth of the Asia-Pacific solar farm market is further driven by increase in government initiatives for electrification of rural areas, such as Akshay Urja. These initiatives are expected to augment the demand for PV energy, as governments would distribute solar farm in rural areas. Such initiatives are expected to augment the demand for solar pumps, thereby contributing toward the growth of the market, globally.
Solar Farm Market

---
By End-user
Commercial is projected as the most lucrative segment.
The key players operating in the global solar farm industry are Trina Solar, Sharp Corporation, TATA Power Solar Systems Ltd. , First Solar, Inc., BrightSource Energy, Inc., Shenzhen Topray Solar Co., Ltd and JA Solar Holdings Co. Ltd.
COVID-19 impact on global solar farm market
The outbreak of COVID-19 has disrupted the global solar industry by halting the operations. At present, the solar industry imports nearly 80% of its major solar panel materials from China. The pandemic has affected the manufacturing capacities of China, as all fundamental ship container organizations had additionally stopped functioning out of Chinese ports and transporting items from China to other countries, including of India. As the Chinese production is expected to head in the right direction, it is assumed that the resumption of the China-originated deliver chain will help restart the Indian solar industry.
Solar Farm Market

---
By Region
Europe would exhibit a CAGR of 21.1% during 2020-2027.
Key benefits for stakeholders
The report provides extensive qualitative and quantitative analyses of the current solar farm market trends and future estimations of the market from 2019 to 2027 to determine the prevailing opportunities.
Comprehensive analysis of factors that drive and restrict the solar farm market growth is provided.
Estimations and forecast are based on factors impacting the market growth, in terms of both value and volume.
Profiles of leading players operating in the global solar farm market analysis are provided, and this helps in understanding the competitive scenario globally.
The report provides extensive qualitative insights on the significant segments and regions exhibiting favorable market growth.
The global solar farm market forecast is done from 2020 to 2027.
Key Market Segments
By Type
Surface Suction
Utility-scale
Distributed Generation
Microgrids
Others 
By End-user Industry
Residential 
Commercial 
Industrial 
By Region
North America
Europe

France
Germany
UK
Spain
Italy
Rest of Europe

Asia-Pacific

China
Japan
India
Australia
South Korea
Rest of Asia-Pacific

LAMEA

Brazil
Saudi Arabia
South Africa
Rest of LAMEA
 Solar Farm Market Report Highlights
Aspects
Details
By TYPE

Utility-scale
Distributed Generation
Microgrids
Other

By END-USE INDUSTRY
By Region

North America (U.S., Canada, Mexico)
Europe (France, Germany, Italy, Spain, UK, Russia, Rest of Europe)
Asia-Pacific (China, Japan, India, South Korea, Australia, Thailand, Malaysia, Indonesia, Rest of Asia-Pacific)
LAMEA (Brazil, South Africa, Saudi Arabia, UAE, Argentina, Rest of LAMEA)

Key Market Players
.TATA POWER SOLAR SYSTEMS LTD., SHARP CORPORATION, HIMIN SOLAR ENERGY GROUP, WUXI SUNTECH POWER CO., LTD, TRINA SOLAR, SHENZHEN TOPRAY SOLAR CO., LTD., JA SOLAR HOLDINGS CO. LTD., BRIGHTSOURCE ENERGY, INC., GRUPPOSTG., .FIRST SOLAR, INC.