Solar Power Meters Market Research, 2030
The global solar power meters market size was valued at $1,575,513.20 thousand in 2020, and is projected to reach $3,998,869.00 thousand by 2030, growing at a CAGR of 9.8% from 2021 to 2030. The conversion of solar energy into thermal or electrical energy is known as solar power. Solar energy may be utilized to generate electricity, light, or create a comfortable indoor atmosphere as well as heat water for commercial, residential, and industrial usage. To monitor and analyze photovoltaic (PV) plant performance, solar meters collect PV yield generation as well as local energy use. These include a monitoring function that alerts plant owners to performance issues with PV plants, allowing them to quickly address issues and optimize return on investment. The projection of real-time PV power generation data from a PV system is measured using solar power meters.
The COVID 19 outbreak has affected the growth of the solar power meters industry owing to the lockdown measure in the countries and delay in production and manufacturing of solar power meters which are utilized in residential, commercial, and utility sector.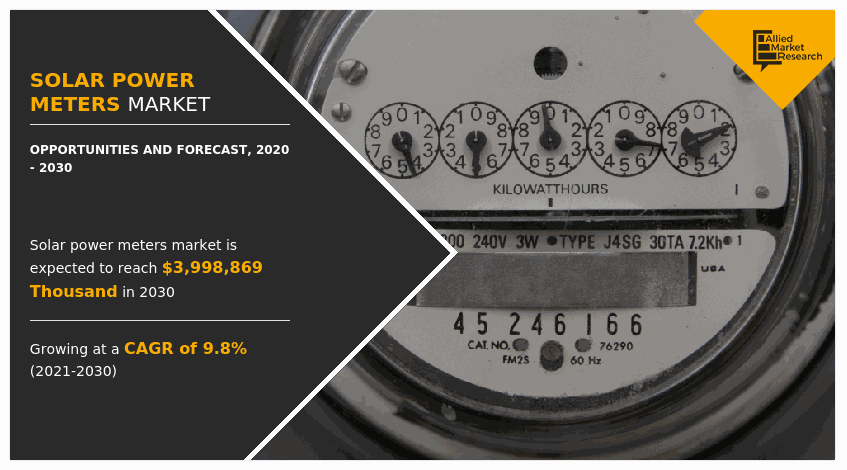 The solar power meters market is segmented into Product Type, Technology and Application.
Solar power meters have gained widespread acceptance in residential, industrial, and commercial sectors, which acts as a key driving force of the global solar power meters market. Furthermore, various benefits associated with solar power meters such as long-term stability, economical cost, wide spectral range, and automated transmission measurement foster the global market growth. In addition, rapid industrialization in developed and developing countries is expected to create lucrative opportunity for the growth of the solar power meters market. However, solar power systems are weather-dependent, hence, the efficiency of solar panels decreases on cloudy and rainy day. As a result, this factor decrease the efficiency of collecting data on solar power meters, thereby hampering the market growth. Moreover, rise in concerns regarding sustainable energy sources is fueling the solar power meters market growth.
In addition, installation of solar power grid in emerging nations is creating demand for solar power meters, which further fosters the market growth. For instance, in June 2021, the Indian Government has set ambitious target of installing solar systems, which include 40 GW of rooftop solar systems by the end of 2022. In addition, major key players in the market are introducing solar power meters for industrial and commercial applications. For instance, in October 2021, Fluke Corporation, manufacturer of industrial test, diagnostic, and measurement equipment, Launched Fluke 393 and Fluke 393 C solar clamp meters. The new meter is designed to measure solar installation voltages, and is capable of measuring up to 1,500 V DC while offering high safety specifications.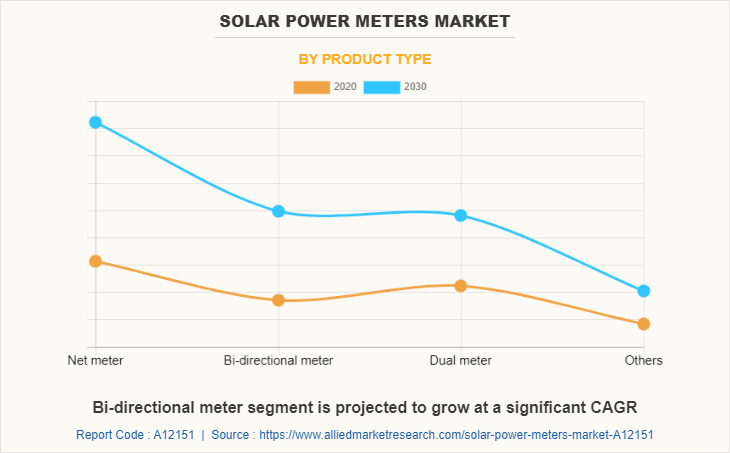 By product type, the net meter segment registered the highest revenue, however, the bi-directional meter segment is expected to grow at high CAGR, owing to high adoption of bi-directional solar meter in residential and commercial sectors.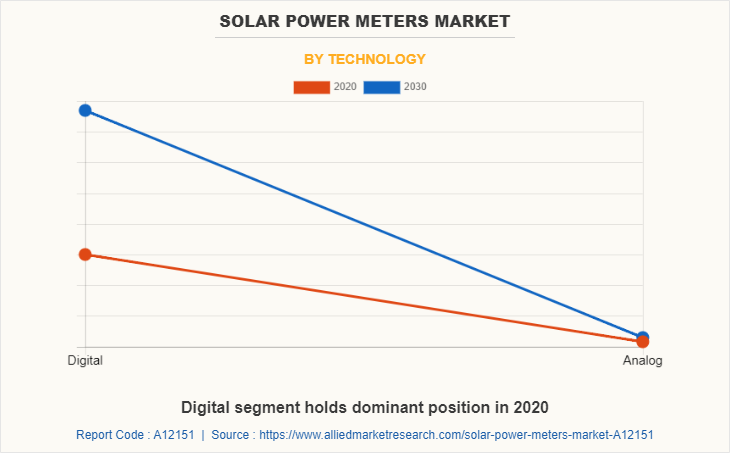 The novel coronavirus (COVID-19) rapidly spread across various countries and regions in 2019, causing an enormous impact on lives of people and the overall community. It began as a human health condition and has now become a significant threat to global trade, economy, and finance. The COVID-19 pandemic halted production of many products in the solar power meters market, owing to lockdowns. Furthermore, the number of COVID-19 cases is expected to reduce in the future with the introduction of the vaccine for COVID-19. This has led to the reopening of solar power meters companies at their full-scale capacities. This is expected to help the solar power meters market share recover by the start of 2022. After COVID-19 infection cases began to decline, equipment & machinery producers have started focusing on protecting their staff, operations, and supply networks to respond to urgent emergencies and establish new methods of working.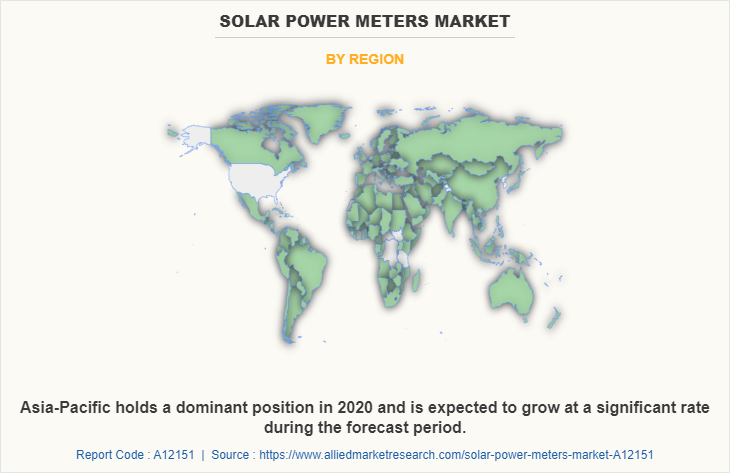 Asia-Pacific was the largest revenue generator in 2020, owing to increase in industrialization and government investment in installation of solar systems. However, LAMEA is expected to grow at significant CAGR during the forecast period.
The global solar power meters market is segmented into product type, technology, application, and region. On the basis of product type, the market is segregated into net meter, bi-directional meter, dual meter, and others. On the basis of technology, it is divided into digital and analog. By application, it is categorized into residential, commercial, and community solar & utility. Region wise, the global market analysis is conducted across North America (the U.S., Canada, and Mexico), Europe (the UK, France, Germany, Italy, and rest of Europe), Asia-Pacific (China, Japan, India, South Korea, and rest of Asia-Pacific), and LAMEA (Latin America, the Middle East, and Africa).
Competition Analysis
The key players that operating in the global solar power meters market are Ht Italia S.r.l., Amprobe, Jaycar Electronics, Itron Inc., Solar Data System Inc., ATP Instruments, MECO Instruments, Pacific Gas and Electric Company, PCE Deutschland, and Omega Engineering.
Key Benefits For Stakeholders
The report provides an extensive analysis of the current and emerging solar power meters market

trends and dynamics. 

In-depth solar power meters market

analysis is conducted by constructing market estimations for key market segments between 2021 and 2030.

Extensive analysis of the solar power meters market

is conducted by following key product positioning and monitoring of top competitors within the market framework.

A comprehensive analysis of all the regions is provided to determine the prevailing opportunities.

The global solar power meters market

forecast analysis from 2021 to 2030 is included in the report.

The key players within solar power meters market are profiled in this report and their strategies are analyzed thoroughly, which help to understand the competitive outlook of the

solar power meters industry.

Key players within the market are profiled in this report and their strategies are analyzed thoroughly, which help understand competitive outlook of the solar power meters market opportunity.
 Solar Power Meters Market Report Highlights
Aspects
Details
By Product Type

Net meter
Bi-directional meter
Dual meter
Others

By Technology
By Application

Residential
Commercial
Community Solar and Utility

By Region

North America (U.S., Canada, Mexico)
Europe (Italy, Rest of Europe, Germany, France, U.K.)
Asia-Pacific (China, India, Japan, South Korea, Rest of Europe)
LAMEA (Latin America, Middle East, Africa)

Key Market Players
FLIR Systems, Inc, Amprobe, Canstar Blue Pty Ltd, Megger, Fluke Corporation, PCE Deutschland GmbH, Omega Engineering Inc, Meco Instruments Pvt. Ltd, HT Italia S.r.l, Pacific Gas and Electric Company