Solar-Powered Unmanned Aerial Vehicle Market
The global solar-powered UAV market is expected to be valued at $378.2 million in 2025, and is projected to reach $881.7 million by 2035, growing at a CAGR of 8.6% from 2026 to 2035.
The COVID-19 impact on the solar-powered UAV market is unpredictable, and is expected to remain in force for a few years. The revenue crunch and rise in maintenance costs were the major challenges adversely affecting the drone manufacturers. Furthermore, the reduced GDP of major economies such as the U.S., UK, China, France, India, Germany, and others in 2020 was anticipated a drop in investment in the aerospace and defense industry. The reduction in aerospace and defense spending has had a negative impact on autonomous aircraft development and deployment plans, particularly unmanned aerial vehicles (UAVs), reducing demand for drones. However, various use cases of drone have been developed and utilized by drone service providers during the COVID-19 pandemic, including lab sample pick-up and delivery and transportation of medical supplies to reduce transportation times and minimize infection exposure, aerial spraying of public areas to disinfect potentially contaminated areas, and public space monitoring and guaranty. Moreover, vaccination drive enabled lowering of barriers to economic activity, as well as domestic and international travel. As the restrictions lifted, travel recovered quickly, leading to increase in UAV related applications, which expected to boost the market.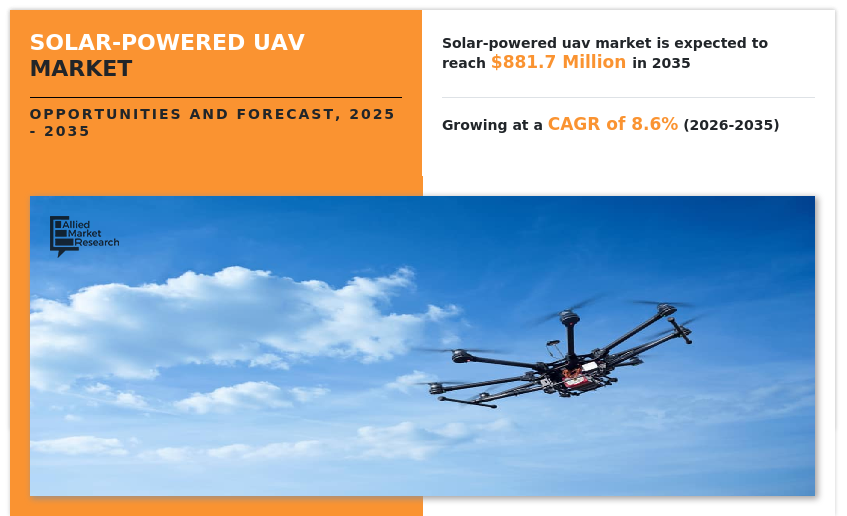 The solar-powered uav market is segmented into Application, Mode Of Operation, Type and Range.
Solar-powered unmanned aerial vehicle (UAV) is defined as drones that use solar cells powered directly from the sun to power its operations. In solar-powered unmanned aerial vehicles (UAVs), the solar cells are installed on the UAVs. These solar cells capture solar energy during daylight. The captured energy generates the power which is used to operate the drone and other onboard electronics. Moreover, the power is used to recharge the battery on board which provides power during darkness. The solar-powered UAV market applications include surveillance, search & rescue operations, pollution monitoring, security, disaster management, attack missions, and intelligence gathering. Several companies are working on possibility to use such UAVs for delivering goods, which can reduce the cost of using drivers for door to door service.
Factors such as increase in development of solar-powered drones for defense application, and rise in demand for drone services are anticipated to boost the growth of the global solar-powered UAV market during the forecast period. However, expensive integration of technology & low operational efficiency, and cybersecurity issues associated with drones are expected to hinder the growth of the global market during the forecast period. Moreover, technological advancement in drones and rise in demand for drones across emerging nations is expected to create opportunities for the market in the future.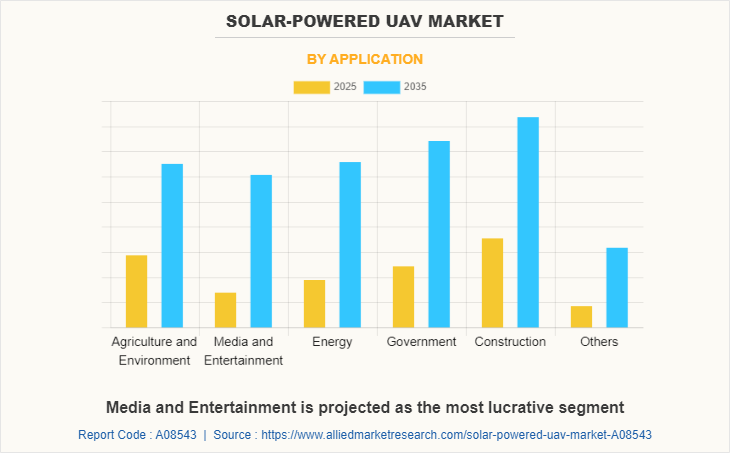 The solar-powered UAV market is segmented basis of type, application, mode of operation, range, and region. By type, it is divided into fixed-wing drones, multirotor drones, and quadcopter drones. By application, it is segmented into agriculture & environment, media & entertainment, energy, government, construction, and others.
By mode of operation, it is divided into semi-autonomous and autonomous. By range, the market is divided into less than 300 KM and more than 300 KM. By region, the market is analyzed across North America, Europe, Asia-Pacific, and LAMEA. 
Key players that operate in this solar-powered UAV market include AeroVironment Inc., Autonomous Systems Lab (Atlantik-Solar), Aurora Flight Sciences, Avy, BAE Systems Plc., Chinese Academy of Aerospace Aerodynamics (CAAA), Elektra Solar GmbH, Eos Technologie, Kea Aerospace, Korea Aerospace Research Institute, NEWSPACE RESEARCH & TECHNOLOGIES PVT LTD, QinetiQ, Silent Falcon UAS Technologies, Skydweller, Sunbirds SAS, UAV Instruments S.L, and Xsun.
Increase in development of solar-powered drones for defense application
The increase in instances of political, economic, or social upheaval among countries or regions has led to rise in domestic and intercontinental tensions across the world. Governments around the world have increased defense expenditure to defend the growing territorial and intercountry instability. The global defense expenditure has increased by 2.6% from 2019 and reach to $1,981 billion in 2020.
The surge in hostile instances worldwide have fueled the demand for autonomous security and surveillance systems. The huge demand for autonomous security and surveillance systems has promoted defense organizations to adopt drones for enhancing their defense capabilities. For instance, in April 2021, Delta Drone International secured a contract for providing light detection and ranging (LIDAR) to a mining company in Ghana. Under the contract, Delta Drone International will help the company in the real-time examination of possible mine site expansions at various locations.
The drone manufacturing companies are developing innovative solutions to provide advanced surveillance and security capabilities to monitor and protect the assets of an organization. For instance, in February 2021, Hindustan Aeronautics Limited a state-run defense manufacturer in India in partnership with NewSpace a Bengaluru based start-up company is developing the solar-powered drone Infinity. This drone being developed as a part of India's unmanned drone warfare program the Combat Air Teaming System (CATS). The drone is expected to provide surveillance from an altitude of more than 65,000 feet for ninety days.
Moreover, in November 2020, The US Naval Research Laboratory demonstrate the "Hybrid Tiger" a tactical unmanned air vehicle (UAV). The Hybrid Tiger is powered by high-efficiency photovoltaic solar panels during daylight and a high-pressure hydrogen fuel tank and fuel cell system during the night. Such developments in defense industries related to solar-powered drones is expected to propel the growth of the solar-powered UAV market during the forecast period.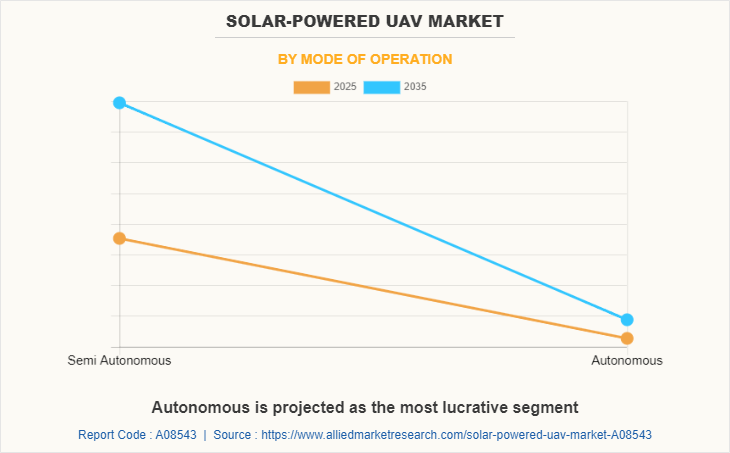 Increase in demand for drone services
The global rise in economic intensification has led to an increase in demand for cost-cutting and the development of high-efficiency solutions across the global industries. This increase in demand boosts the need for affordable, easy-to-implement, and high-value on-demand customized systems for the distinct requirement of various industries.
The drone manufacturers have increased the development of customized drones for warehouse management, capturing, viewing, and analyzing aerial imagery for agriculture, mining, utility, power, media, telecommunication, logistics, oil & gas, and construction industries, and others. For instance, in April 2021, Skyports and Kenya Airways have signed a Memorandum of Understanding (MoU) for launching operations of permanent unmanned aerial vehicles (UAV) in Kenya. The partnership is aimed at exploring the commercial impact and viability of a variety of logistical, inspection, and medical drone use cases. The drone service companies are adopting mergers, acquisitions, and expansion for developing drone applications according to the custom requirement of the target industry.
For instance, in April 2021, the Ripper Group announced a merger with Surf Life Saving Queensland (SLSQ) for enhancing the development and operational synergies of the companies. The merger is projected to integrate the search and rescue drone deployment, research, and training capabilities of the Ripper Group in surf lifesaving operations of Surf Life Saving Queensland (SLSQ). The drones offer customizable working capacity which increases their integration in different operations of multiple industries. The ability of drones to perform in multiple environments and deliver customized output acts as a key driver for the growth of the drone services in different industries which in turn is expected to fuel the demand for the growth of the solar-powered UAV market during the forecast period.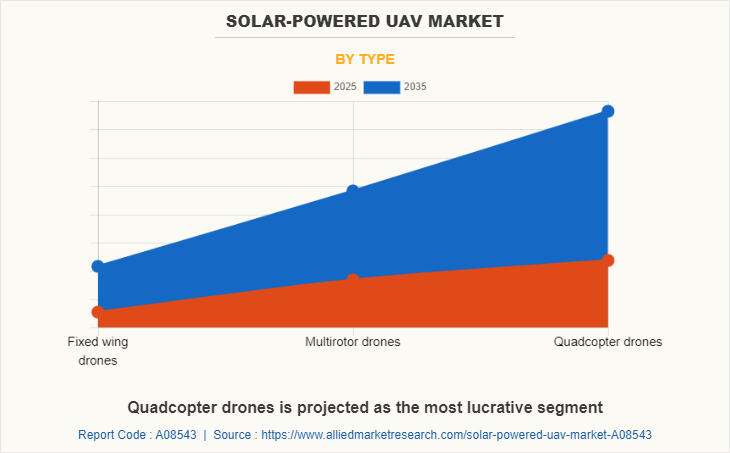 Expensive integration of technology and low operational efficiency
Costlier integration of technology as compared to traditional methods act as a key restraint of the solar-powered UAV market. In addition, solar charging devices have a distance limitation. RF energy technology fails when energy is to be transferred over a long distance. In solar drones, the charging time required is more and it varies in accordance with the battery capacity.
Devices take longer to charge when the power supplied is of the same amount. Furthermore, the technology is more expensive, as inductive charging requires drive electronics and coils in both device and charger, thus increasing the complexity and cost of manufacturing. Moreover, solar panels used in drone have their limitations against charging the battery, which affects the efficiency of solar drone. Hence, expensive integration of technology is anticipated to hamper the growth of the solar-powered UAV market during the forecast period.
Moreover, the operating efficiency of solar-powered drone is lower as compared to traditional drones. These drones rely on batteries that can provide only limited driving range. Also, operation in bad weather conditions is one of the considerable challenge, as the solar-powered drone's battery will not charge in rainy or cloudy weather conditions. In other words, if the panels are not angled toward direct sunlight for most of the journey, it affects the range of the solar-powered drones, which affect the overall performance of the drones. Hence, these factors are primarily responsible for lower adoption of solar drones, owing to its low operating efficiency.
Technological advancement in Drones
Drones have evolved significantly in the past few years and offer a smart mobility alternative for businesses and consumers worldwide. The evolution of technologies such as artificial intelligence, 3D imaging, big data analytics, and others has promoted the growth in the adoption of these advanced technologies in drones for accomplishing time-sensitive missions. For instance, the incorporation of artificial intelligence in drones enables autonomous or assisted flight by collecting and implementing visual and environmental data collected from the sensors attached to the drone.
The technological advancement in drones propels the usage of modern drones in various industries. For instance, QinetiQ a subsidiary of Airbus is developing Zephyr an advanced solar-powered UAV for long-endurance operations of up to three months at altitudes above the weather and air traffic. The increase in investment for developing novel drone services also fuels the evolution of new drone technologies with multiple applications such as law enforcement and border control surveillance and storm tracking and forecasting hurricanes and tornadoes. The surge in technological advancement of drones is expected to provide an opportunity for the growth of the solar-powered UAV market during the forecast period.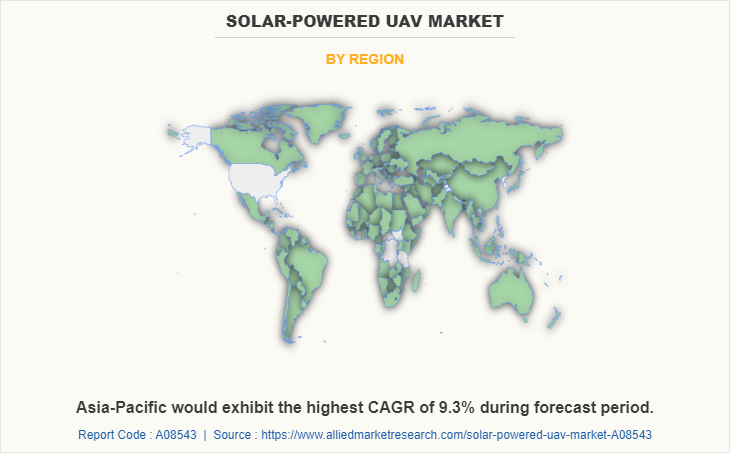 Key Benefits For Stakeholders
This report provides a quantitative analysis of the market segments, current trends, estimations, and dynamics of the solar-powered uav market analysis from 2025 to 2035 to identify the prevailing solar-powered uav market opportunities.
The market research is offered along with information related to key drivers, restraints, and opportunities.
Porter's five forces analysis highlights the potency of buyers and suppliers to enable stakeholders make profit-oriented business decisions and strengthen their supplier-buyer network.
In-depth analysis of the solar-powered uav market segmentation assists to determine the prevailing market opportunities.
Major countries in each region are mapped according to their revenue contribution to the global market.
Market player positioning facilitates benchmarking and provides a clear understanding of the present position of the market players.
The report includes the analysis of the regional as well as global solar-powered uav market trends, key players, market segments, application areas, and market growth strategies.
 Solar-Powered UAV Market Report Highlights
Aspects
Details
By Application

Government
Construction
Others
Agriculture and Environment
Media and Entertainment
Energy

By Mode Of Operation

Semi Autonomous
Autonomous

By Type

Fixed wing drones
Multirotor drones
Quadcopter drones

By Range

Less Than 300 KM
More Than 300 KM

By Region

North America (U.S., Canada, Mexico)
Europe (Germany, France, Russia, Netherlands, United Kingdom, Poland, Spain, Rest of Europe)
Asia-Pacific (China, India, Japan, South Korea, Asean, Rest of Asia-Pacific)
LAMEA (Brazil, UAE, Saudi Arabia, South Africa, Rest of LAMEA)

Key Market Players
Avy, NewSpace, BAE Systems, Sunbirds SAS, Chinese Academy of Aerospace Aerodynamics, Elektra, QinetiQ, Korea Aerospace Research Institute, AeroVironment Inc, Aurora Flight Sciences, Xsun, Silent Falcon UAS Technologies, Atlantik Solar, Skydweller Aero, Eos Technologie, Uav-instruments, Kea Aerospace