Solar Roofing Market Research, 2031
The global solar roofing market size was valued at $59.4 billion in 2021, and solar roofing industry is projected to reach $241.6 billion by 2031, growing at a CAGR of 15.1% from 2022 to 2031.
Solar power projects have been less negatively impacted by COVID-19 as this depend on natural resource sunlight. In contrast, rooftop solar projects are the most negatively impacted in the renewable energy sector because most of them are small-sized businesses and the pandemic has had a significant impact on these businesses, where few of them have declared bankruptcy.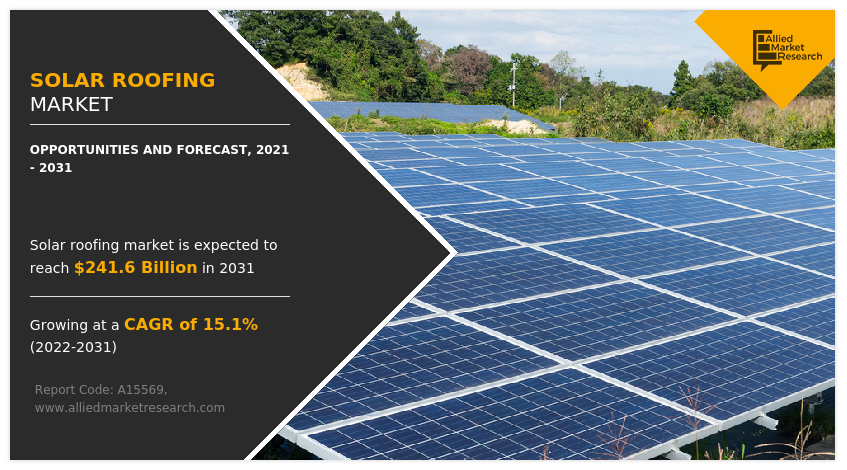 Solar roofing is a type of roof-mounted electrical system that converts solar energy into electricity. Solar roofing is a distributed power-generating system that helps satisfy a building's energy demand within an existing distribution network, which can be on-grid or off-grid. The size of the installation is determined by the scale of the structure and might vary greatly. Solar roofing systems are compact and are mounted on the rooftops of residential and commercial buildings.
According to the Solar Energy Industries Association (SEIA), the U.S. government has implemented laws such as net metering and community solar to promote the usage of solar technology to generate electricity. In countries such as the U.S., Spain, and France consumers can utilize solar energy for their own electricity need and can sell the remaining solar power that they do not use. In addition, community solar refers to local solar facilities shared by multiple community subscribers who receive credit on their electricity bills for their share of the power produced. The Chinese solar cell industry has witnessed significant growth as compared to any other country over the years.
According to the China Photovoltaic Industry Association, China's type of solar energy grew by 14% in 2021 compared to 2020. The total installed PV type surpassed 306.56 gigawatts at the end of 2021 as compared to 253 gigawatts in 2020. In addition, the Government of India launched the Rooftop Subsidy program and Golden Sun Demonstration (GSD) program. Under GSD, 50% of monetary support has been provided in the form of subsidy for large grid-connected rooftops having type >300 kW, and 70% support for off-grid systems. Under Solar Mission, the Indian government has set a target of deploying 100 GW installed type of solar electricity by 2022, out of which, 40 GW is projected to be through grid-connected rooftop solar systems. In addition, under centralized grid connection and stand-alone solar energy strategy development, the government aims to ensure energy security for the nation to achieve "24x7 power to all." These factors collectively are anticipated to drive the growth of the solar roofing market. The presence of the variables is anticipated to accelerate the global expansion of the solar roofing market.
The high installation costs and the necessity for roof-mounted solar panel maintenance are impeding industry expansion. Furthermore, while solar technology is an excellent choice for a variety of end-use applications, the high capital expenditures associated with solar installations when compared to other developing renewable technologies limit market expansion. The cost of deploying glass adds to the overall cost of solar panels, limiting the overall deployment of PV systems throughout the projection period. Furthermore, solar energy can only be gathered for a certain time before it is stored in batteries for subsequent use. The batteries used to store solar electricity are expensive, large in size, and must be replaced on a regular basis.
The Paris Agreement signed by the governments of various countries aimed to increase the ability of the parties to adapt to climate change effects, mobilize sufficient finance, and push each country to determine, plan, and regularly report on its contribution to climate-friendly initiatives to contain global warming. This is prompting developing and developed countries to mobilize funds and support domestic and international environmental initiatives to minimize global emissions expected to increase demand for alternative and clean energy sources. In addition, governments of various countries have taken initiatives to increase the utilization of solar energy through various tax incentives and green subsidies. The above trends and growing demand for clean energy sources provide opportunities to drive the solar roofing market growth during the forecast period.
The North American region is expected to witness significant growth at a CAGR of 14.8% during the forecast period. The U.S. Government has implemented policies such as net metering and has taken up community solar projects to encourage the usage of solar technology. Such initiatives are expected to offer growth to the market. The U.S. is the second largest energy consumer after China. The majority of this energy is derived from fossil fuels. Owing to the increase in carbon footprint, the U.S. Government has implemented stringent environmental regulations regarding the usage of fossil fuels and is encouraging the use of photovoltaic energy by enforcing policies, such as net metering and taking up community solar projects. According to the statistics presented in the BP Statistical Review of World Energy 2021, in 2020, solar energy held a share of 23.7% in the U.S. renewable energy generation, registering a growth rate of 25.3%, and holds a share of 3.12% in total electricity produced. This factor is anticipated to increase the demand for solar energy.
The solar roofing market forecast is segmented on the basis of type, grid type, installation type, and region. On the basis of type, the market is segmented into thin-film, crystalline, and others. Thin film segment is further fragmented into CdTe, a-Si, and CI(G)S, while crystalline is further bifurcated into multi-Si and mono-Si. In addition, on the basis of grid type, the market is divided into on grid and off-grid. By installation type, the market is fragmented into residential, commercial, and utility-scale. Region-wise, the market is analyzed across North America, Europe, Asia-Pacific, and LAMEA. Presently, Asia-Pacific accounts for the largest solar roofing market share, followed by Europe, North America, and LAMEA.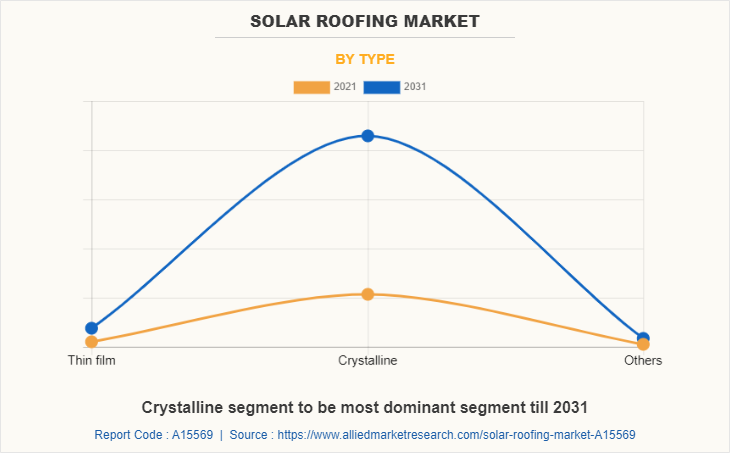 The crystalline segment dominates the global Solar roofing market. Crystalline Silicon type solar cell is one of the most widely used semiconductor materials in photovoltaic (PV) technology to manufacture solar cells and is made of highly pure silicon wafers that are further used to convert solar energy into electrical energy. C-Si occupies more than half of the total PV market revenue owing to its benefits and improved efficiency. Crystalline silicon solar cells are highly efficient as compared to their rival technologies, for instance, amorphous silicon and non-silicon solar cells. However, high initial investment and reduced efficiency of crystalline silicon at extremely elevated temperatures restrain the market growth. Technological advancements in the field of solar cells to increase efficiency and rise in government spending on renewable energy projects are expected to provide growth opportunities in the market.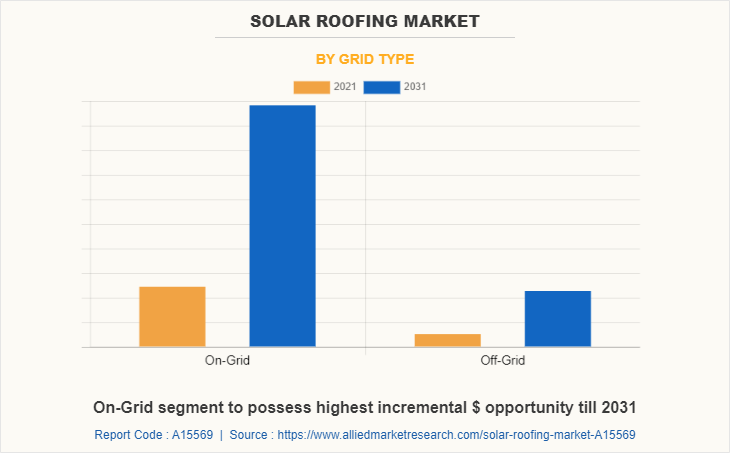 The on-grid segment dominates the global Solar roofing market. On-grid means that the solar system is connected to the grid of a local utility. Most residential homes are anticipated to employ this since it protects consumers if their solar system under or over-produces concerning their variable energy needs. The on-grid solar system does not require batteries, it is cheaper to install when compared to an off-grid system. It is less costly when compared to other solar systems. An off-grid solar energy system is not tied to the utility grid, however an on-grid (also known as grid-tied) solar energy system is connected to the local grid facility. The above-mentioned factors are expected to provide many opportunities for the development of the market during the forecast period.
The utility-scale segment dominates the global Solar roofing market. Utility scale refers to an electrical plant or equipment, whose operation, as an individual entity would cause a noticeable change in the operation of a utility. It generates reliable and clean electricity with a stable fuel price for decades. Solar power facilities are designed to reconcile environmental preservation with our energy needs and climate goals. The rapid industrialization and decrease in fossil fuel resources across the globe have led to increase in the demand for the industrial utilization of solar panels. There are more than 37,000 megawatts (MW) of utility-scale solar projects currently operating, with another 112,000 MW under development. Utility-scale solar can be paired with energy storage to manage evening energy ramps and provide backup power. According to Solar Energy Industry Association (SEIA); the utility-scale cumulative U.S. solar installations is around 77,741 MWdc in 2021. The above-mentioned factors are expected to provide many opportunities for the development of the market during the forecast period.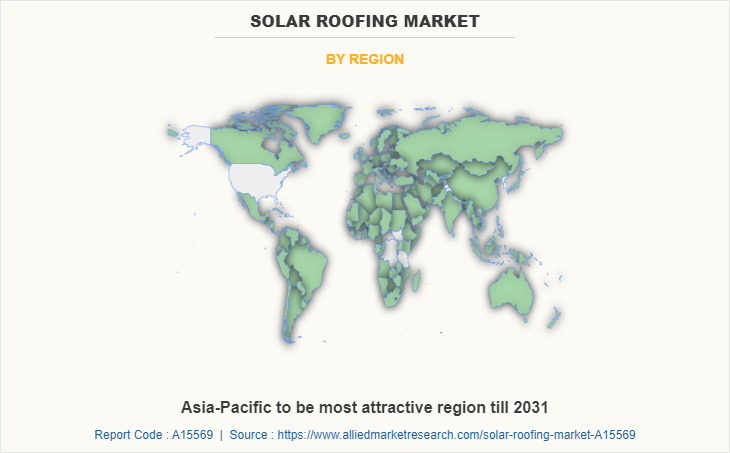 Asia-Pacific region dominated the global Solar roofing market. In Asia-Pacific, solar energy is widely used in the generation of electricity for standalone systems and rural electrification. India and China are major players in this region majorly due to their huge population and their energy demand. Solar power is a fast-developing industry as a part of the renewable energy sector in India. Building energy consumption makes up more than one-third of India's overall energy consumption, therefore making buildings more energy-efficient and increasing local companies' investments in clean energy have increased demand for flexible solar panels. In China, Zhejiang-based China southeast space frame group, a manufacturer of large-sized steel structures, and EVA, a back sheet manufacturer of the first PV, have set up a joint venture to develop building integrated PV projects across China. This joint venture is expected to deploy up to 950 MW of BIPV systems over the next five years. The above factors drive the growth of the solar roofing market in this region during this forecast period.
Impact of Covid-19 on Global Solar Roofing Market
Post lockdown, the industry is expected to deal with the aftereffects as new solar roofing is not a necessity for consumers. With consumers dealing with several financial problems, solar roofing will be the least priority on their list resulting to a delay in the decisions with context the installation of solar rooftops.
Competitive Landscape
The major companies profiled in this report are JinkoSolar, JA Solar, Trina Solar, LONGi Solar, Canadian Solar, First Solar, SunPower Corporation, Indosolar, Hanwha Q-cells, and E-Ton Solar. The decline in the cost price of solar panels and increase in the awareness among people regarding the advantages of utilization of rooftop solar panels have positive impact on the solar roofing market. In addition, growth strategies such as an expansion of storage capacities, acquisition, partnership, and research & innovation in the optimization and improvement in the efficiency and reliability of sodium-ion batteries have led to attain key developments in the global solar roofing market trends.
Key Benefits For Stakeholders
This report provides a quantitative analysis of the market segments, current trends, estimations, and dynamics of the solar roofing market analysis from 2021 to 2031 to identify the prevailing solar roofing market opportunities.
The market research is offered along with information related to key drivers, restraints, and opportunities.
Porter's five forces analysis highlights the potency of buyers and suppliers to enable stakeholders make profit-oriented business decisions and strengthen their supplier-buyer network.
In-depth analysis of the solar roofing market segmentation assists to determine the prevailing market opportunities.
Major countries in each region are mapped according to their revenue contribution to the global market.
Market player positioning facilitates benchmarking and provides a clear understanding of the present position of the market players.
The report includes the analysis of the regional as well as global solar roofing market trends, key players, market segments, application areas, and market growth strategies.
 Solar Roofing Market Report Highlights
Aspects
Details
Market Size By 2031
USD 241.6 billion
Growth Rate
CAGR of 15.1%
Forecast period
2021 - 2031
Report Pages
308
By Installation Type

Residential
Commercial
Utility-Scale

By Type

Thin film
Crystalline
Others

By Grid Type
By Region

North America (U.S., Canada, Mexico)
Europe (Germany, Italy, Spain, UK, France, Rest of Europe)
Asia-Pacific (China, Japan, India, South Korea, Rest of Asia-Pacific)
LAMEA (Brazil, Chile, South Africa, Rest of LAMEA)

Key Market Players
e-ton solar, JA Solar, Canadian Solar, LONGi, Indosolar Ltd, JinkoSolar Holding Co., Ltd., First Solar, Inc., Hanwha Q-cells, Trina solar, SunPower Corporation