Solar Tracker Installation Market Outlook - 2026
The global solar tracker installation market was valued at $162.7 billion in 2018 and is projected to reach $379.2 billion by 2026, growing at a CAGR of 11.1% from 2019 to 2026. A solar tracker is a device meant to turn the photovoltaic modules in such a way that it continuously faces the sun. This is done to maximize the irradiation received by the photovoltaic array.
Solar tracker installation market growth is driven by supportive government regulations that are escalating the installment of solar panels. The impact of government regulation on the global solar tracker installation market is positive. These regulations are motivating the installation of solar panels. In the U.S., China, and other countries, solar investments have been motivated mainly by the requirements of states' renewable electricity standards. Solar projects also get assistance from federal incentives such as the federal investment tax credit, which enables to cover 30% of the initial costs. Solar projects built in the Western U.S. on federal lands are benefitting by state and federal agencies that coordinate in studies and agree on investments that are related to reduce environmental impacts.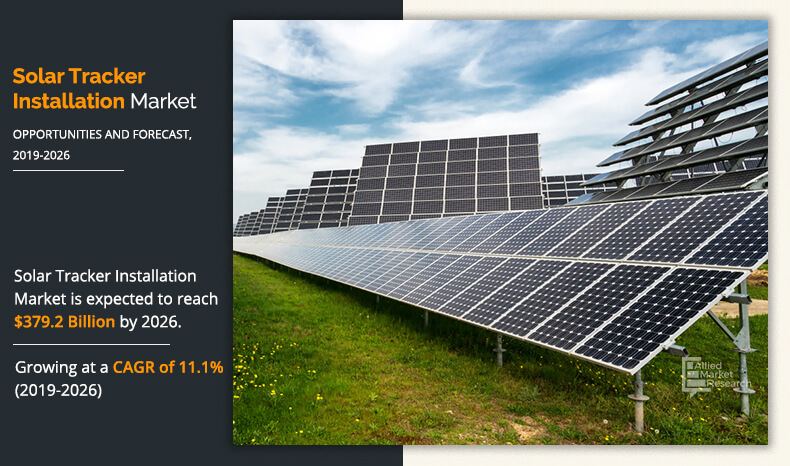 Source: AMR analysis
According to the International Energy Agency, the share of renewable energy to meet the global energy demand is predicted to grow in the next five years to reach 12.4% in 2023. Renewable energy is derived from natural processes such as wind and sunlight. Solar, geothermal, wind, bioenergy, hydropower, and ocean power are some of the major sources of renewable energy. Currently, renewable energy is utilized in heating, electricity, cooling, and transport sectors. Furthermore, increase in concerns regarding greenhouse gases emissions and growth in need for energy security are expected to drive the demand for solar energy. Therefore, the demand for solar tracker installation is also expected to increase. This in turn will boost the growth of the global solar tracker installation market.
Developing new renewable resources require large initial investments to build infrastructure. These investments increase the cost of providing renewable electricity, especially during early years. Initially, the developers need to find publicly acceptable sites with good resources and with access to transmission lines. Finding a potential solar site requires several years of monitoring to determine whether they are suitable. In addition, the workers need to be trained to install, operate, and maintain the new technologies. Some renewables require operating experiences in certain climatic conditions, before the performance can be optimized. All these factors increase the cost of installing solar panels. This high cost is expected to hamper the market growth as it limits the use of solar trackers.
Based on type, the solar tracker installation market analysis is done into single-axis and dual-axis tracker. The single-axis tracker segment is further divided into horizontal and vertical tracker. Single axis trackers turn on one axis moving back and forth in a solitary way. Various kinds of single-pivot trackers are used, and this include horizontally and vertically adjusted. Double axis trackers move in two distinct ways. Types incorporate tip-tilt and azimuth-altitude. A double axis tracker is used to situating a mirror and divert daylight along a fixed axis toward a stationary collector. Since these trackers pursue the sun vertically and on a level plane, they help acquire most sunlight. Hence, based on type, the global solar tracker installation market is segmented into single axis and dual axis tracker.
Solar Tracker Installation Market

---
By Type
Dual Axis is projected as the fastest growing segment.
Based on application, the global solar tracker installation market is segmented into residential, commercial, and industrial. In these applications, solar trackers are utilized to orient photovoltaic panels, reflectors, lenses, or other optical devices toward the sun. As the sun's position in the sky shifts based on season, trackers are employed to align the collection system to maximize energy production. Region wise, the market is segmented into North America, Europe, Asia-Pacific, and LAMEA. 
Solar Tracker Installation Market

---
By End-user Industry
Industrial segment is projected as the fastest growing segment.
The key players involved in the global solar tracker installation industry include Abengoa SE, First Solar, Inc., Tata Power Solar Systems Limited, Trina Solar Co. Ltd., BrightSource Energy, Inc., Siemens AG, PVHardware, Arctech Solar, and NEXTracker. In order to stay competitive in the industry, these market players are adopting different strategies such as product launch, partnership, merger, and acquisition. These companies are additionally implementing a R&D in solar tracker output and performance to maintain their position in the market. In an instance, PVHardware, one of the key players in the solar tracker installation market, developed a product named Axone duo (double row solar tracker), which draws a cutting-edge technology and photovoltaic tradition. This results in a tracker with better balance of controllers.
Solar Tracker Installation Market

---
By Region
Asia-Pacific would exhibit a CAGR of 10.8% during 2019-2026.
Key Benefits for Stakeholders:
Porter's five forces analysis helps analyze the potential of buyers & suppliers and the competitive scenario of the industry for building strategies. 
It outlines the current trends and future scenario of the solar tracker installation market size from 2018 to 2025 to understand the prevailing opportunities and potential investment pockets.
Major countries in four major regions, namely, North America, Asia-Pacific, Europe, and LAMEA have been mapped according to their individual revenue contribution in the solar tracker installation market share at regional and country level.
The solar tracker installation market trends such as drivers, restraints, and opportunities and their detailed impact analysis is elucidated in the study.
The profiles of key players along with their contribution in market growth are enlisted in the report.
The solar tracker installation market forecast is studied from the 2019-2026 year. 
 Solar Tracker Installation Market Report Highlights
Aspects
Details
By Type
By Application

Residential
Commercial
Industrial

By Region

North America (U.S., Canada, Mexico)
Europe (Germany, UK, France, Spain, Italy, Rest of Europe)
Asia-Pacific (China, Japan, India, South Korea, Australia, Rest of Asia-Pacific)
LAMEA (Brazil, Saudi Arabia, South Africa, Rest of LAMEA)

Key Market Players
ABENGOA SE, FIRST SOLAR, INC., TATA POWER SOLAR SYSTEMS LIMITED., TRINA SOLAR CO., LTD., BRIGHTSOURCE ENERGY, INC., SIEMENS AG, PVHardware, Arctech Solar, Scorpius Trackers, NEXTracker