Solid Electrolyte Market Outlook - 2030
The solid electrolyte market size was valued at $17.8 million in 2020, and is projected to reach $56.6 million by 2030, at a CAGR of 12.1% from 2021 to 2030. Solid state battery is a technology, which utilizes solid electrodes and solid electrolytes as an alternative to liquid or polymer electrolytes found in lithium-ion or lithium-polymer batteries. This technology serves as one of the leading alternatives of conventional lithium-ion battery technology. Solid state batteries have found their application in radio-frequency identification (RFID), pacemakers, and wearable devices. Its smaller, lighter solid state batteries are expected to be a breakthrough for the electric vehicle industry. Electric cars and wearable technology require improved batteries as compared to the current lithium-ion battery technology, as lithium-ion batteries are sensitive to high temperature and have safety concerns related to exploding when overcharged and discharged.
Due to the COVID-19 pandemic, most of the countries have gone under lockdown, due to which operations of various applications such as thin-film battery and electric vehicle battery has been negatively affected, which is hampering the solid electrolyte market growth.
The growing demand for an energy storage system with high energy density and longer life is expected to guide the market. Increasing use of electronic devices and electric vehicles will increase the use of solid state batteries and solid electrolytes in the coming years. Increase in application of solid state batteries in health, portable, and drone sectors is one of the main factors responsible for the global solid electrolyte market growth. In addition, the growing demand for solid state batteries in electric vehicles is propelling the industry forward. However, the market growth is hampered by complicated production process and high cost of solid state batteries. Increased market investment by industry heavyweights, such as Samsung and Hyundai, on the other hand, is expected to provide lucrative chances for market expansion.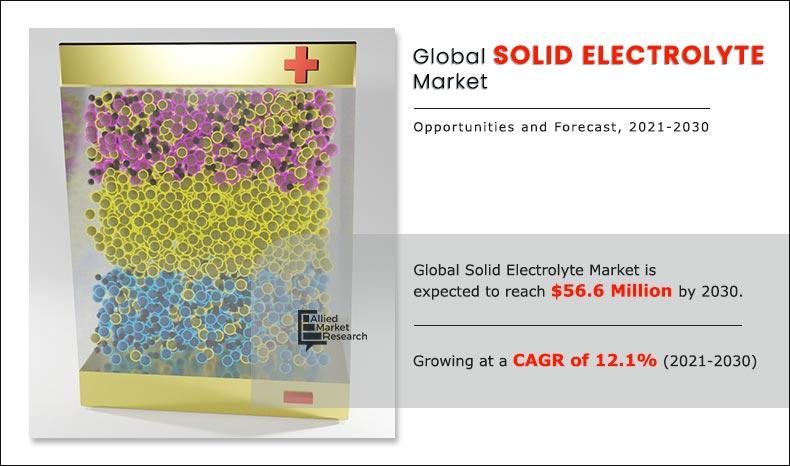 The report on solid electrolyte exclusively focuses on current market trends and future growth opportunities of various types of solid electrolyte such as ceramic and solid polymer. On the basis of application, the market is divided into thin-film battery and electric vehicle battery. Region-wise, it is studied across North America, Europe, Asia-Pacific, and LAMEA.
The manufacturers studied and profiled in the report include Ampcera Corp, Brightvolt, Inc., Cymbet Corporation, Empower Materials, lonic Materials Inc., NEI Corporation, Ohara lnc., StmicroElectronics N.V., Toshima Manufacturing Co. Ltd., and Toyota Motor Corporation.
Solid electrolyte market, by type
By type, the solid polymer segment is expected to contribute 61.3% share in the global market. Solid polymer can replace not only liquid electrolyte but also the traditional separator. This gives greater solid electrolyte market opportunities for exploring new electrode materials that increase battery energy.
Solid Electrolyte Market

---
By Type
Solid Polymer is projected as the most lucrative segment.
Solid electrolyte market, by application
By application, the electric vehicle battery segment accounted for around 57.6% of the solid electrolyte market share in 2020, and is projected to maintain the same during the solid electrolyte market forecast period. Multiple factors, such as government regulations in various regions of the world and technology developments in batteries, are expected to boost the EV market. These factors are expected to drive the demand for solid electrolyte.
Solid Electrolyte Market

---
By Application
Electric Vehicle Battery is projected as the most lucrative segment.
Solid electrolyte market, by region 
By region, North America is expected to contribute 35.4% share in the global solid electrolyte market. The growth of solid state batteries in North America is majorly boosted by increase in adoption of solid state batteries in electric vehicles. 
Solid Electrolyte Market

---
By Region
North America holds a dominant position in 2019 and would continue to maintain the lead over the forecast period.
Key benefits for stakeholders
Porter's five forces analysis helps analyze the potential of buyers & suppliers and the competitive scenario of the solid electrolyte industry for strategy building.
It outlines the current solid electrolyte market trends and future estimations from 2020 to 2030 to understand the prevailing opportunities and potential investment pockets.
The major countries in the region have been mapped according to their individual revenue contribution to the regional market.
The key drivers, restraints, & opportunities and their detailed impact solid electrolyte market analysis are explained in the study.
The profiles of key players and their key strategic developments are enlisted in the report.
Impact of COVID-19 on the global solid electrolyte market
COVID-19 is an infectious disease that originated in Hubei province of Wuhan city in China in December 2019. Numerous nations had to impose lockdowns, travel bans, and trade restrictions to prevent the widespread of the deadly virus. 
Major drivers of the solid electrolyte market are electric vehicles (including e-rickshaws, e-bikes, and others) and generation of hydrogen as a fuel by means of water electrolysis. However, due to the outbreak of COVID-19 pandemic, the world faced a troublesome situation and was under lockdown. This led to shutdowns of industries, halt in operations and procurements along with restrictions on cross-border trade activities. Attributed to these factors, the electric vehicles market as well as water electrolysis market suffered a moderate blow, which also affected the solid electrolyte market, leading to the decline in demand and drop in sales and revenue. 
Attributed to COVID-19, the market witnessed significant dip due to closure of thin-film battery fuel; however, the market is projected to witness strong growth in the next couple of years as the situation continues to ease in North America and Asia-Pacific.
Key Market Segments
By Type
By Application
Thin-Film Battery
Electric Vehicle Battery
By Region
North America
Europe

France
Germany
UK
Spain
Italy
Russia
Rest of Europe

Asia-Pacific

India
China
Japan
South Korea
Rest of Asia-Pacific

LAMEA

Brazil
Saudi Arabia
South Africa
Rest of LAMEA