Solid State Radar Market Outlook - 2030
The global solid state radar market size was valued at $1.81 billion in 2020, and is projected to reach $2.82 billion by 2030, registering a CAGR of 4.8% from 2021 to 2030. Solid state radar is a device that operates in the microwave range. It is widely used in different industries, such as automotive, aviation, weather monitoring, and military & defense. These radars provide a large amount of information about weather conditions and are considered to be more beneficial than traditional radars such as microwave radars because these are less expensive and take up less space.
Growth of the global solid state radar market is anticipated to be driven by factors such as rise in demand for advanced weather monitoring radar and development of phased-array solid state radar. In addition, solid state radars are more energy-efficient which boosts the overall market growth. However, susceptibility to new jamming techniques acts as a major restraint for the global solid state radar industry. On the contrary, surge in demand for air surveillance radars is expected to create lucrative opportunities for the market.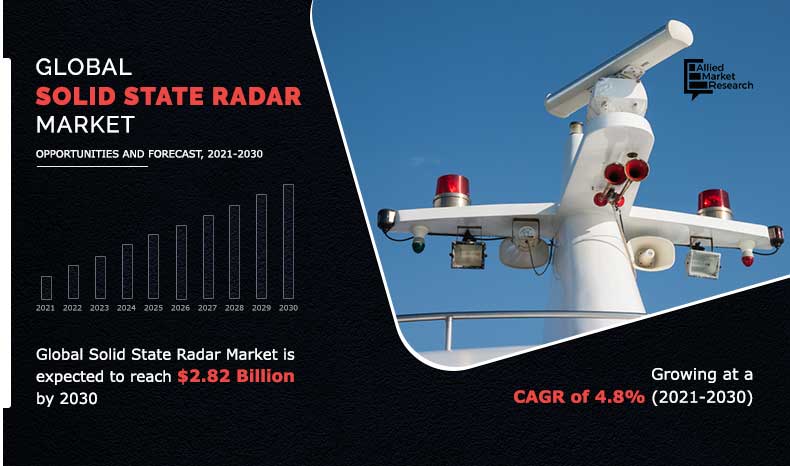 Segment Overview
The solid state radar market is segmented on the basis of frequency band, waveform, end user, and region. By frequency band, the market is classified into L-Band, S-Band, X-Band, and others. Depending on waveform, it is categorized into frequency modulated continuous wave radar, and doppler radar. On the basis of end user, the market is classified into automotive, aviation, weather monitoring, military & defense, and others.
Solid State Radar Market

---
By Frequency Band
X-band segment will generate the highest revenue throughout the forecast period
Region wise, the solid state radar market trends are analyzed across North America (the U.S., Canada, and Mexico), Europe (UK, Russia, France, Italy, Germany, and rest of Europe), Asia-Pacific (China, India, Australia, Japan, South Korea, and rest of Asia-Pacific), and LAMEA (Latin America, the Middle East, and Africa). North America dominated the market in 2020, and is projected to register significant growth rate during the forecast period, owing to growth of the automotive sector. However, Asia-Pacific is expected to witnesses significant growth by the end of the forecast period, followed by LAMEA.   
Solid State Radar Market

---
By End User
Military & Defense segment will dominate the market during 2021 - 2030
Leading solid state radar market manufacturers such as Thales, Raytheon Technologies, and Lockheed Martin are focusing on their investments on technologically advanced, cost-effective, and more secure products and solutions for various applications.
Top Impacting Factors
Prominent factors that impact the solid state radar market growth are increase in demand for radar systems in automotive & defense industries, and advancement in solid state radar technologies. In addition, increase in territorial battles in many regions drives this market. However, high manufacturing cost restricts the market growth. On the contrary, rise in investment from developed countries in military sector and surge in adoption of unmanned aerial vehicles is expected to create lucrative opportunities for the market.
Solid State Radar Market

---
By Region
Asia-Pacific region would exhibit the highest CAGR of 6.4% during 2021 - 2030
Competitive Analysis
Competitive analysis and profiles of the major solid state radar market players such as BAE Systems, Furuno Electric Co. Ltd., Honeywell, L3Harris Technologies, Leonardo S.p.A., Lockheed Martin, Northrop Grumman Corporation, Raytheon Technologies, SAAB AB, and Thales have been covered in the report. These key players have adopted various strategies, such as product portfolio expansion, mergers & acquisitions, agreements, geographical expansion, and collaborations, to increase their market penetration and strengthen their foothold in the industry.
COVID-19 Impact Analysis
The outbreak of COVID-19 has significantly affected the electronics and semiconductor sector. Business and manufacturing units across various countries were closed, owing to increase in number of COVID-19 cases, and are expected to remain closed in 2021. Furthermore, partial or complete lockdown has disrupted global supply chain posing challenges for manufactures to reach customers.
The COVID-19 pandemic is impacting the society and overall economy across the globe. The impact of this outbreak is growing day-by-day as well as affecting the overall business globally. The crisis is creating uncertainty in the stock market and is resulting in falling business confidence, massive slowing of supply chain, and increasing panic among customers.
Asian and European countries under lockdowns have suffered major loss of business and revenue, owing to shutdown of manufacturing units. Operations of the production and manufacturing industries have been heavily impacted by the outbreak of the COVID-19 disease, which further impacted growth of the market.
In addition, the COVID-19 pandemic has impacted the electronics sector as production facilities have stalled, which, in turn, boost demand for electronics and semiconductor products in these industries. Its major impact includes a large manufacturing interruption across Europe and interruption in Chinese parts exports, which hinder the solid state radar market opportunity globally. 
Key Benefits For Stakeholders
This study comprises analytical depiction of the global solid state radar market size along with current trends and future estimations to depict imminent investment pockets.
The overall solid state radar market analysis is determined to understand the profitable trends to gain a stronger foothold.
The report presents information related to key drivers, restraints, and opportunities with a detailed impact analysis.
The current solid state radar market forecast is quantitatively analyzed from 2020 to 2030 to benchmark the financial competency.
Porter's five forces analysis illustrates the potency of the buyers and the solid state radar market share of key vendors.
The report includes the market trends and the market share of key vendors.
 Solid State Radar Market Report Highlights
Aspects
Details
By Frequency Band

L-Band
S-Band
X-Band
Others

By Waveform

Frequency Modulated Continuous Wave Radar
Doppler Radar

By End User

Automotive
Aviation
Weather Monitoring
Military & Defense
Others

By Region

North America (U.S, . Canada, Mexico)
Europe (UK, Russia, France, Italy, Germany, Rest of Europe)
Asia-Pacific (China, India, Australia, Japan, South Korea, Rest of Asia-Pacific)
LAMEA (Latin America, Middle East, Africa)

Key Market Players
BAE SYSTEMS, Furuno Electric Co. Ltd, Honeywell International Inc., L3Harris Technology, Leonardo S.p.A, LOCKHEED MARTIN CORPORATION, NORTHROP GRUMMAN CORPORATION, RAYTHEON TECHNOLOGIES CORPORATION, SAAB AB, Thales Group