Sonochemical Coatings Market Research, 2031
The global sonochemical coatings market was valued at $65.4 million in 2021, and is projected to reach $148.7 million by 2031, growing at a CAGR of 8.7% from 2022 to 2031.
Report key highlighters
Quantitative information mentioned in the global sonochemical coatings market includes the market numbers in terms of value (USD Million) with respect to different segments, pricing analysis, annual growth rate, CAGR (2022-31), and growth analysis.
The analysis in the report is provided on the basis of type, substrate, technology, and end-use industry. The study will also contain qualitative information such as the market dynamics (drivers, restraints, opportunities), Porter's Five Force Analysis, key regulations across the region, and value chain analysis.
A few companies, including Sono-Tek Corporation, Ultrasonic Systems, Inc., Sonaer Inc., NOANIX, NADETECH INNOVATIONS S.L., hold a large proportion of the sonochemical coatings market.
This report makes it easier for existing market players and new entrants to the sonochemical coatings business to plan their strategies and understand the dynamics of the industry, which ultimately helps them make better decisions.
Increased demand for environmentally friendly chemical coatings is driving the global market for sonochemical coatings. Sonochemical coatings are favored over conventional coatings, particularly in areas such as consumer electronics and medical equipment, due to their inherent features, which include low toxicity and antibacterial resistance. Increased awareness of the benefits of sonochemical coatings, such as health benefits and superior finishing, is anticipated to drive market growth during the forecast period.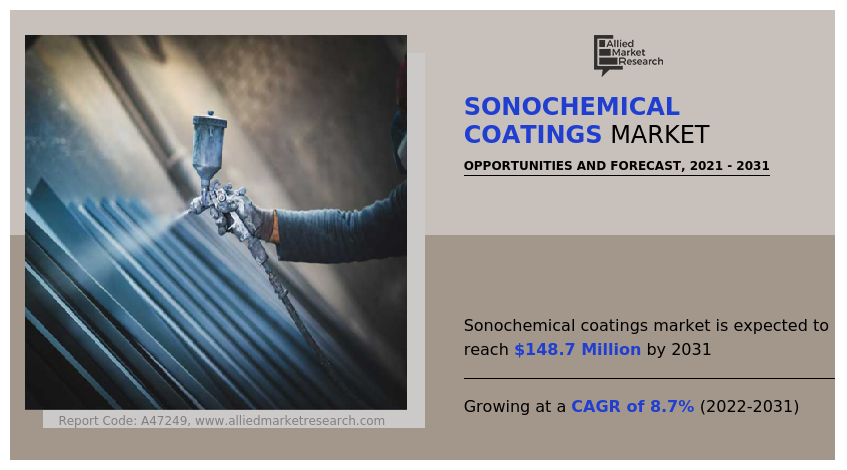 Sonochemistry is typically employed for the synthesis of nanomaterials and surface functionalization, i.e., increasing the accessible surface area for processing. The sonochemical coating is an innovative, eco-friendly, low-velocity spray coating that produces homogeneous, protective, and functional micron-thin coatings without clogging. Sonochemical coatings are manufactured using ultrasonic processing. When bubbles are monitored by ultrasonic processing, chemiluminescence has been widely used in acoustic cavitation. During the manufacturing of paints and high-performance coatings, ultrasonic processing is utilized to disperse, de-agglomerate, and grind pigment particles into nanoparticles. These pigments, which are typically granules of metal oxide, impart color when dispersed in the proper media. The size of these pigments is a crucial aspect in determining the final finish's qualities. Sonochemical coatings lower the particle size to guarantee uniformity.
Increased demand from the construction industry
"Hospital-acquired infections" or "HAIs" refer to infections that patients contract while receiving treatment in a hospital. They are transmitted through direct physical contact with a contaminated surface or element, such as the skin, aerosols, shared instruments, hospital furnishings, or hospital fabrics. Additionally, they can spread through indirect contact with a contaminated surface or component. An increase in the use of sonochemical coatings on medical equipment has been attributed to a greater awareness of healthcare-associated infections (HAIs) and government measures to prevent the spread of these infections. Globally, infectious illnesses caused by HAIs are the leading cause of mortality and morbidity.
According to the Office of Disease Prevention and Health Promotion, approximately 1.7 million patients in the United States contract HAIs annually. Nearly 100,000 of these 1,7 million patients die as a result of their infections, while many more patients seek medical treatment. There are a lot of medical devices that serve as a breeding ground for bacteria, and it is quite difficult to eliminate these germs with conventional disinfectants. As a precautionary measure, numerous manufacturers of medical equipment and healthcare facilities have begun applying antimicrobial coatings to a variety of products. In addition, the governments of several European and North American countries have coordinated their respective efforts to reduce the spread of HAIs. In October 2016, the U.S. Department of Health and Human Services (HHS) presented the National Action Plan to eliminate healthcare-associated infections in acute care hospitals globally.
A rise in the demand for electronic devices is expected to contribute to the expansion of the sonochemical coatings market during the forecast period. Sonochemical coatings offer excellent moisture resistance and prevent the production of pathogenic microorganisms such as algae, bacteria, and fungi; they also restrict the proliferation of pathogenic microorganisms. Plastics coated with antimicrobial compounds have a longer functional lifespan because the chemicals inhibit the growth of bacteria which can cause the plastics to degrade faster. The usage of these compounds renders polymers more durable, corrosion-resistant, odorless, and suitable for a variety of medicinal, electrical, and automotive applications.
The vast majority of sonochemical coatings are based on solvents. As a result of the introduction of stringent restrictions against volatile organic compounds, however, the price of solvents is increasing dramatically. Moreover, a large number of nations are undergoing a "green industrial revolution" to battle the consequences of global warming and reach net zero by 2050. Catalytic sonochemistry for the synthesis of clean hydrogen from sustainable ammonia and water-based coatings is gaining popularity as a direct result. Ultrasonic processing makes it easier to emulsify the polymers used in these coatings. Typically, nanoparticles utilized in sonochemical coatings aggregate during the mixing process. With ultrasonic processing, these particles can be more effectively dispersed and deagglomerated. It can be utilized in liquids with a high viscosity as well as liquids with a high solids content. Thus, the growing demand for environment-friendly solutions is driving market expansion.
It has been observed that solvent-based sonochemical coatings are composed of volatile organic compounds (VOCs). Recent research indicates that the production of these VOCs is damaging to the environment, consequently limiting the global demand increase for solvent-based sonochemical coatings. Also, federal, state, and local governments throughout the world have been controlling VOC emissions by setting emission limits for a unit time period, so preventing end-users from favoring solvent-borne coatings and restricting their market expansion. In the United States, for instance, the Environmental Protection Agency (EPA) has established federal regulations for volatile organic compound (VOC) emissions, and some states have enacted even stricter emission standards, which have a negative impact on market growth.
The global market for sonochemical coatings is dominated by a small number of medium-sized companies that hold the great majority of the market share. Ongoing market trends for sonochemical coatings indicate that the majority of companies are investing considerably in thorough research and development operations. The most prominent companies in a market often implement vital strategies such as product line expansion and mergers and acquisitions. Numerous well-known manufacturers, such as Ultrasonic Systems, Inc., Sono-Tek, Sonaer, Inc., MTI, Siansonic Technology Co., Ltd., Nadetech Innovations, Optosense and Noanix, are now involved in this industry.
For instance, in January of 2020, Sono-Tek, one of the foremost producers and developers of sonochemical coating systems, introduced FlexiCoat EMI, a novel sonochemical coating system designed for conformal spraying of electromagnetic interference shielding material onto semiconductor packages. Sono-Tek, one of the foremost makers and innovators of sonochemical coating systems, designed FlexiCoat EMI. Thus, the R&D activities and developments by the market participants will provide lucrative opportunities for the sonochemical coatings market.
The sonochemical coatings market is segmented into type, substrate, technology end-user and region. Depending on the type, the market is divided into silver-titanium dioxide (Ag-TiO2) , prussian blue nanoparticles (PB-NPs), copper oxide (CuO), zinc oxide (ZnO), silicon dioxide and others. On the basis of substrate, it is categorized into cotton, plastic, metal and others. On the basis of technology, it is categorized into water-based and solvent-based. On the basis of the end-use industry, it is divided into medical, textile, consumer electronics, automotive, and others. Region-wise, the market is studied across North America, Europe, Asia-Pacific, and LAMEA.
The major players operating in the global sonochemical coatings market are Sono-Tek Corporation, Ultrasonic Systems, Inc., Sonaer Inc., NOANIX, NADETECH INNOVATIONS S.L., Hielscher Ultrasonics GmbH, CHEERSONIC UlLTRASONICS EQUIPMENTS CO., LIMITED, MTI Corporation, Ralsonics, Siansonic Technology Co., Ltd. Other players operating in the market are Optosense, Advanced Oncotherapy PLC, Danfysik A/S, Hitachi, Ltd, IBA Worldwide and Mevion Medical Systems, Inc
Sonochemical Coatings Market

---

By Type
Copper Oxide (CuO) is projected as the fastest growing segment.
The Zinc Oxide (ZnO) segment accounted for the largest share, owing to ZnO's great effectiveness, low toxicity, long-lasting effect, and durability. The industry is also driven by the increasing demand for ZnO coatings in medical & healthcare, electronics, and other industries. ZnO coatings promote workplace safety and cleanliness by inhibiting the growth of COVID-19 virus, bacteria, and other microorganisms on frequently handled surfaces. The Copper Oxide (CuO) segment is the fastest-growing segment with CAGR 9.5%, the electrical and electronic industry's use of copper oxides in products like magnetic storage devices, semiconductors, cathodes, and solar cells has created a significant commercial opportunity for producers of nanoscale copper oxides.
Sonochemical Coatings Market

---

By Substrate
Cotton is projected as the fastest growing segment.
The metal segment accounted for the largest share and its demand is rising from the global electronics industry has led to the growth of the metal substrate. Additionally, the booming automotive and healthcare sectors are boosting the use of metal substrates. The cotton segment is the fastest-growing segment with CAGR 9.3%, because of the rise in demand for printed textiles and for higher-quality goods, the usage of cotton substrate has increased significantly.
Sonochemical Coatings Market

---

By Technology
Solvent based is projected as the fastest growing segment.
The Solvent Based segment accounted for the largest share and is the fastest-growing segment with CAGR 9.0%, the increase in demand from end-use industries such as infrastructure, automotive, and general industrial is expected to boost the expansion of solvent-based coatings.
Sonochemical Coatings Market

---

By End-use Industry
Textile is projected as the fastest growing segment.
The medical segment accounted for the largest share, owing to the reduction in surgical operations is primarily responsible for the growth of the medical industry. Less invasive techniques are being regularly adopted by an increasing number of healthcare establishments. Both the patient and the provider have accepted this idea favorably; for the patient, advantages include early discharge and returns to normalcy, and for the provider, advantages include a quicker turnaround, resulting in more income. The textile segment is the fastest-growing segment with CAGR 9.6%, due to the rising demand for antibacterial textiles, the textile industry has advanced significantly. As a result, the market for sonochemical coatings will be driven by the rising textile industry.
Sonochemical Coatings Market

---

By Region
Asia-Pacific has garnered major share and is projcted as the fastest growing region.
The growth of important end-use industries including healthcare, construction, and electronics is what drives the market in Asia Pacific. The packaging market is expected to grow in the near future thanks to a strong manufacturing base in China, Japan, and India as well as rising e-commerce and electronic device sales.
Key Benefits For Stakeholders
This report provides a quantitative analysis of the market segments, current trends, estimations, and dynamics of the sonochemical coatings market analysis from 2021 to 2031 to identify the prevailing sonochemical coatings market opportunities.
The market research is offered along with information related to key drivers, restraints, and opportunities.
Porter's five forces analysis highlights the potency of buyers and suppliers to enable stakeholders make profit-oriented business decisions and strengthen their supplier-buyer network.
In-depth analysis of the sonochemical coatings market segmentation assists to determine the prevailing market opportunities.
Major countries in each region are mapped according to their revenue contribution to the global market.
Market player positioning facilitates benchmarking and provides a clear understanding of the present position of the market players.
The report includes the analysis of the regional as well as global sonochemical coatings market trends, key players, market segments, application areas, and market growth strategies.
 Sonochemical Coatings Market Report Highlights
Aspects
Details
Market Size By 2031
USD 148.7 million
Growth Rate
CAGR of 8.7%
Forecast period
2021 - 2031
Report Pages
455
Type

Silver-Titanium Dioxide (Ag-TiO2)
Prussian Blue Nanoparticles (PB-NPs)
Copper Oxide (CuO)
Zinc Oxide (ZnO)
Silicon Dioxide (SiO2)
Others

End-use industry

Medical
Textile
Consumer Electronics
Automotive
Others

Substrate

Cotton
Plastic
Metal
Others

Technology

Water based
Solvent Based

By Region

North America (U.S., Canada, Mexico)
Europe (Germany, France, Italy, UK, Spain, Rest of Europe)
Asia-Pacific (China, India, Japan, South Korea, Australia, Rest of Asia-Pacific)
LAMEA (Brazil, South Africa,, Saudi Arabia, Rest of LAMEA)

Key Market Players
Sono-Tek Corporation, Ultrasonic Systems, Inc., Sonaer Inc., NOANIX, NADETECH INNOVATIONS S.L., Hielscher Ultrasonics GmbH, CHEERSONIC UlLTRASONICS EQUIPMENTS CO.,LIMITED, MTI Corporation, Siansonic Technology Co., Ltd., Ralsonics