Sorghum And Sorghum Seeds Market Overview:
Global Sorghum And Sorghum Seeds Market was valued at $8,279 million in 2016, and is expected to reach $10,591 million by 2023, registering a CAGR of 3.6% from 2017 to 2023. Sorghum is a genus of flowering plants of the grass family Poaceae. Sorghum is a cereal grain that grows tall (similar to corn), and is used for a lot of purposes such as sweetening, human food, and livestock feed.
Sorghum is used as human feed and livestock feed and the rest is turned into ethanol. It is a popular crop to grow within the drier regions, since it is drought resistant and shows efficient yields even in regions with scarcity of water. One species is grown for grain, while many others are used as fodder plants, either cultivated in warm climates across the globe or naturalized, in pasture lands. Sorghum is efficient in converting solar energy to chemical energy, and also uses less water compared to other grain crops. Biofuel is produced using sweet and biomass sorghum and is being developed with biomass, which can be turned into syngas, charcoal, and bio-oil.
The global sorghum and sorghum seeds market is segmented based on type, application, and geography. On the basis of type, the market is categorized into grain sorghum, forage sorghum, biomass sorghum, and sweet sorghum. On the basis of application, the market is classified into human feed, biofuel & ethanol, and livestock feed. By geography, the market is analyzed across North America, Europe, Asia-Pacific, and LAMEA.
Global Sorghum and Sorghum Seeds Market Segmentation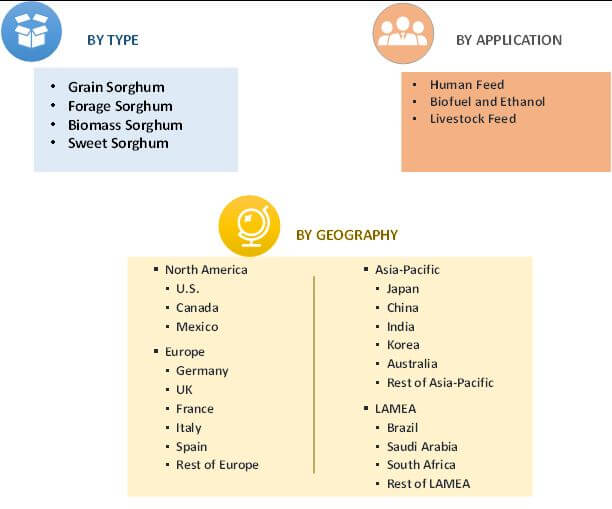 Top Investment Pockets, by Application
The biofuel and ethanol segment offers maximum market potential in the global sorghum and sorghum seeds market, due to increase in demand for cost-effective and greener fuel alternatives especially in the developing countries of Russia, China, India, Indonesia, and others. In addition, rise in focus on energy security and increase in prices of crude oil are some other major aspects fueling the demand for sorghum in the global sorghum and sorghum seeds market.
Moreover, owing to technological advances in production methods and excellent chemical and physical characteristics, sorghum is not only well-recognized for its use in biofuel, but also plays a major role in human and animal feed as well as other industrial applications. The biofuel and ethanol segment is expected to register a CAGR of 3.8% during the forecast period. However, shift in consumer preferences and increase in introduction of new and cheaper alternatives are some key factors anticipated to hamper the market growth in the near future. Furthermore, investments in R&D activities to produce more efficient yields of sorghum is expected to provide growth opportunities in the future.
Global Sorghum and Sorghum Seeds Market: Top Investment Pockets, by Application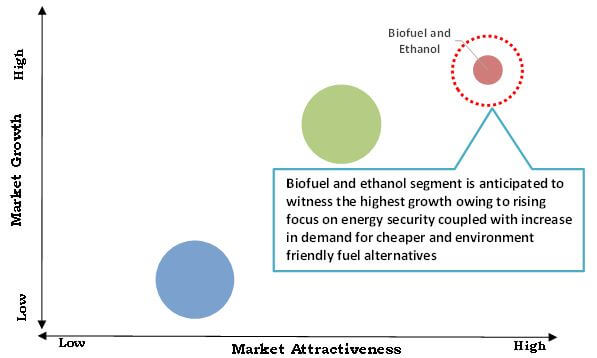 Segment Overview
The grain sorghum segment accounted for the largest share in the global market in 2016, and is anticipated to maintain its dominance throughout the forecast period, growing at a CAGR of 3.4%.
Sorghum and Sorghum Seeds Market Share, by Type, 2016 (%)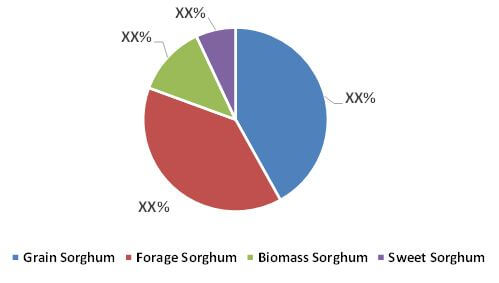 Geographical Overview
LAMEA accounted for more than 35% share of the total revenue in 2016, followed by Asia-Pacific and North America. The developing countries in LAMEA region are anticipated to register steady growth rate, owing to the surge in the overall economy. Moreover, rise in investments by key manufacturers fuel the market growth.
South Africa Sorghum and Sorghum Seeds Market, 2016-2023 ($million)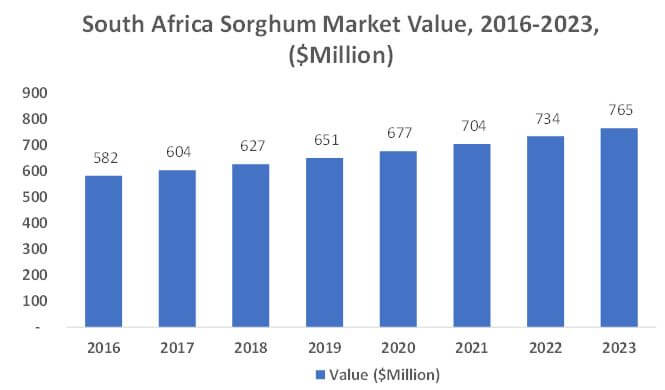 Key market players have invested in R&D activities to develop advanced products to cater to the growing requirements of the consumers. The players operating in the industry include National Sweet Sorghum Producers & Processors Assn, National Sorghum Producers, Sorghum Forum Of South Africa, Shri Lal Mahal Group, Richardson Seeds, Mabele Fuels, Advanta Seeds US, DuPont, Archer Daniels Midland, and Ingredion.
The other players in the value chain (profiles not included in the report) include Associated British Foods, General Mills, Sai Agro Exim, and SEMO Milling, Chromatin Inc., Bunge Limited, Cargill Incorporated, Dow AgroSciences LLC, Blue River Hybrids, Taj Agro International Ltd., La Crosse Seed LLC, Hancock Farm and Seed Company, Pacific Seeds, Allied Seed LLC and Dyna-Gro Seed, and others.
Key Benefits
The report provides extensive qualitative & quantitative analysis of the current trends and future estimations of the market from 2016 to 2023 to determine the prevailing opportunities.
It offers comprehensive analysis of key regions, such as North America, Europe, Asia-Pacific, and LAMEA, to understand the regional trends.
In-depth analysis of factors that drive and restrict the growth of the market is provided.
Extensive analysis is conducted by following key product positioning and monitoring the top competitors within the market framework.
It offers key insights on strategic analysis of various companies and the value chain analysis of sorghum.
 Sorghum and Sorghum Seeds Market Report Highlights
Aspects
Details
By Type

Grain Sorghum
Forage Sorghum
Biomass Sorghum
Sweet Sorghum

By Application

Human Feed
Biofuel and Ethanol
Livestock Feed

By Geography

North America
EUROPE

Germany
France
UK
Spain
Italy
Rest of Europe

Asia-Pacific

India
China
Japan
Australia
Korea
Rest of Asia-Pacific

LAMEA

Brazil
KSA
South Africa
Rest of LAMEA

Key Market Players
NATIONAL SWEET SORGHUM PRODUCERS & PROCESSORS ASSN, NATIONAL SORGHUM PRODUCERS, SORGHUM FORUM OF SOUTH AFRICA, SHRI LAL MAHAL GROUP, RICHARDSON SEEDS, MABELE FUELS, ADVANTA SEEDS US, DUPONT, ARCHER DANIELS MIDLAND, INGREDION