flexible endoscope market Overview:
The South Asia flexible endoscope market accounted for $284 million in 2017, and is projected to reach $510 million by 2025, registering a CAGR of 7.4% from 2018 to 2025. Flexible endoscopes are devices used to execute minimally invasive surgeries of different parts of the body including visceral organs, cavities, and lumens of mucosal region.
Different types of flexible endoscopes include bronchoscopes, arthroscopes, laparoscopes, urology endoscopes, neuro endoscopes, obstetrics/gynecology endoscopes, gastrointestinal endoscopes, ENT endoscopes, and other applications such as nasopharyngoscopy and laryngoscopy.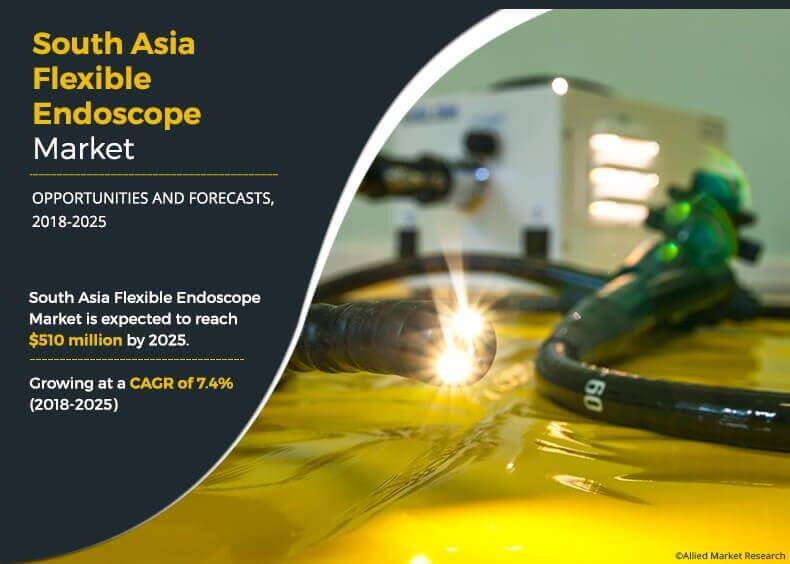 Increase in elderly population, surge in adoption of minimally invasive surgeries by the healthcare professionals, rise in patient preference for minimally invasive surgeries, and growth in prevalence of chronic diseases such as cancer and arthritis drive the South Asia flexible endoscope market. Furthermore, technological advancements associated with endoscopic cameras for better visualization is also expected to foster the market growth in the near future.
However, dearth of the skilled healthcare professionals in performing the endoscopic surgeries and high cost of minimally invasive devices are the factors anticipated to restrain the growth of the South Asia flexible endoscope market. Conversely, surge in disposable income of population in the South Asia region is expected to provide lucrative growth opportunities for the market.
The South Asian flexible endoscope market is segmented based on application, end user and country. Based on application, the market is divided into bronchoscopy, arthroscopy, laparoscopy, urology endoscopy, gastrointestinal endoscopy, neuro endoscopy, obstetrics/gynecology endoscopy, ENT endoscopy, and other applications. Based on end user, it is categorized into hospitals, clinics, and others. By Country, it is analyzed across India, Pakistan, Bangladesh, Sri Lanka, Nepal, and rest of South Asia.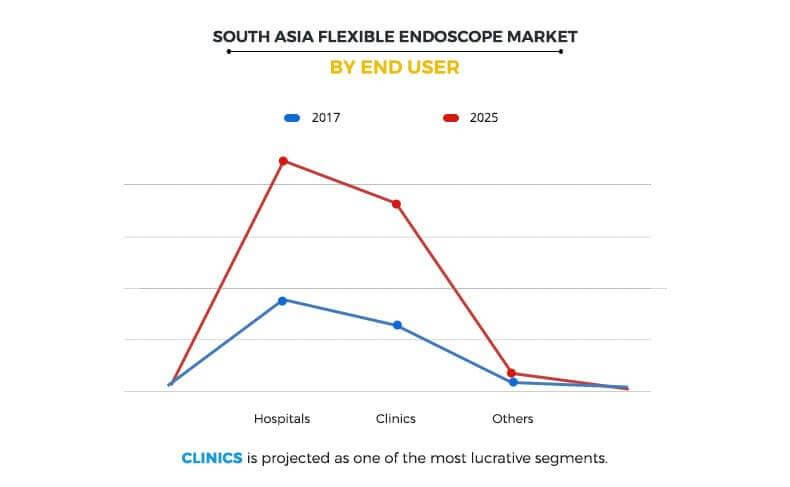 Hospitals account for the largest share among end users for flexible endoscopes, followed by clinics and others. This is attributed to the fact that hospitals are well-equipped with endoscopy units to cater to the different needs of endoscopic procedures. Moreover, endoscopy units at hospitals are equipped with video endoscopy system, trolleys, cabinets, monitoring & documentation equipment, medication, insufflators, and other apparatus required to perform endoscopy modalities. Furthermore, the market for flexible endoscopes is developing in the most remote regions of South Asia. For instance, in June 2017, Human Organ Transplant Centre (HOTC), Bhaktapur became the premiere public hospital to provide endoscopic ultrasound service in Nepal.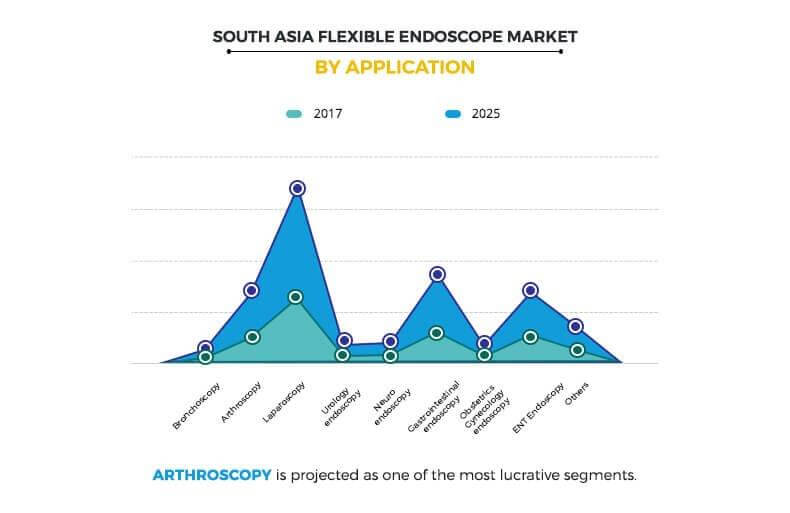 Laparoscopy application segment dominated the South Asia flexible endoscope market in 2017. This is attributed to the increase in obese population and rise in demand for minimal invasive surgeries such as laparoscopy for weight reduction (bariatric surgeries). Furthermore, surge in geriatric population, rise in health awareness, and increased adoption of minimally invasive surgeries by the healthcare professionals is also anticipated to boost the growth of the South Asia flexible endoscope market.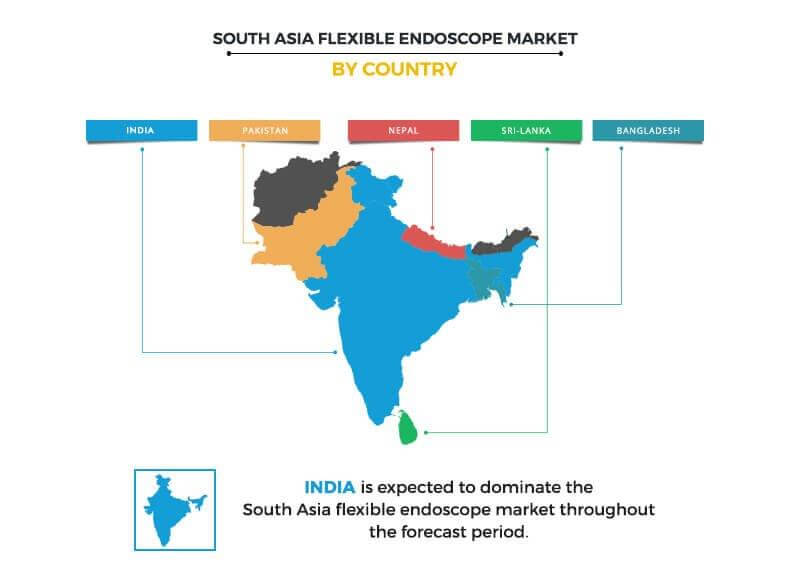 The report provides an extensive competitive analysis and profiles of the key market players, such as Boston Scientific Corporation, Conmed Corporation, Fujifilm Holdings Corporation, HOYA Corporation, Johnson & Johnson (Ethicon, Inc.), Karl Storz GmbH & Co Kg, Olympus Corporation, Stryker Corporation, Vimex sp. z.o.o. (Vimex endoscopy). The other players included in the value chain analysis (but not included in the report) are Richard Wolf GmbH, Hill Rom Holding Inc., Smith & Nephew plc, and Xion GmbH.
Key Benefits flexible endoscope market:
The study provides an in-depth analysis of the South Asia flexible endoscope market along with the current trends and future estimations to elucidate the imminent investment pockets of the industry.

The report presents a quantitative analysis of the market from 2018 to 2025 to enable stakeholders to capitalize on the prevailing market opportunities.

An extensive analysis of the market based on application, end user, and countries assist in understanding the trends in the industry.

The key market players are analyzed along with their strategies to understand the competitive outlook of the South Asia flexible endoscope industry.
 South Asia Flexible Endoscope Market Report Highlights
Aspects
Details
By Application

Bronchoscopy
Arthroscopy
Laparoscopy
Urology Endoscopy
Neuro Endoscopy
Gastrointestinal Endoscopy
Obstetrics/Gynecology Endoscopy
ENT Endoscopy
Other Endoscopy applications

By End User
By Country

South Asia

India
Pakistan
Bangladesh
Sri Lanka
Nepal
Rest of South Asia

Key Market Players
STRYKER CORPORATION, MEDTRONIC PLC., FUJIFILM HOLDINGS CORPORATION, JOHNSON & JOHNSON (ETHICON, INC.), BOSTON SCIENTIFIC CORPORATION, KARL STORZ GmbH & CO KG, CONMED CORPORATION, OLYMPUS CORPORATION, HOYA CORPORATION, VIMEX SP. Z O.O. (VIMEX ENDOSCOPY)