Southeast Asia Automotive OEM Telematics Market Statistics 2021-2025:
The Southeast Asia automotive OEM telematics market was valued at $1,180.10 million in 2016, and is projected to reach $ 5,556.76 million in 2025, registering a CAGR of 19.3%. 
The COVID-19 crisis augmented the 2019 global economic slowdown and further reduced the manufacturing and sales of automotive OEM telematics and automotive parts in Southeast Asia. Multiple original equipment manufacturers (OEMs) closed or cut down their productions temporarily or in some cases, even permanent closure of the operating plant was observed in the region. However, with the increasing efforts regarding the stabilization and boosting the economies by the governments, the Southeast Asian Automotive OEM Telematics market is expected to witness a significant growth soon.
The use of telematics allows the OEMs to wirelessly collect a wide array of information from geographic location and fuel-usage periods to upkeep requirements and vehicle performance data. Telematics gateways offer OEMs the opportunity to track their users even after the sale of the automobile. Moreover, telematics also permits OEMs, their partner companies, and independent content makers & aggregators to provide useful information such as maps, traffic conditions, news, social media updates, weather forecasts, and others to the vehicle. Numerous companies, such as Shell (Shell Telematics), Cerence, PATEO, and Cartrack, indicate a strong demand for automotive telematics in Indonesia Automotive OEM Telematics Market. In December 2020, the Philippine Insurers and Reinsurers Association (PIRA) announced that it would consider data evaluation based on telematics to detect and analyze driving behavior in promoting insurance technology. Furthermore, in October 2017, MAN Automotive Concessionaires Corporation (MACC) in the Philippines recently launched the new Telematics and Fleet Management System (FMS). Such developments are anticipated to offer lucrative opportunities for the Philippines Automotive OEM Telematics Market over the forecast timeframe.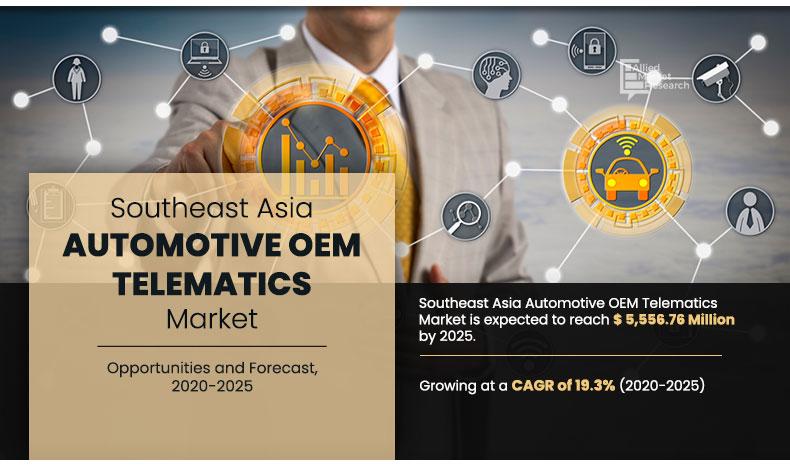 A telematics system comprises an automobile locating device fitted in a vehicle that makes the directing, getting, and storage of telemetry data possible. It links through the automobile's own onboard diagnostics (ODB-II) with a SIM card while an onboard modem allows the communication via a wireless network. The data captured by the telematics device usually comprise speed, location, harsh acceleration or braking, fuel consumption, idling time, vehicle faults, and several other data. When evaluated for specific events, this data can offer deep insights across an entire fleet of vehicles.
The Southeast Asia automotive OEM telematics market is segmented into solution, channel, vehicle type, and country. Based on solution, it is further divided into telematics insurance, fleet/vehicle management, telematics maintenance, location information services, infotainment, in car marketing, smart contracts, and others. Based on channel, the market is bifurcated into OEM and direct sales. The direct sales segment is further categorized into logistics, public transport, ride hailing/taxi, and others. Depending on vehicle type, it is fragmented into HCV, MCV, LCV/vans, bus, taxis or ride hailing, and others. Country-wise, the market is analyzed across the Philippines, Vietnam, Thailand, and Indonesia. Thailand Automotive OEM Telematics Market is expected to grow with a significant pace over the forecast years owing to its economic performance and its thriving automotive industry. Moreover, the initiatives by government in Philippines to ease the operations of the logistics and transportation industries is projected to boost the Philippines Automotive OEM Telematics Market in the near future. 
Key players operating in the Southeast Asia automotive OEM telematics market include AT&T Inc., Continental AG, Harman International, LG Electronics Inc., Robert Bosch GmbH, Texas Instruments Incorporated, UD Trucks Corp., Valeo, Verizon Communications Inc., and Webfleet Solutions B.V.
Transport & Logistics Sector to propel the Southeast Asian OEM Automotive Telematics Market
Southeast Asian countries, such as Thailand, Vietnam, Indonesia, and the Philippines, have a robust transport & logistics sector. With liberalization of imports & exports and huge Foreign Direct Investment, the Southeast Asian trade volumes have dramatically increased in the region over the years. The availability of low-cost and highly skilled labor force has resulted in rapid development of economic activities in the region. The logistics industry is anticipated to grow 15-20% in the next 5 years, and Vietnam is working to increase the share of logistics services to its gross domestic product to 5-6 % by 2025 in line with a recent announcement by the Prime Minister in February 2021. Such initiatives are expected to bolster the growth of Vietnam Automotive OEM Telematics Market over the forecast timeframe. Furthermore, according to Indonesia Economic Forum data released in 2019, the Indonesia logistic market revenue is expected to reach around $300.3 billion by 2024, which is projected to offer lucrative opportunities for the
Indonesia Automotive OEM Telematics Market over the forecast period. 
Southeast Asian governments have well recognized the significance and urgency for the requirement of superior infrastructure for the expedition of growth in the respective countries. Several nations have developed big transportation and logistics centers for the ASEAN region. With their business-favorable locations in Southeast Asia, large production base, sizable consumer market of 68 million people, and developed infrastructure, Thailand has evolved as a key logistics hub linking several regional and international markets. This is expected to boost the Thailand Automotive OEM Telematics Market over the forecast period. In addition, the road transport segment in Vietnam is expected to grow considerably in the coming years, owing to the continuing development of the country as a key regional industrial hub. According to Netherlandsworldwide.nl, road transport presently plays a vital role in Vietnam serving around 75.6% of the overall freight transport and about 94.09% of all public transportation. This factor is expected to increase the growth of Vietnam Automotive OEM Telematics Market over the forecast period.
Automotive telematics delivers a number of useful services for drivers. Telematics integrates navigation, safety, and communication that fit in a vehicle's dashboard. Most telematics systems offer features such as automatic collision notification, emergency assistance, roadside assistance, vehicle diagnostics, and other useful features. In Southeast Asian countries, Yazaki Corporation, DRVR, UD Trucks Corp, Valeo, and several other companies provide automotive telematics solutions that enable original equipment manufacturers (OEMs) to wirelessly collect an extensive range of data from geo location and fuel-usage frequencies to upkeep requirements and vehicle performance data that is quite helpful for logistics and transportation companies to gather the critical real-time data about their fleet. The rising demand for OEM automotive telematics in prominent Southeast Asian countries, such as Thailand, Indonesia, Vietnam, and the Philippines, is expected to propel the growth of the automotive OEM telematics market over the forecast timeframe.
Southeast Asia Automotive OEM Telematics Market

---
By Solution
Smart Contracts is projected as the most lucrative segment
Increase in use of cloud-based technology for automotive telematics solution
With increase in demand for connectivity and fleet management solutions, smart devices and applications have become vital tools for fleet operators. Tracking assets, driver monitoring, fleet optimization, and other related issues are addressed by cloud management solutions. Furthermore, cloud enables the backup and recovery of data and applications on a secondary storage or infrastructure. In addition, many organizations are deploying different cloud models to overcome the drawbacks of traditional fleet management solutions. Smart fleet management-based solutions analyze the information of fleet, such as route planning, fuel analytics, and driving patterns, to improve productivity and fuel savings. Moreover, AI and machine learning capabilities facilitate autonomous dispatching & routing and empower fleet managers to predict vehicle health and driving habits based on a vehicle's utilization with lower maintenance requirements and cost-effectiveness. With the rising demand for cloud-based automotive telematics solution in Southeast Asian countries, several companies are offering their cloud-based automotive telematics products in the region. For instance, in August 2020, Tata Communications introduced MOVE and IZO private cloud IoT Fleet and Asset Tracking product in Southeast Asia. All these factors significantly contribute to the growth of the market.  
High costs associated with automotive telematics
Telematics is vital to effective fleet operations. Telematics involves transmitting information remotely over large distances. The information communicated by the telematics device provides fleet managers with in-depth insights for their whole fleet. However, automotive telematics incurs high costs. Firstly, the users of telematics service pay for the telematics device. The price of the device is dependent on the type of device the client chooses. While the costly telematics devices transmit data in real-time, less expensive ones transmit at a programmed interval, for example, every 30 minutes or on an hourly basis. The factor that can add up to the overall cost of the telematics device is the number of data points one wants to monitor, for example, engine load, braking speeds, fuel consumption, and others. Another factor that affects the overall cost of telematics is the installation cost. While superior devices come with a feature of plug-and-play and can be installed quickly and incur no installation costs, other devices may involve a specialist to install. For a device that needs to be hard-wired or retrofitted, the installation costs are significantly higher. Lastly, the once-a-month subscription fee affects the cost of the automotive telematics system. These costs result in high prices of automotive telematics, which is anticipated to hinder the growth of the automotive OEM telematics market over the forecast timeframe.
Southeast Asia Automotive OEM Telematics Market

---
By Channel
OEM is projected as the most lucrative segment
Automotive telematics enables smart transportation system  
Automotive telematics is a communication technology that works on the basis of data flowing and produced from automobiles via wireless networks. It is the amalgamation of in-vehicle electronics, location technology, and wireless communications, which helps the passenger and commercial vehicles to get real-time traffic updates, on-demand infotainment, and other useful information. Such a smart transport system has limitless potential to significantly improve the efficiency and safety of vehicles running on increasingly busy roads, especially in developing countries. With rising congestion on roads in major Southeast Asian countries, telematics solutions can be really helpful in giving alerts regarding the congested and relatively low-traffic paths. Telematics has the capability to revolutionize the future smart transportation systems as it can help in relaxing traffic congestion, providing actionable insights for insurers, and improving fleet management. 
Smart transportation in the manifestation of connected vehicles has the ability to decrease the traffic congestion on urban roads, thereby resulting in greater fuel efficiency and enhancing the safety of drivers. Telematics works on the basis of using the information from the traffic system to recognize and distribute the green signal pattern with car users via a dashboard or smartphone alert so that the drivers can modify their speeds to adjust with the frequency of the green signal on the road.
Southeast Asia Automotive OEM Telematics Market

---
By Vehicle Type
HCV is projected as the most lucrative segment
The usage of automotive telematics provides the ability to convert vehicle real-time data into actionable insights. For car insurance providing companies, the traffic, locational, & behavioral information that telematics collects can help them to create superior risk estimation to define more tailored insurance premiums. Moreover, telematics enables the insurers to make use of this smart transportation system to detect mishaps in real-time, which allows them to seize a greater share of the repair business.
Traditionally, fleet services have been highly custom-made and costly. However, the wide adoption of connected services and intelligent transport systems is anticipated to transform the conventional model. While the global positioning system (GPS) technology can help in tracking a vehicle's location, speed, and status, it doesn't allow the data to be detected across a fleet service. On the other hand, a fleet telematics solution provides a wide range of profits to companies that depend on quick transfer of products and services. Furthermore, using the data collected through telematics, fleet services can manage fuel and labor usage, allocate resources in a better way, and control the costs. 
Southeast Asia Automotive OEM Telematics Market

---
By Country
Vietnam would exhibit the highest CAGR of 20.1% during 2020-2025.
COVID-19 Impact Analysis 
The COVID-19 impact on the automotive OEM telematics market is unpredictable and is expected to remain in force till the second quarter of 2021. 
The COVID-19 outbreak forced governments across the globe to implement strict lockdowns and made social distancing mandatory to contain the spread of the virus. Consequently, several organizations started the work from home program as a safety measure. This led to the sudden fall in demand for automobiles across the world.  
Moreover, nationwide lockdowns disrupted the supply chains as several automotive telematics component manufacturers had to partially or fully shut down their operations.
The adverse impacts of the COVID-19 pandemic have resulted in delays in activities and initiatives regarding the development of innovative telematics devices and services.
Key Benefits For Stakeholders
This study presents analytical depiction of the Southeast Asia automotive OEM telematics market analysis along with the current trends and future estimations to depict imminent investment pockets.
The overall Southeast Asia automotive OEM telematics market opportunity is determined by understanding profitable trends to gain a stronger foothold.
The report presents information related to the key drivers, restraints, and opportunities of the Southeast Asia automotive OEM telematics market with a detailed impact analysis.
The current Southeast Asia automotive OEM telematics market is quantitatively analyzed from 2020 to 2025 to benchmark the financial competency.
Porter's five forces analysis illustrates the potency of the buyers and suppliers in the industry.
 Southeast Asia Automotive OEM Telematics Market Report Highlights
Aspects
Details
By Solution

Telematics Insurance
Fleet/Vehicle Management
Telematics Maintenance
Location Information Services
Infotainment
In Car Marketing
Smart Contracts
Others

By Channel
By Vehicle Type

HCV
MCV
LCV/Vans
Bus
Taxis or Ride Hailing
Others

By Country

Philippines
Vietnam
Thailand
Indonesia

Key Market Players
UD TRUCKS CORP., Verizon Communications Inc, TEXAS INSTRUMENTS INCORPORATED, CONTINENTAL AG, AT&T INC, LG ELECTRONICS INC, ROBERT BOSCH GMBH, Webfleet Solutions B.V., HARMAN INTERNATIONAL, Valeo