Southeast Asia Food Processing Equipment Market:
The Southeast Asia food processing equipment market size was valued at $993.90 million in 2017, and is projected to reach $1,434.89 million by 2025, growing at a CAGR of 4.7% from 2018 to 2025. Food processing machines are tools that facilitate commercial production and packaging of different kind of food products such as meat, baked items, seafood, poultry, dairy, beverages, and others. These products are gaining popularity globally as they are considered nutritionally rich, shelf-stable, and have lower risk of contamination. They exist in a variety of design, size, and configuration and can be conveniently operated. Earlier, conventional tools were designed to perform single task but at present, advanced equipment are designed, which comprises multiple processing lines capable of accommodating continuous and automated operations.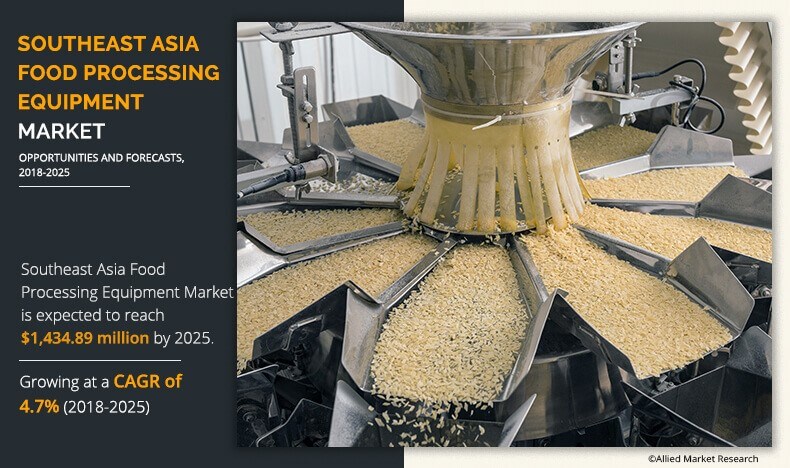 The leading players in the meat, poultry, and seafood industries have focused on product launch, acquisition, and business expansion as their key strategies to gain a significant share in the market. The key players profiled in the report include Alfa Laval AB, Auto Kinetics (M) Sdn Bhd, Baader Group, Bucher Industries AG, Buhler AG, Emura Food Machine Co., Ltd., Euroasia Food Equipment Sdn Bhd, GEA Group AG, Gold Peg International Pty Ltd, Heat and Control, Inc., Keto Agricultural Engineering Sdn. Bhd., Key Technology, Inc, Krones AG, Marel HF, Marlen International, Inc., Nichimo International Inc., Paul Mueller Company, Tetra Pak International S.A., The Middleby Corporation, Topsteel Holdings Pte Ltd, and Yanagiya machinery Co., Ltd.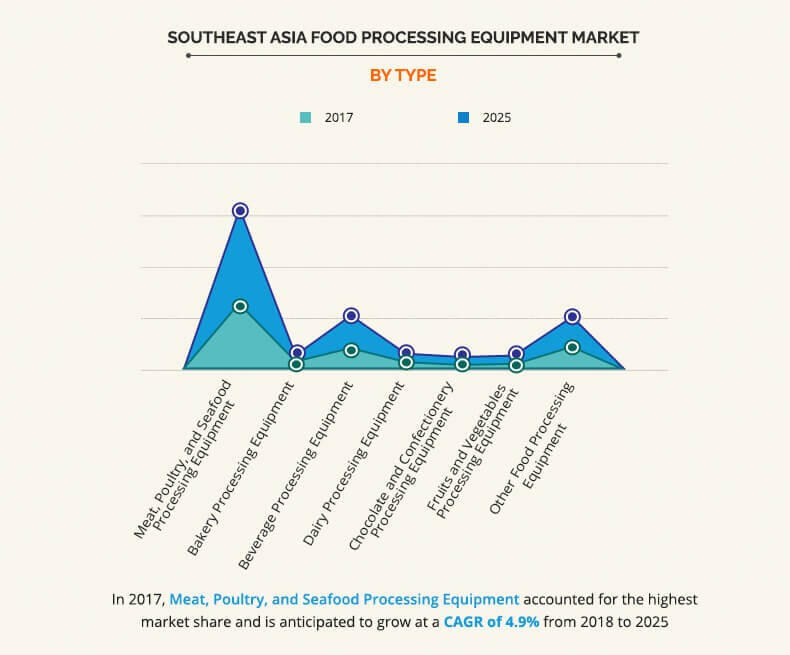 In 2017, the meat, poultry and seafood processing equipment was dominant segment in the Southeast Asia. The number of meat products available globally is very high, with a large number of new products launched every year. These meat processing equipment with improved technology focuses on retaining maximum nutrients and sensory properties and help to extend the shelf life of food without any adverse effect on the quality of food. The consumption of processed meat products such as bacon, ham, hotdogs, sausages, salami, corned beef, beef jerky, canned meat, and meat-based sauces has increased rapidly in recent decades, thereby driving the growth of the Southeast Asia food processing equipment market.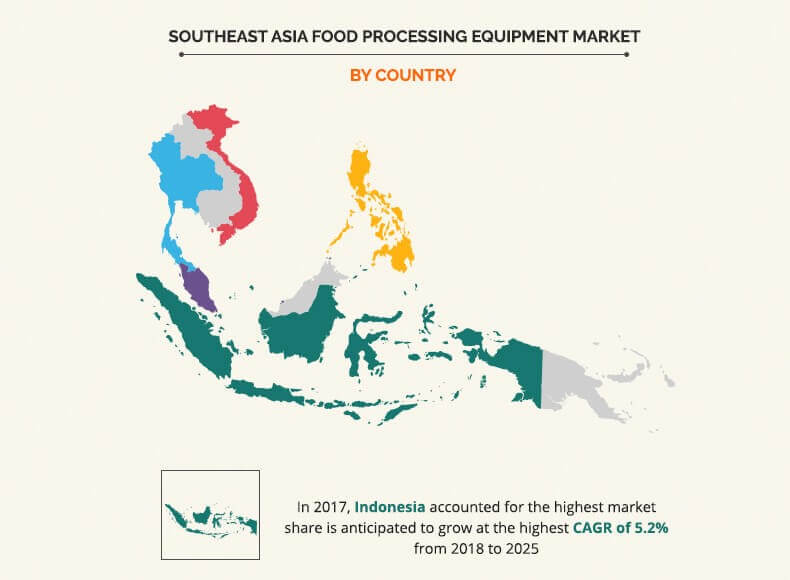 In 2017, Indonesia was the highest revenue contributor to the Southeast Asian market, owing to rise in demand for processed food due to preference of consumers for nutritious, hygienic, and safe food products. Moreover, replacement of conventional tools over the advanced technology in some of the countries in the Southeast Asia is expected to increase the demand for the market.
Key Benefits for Southeast Asia Food Processing Equipment Market:
The report presents an in-depth analysis of the current trends, drivers, and dynamics of the Southeast Asia food processing equipment market to elucidate the prevailing opportunities and tap the investment pockets.

It offers qualitative trends and quantitative analysis of the global market for the period of 20182025 to assist stakeholders to understand the market scenario.

In-depth analysis of the key segments demonstrates the types of food processing equipment available.

Competitive intelligence of the industry highlights the business practices followed by key players across geographies and the prevailing market opportunities.

Key players and their strategies and developments are profiled to understand the competitive outlook of the market.
 Southeast Asia Food Processing Equipment Market Report Highlights
Aspects
Details
By Type

Meat, Poultry, and Seafood Processing Equipment

Cutters and Grinders
Smokers, Massagers, and Tumblers
Mixers
Tenderizers
Killing and Defeathering Equipment
Slicers
Evisceration Equipment
Cookers, Roasters, and Grillers
De-heading And Gutting Equipment
Filleting Equipment
Other Meat, Poultry, And Seafood Processing Equipment

Bakery Processing Equipment

Ovens and Proofers
Dough Mixers
Molders and Sheeters
Dividers and Rounders
Depositors
Other bakery processing equipment

Beverage Processing Equipment

Brewery Equipment
Filtration Equipment
Carbonation Equipment
Blenders and Mixers
Other Beverage Processing Equipment

Dairy Processing Equipment

Pasteurizers
Homogenizers
Separators
Evaporators and Drying Equipment
Membrane Filtration Equipment
Other Dairy Processing Equipment

Chocolate and Confectionery Processing Equipment

Depositors
Formers
Coating and Spraying Systems
Mixers
Coolers
Other Chocolate and Confectionery Processing Equipment

Fruits and Vegetables Processing Equipment

Juice Extractors
Peelers, Cutters, and Pulpers
Dryers
Evaporators
Other Fruits and Vegetables Processing Equipment

Other Food Processing Equipment

By Geography

Indonesia
Thailand
Malaysia
Philippines
Vietnam
Singapore
Rest of Southeast Asia

Key Market Players
ALFA LAVAL AB, AUTO KINETICS (M) SDN BHD, BAADER GROUP, BUCHER INDUSTRIES AG, BUHLER AG, EMURA FOOD MACHINE CO., LTD., EUROASIA FOOD EQUIPMENT SDN BHD, GEA GROUP AKTIENGESELLSCHAFT, GOLD PEG INTERNATIONAL, HEAT AND CONTROL, INC., KETO SDN. BHD., KEY TECHNOLOGY, INC., KRONES AG, MAREL, MARLEN INTERNATIONAL, INC. (A DURAVANT COMPANY), NICHIMO CO., LTD, PAUL MUELLER COMPANY, THE MIDDLEBY CORPORATION, TETRA PAK INTERNATIONAL S.A., TOPSTEEL HOLDINGS PTE LTD., YANAGIYA MACHINERY CO., LTD.