Southeast Asian Tire Market Statistics 2030 -
The southeast Asian tire market was valued at $8.21 billion in 2020, and is projected to reach $14.48 billion by 2030, registering a CAGR of 6.1%. Thailand was the highest revenue contributor, accounting for $2.68 billion in 2020, and is estimated to reach $4.59 billion by 2030, with a CAGR of 5.8%.
The spread of the COVID-19 pandemic has had a detrimental influence on the Southeast Asian tire market due to travel restrictions and the expected weak financial performance of market players in 2020. The key risks for tire producers include supply chain execution, regulatory and policy changes, labor dependency, working capital management, and liquidity and solvency management. As a result of the COVID-19 outbreak, automotive component exports have been banned, massive industrial disruptions have been reported across Southeast Asia, and manufacturing companies in the major Southeast Asian countries have halted tire manufacturing operations. This has an impact on revenue streams committed to research and development, as well as the adoption of new technology such as all-season tires. Furthermore, in Southeast Asia, vehicle tire sales are inextricably related to automotive manufacturing and supply. Malaysian rubber production fell by 4.2% to 327.8 thousand tonnes in the first half of 2021, compared to 342.2 thousand tonnes in the same period of 2020. As a result, changes in the automotive industry's manufacturing and sales activities are expected to have an immediate impact on the total demand for the Southeast Asian tire market.
The automotive tire is an important component of any vehicle, since it ensures the driver and passengers' safety and comfort. The tire's primary duty is to protect the wheel rim and provide tractive force between the vehicle and the road surface. As it is made of rubber, it also provides a flexible cushion, lessening the impact of vibrations and absorbing the vehicle's shock. Tread, jointless cap heaps, beads, and additional components such as synthetic rubber, carbon black, and fabric make up a rubber tire. Automobile output ultimately determines tire demand.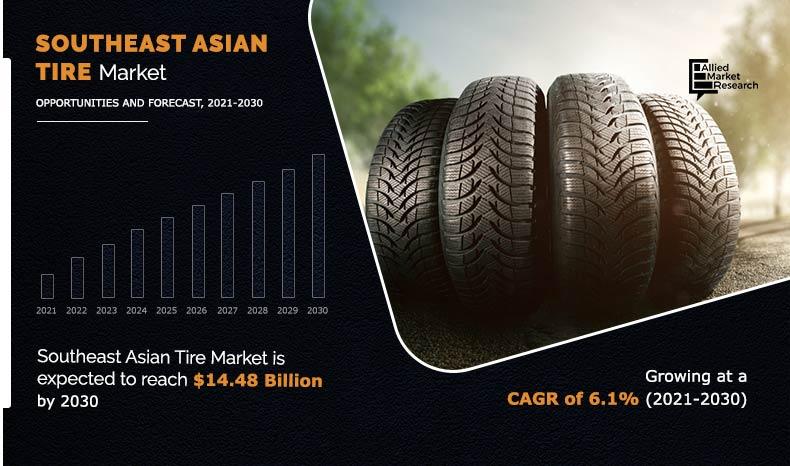 Due to the abundant availability of rubber and the rise in need for vehicle production to meet the spike in demand for automobiles across all segments, the demand for tires is increasing tremendously across Southeast Asia. The increased need for automotive tires has enticed major automakers to establish a presence in the region. For instance, Sumitomo Rubber Industries, Ltd. announced the development of a natural rubber procurement subsidiary in Singapore to manufacture tires in January 2020. Such developments are expected to provide profitable prospects for the Southeast Asian tire market during the forecast period.
The factors, such as high rubber production in the Southeast Asian region, and growing automotive exports, and rising passenger car sales, are expected to drive the Southeast Asian tire market. However, development in the market of retreading tires and lack of infrastructure are expected to restrict the growth of the market during the forecast period. Moreover, rise in southeast Asian government initiatives to increase automotive component manufacturing, and advancement in technology are the factors anticipated to supplement the southeast Asian tire market growth. 
The Southeast Asian tire market is segmented on the basis of type, vehicle type, rim size, and countries. Based on type, it is divided into summer, winter, and all-season. On the basis of vehicle type, it is divided into passenger cars, commercial vehicles, electric vehicles, two-wheelers, three-wheelers, and off-road vehicles. Based on rim size, it is segmented into 13 to 15, 16 to 18, 19 to 21, and more than 21. Country-wise it is analyzed across Indonesia, Malaysia, the Philippines, Thailand, Vietnam, and the rest of Southeast Asia.
Key players, including Bridgestone Corporation, Continental AG, Dunlop Tires, PT Gajah Tunggal Tbk, Goodyear Tire, Hankook Tire & Technology Co., Ltd., Michelin, Pirelli & C. S.p.A, PT Multistrada Arah Sarana Tbk, Sumitomo Rubber Industries, Ltd., The Yokohama Rubber Co., Ltd., Inoac Corporation, PT. Suryaraya Rubberindo Industries, PT Tiga Berlian Mandiri, and others hold major Southeast Asian tire market share.
High rubber production in the Southeast Asian region
Thailand, Indonesia, Vietnam, and other growing economies constitute the Southeast Asian region. In recent years, these countries have seen a surge in the presence of international automobile component manufacturers. The abundant availability of rubber and cheap attracts international automotive tire manufacturers to setup their production facilities in the region. The demand for natural rubber in Southeast Asia will continue to push a departure from traditional farming techniques and toward rubber plantations. Thailand is the world's largest producer of natural rubber, accounting for 97% of global output, followed by Indonesia, Vietnam, and Malaysia. On-site production for foreign manufacturers is easier than exporting tires to Southeast Asia. Furthermore, Indonesia has a significant comparative advantage over other countries in this regard, owing to its enormous rubber-growing area. Thailand is the largest producer and exporter of natural rubber in the world, produces about 3 million tons a year, accounting for up to 40% of worldwide supply. Indonesia produced around 2.88 metric tons of rubber in 2020. Together with Thailand and Malaysia, Indonesia is a member of the International Tripartite Rubber Council. The rubber industry contributes an important role to Indonesia's GDP. Several international businesses, including Lanxess of Germany, are establishing manufacturing facilities in Singapore and Thailand for expanding massive operations to manufacture sophisticated elastomers for tire manufacturing. Due to the region's booming tire manufacturing and the availability of raw materials from local refineries, multinational companies are expanding into Southeast Asia. More than labor costs, natural rubber is a crucial component of tire production. As a result, various major tire manufacturers, such as Bridgestone, Goodyear, Hankook, and Michelin, are established in the archipelago with state-of-the-art factories. S-SBR, which is used to produce tire treads, is a rubber technology that enables tire manufacturers to cater to the demands of fuel efficiency and wet traction. Demand for S-SBR is soaring, fuelled by rising concerns about energy conservation. High-performance tires with S-SBR treads are becoming more common as standard equipment on new automobiles. Gajah Tunggal, the country's largest tire maker, manufactured 43 million tires in 2018, according to its annual balance sheet. Bridgestone is the second-largest producer, with two factories in Bekasi and Karawang, both near Jakarta. Multistrada Arah Sarana (MAS), which exports 80% of its manufacturing, is also a major player in the market. The Southeast Asian tire business is booming due to the region's substantial rubber output.
Growing automotive exports and rising passenger car sales
Automobile production and manufacturing have increased dramatically in recent years, particularly in Thailand, Indonesia, Vietnam, and Malaysia. Thailand has long been recognized as Southeast Asia's primary vehicle manufacturer, and it has gained traction in the automobile export business. In 2018, the country manufactured 2 million vehicles, an increase of 8.7% from 2017, and exports more than half of its output to more than 100 countries, with just over 1 million vehicles sold domestically. While Thailand focuses on vehicle exports, Indonesia has a considerable domestic automobile market, fuelled by a growing middle class. The number of people buying cars in Indonesia is predicted to increase dramatically, with the majority of purchases taking place in the country's cities, particularly Jakarta. By the end of 2018, car sales had increased by 6% to slightly over 1.3 million vehicles, with 346,000 units shipped to countries such as the Philippines, Saudi Arabia, and Vietnam. Indonesia exports approximately 70% passenger vehicle tires and 30% motorcycle tires produced in the country to over 70 nations throughout the globe. Due to fast industrialization, the automobile industry in Southeast Asia has recently experienced tremendous growth, resulting in an increase in the sale of commercial vehicles such as trucks, tractors, and trailers throughout the region. Furthermore, as people's disposable money rises and their standard of living improves, the sale of luxury passenger vehicles and premium segment motorcycles also witnesses a rise. In addition, during the projected period, electric vehicle sales are expected to rise across the region. Electric vehicle sales are further boosted by lower prices for parts such as batteries, transmissions, and alternators. As a result, an increase in consumer demand for vehicles across all segments leads to an increase in the manufacturing of automobiles and the tires that are associated with the vehicles. For instance, Thailand, Vietnam, Indonesia, and the Philippines, have a thriving transport and logistics industry. Southeast Asian trade volumes have risen considerably in recent years as a result of the deregulation of imports and exports as well as large inflows of foreign direct investment. The booming automotive exports and passenger car sales further fuels the growth of the automotive tires in the region. The availability of a low-cost, highly skilled labor population has resulted in the region's economic activity developing at a quick pace.
Southeast Asian Tire Market

---
By Type
Summer is projected as the most lucrative segment
According to a recent announcement by the Vietnamese government in February 2021, the logistics industry is expected to experience growth by 15-20% in the next five years, and Vietnam is seeking to boost the contribution of logistics services in its gross domestic product to 5-6 % by 2025. Moreover, according to data provided by the Indonesia Economic Forum in 2019, the Indonesian logistic market revenue is estimated to reach $300.3 billion by 2024, presenting lucrative potential for the Southeast Asia tire market.
Southeast Asian Tire Market

---
By Vehicle Type
Electric Vehicle is projected as the most lucrative segment
Development in the market of retreading tires
The process of retreading involves replacing the tread on old tires. It's also known as a recap or remold, and it's the process of re-manufacturing tires. When compared to the creation of a new tire, the re-manufacturing procedure of the tire spares a large quantity of material. As a result, the material prices for this procedure are lower. Furthermore, when compared to constructing a new one, it helps save a significant amount of money on tire and material costs. Retreading is far less expensive and environment-friendly than buying a new set of tires because the labor and costs are much lower. One tire may be retreaded up to ten times, thus prolonging its service life and conserving limitless quantities of oil in the manufacturing process as well as lowering carbon emissions and landfill waste. When it comes to businesses with large fleets of vehicles, the savings can be significant. The tire manufacturing business has seen a lot of progress over the years all around the world. Premium technologies are used to create high-quality tires that will work flawlessly not only in their first life, but also in their second, third, and even fourth lives. Stronger tire casings, improved re-manufacturing procedures, and high-quality rubber compounds are being used in the growing retreaded tire business. OEMs' aftermarket costs are directly reduced by retreading. The rise of the retreading tire market is due to factors such as the availability of less expensive tire brands and the discomfort of the roads. Furthermore, the demand for retreaded tires is accelerated by a significant increase in tire prices due to high production costs. Retreading gives tires a fresh chance at life, and it can be done two to three times depending on the tire's condition. This stimulates the retreading tire market, limiting the growth of the Southeast Asia tire market.
Southeast Asian Tire Market

---
By Rim Size
16 to 18 is projected as the most lucrative segment
Rise in Southeast Asian government initiatives to increase automotive component manufacturing
Various incentives have been offered by the governments of Southeast Asian countries to help the region's automobile industry thrive. Tax incentives of up to 300% for conducting R&D and 200% for engaging in vocational activities are among these incentives. In addition, governments of these countries are encouraging the export of locally manufactured sophisticated automotive technology. For instance, in June 2019, Vietnam signed the European Union-Vietnam Free Trade Agreement (EVFTA), which eliminates 71% of levies on Vietnamese exports, including automobiles and automobile parts. The EVFTA, when combined with Vietnam's cheap production costs, may encourage certain automotive and component manufacturers to migrate from other countries to Vietnam. Furthermore, to support local manufacturing industries, Southeast Asian governments are imposing taxes and regulations on the import of automobiles and car components. For instance, Malaysia continues to levy excise rates ranging from 75% to 105% on any passenger cars from ASEAN that are not new energy vehicles(NEV) and do not have local content. Thailand, however, continues to impose a duty of 80% and excise taxes of up to 50% on new non-NEV cars imported. According to the Indonesian Association of Tire Manufacturers, or APBI, up to 40% of all tire imports fail to meet national product standards. Moreover, increased government initiatives in the region to adopt safe and environment-friendly domestically manufactured automotive technologies provide an opportunity for the Southeast Asian tire market to expand.
Southeast Asian Tire Market

---
By Country
Vietnam would exhibit the highest CAGR of 7.3% during 2021-2030.
COVID-19 Impact Analysis 
The impact of COVID-19 on the Southeast Asian tire market is unclear and it is expected to remain restricted until the second quarter of 2021. 
To prevent spread of the COVID-19 virus, governments across the globe implemented strict lockdowns and made social distancing mandatory. Consequently, several organPneizations began work from home programs as precautionary measure. This led to a sudden fall in nd for automobiles.
Moreover, nationwide lockdowns disrupted the supply chain as several manufacturing facilities across the globe were forced to partially or completely shut down their operations.
The adverse impacts of the COVID-19 pandemic resulted in massive supply-demand challenges across the globe.
Key Benefits For Stakeholders
This study presents the analytical depiction of the Southeast Asian tire analysis along with the current trends and future estimations to depict imminent investment pockets.
The overall Southeast Asian tire market opportunity is determined by understanding profitable trends to gain a stronger foothold.
The report presents information related to key drivers, restraints, and opportunities of the market with detailed impact analysis.
The current market is quantitatively analyzed from 2020 to 2030 to benchmark financial competency.
Porter's five forces analysis illustrates the potency of the buyers and suppliers in the industry.
 Southeast Asian Tire Market Report Highlights
Aspects
Details
By Type

Summer
Winter
All Seasons

By Vehicle Type

Passenger Cars
Commercial Vehicles
Electric Vehicles
Two-Wheelers
Three-Wheelers
Off-Road Vehicles

By Rim Size

13 to 15
16 to 18
19 to 21
More than 21

By Country

Indonesia
Malaysia
Philippines
Thailand
Vietnam
Rest of Southeast Asia

Key Market Players
BRIDGESTONE CORPORATION, CONTINENTAL AG, DUNLOP TIRES, HANKOOK TIRE & TECHNOLOGY CO., LTD., INOAC CORPORATION, MICHELIN, PIRELLI & C. S.P.A., PT GAJAH TUNGGAL TBK, PT MULTISTRADA ARAH SARANA TBK, PT. SURYARAYA RUBBERINDO INDUSTRIES, PT TIGA BERLIAN MANDIRI, SUMITOMO RUBBER INDUSTRIES, LTD., THE GOODYEAR TIRE, THE YOKOHAMA RUBBER CO., LTD.