The global space electronics market was valued at $3.3 billion in 2021, and is projected to reach $5.4 billion by 2031, growing at a CAGR of 5.04% from 2022 to 2031.
Space electronics can be identified as electronics components such as microprocessors, controllers, memory chips, and application-specific integrated circuits (ASIC) among others that are designed and developed for application in satellites, rocket launchers, and deep space probes. These electronics are exposed to extreme vibrations, radiation, and other harsh environment in space, posing a demand for radiation treatment that allows them to operate flawlessly in harsh environments. Every space electronics are either radiation-hardened or radiation tolerant, depending upon their scope of application and operator specification. The radiation-hardened space electronics will capture the majority of the market share due to its demand in the conventional market whereas the radiation-hardened space electronics market will witness an accelerated growth rate within the forecast period of 2022-2031 backed by a shift in consumer buying behavior and rise in acceptance of commercial off the shelf (COTS) electronics components within the space segment.
The COVID-19 pandemic has had an adverse effect on the overall space and satellite manufacturing and, in turn, on the space electronics industry. There was a shortage of semiconductors across the globe before the pandemic, owing to sudden rise in demand for consumer electronics. Industrial manufacturing was already facing shortage of chips, which worsened due to global trade restrictions and geopolitical crisis in COVID-19. Asia-Pacific serves as a hub for manufacturing of semiconductor chips with more than 70% of the market demand being catered by the region. The sudden imposition of global lockdown and trade restriction had a major impact on North American and European region, as they were highly dependent on Asia-Pacific for semiconductors. The disruption in supply chain resulted in notable delays in production cycles, enforcing companies to incur losses. However, investments done by major industry players and government bodies within North America and Europe to revive the semiconductor industry and rivalry between the U.S. and China to have technological dominance through indigenous capabilities are expected to support business opportunities in the coming years.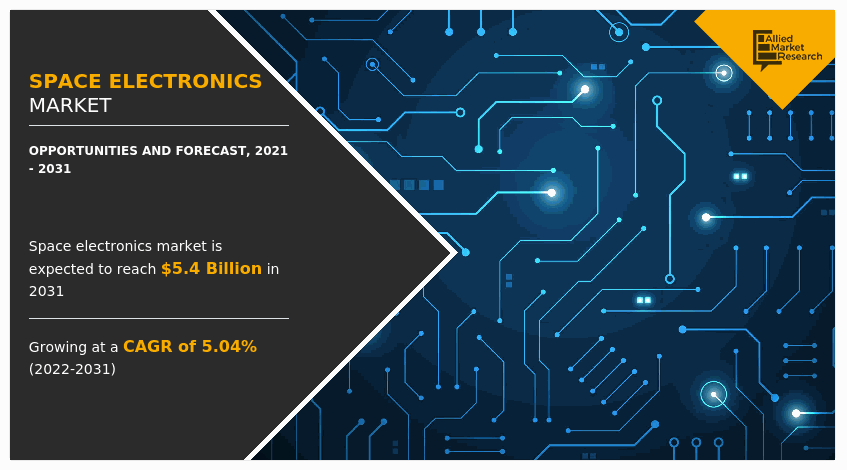 The space electronics market is segmented into Platform, Application, Type and Component.
Factors such as an increase in investment in space ventures, a rise in launch activities by some of the major private and public players, the establishment of a communication satellite constellation in LEO, and the adoption of space tourism in coming years, are expected to augment the growth of space electronics market within the forecast period. Rise in application of satellites for a range of activities such as surveillance, real-time imaging, communication, navigation, weather forecasting, broadband and connectivity, R&D, and testing, and IoT integration for various government, commercial, and civil-military domains is leading to the evolution in the space electronics industry. More than 6,000 satellites were expected to be launched within the timeframe of 2020 to 2027 with rising year-on-year launch rates. The rise in satellite launches has generated demand for various satellite electronics components and other peripheral systems, supporting business opportunities.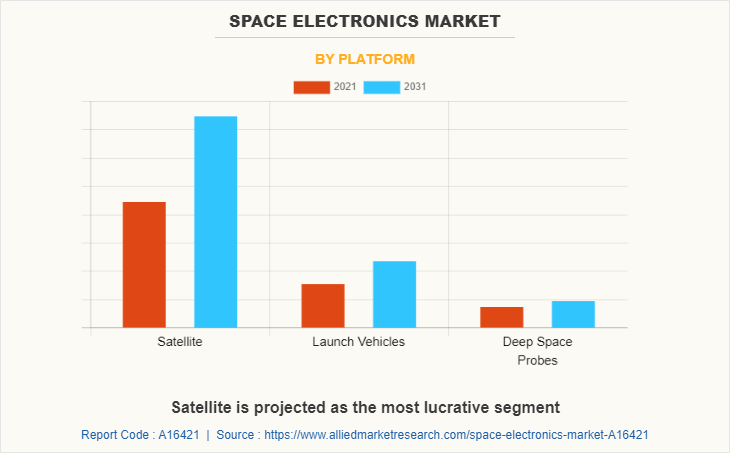 The global space electronics market is segmented on the basis of platform, application, type, component, and region. By platform, it is categorized into satellite, launch vehicles, and deep space probes. Depending on application, it is fragmented into communication, earth observation, navigation, a global positioning system (GPS) & surveillance, technology development, and education, and others. By type, it is divided into radiation hardened and radiation tolerant. By component, it is divided into microprocessors and controllers, sensors, application specific integrated circuits (ASIC), memory chips, power source and cables, discrete semiconductors, and other. Region-wise, the market is analyzed across North America, Europe, Asia-Pacific, and LAMEA.
Companies have adopted product development and product launch as their key development strategies in the space electronics industry. Moreover, collaborations and acquisitions are expected to enable leading players to enhance their product portfolios and expand into different regions. The key players operating in the space electronics market are BAE Systems, Cobham, Honeywell International Inc., Microsemi Corporation, Texas Instruments, STMicroelectronics, Teledyne e2v (UK) Ltd., TT Electronics, Xilinx Inc., and Ruag Group.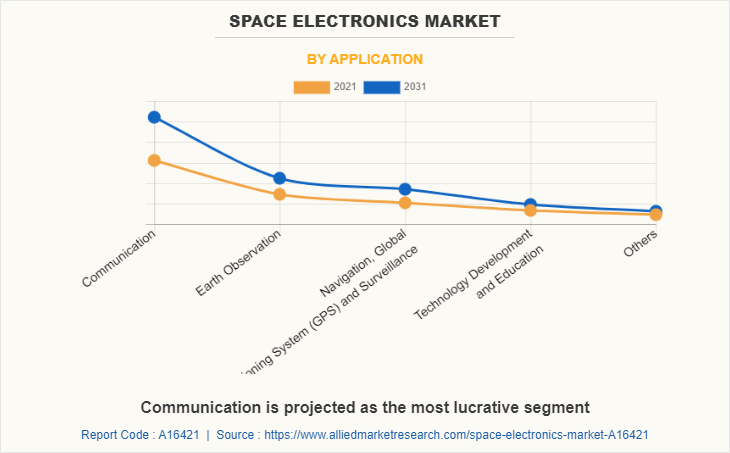 Rising satellite launch and deep space activities
Currently, satellites are used for a range of primary and essential operations such as weather tracking, internet connectivity, mobile phone signals, broadcasting television programs, research, development, and establishing secure communication networks. The rising implementation of automation in satellite operations has also resulted in increased usage of electronics components, within the space segment. As of January 2022, there are approximately 4,852 operational satellites in orbit used by governments, the defense sector, and private organizations, with a forecast to launch over 6,000 satellites by 2031. The rise in satellite launches has generated demand for various electronic components and other peripheral systems, pushing industry players to explore new methods to cater to the rising demand.
Rise in dependency of commercial industry on products and services provided by space economies such as mobile communications, mobile asset tracking, data connections, broadband connections, and television to homes among others has generated a spike in demand for communication satellites, supporting the requirement of space electronics. Private players are making notable investments within the space domain to cater to the rising demand on the commercial front. For instance, SpaceX established a constellation of 653 Starlink satellites, which were commercialized in April 2021. Moreover, the company plans to launch other 12,000 satellites by 2027. On the other hand, Amazon plans to launch 3,236 small satellites over the coming years. These satellites will be in continuous satellite-to-satellite conversation and facilitate software-defined operations over the coming years. Tesat, a European satellite communication organization, is engaged in developing laser communication technologies with minimum uplink and downlink rates of 2Gbps. Such initiatives are expected to drive the space electronics industry over the coming years.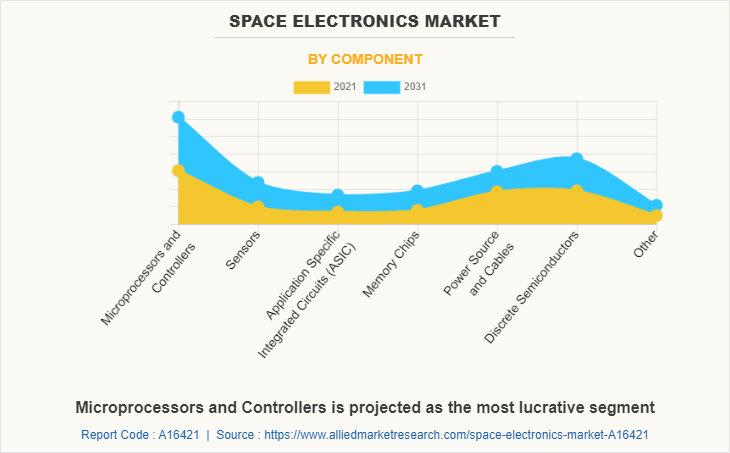 Integration of SATCOM in communication industry
Satellite communication (SATCOM) is a key for military operations as it provides beyond-line-of-sight communications, which can cover around one-third of the earth on a single satellite. Satellite communications enable an aircraft to communicate via satellite with air traffic control and other ground-based facilities while in the air. It can include voice and ground service. With the arrival of internet protocol (IP)-based applications and new data-hungry cockpits, SATCOM delivers critical safety data as well as improves operational performance for present military aircraft fleets. The potential to enhance the safety and efficiency of air travel is exhaustive. As military forces increasingly use space-based assets to fulfill their missions, SATCOM technologies have become vital for communications networks.
Increasing usage of re-usable launch systems, CubeSats and software defined satellites
Rise in demand for high-speed internet connectivity across various commercial, government, and defense sectors is generating the requirement of communication satellites at economical rates to ensure sustainable business operations. Many industry players have adopted automated manufacturing operations such as 3D printing and laser sintering to minimize manufacturing costs. The biggest restrain during previous years was to launch a satellite in space. Each launch incurred huge costs as the complete launch systems were wasted in the atmosphere or as space debris once the satellite was launched in space.
With the introduction of re-usable launch vehicles by SpaceX and Blue Origin, the per launch cost has been reduced significantly, approximately by 50%. This has allowed several small industry players with limited financial capabilities to enter the space market, supporting market competitiveness. A strategic approach to launching multiple satellites from various countries in a single launch vehicle is also one of the major factors in reducing the launch cost.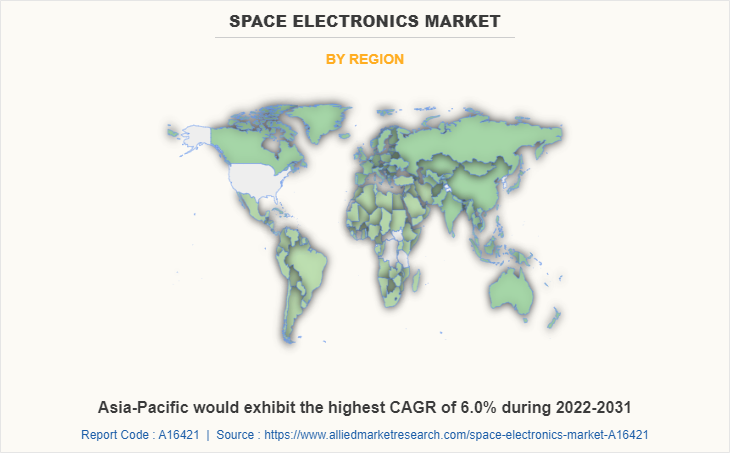 Increasing space debris and reducing space slots in LEO
The rise in space debris due to extensive unplanned launch operations in the past and widespread commercialization of low earth orbit (LEO), due to satellites launched by commercial players are posing threat to the space industry as a whole, posing a potential growth barrier to the space electronics market as well.
Every satellite launched into space has a limited operational timespan. Once the operational timespan is concluded, the satellite becomes obsolete but keeps rotating in the orbit. It serves as space debris and creates a hindrance while launching new satellites. There are more than 40,000 medium-large objects in space, equivalent to nearly 7,600 tons of space junk revolving around the Earth in various orbits. These debris particles and dead satellites become potential threats to the active and operating satellites and must be removed gradually over time.
KEY BENEFITS FOR STAKEHOLDERS
This study presents the analytical depiction of the global space electronics market analysis along with the current trends and future estimations to depict imminent investment pockets.

The overall space electronics market opportunity is determined by understanding profitable trends to gain a stronger foothold.

The report presents information related to the key drivers, restraints, and opportunities of

the global space electronics market with a detailed impact analysis.

The current space electronics market is quantitatively analyzed from 2021 to 2031 to benchmark the financial competency.

Porter's five forces analysis illustrates the potency of the buyers and suppliers in the industry.
 Space Electronics Market Report Highlights
Aspects
Details
By Platform

Satellite
Launch Vehicles
Deep Space Probes

By Application

Communication
Earth Observation
Navigation, Global Positioning System (GPS) and Surveillance
Technology Development and Education
Others

By Type

Radiation Hardened
Radiation Tolerant

By Component

Microprocessors and Controllers
Sensors
Application Specific Integrated Circuits (ASIC)
Memory Chips
Power Source and Cables
Discrete Semiconductors
Other

By Region

North America (U.S., Canada, Mexico)
Europe (Germany, France, Italy, Spain, Russia, U.K., Rest of Europe)
Asia-Pacific (China, India, Japan, South Korea, Rest of Asia-Pacific)
LAMEA (Latin America, Middle East, Africa)

Key Market Players
Microchip Technology Inc, RUAG Group, Cobham Limited, Xilinx, Inc, TT Electronics, STMicroelectronics, Teledyne Technologies Incorporated, BAE System, Honeywell International Inc., Texas Instruments Incorporated